Can outsourcing claims processing help insurance companies?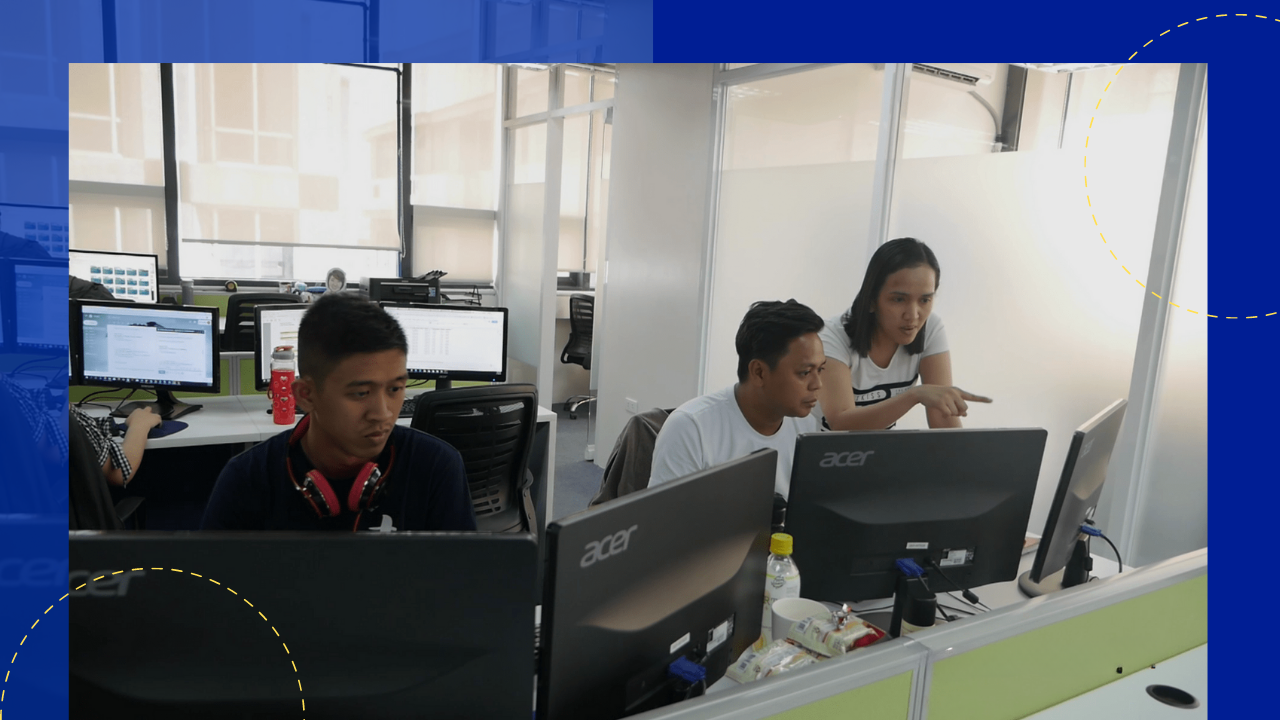 Can outsourcing claims processing help insurance companies
Claims processing outsourcing (CPO) is a relatively new business model for insurance companies. This emerged as the preferred alternative for organizations that are looking to reduce their operating costs and improve their service levels.
If you're new to this business model, you may be wondering what exactly claims processing outsourcing is. Here's a quick overview of this operation.
Claims processing definition
Claims processing refers to the process where an insurance company checks the authenticity, justification, and further information for a client's insurance claims. It starts when a healthcare provider submits a claim request to the insurance company.
If proven valid and up to the client's insurance package, then the provider can reimburse the money in whole or in part.
Otherwise, the company can deny the claim if it is proven to be invalid, duplicated, forged, or outside the scope of their insurance contract.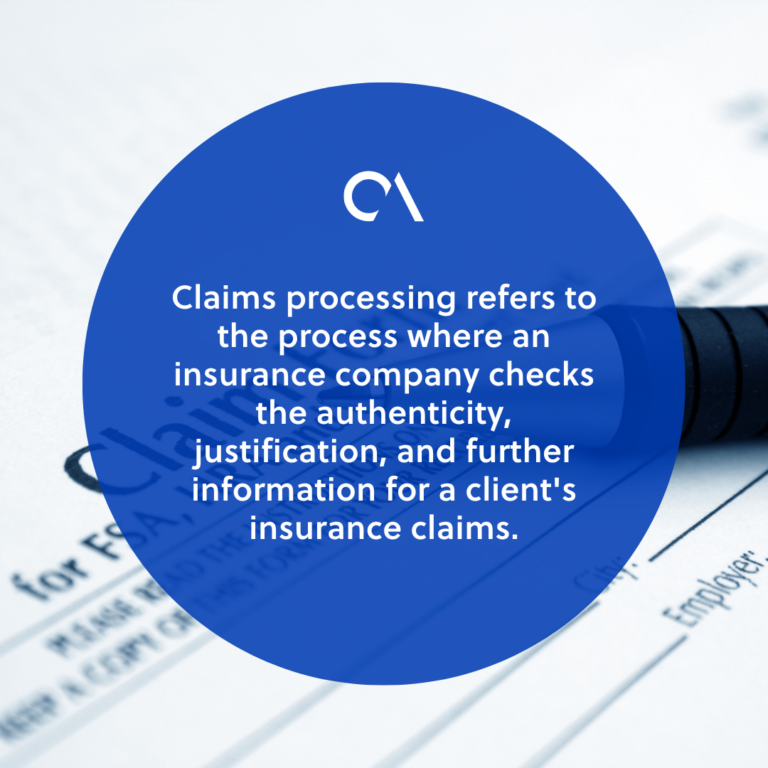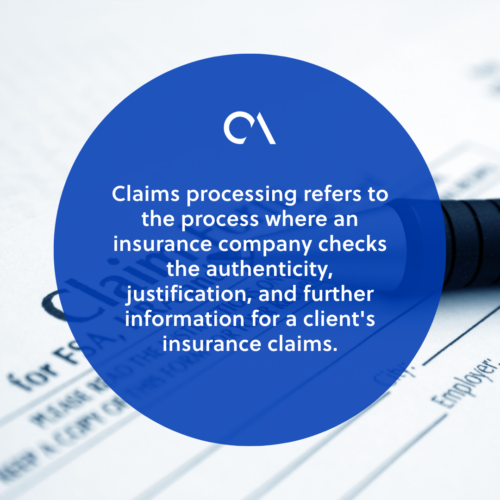 What is claims processing outsourcing?
First coined by the International Association of Insurance Supervisors (IAIS), claims processing outsourcing is the method of transferring the handling and verification process of insurance claims to third-party service providers.
This is commonly used by companies who need to manage a large volume of claim requests that require a significant number of resources — both human and technology.
In simple terms, if you have a lot of claims to go through, an outsourcing provider can help you make a dent in your workload and finish all insurance claims on time.
Why should you outsource insurance claims processing?
Outsourcing claims processing services gives businesses many advantages. Aside from making the process more efficient, it also positively affects the efficiency of the business's other in-house services.
These advantages are discussed in detail in the following section.
Benefits of claims processing outsourcing
Claims processing is an integral part of an insurance firm's operations. However, it is also a tedious process that can take a lot of time.
There are many reasons for you to outsource your claims processing services. Here are some:
Stress-free process
Outsourcing provides a hassle-free and stress-free process. It also promises a faster turnaround of the insurance claiming process, avoiding delays and long wait times for claimants.
Improves customer experience
Client-facing businesses have a lot on their plate. People rely on your company to deliver fast and professional services while also taking the time to listen and support them on their needs.
Claims processing outsourcing teams can give a human touch to your services. Because their focus is only on fielding and processing insurance claims, you are assured that a fast response is being given to customers with an improved customer experience.
With this setup, clients become more satisfied with your services, preventing reports and escalations.
High success rate
Outsourcing companies have dedicated insurance claims processing teams for their services. With their help, you can avoid frequent repetitions and promise clients a one-time processing success.
They are also equipped with the knowledge of how to process insurance claims requests in a fast, efficient, accurate, and timely manner. Their highly-trained team of professionals will ensure that the claim is processed effectively.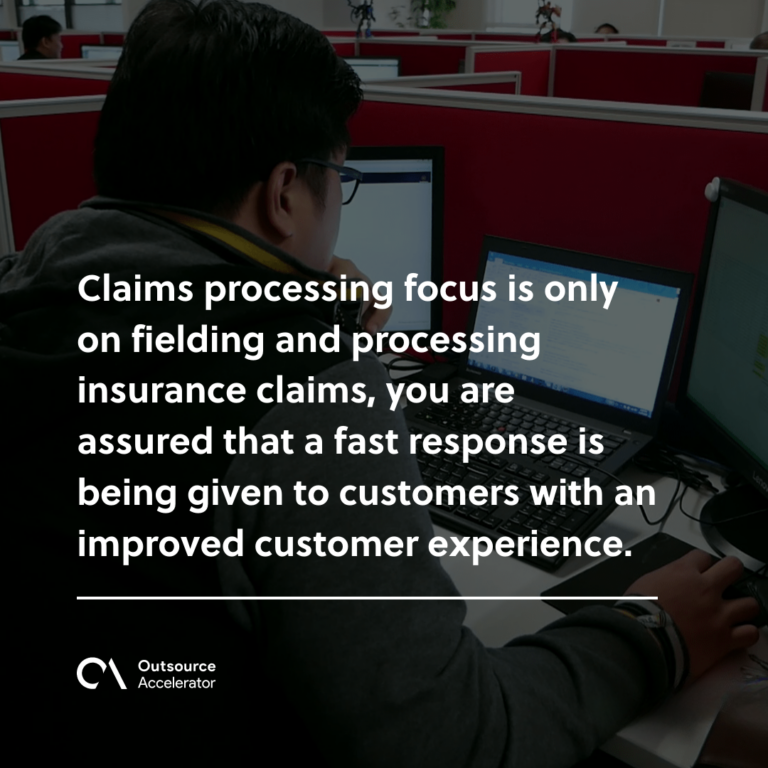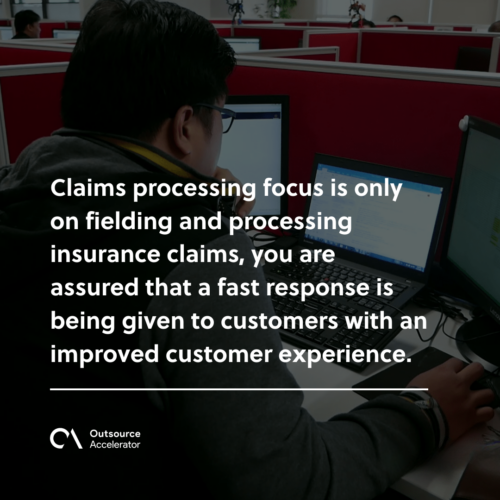 Cost effective
Insurance claims need a lot of time and resources to be fully processed. BPO services companies already have insurance claim teams at their disposal. With their assistance, the company can avoid hiring additional in-house staff to finish the task.
Moreover, because service providers come with their own tools and equipment, you do not have to spend money on additional office space, computers, software, and other overhead costs needed to finish all claims.
All you need to provide is the compilation of clients and claims needed to be processed, and you are good to go!
Productivity increase
Just like other functions that you can outsource to an external team, claims processing outsourcing frees up the time of your local team. It enables them to focus on their own roles and responsibilities within the company.
Additionally, delegating the bulk of claim requests to an outsourcing partner gives you the space to prioritize other areas of your business.
With more extra time on hand, you can point your in-house staff's attention to other critical functions of your organization.
Factors to consider when outsourcing claims processing services
You need to consider several factors before outsourcing claims processing to ensure your outsourcing journey goes without a hitch.
Here are some of them:
Service level agreement
Service level agreements, or SLAs, are one of the most crucial documents you'll have when entering partnerships with third-party service providers.
These documents detail the agreed-upon responsibilities, quality of services, and availability of the outsourcing firm you partner with. In particular, healthcare providers must take great care in drafting SLAs as they face the bulk of claim submissions from their clients.
When drafting SLAs, ensure there are no ambiguities, and everything is clearly delineated. Hiring a lawyer to oversee the SLA drafting process is advisable to avoid any potential legal problems.
Technologies used
Outsourcing claims greatly reduces the time it takes to process claims. This productivity improvement is the result of using leading industry technologies.
These technologies include software tools that streamline claims processing, such as Claimable, Waystar, and QuickCap. Using these tools makes claims submission and processing claim forms significantly easier, quicker, and error free.
While some claims processing software can be used across business industries, there are best-in-class tools specifically designed to be used in particular sectors (e.g., Waystar for medical insurance claims). 
Best-in-class software are generally better for claims management process than generalist ones when it comes to the industry they're made for.
Risks management
Renowned claims processing outsourcing companies have robust information security in place to protect you and your customer's data.
Ideally, your BPO partner should hold regular data processing performance assessments, contract compliance and state specific regulations reviews, and other risk mitigation methods.
Industry expertise
Another critical factor to consider is the expertise of your BPO partner's expertise in claims processing. 
A third party company with extensive experience in healthcare claims is naturally a better choice than startup BPOs with no discernible qualifications to their name.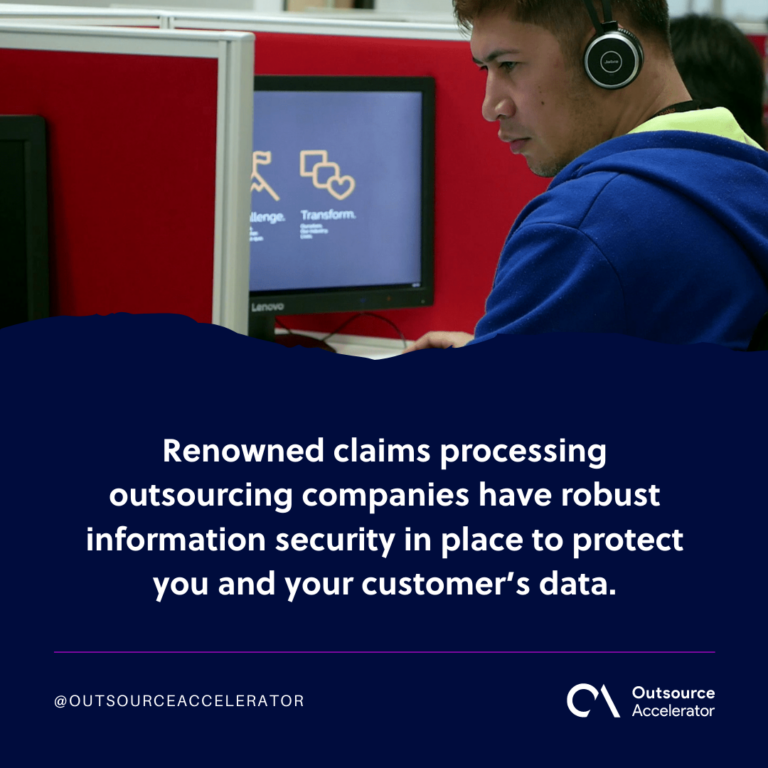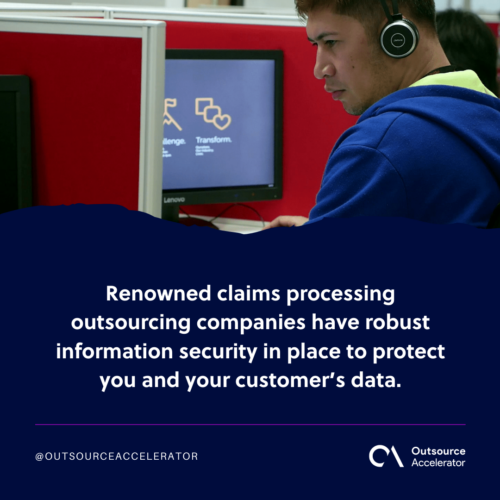 Claims processing outsourcing in the Philippines
Outsourcing claims processing is a win-win situation for both the outsourcing provider and your company. It is also beneficial to you as an employer since it gives you access to more skilled and experienced workers.
Filipino workers are known for their hardworking nature and positive attitude towards work. They also have a good grasp of the English language, which is essential in order to communicate with your customers.
Their personality traits also make them good candidates for the job. They are known to be patient, friendly, and courteous toward customers.
Further, the Philippines has a large pool of qualified workers, with many companies offering claims processing, so you have a lot of options to choose from.
If you are interested in contracting the help of Filipino claims processing teams, you can start shopping around and compare prices before making a final decision.
For a comprehensive guide on everything you need to know about claims processing outsourcing – and the outsourcing industry in general – visit outsourceaccelerator.com.
The company lists over 3,000 BPO companies in its directory and has more than 5,000 insightful articles about everything outsourcing.