What is denial management in healthcare?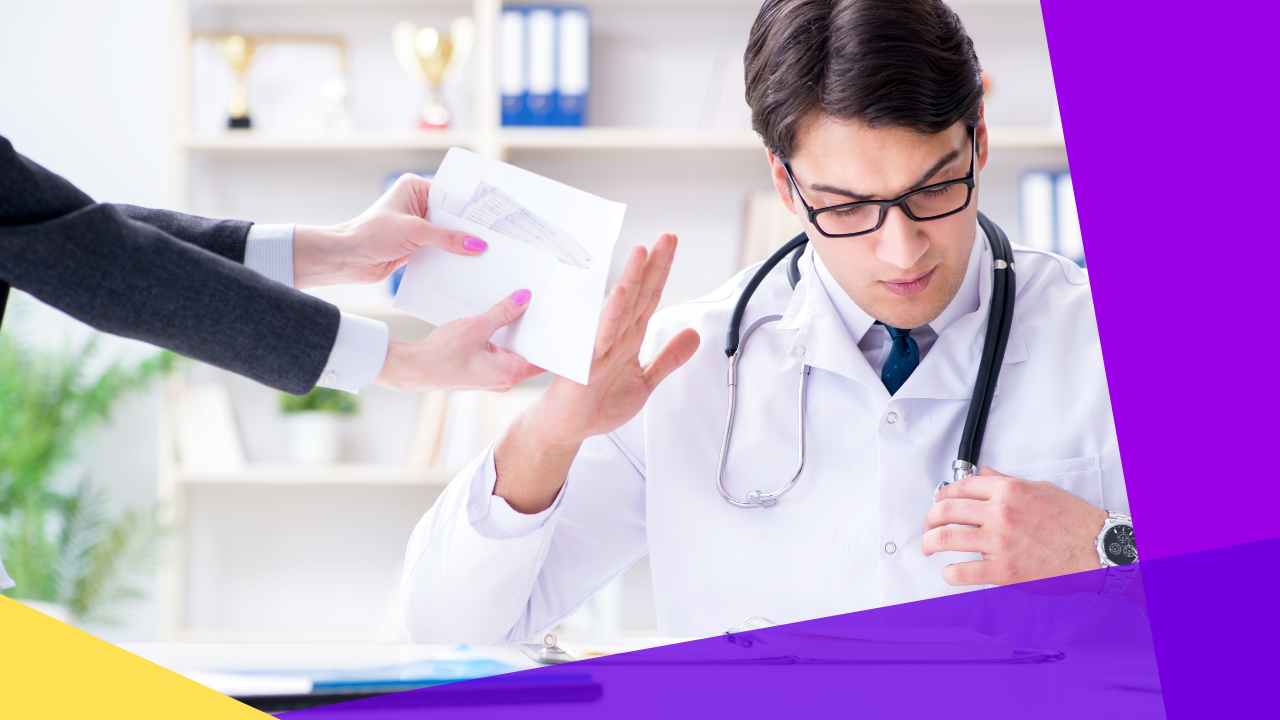 What is denial management in healthcare
The number of claim denials by insurance companies these days is alarming. Change Healthcare's 2020 Revenue Cycle Denials Index revealed that the average claim denial rate in 2022 is 23% more than four years ago.
Denied claims equate to unpaid medical services, which causes delayed and even lost earnings and gravely harms the financial stability of hospitals and healthcare providers.
While insurance companies can be held accountable for rejected claims, it might not be entirely their fault. Hospitals, medical companies, and other healthcare organizations should also step back and assess their denial management plan.
What is denial management?
Denial management is a systematic procedure designed to identify and address issues resulting in the rejection of medical claims.
The strategy should also lessen the possibility of more claims denials, ensuring that practices get paid quickly and maintain a consistent cash flow.
Establishing a pattern between recurrent denial reason codes is the responsibility of the denial management team. Tracking denial trends helps identify registration, billing, and medical coding errors and fix them to stop further claim rejections.
To make it simple to spot a deviation from the expected trend, the team also examines the payment trends for specific payers.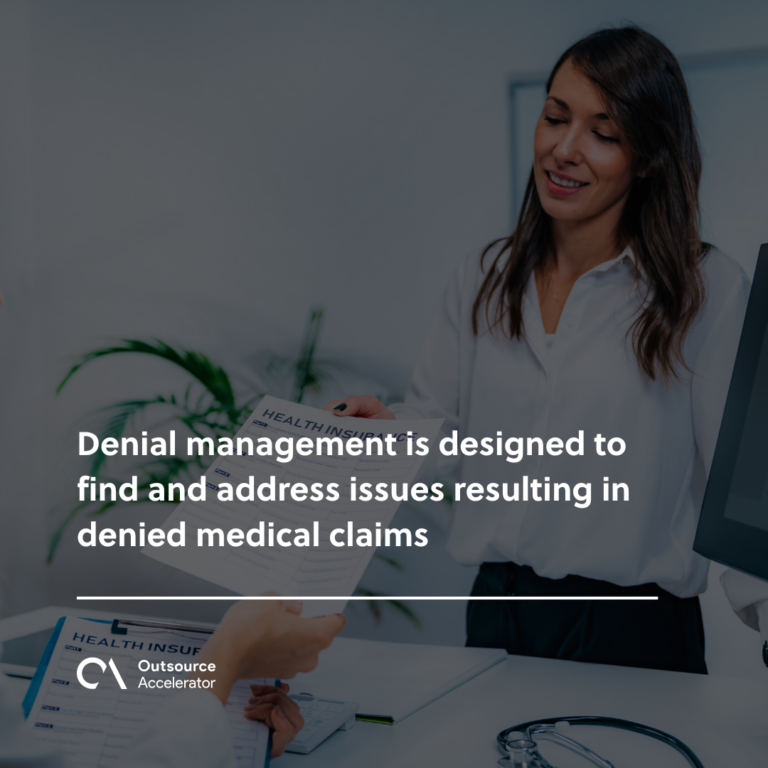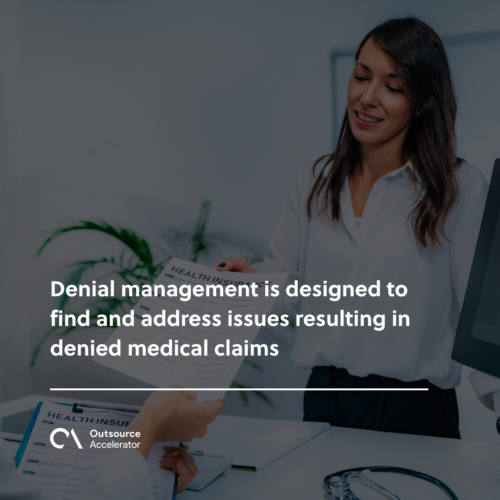 Denial codes in medical billing
A denied medical insurance claim is one of the most upsetting things a medical billing manager may go through. Filing an invalid claim can be a huge cost and waste of time for the doctor, administrator, and patient.
Missing data, incorrect invoicing, and concerns about patient coverage are common reasons why insurance claims are refused.
Below are the common denial codes in medical billing:
Missing information
Patient information is one of the critical components in the creation of a clean claim. While it sounds easy, simple information such as patient name, date of birth, gender, and insurance member ID number can still be provided inaccurately or missing. This leads to denied healthcare claims.
In 2019, 36% of denied claims were due to missing and inaccurate information.
Duplicate claim
Duplicate claims are defined as those made by the same provider for the same patient for the same service item on a single visit. This can be:
A single service was rendered, but there were two invoices.
A service rendered more than once on the same day also supports the denial.
The same service was rendered on the same day by a different practitioner whose claim was processed ahead of the denied claim.
Submitting two claims for the same encounter also means wasting healthcare money. Denial rates across the industry report that up to 30% of denied claims in 2020 were because of duplicates.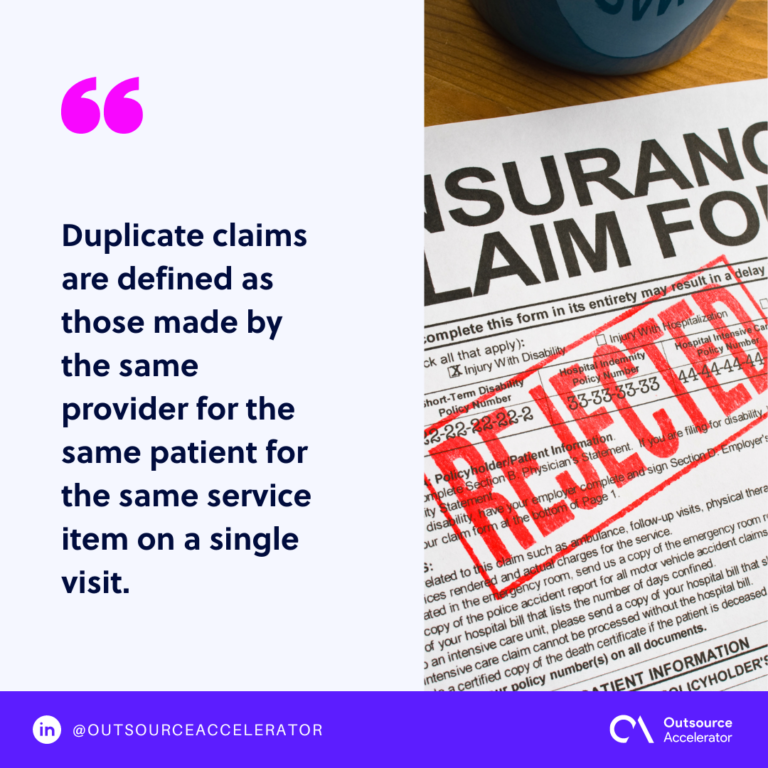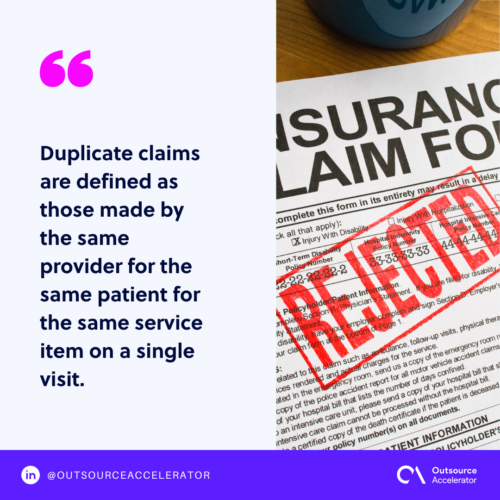 Non-covered procedure
Non-covered procedure is another common reason for medical claim denials and is known to be a hard denial. This means the hospital or healthcare provider is unlikely to get any money back for these claims.
This type of denial occurs when:
The payer's plan does not cover the service provided.
The patient stays longer than the specified number of days for a specific service.
The healthcare provider fails to follow the rules governing a managed care plan.
In the US alone, 16% of the denied claims are due to non-covered procedures.
Limit expiration
The claim may be rejected if it isn't submitted within the payer's specified number of days after the service. When filing, it's necessary to account for the time needed to rework rejections.
These reviews come in two forms:
Automated – A computer program or software looks for incorrect coding.
Complex – A licensed health practitioner decides whether the service is covered, appropriate, and required.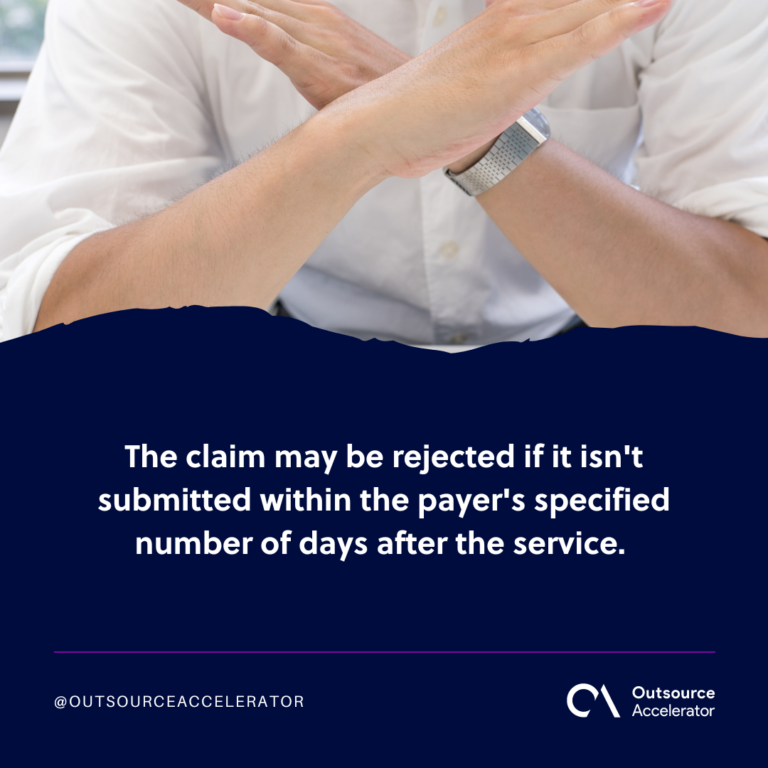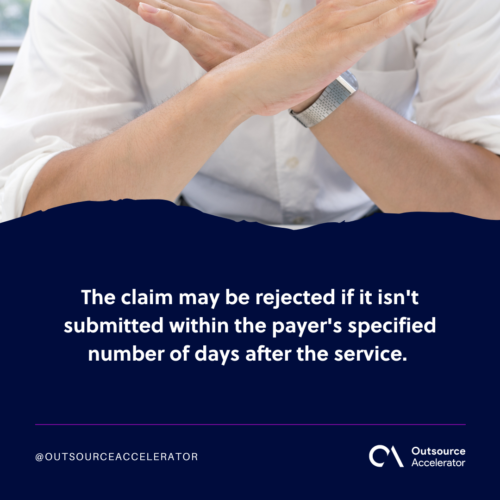 Adjudicated service
Insurance payers go through the claim adjudication procedure to determine how much they owe the provider. They base their decision on the claim that the healthcare provider sent.
Occasionally, relative to the amount stated on the claim, the insurance company will only pay a percentage of what they owe to the healthcare provider. This occurs when the payer determines that the billable service is inappropriate based on the diagnosis or procedure code in the claim.
Each claim that is submitted to a health insurance provider requires the payer to select one of three options:
Pay the entire sum specified on the claim
Pay only a portion of the claim's total value
Completely deny the claim
What are the challenges of denial management
With regard to denial management procedures, practices and hospitals encounter major difficulties. Without taking appropriate actions, they experience income loss, which affects their revenue cycle and viability.
Here are some of the challenges of denial management:
Outdated strategies
When submitting claims, many healthcare organizations continue to use manual, paper-based procedures that are much less organized and efficient than contemporary ones.
These manual procedures hinder good decision-making and impede the adoption of automation, which would streamline and improve the procedure.
Lack of automation
As mentioned, many practices still manage denials using obsolete, manual procedures. Manual procedures not only take much longer, but they also leave room for error and provide reduced transparency.
Because of this, the comprehensive claims reporting and tailored decision support that automation offers are forfeited by practices that don't use it in their denial management process.
Lack of skilled staff
Healthcare workers frequently have to cover a variety of positions and handle a large number of administrative duties. Additionally, they must cope with rules and regulations that are always changing.
As a result, they frequently end up putting denial management on the back burner. Additionally, the business's profitability is impacted if these employees are not properly trained in the complexities of claims handling.
Lack of standardization
A major problem for healthcare organizations is the absence of consistency regarding the grounds and frequency with which insurance companies reject claims for people with insurance.
For instance, to inform the practice of the reason for the denial, two distinct payers can each utilize a different code and communication channel.
Because of this, practices cannot track their denials, unpaid claims, and the reasons behind them, making it challenging to prevent further denials.
Enhancing healthcare denial management strategy
The revenue cycle of any medical practice ultimately depends on denial management. Knowing the denial codes and the reasons behind them is always a good idea, as it is much easier to identify where careful attention is needed.
Automation might be intimidating at first, but it is the future of the healthcare industry and the entire economy. It is best for a healthcare organization to implement medical automation to give no room for errors and inaccuracy.
Practices with effective processes in place can identify why claims are rejected and take the appropriate precautions to avoid rejections in the future.
Additionally, practices boost their revenue and sustainability by avoiding denials.