A complete guide to becoming a WFM supervisor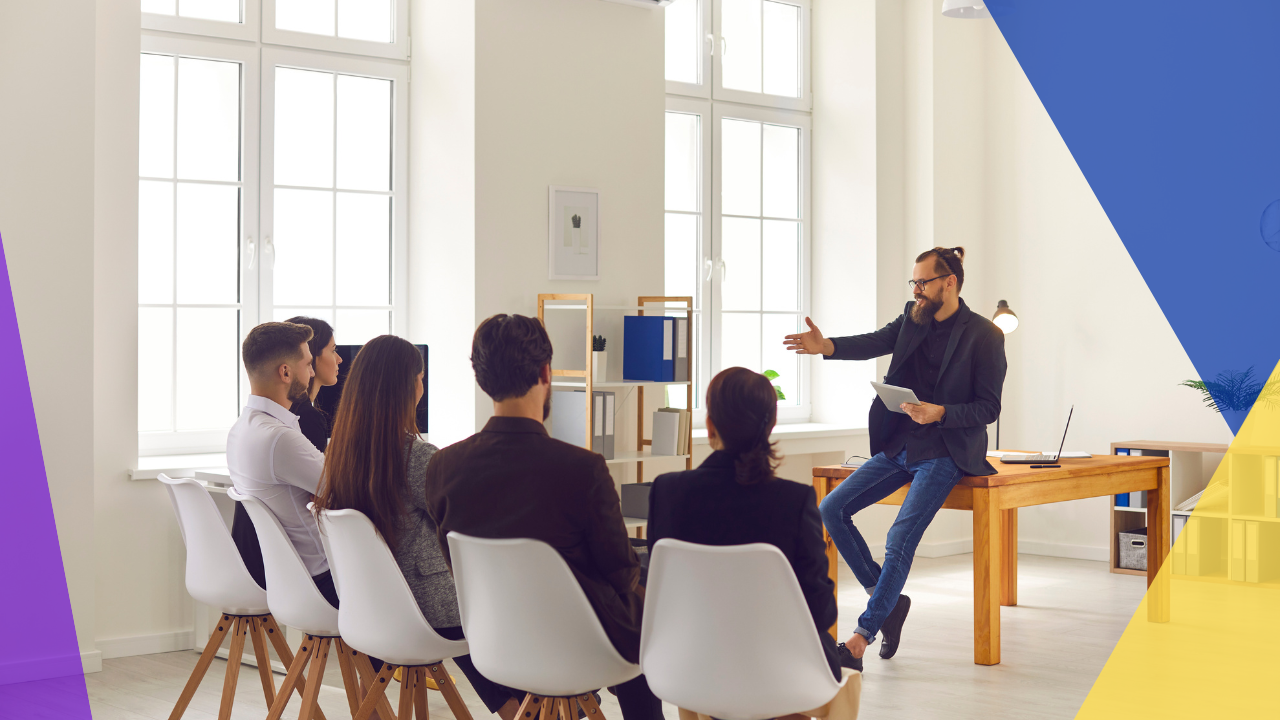 Whether reducing production costs, increasing departmental performance, or boosting the morale of employees, companies always look for ways to improve and optimize their operations.
More often than not, it isn't easy to find a simple solution that combines all of these.
Companies resort to hiring several consultants in the hope of optimizing their processes.
The advent of workforce management (WFM) software solutions has revolutionized process and workflow management. It enabled macro and micro-management possible, be it onshore or offshore.
Managed and operated by a WFM supervisor, the system allows companies to scale and perform leaner by meeting key metrics and standards of excellence. WFM supervisors act as the brains of an enterprise's operations.
However, there is more to WFM supervisors than oversight. It is a position with plenty of responsibilities and dynamics. Learn more about WFM supervisors through this in-depth primer.
Definition of workforce management (WFM) 
To fully appreciate the nature of a WFM supervisor's responsibilities, it is crucial to be grounded in the basics of WFM.
WFM is a set of processes employers use to direct the company to operate efficiently. Composed of diverse techniques, it aims to forecast workloads, manage corporate schedules, examine company historical data for decision-making purposes, and analyze the performance of employees and processes.
The approach is top-down, with the upper management setting the strategy for the whole organization to observe. With things laid out, the outcome has little room for deviation.
The means might vary depending on the best practice determined by WFM supervisors, but the overall direction is to promote productivity and maximize the potential of employees and departments.
WFM was popularized due to the global diffusion of multinational culture. Characterized by efficiency and consistency, the concept was later adopted by other industries and sectors.
Consequently, WFM became a global business standard of excellence, and WFM supervisors have been sought after across industries.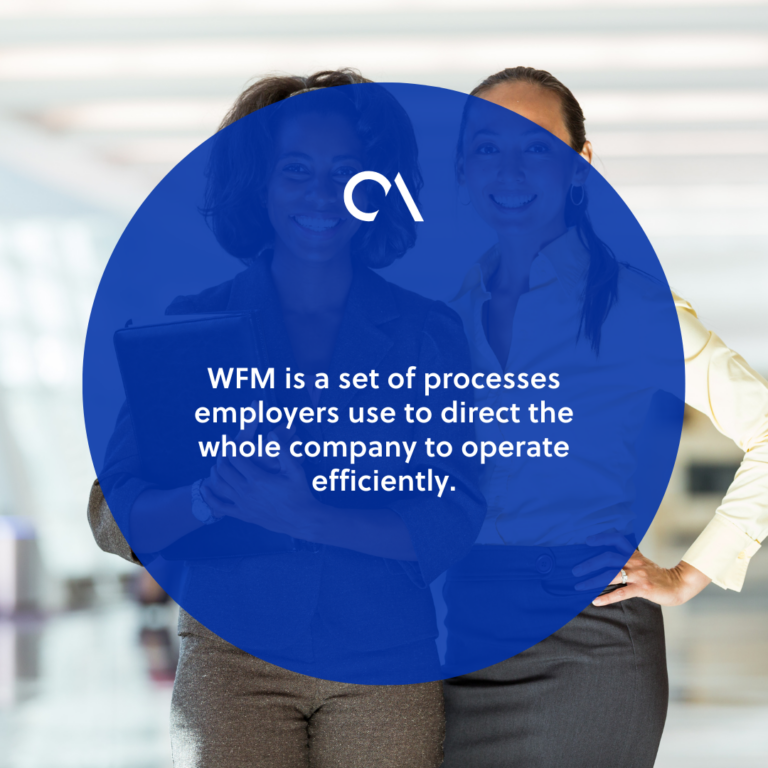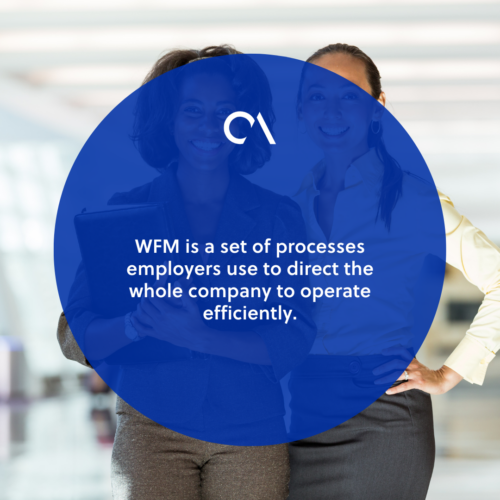 What does a WFM supervisor do?
WFM supervisors are responsible for ensuring that companies are performing well across all performance metrics.
As the focal person in charge of WFM solutions, there are high expectations of their capability to organize, think analytically, and perform.
Below are three key functions that WFM supervisors assume. These three are integral to WFM processes and the whole operations of a corporation.
Workforce forecasting 
In operations, there are a lot of variables that are controllable and not. This can be quite challenging in the absence of WFM, as they usually happen abruptly.
Strategic forecasting allows companies to adapt quickly to any problems all year long. With a clear picture of the expected employee attrition rate, service leaves, and system downtimes, companies can prepare early on.
It can look for temporary workers that can fill the workforce gap any time of the year. With regard to system downtime, the WFM supervisor's forecasts allow departments to develop contingency plans to ensure services are functioning well.
Essentially, WFM supervisors perform a lot of strategic thinking and implementation that ensures the company's performance does not dwindle against challenges, whether expected or not.
KPI monitoring 
Businesses would like to achieve more profit at a faster time and lower expenses. Measures of performance and excellence have been in place to ensure these are met.
However, external and internal factors can hinder this progress. WFM supervisors manage these threats and optimize processes to ensure these metrics work as intended.
Alongside this oversight, WFM supervisors provide constructive assessments and evaluations to employees and departments based on the company's strategic goals. It monitors the improvements regularly to keep abreast of the developments down the line.
Identifying solutions 
Like any other leadership position, WFM supervisors are at the forefront of confronting operational bottlenecks and challenges.
With the aid of WFM tools and software, problems can be easily identified, analyzed, and solved through smart processes. The WFM supervisor evaluates this and implements corrective actions.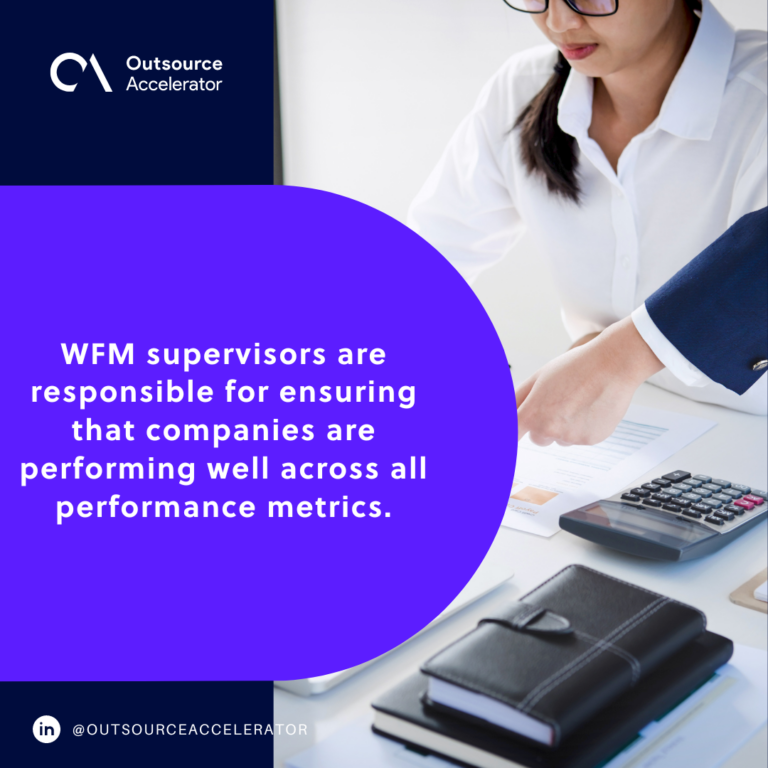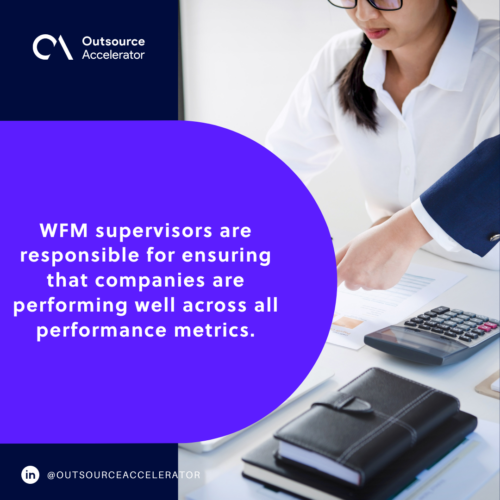 Qualifications to be a WFM supervisor
WFM supervisors have extensive experience managing teams and corporations. With the weight of the responsibility, one must have mental fortitude, years of experience, and, most importantly, strong communication skills.
Aside from those above, the essential qualities that corporations look for in WFM supervisors are as follows:
Strong analytical skills
With operational challenges present all year round, compounded with the strategic responsibility of predicting trends, a WFM supervisor must have a robust analytical foundation.
A WFM supervisor must provide innovative solutions and approaches that enable businesses to function effectively and scale amidst the myriad of internal and external challenges.
Managerial experiences
Workforce performance is at the heart of a WFM supervisor's core responsibility. Ideally, candidates with 10 to 15 years of work experience as a manager can be WFM supervisors.
At the same time, the number of years can change depending on the management's preferences and urgency. However, work experience is not negotiable.
WFM supervisors must be able to thrive and adapt to any situation. It must possess creativity in decision-making, which is only possible with years of exposure to handling different people and operations.
Time management
Discipline is an essential trait for a WFM supervisor. Being able to multitask and meet loads of tasks both onshore and offshore is necessary.
As the focal ambassador of efficiency and effectiveness, it is expected that s/he is someone employees can emulate in doing work.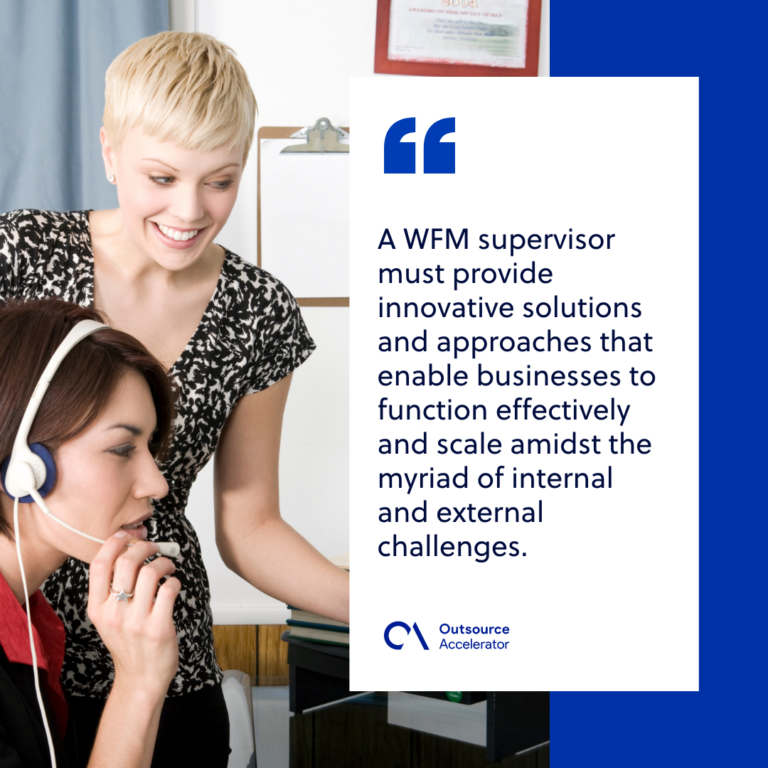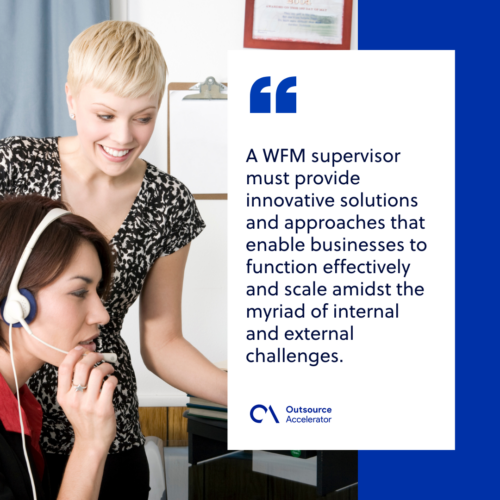 Salary range of WFM supervisors
Different companies, countries, and industries have various standards of salary range for WFM supervisors.
According to Glassdoor, the annual salary range of a workforce management supervisor ranges from $50,527 to $54,445. This range can change over time depending on the company's fiscal wellness or other factors.
This remuneration package includes generous incentives such as healthcare plans, performance bonuses, car plans, and pension packages.
Why become a WFM supervisor?
What is not to like about being a WFM supervisor? The salary is great, and the incentives and benefits are generous. Not to mention, WFM supervisors are sought after across industries and companies.
Everything an employee can hope for a good job is possible for a WFM supervisor. However, this also entails that to be a WFM supervisor; one must be efficient, strategic, and disciplined.
The responsibility of a WFM supervisor is tough. It requires being resilient amidst the pressure of multiple internal and external stressors.
It requires creativity to get through challenges with innovative decisions. Lastly, it requires extensive experience to help the company strategize its growth in the next few years.