Vulnerable leadership: Creating authentic connections in the workplace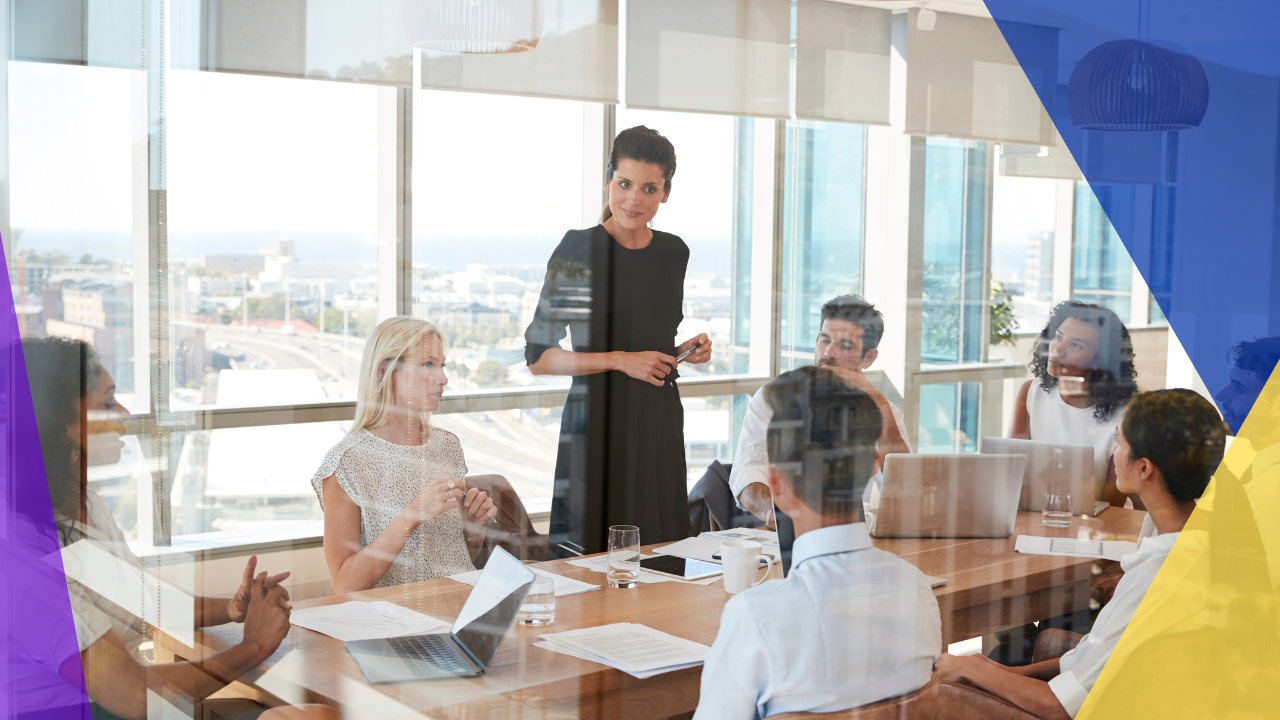 Leadership in the modern business landscape requires a new approach — one that emphasizes vulnerability and authenticity. 
Vulnerable leadership challenges traditional notions of strength and invulnerability. It prioritizes self-awareness and emotional intelligence. 
Vulnerable leaders are able to drive innovation, collaboration, and success within their organizations. They accomplish this by creating a culture of trust, inclusivity, and openness.
The Harvard Business Review emphasizes this by claiming that the best leaders don't shy away from vulnerability.
Let's explore the concept of vulnerable leadership, its benefits, and strategies for implementing this approach within your own leadership style.
What is vulnerable leadership?
Vulnerable leadership emphasizes the power of authenticity, openness, and emotional intelligence. This management style encourages leaders to connect with their teams on a deeper level by embracing vulnerability and fostering trust.
Vulnerable leaders can build strong, cohesive teams and drive organizational success. They can do so by creating an environment where people feel safe, understood, and valued.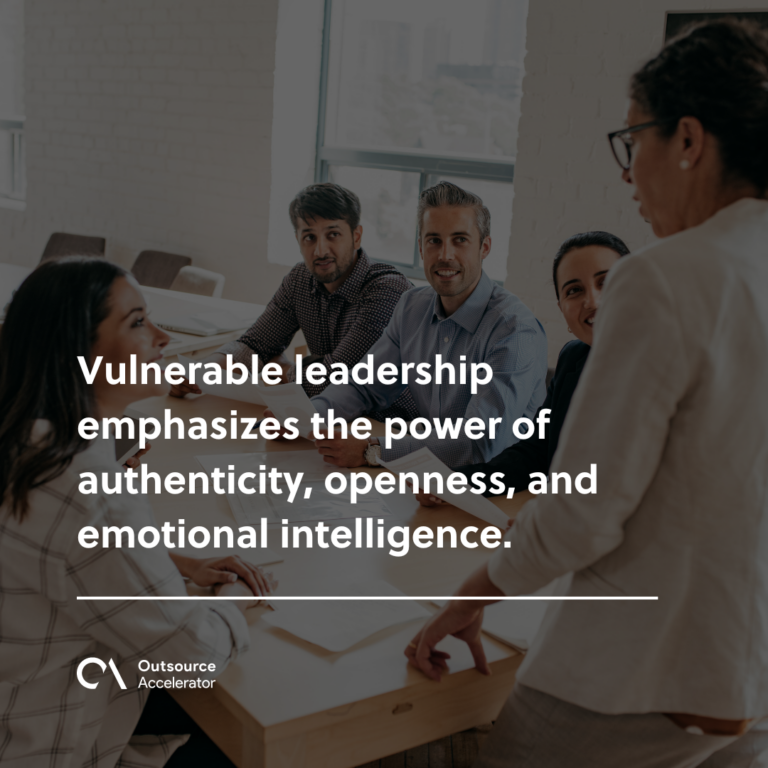 Defining 'vulnerability' in business
When we hear the term "vulnerability," it may bring a sense of weakness to mind. However, in the context of business and leadership, vulnerability means being willing to show one's true self. 
It means not being afraid to share one's strengths, weaknesses, fears, and failures. Vulnerability is about embracing imperfections and having the courage to be authentic, even in a position of power. 
Vulnerability in leadership requires a shift from traditional notions of strength and invulnerability — to recognizing the strength and connection that come from embracing our humanity.
Qualities of a vulnerable leader
Vulnerable leaders possess specific qualities that set them apart in the modern workplace. These qualities include:
Self-awareness

. Vulnerable leaders are in touch with their emotions, strengths, and areas for growth. This allows them to empathize with others and create an inclusive environment.

Active listening

. These leaders create

safe spaces

for team members to express their thoughts, concerns, and ideas. They are present, attentive, and genuinely interested in understanding the perspectives and experiences of their employees.

Emotional intelligence

. Sensitive leaders are in tune with their own emotions and can recognize and manage the emotions of others. They foster a supportive and empathetic culture where workers feel comfortable sharing their feelings and concerns.

Transparency

. Vulnerable leaders are transparent about their intentions, decisions, and thought processes. They openly communicate with their teams, sharing successes, failures, and lessons learned.

Trust-building

. These leaders prioritize trust-building within the team. They create an environment where individuals feel safe to be themselves, take risks, and make mistakes without fear of judgment or reprisal.

Courageous authenticity

. Vulnerable leaders have the courage to be authentic, even when it's challenging. They lead by example, showing that it is okay to be imperfect and that vulnerability can lead to growth and stronger relationships.

Accountability

. These leaders take responsibility for their actions and decisions, even when things don't go as planned.
Benefits of practicing vulnerable leadership
Embracing vulnerable leadership has numerous benefits for both leaders and their organizations. 
Some key advantages include:
Enhanced trust and collaboration
Vulnerable leaders foster a culture of trust and collaboration where employees feel comfortable sharing ideas, opinions, and concerns. Open communication leads to better problem-solving, innovation, and teamwork.
Increased employee engagement and loyalty
Employees who feel a genuine connection with their leaders are more engaged, motivated, and loyal. 
Vulnerable leaders create an environment that values and appreciates each individual. This boosts morale and reduces turnover.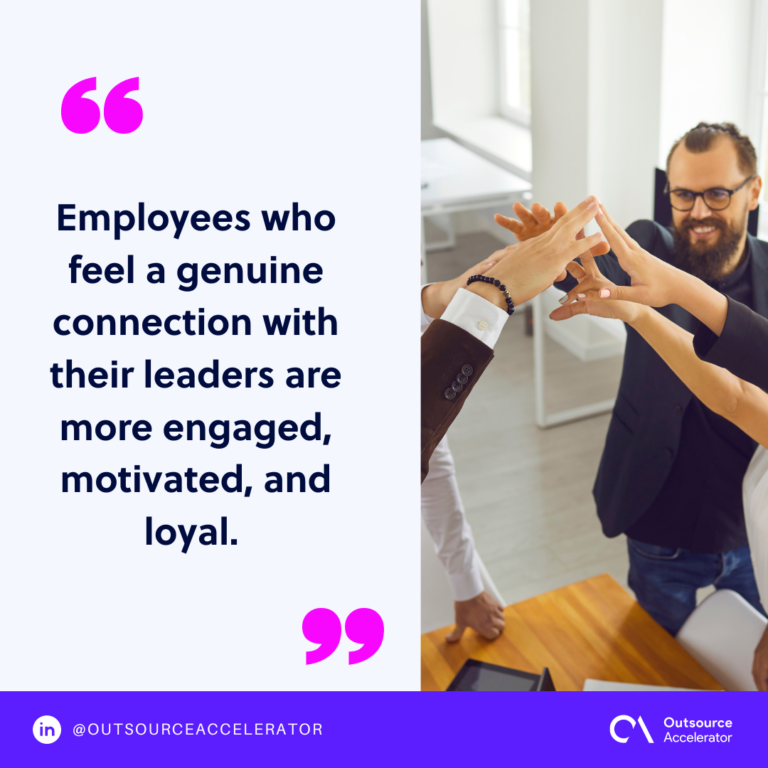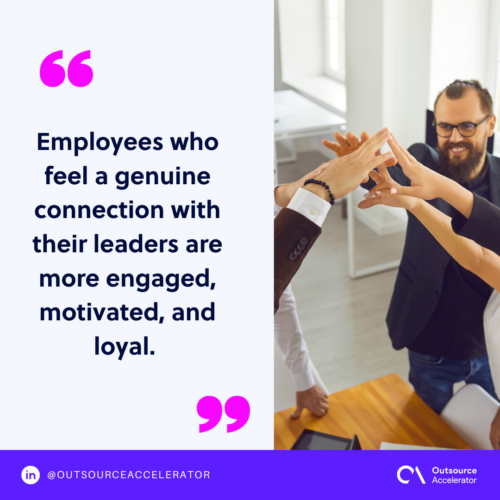 Improved mental health and well-being
Vulnerable leadership promotes psychological safety and supports employees' mental health and well-being. 
When leaders acknowledge and address their team members' challenges, it creates a sense of belonging and reduces stress levels.
Greater creativity and innovation
When individuals feel safe and supported, they are more likely to take risks and share innovative ideas. 
Vulnerable leaders encourage creativity by creating space for diverse perspectives. This empowers their teams to think outside the box.
Stronger relationships and communication
Vulnerable leadership fosters deeper, more meaningful relationships among team members. 
Leaders can break down barriers and build stronger connections by creating an environment where people can express themselves authentically.
How to practice vulnerable leadership
Practicing vulnerable leadership requires intentional effort and self-reflection. Here are some strategies to cultivate this leadership approach:
Lead by example

. Demonstrate vulnerability by openly sharing your own successes, failures, and personal stories. This will create a culture that encourages others to do the same.

Create opportunities for open dialogue

. Create an environment where everyone can share their thoughts and concerns. Regularly hold team meetings, town halls, or one-on-one sessions to encourage open communication.

Listen actively and empathetically

. Engage in

active listening

and show real empathy towards your team. Make an effort to validate their feelings and understand their perspectives.

Encourage psychological safety

. Make it clear that mistakes are valuable learning opportunities. Create a blame-free environment where individuals can take risks without fear of judgment or negative consequences.

Provide support and resources

. Offer resources such as coaching, mentorship, or training programs to support personal and professional development. Show that you're committed to your team's growth and well-being.

Celebrate vulnerability and growth

.

Recognize and celebrate

when team members show vulnerability and demonstrate personal growth. Acknowledging and valuing these moments encourages a continuous cycle of growth and authenticity.