Voice of the customer: How does it influence a business?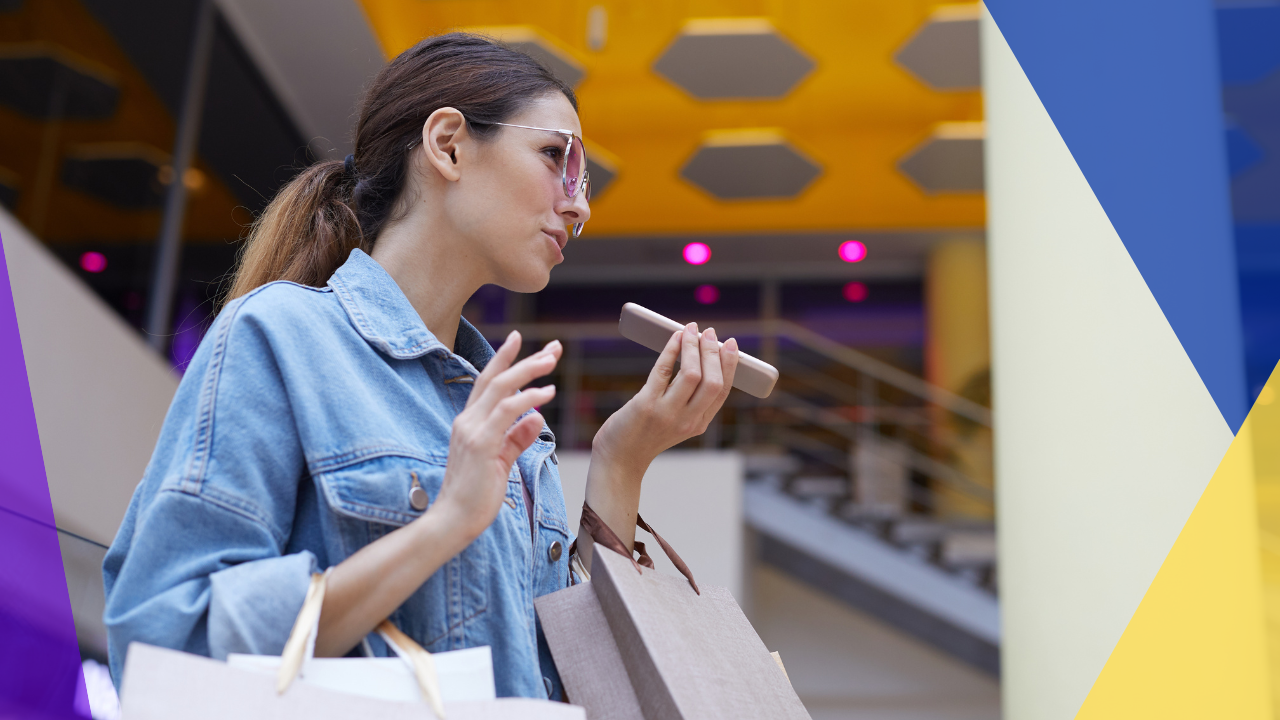 Success hinges on more than just delivering products and services. It's about understanding and connecting with your customers on a profound level. 
Knowing what customers want, identifying pain points, and delivering an exceptional experience are critical to standing out in a crowded marketplace. Leading software provider Redpoint Global noted that 74% of customers felt loyal to brands that understood them. 
This is where the "voice of the customer (VoC)" becomes invaluable. 
This article explores the significance, applications, and methods of acquiring VoC.
Defining voice of the customer (VoC) 
The voice of the customer (VoC) describes the feedback, opinions, and customer perspectives about a brand. 
This method allows businesses to gather customer feedback about their experiences, preferences, and needs. It refers to the overall process of collecting and analyzing these sets of information.
The voice of the customer is an essential piece of customer-centricity. Businesses use the VoC to develop products and services that better meet customer requirements and to create customer-centric strategies.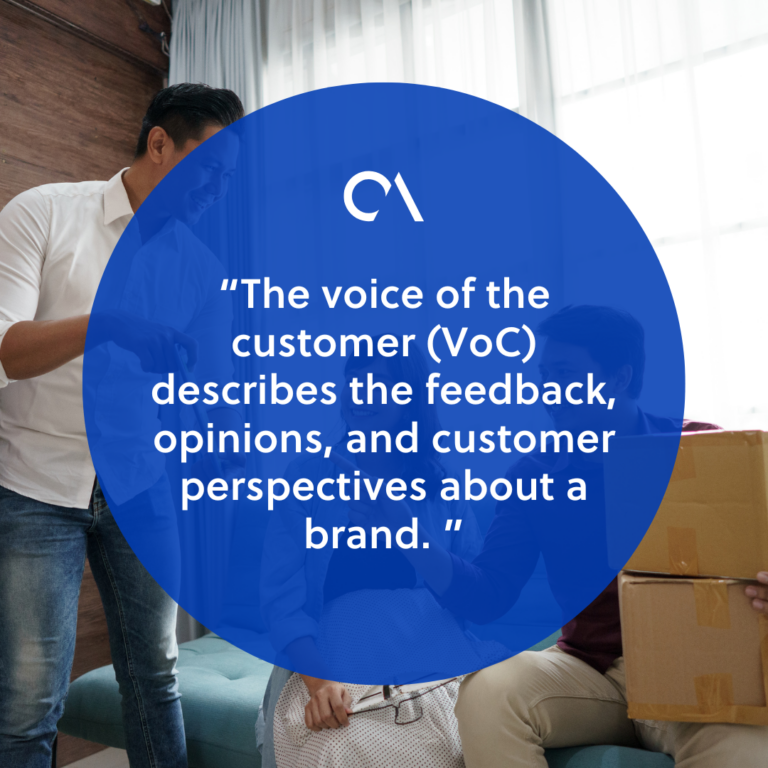 Components of the voice of the customer
The voice of the customer comprises several key components. These collectively provide a comprehensive understanding of customer feedback, preferences, and expectations.

Customer journey mapping 
Customer journey mapping involves creating visual representations of the various touchpoints and interactions that people have with a product. 
This helps identify pain points, opportunities for improvement, and areas where feedback can be applied. 
Feedback channels
Monitoring and analyzing feedback from various channels is essential. Channels can include customer support, social media, online reviews, and complaints. 
Customer feedback can be both qualitative (open-ended comments, suggestions, criticisms) and quantitative (rating scales, numerical data). 
Customer data analysis 
This process systematically analyzes customer data to identify trends, patterns, and insights. It may involve data mining, statistical analysis, and data visualization techniques to extract meaningful information. 
Competitive analysis
Brands can gain a competitive advantage by comparing customer feedback and preferences with those of others in their industry. Understanding how your product or service stacks up with alternatives is critical. 
Actionable insights
Gathering consumer responses is useless if the business has no intention to act on them. 
Collected data must be transformed into actionable recommendations and strategies that can be implemented to improve products, services, and customer satisfaction. 
Benefits of the voice of the customer
The voice of the customer offers numerous benefits to businesses across various industries, driving overall success. 
Some of the advantages of embracing the VoC include: 
Effective marketing and messaging
Voice of the customer data helps tailor marketing messages and campaigns to better resonate with specific customer segments. 
This increases the likelihood of engagement and conversion. 
Service improvement
The opinions and feedback collected through the voice of the customer process can be used to augment existing services and communication strategies. 
This data can also inform the development of new products and services that align more closely with customer needs. 
Basing changes on actual customer expectations leads to improved overall customer satisfaction. 
Brand advocacy
Demonstrating a commitment to listening to and acting on user concerns can enhance a company's reputation and build trust. 
The voice of the customer process helps identify customers who are highly satisfied and engaged with a product or service. Businesses can drive word-of-mouth referrals and organic growth by leveraging their positive feedback and turning them into brand advocates. 
Referral marketing is quite powerful. ReferralCandy reports that 83% of satisfied customers are willing to recommend good products.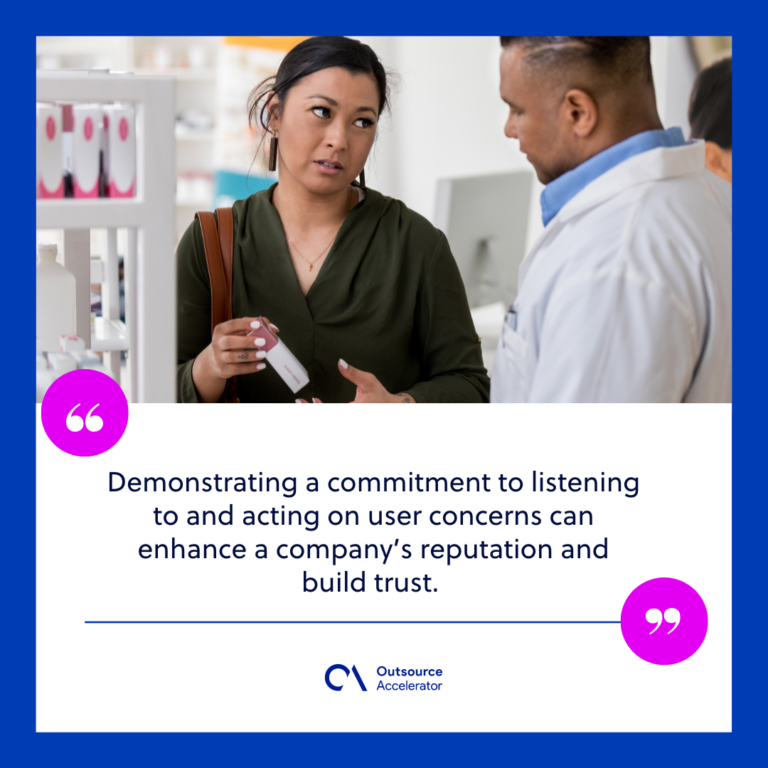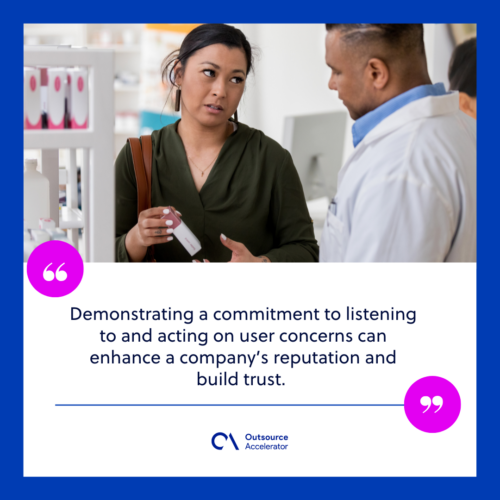 Competitive advantage 
By actively listening to and incorporating the voice of the customer, businesses can innovate faster than their competitors. 
This enables them to introduce enhancements and new features that meet and exceed customer expectations, giving them a competitive edge in the market. 
Enhanced customer experience 
Businesses can gain a deeper understanding of customer perspectives by developing a voice of the customer strategy. This includes identifying pain points in the customer journey and taking steps to resolve them. 
This knowledge allows companies to improve customer experience quality, leading to increased satisfaction and loyalty. 
Methods for capturing the voice of the customer
Capturing the voice of the customer involves various methods and techniques. 
Often, it's beneficial to use a mix of qualitative and quantitative methods to gain a comprehensive understanding of your customers. Businesses need to select the appropriate ones based on their goals, budget, and the depth of insights required. 
Here are some of the more popular methods for capturing the voice of the customer: 
Surveys and questionnaires
Online surveys are a common and cost-effective way to collect customer feedback at scale. They allow businesses to ask specific questions related to their products, services, or overall experience. 
Surveys and questionnaires can be distributed through different channels, including email, website pop-ups, or social media. 
Physical surveys are also viable, which may be given in-store for customers to complete. 
In-depth interviews
Conducting one-on-one interviews with customers provides an opportunity to gather more detailed qualitative insights. This method allows for open-ended discussions and follow-up questions to dive deeper into their opinions. 
Focus groups 
Focus groups involve bringing together a small, representative group of customers to participate in a moderated discussion about a specific product or service. 
The purpose is to uncover shared experiences, gather opinions, and explore ideas for improvement based on group dynamics and interactions. You'll require skilled moderators in order to bring out the voice of the customer in these discussions. 
Customer panels 
Creating a customer advisory board involves forming a group of loyal and diverse customers. This group will meet regularly with representatives of your business to provide feedback and suggestions. 
Similar to focus groups, this allows open dialogue and direct collaboration with the brand itself on product development, strategic planning, and customer experience enhancement. 
Web analytics 
Website analytics and app usage data enables businesses to glean the voice of the customer. Insights into customer behavior, preferences, and pain points can be gained. 
This method includes tracking the following aspects to identify areas of improvement:

Click-through rates

Page browsing time 

Conversion rates 

Site search queries 

User paths
Social listening 
Monitoring social media platforms, online communities, and review sites can provide valuable insights. 
Use social listening tools to help track brand mentions, customer conversations, and emerging trends. This facilitates proactive engagement with your target audience and identifies areas for improvement. 
Customer support interactions 
Analyzing data from customer support interactions can help identify recurring problems, training opportunities, and areas for process reforms. You'd be surprised at the wealth of information you can get from common emails, chats, and call recordings. 
To do this effectively, train your customer service representatives to actively listen during interactions. 
User testing and usability studies 
This method requires directly observing and studying how customers interact with products or services. This means watching them complete tasks and analyzing their feedback on the ease of use, navigation, and overall satisfaction. 
Voice of the customer in business implementation
The integration of the voice of the customer into various aspects of business decision-making is a pivotal step toward creating customer-centric strategies. It can help enhance a business's overall performance. 
This section delves into how organizations can effectively apply VoC insights in key areas:
Product development 
Customer feedback plays a critical role in shaping product development efforts. Companies should systematically collect, analyze, and act upon customer input to create products that meet or exceed customer expectations.
This involves identifying common themes and recurring suggestions from customer feedback channels, such as surveys, reviews, and interviews. Analyzing this data provides insights into what customers like, dislike, and desire in your products.
Companies should establish a feedback loop between product development teams and customer feedback sources. It ensures customer insights are considered at every stage of product design and improvement.
By incorporating the voice of the customer, businesses can prioritize feature updates, fixes, and enhancements that align with customer preferences. This will likely lead to more successful and marketable products.
Customer service and support 
Voice of the customer data often reveals pain points and challenges customers encounter when interacting with a company's customer service and support channels. These issues can range from long response times to unhelpful representatives.
To improve customer service, companies should systematically identify and address these pain points. This may involve restructuring support processes, training customer service staff, and implementing more efficient communication channels.
Monitoring customer feedback channels and tracking key performance indicators (KPIs) related to customer support can help organizations gauge the effectiveness of their improvements.
The voice of the customer also aids in predicting and proactively addressing potential customer service issues, reducing the likelihood of customer frustration and dissatisfaction.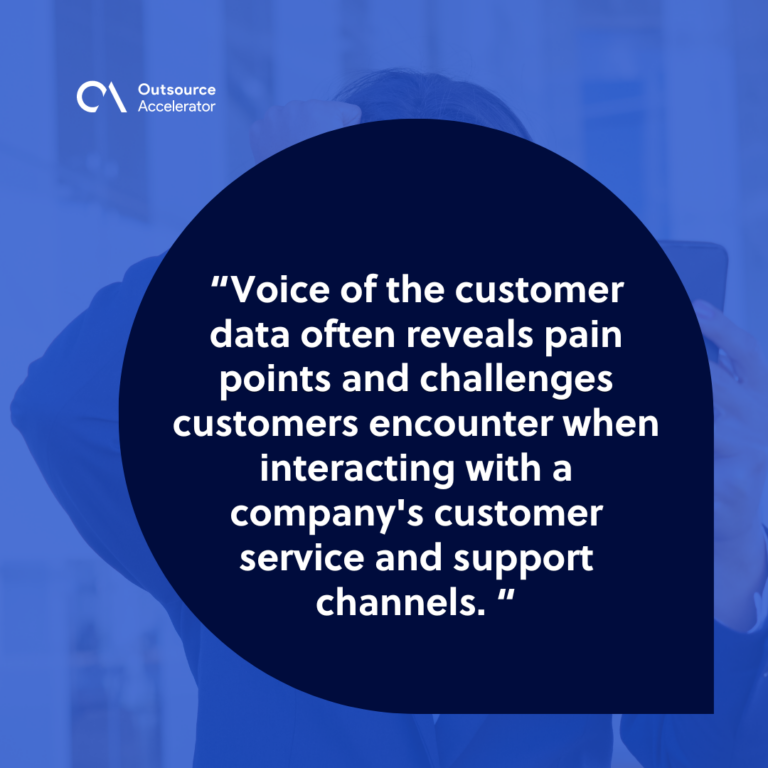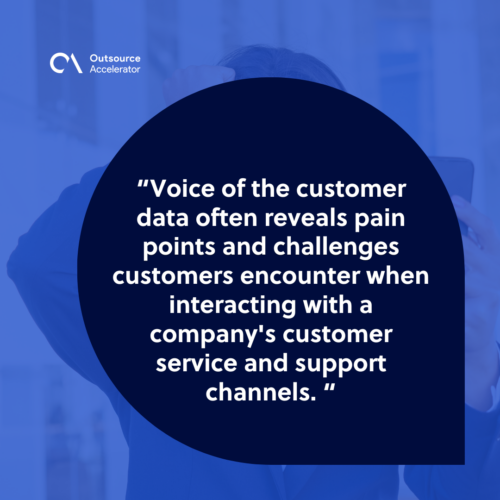 Marketing and messaging
Voice of the customer insights provide a deeper understanding of customer preferences, which can be invaluable in crafting marketing campaigns that resonate with target audiences.
Businesses can tailor their marketing messages, advertisements, and promotions to better appeal to each group by segmenting customers based on their feedback and preferences.
The data can inform the selection of marketing channels, messaging tone, and content themes that align with customer interests and needs.
Additionally, businesses can use the voice of the customer to test and refine marketing strategies. This will ensure that their messaging remains relevant and effective as customer preferences evolve.
Brand loyalty
Customer loyalty is often closely tied to the quality of the customer experience. Voice of the customer data allows organizations to identify and address pain points, thereby enhancing the overall customer journey.
By actively listening to customers and taking action based on their feedback, businesses demonstrate a commitment to customer satisfaction and loyalty.
The voice of the customer can inform the development of loyalty programs and incentives that directly respond to customer desires and preferences.
Additionally, ongoing VoC initiatives can help organizations maintain and strengthen customer relationships over time, fostering brand loyalty and advocacy.
Incorporating the voice of the customer into these critical aspects of business decision-making empowers companies to not only meet customer expectations but also exceed them. 
By leveraging VoC insights, organizations can drive innovation, improve customer satisfaction, and ultimately achieve sustainable growth and success in a competitive marketplace.