A beginner's guide to understanding web analytics
At present different businesses have established their online presence. Website visitors are growing daily, and the need to create an effective digital strategy is in demand.
However, with the vast data and traffic that online platforms offer, it can be difficult for businesses to understand their online consumer's behavior.
A robust online presence can be the key to a business's growth with increased exposure and better communication with prospective customers. But it is not enough if there is no well-thought-out strategy.
This is where web analytics comes into the picture. The data gathered equips businesses to decide which scope needs improvement and which is already working.  
Organizations can use this analytics system to gain direct insights into how the website acts and what the customers say about the products or services.
What is web analytics and why is it important?
Web analytics identifies measures based on a firm's organizational and user goals. 
It uses website data to determine the success or failure of those goals and drive strategy to create a holistic customer experience.
Web analytics analyzes and creates reports on how visitors behave once they are on the website.
You can collect tons of data to understand how people interact with your website and identify opportunities for improvement.
Other visitors' data that website analytics collects aside from essential information like age, gender, and location are the following:
How they (visitors) landed on the site (traffic source)

Most popular content on the company website

Total conversions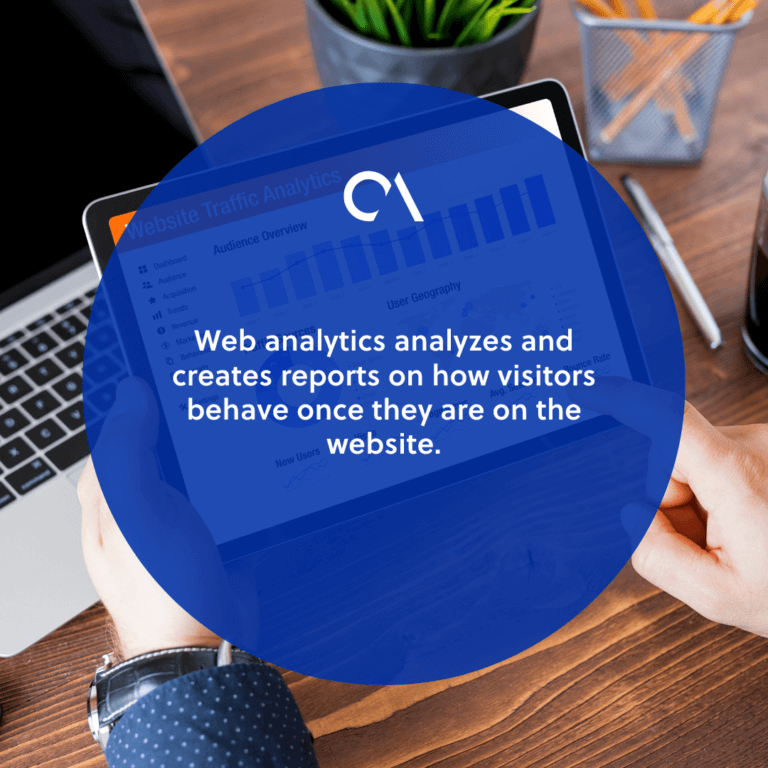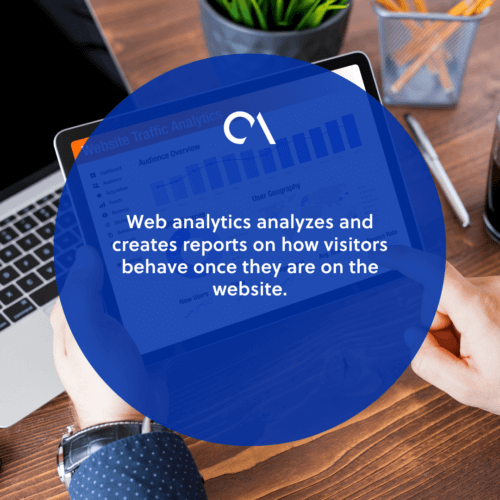 The volume of data collected can be overwhelming. Therefore, it is essential to select which metrics to measure, especially at the outset.
Web analytics is crucial to a business's success. It lets a company have a deeper understanding of website users and use those insights to enhance the user experience.
Through web analytics, you may add additional call-to-action (CTA) buttons or buy links to the top pages of your website to increase conversions.
Similarly, you may update all landing pages with the most recent content or redesign their whole layout and structure to make them appear current.
Web analytics can also shape a firm's content writeups and SEO strategy. Looking at the top viewed posts, the content team can begin to identify what types of topics perform best with the audience.
Benefits of web analytics
Web analytics offer more help than it seems in understanding user behavior across web pages.
Let's look closely at how web analytics benefits your overall business strategy.
Track bounce rate
Web analytics can measure the bounce rate or the percentage of site visitors that depart after seeing only one page.
The bounce rate can be viewed as a site-wide measure or page-level metric. 
At the page level, the bounce rate is the proportion of sessions that began on the page and did not navigate to another page.
Measure traffic
Web analytics reveal the origins of your site's visitors' traffic. Similar to visitor data, this parameter is often acquired using the tracking code on your website.
The number of traffic sources that can be measured varies on the web analytics tool. 
Here are some of the traffic analytics tools that track multiple categories:
Paid search

Direct traffic

Organic search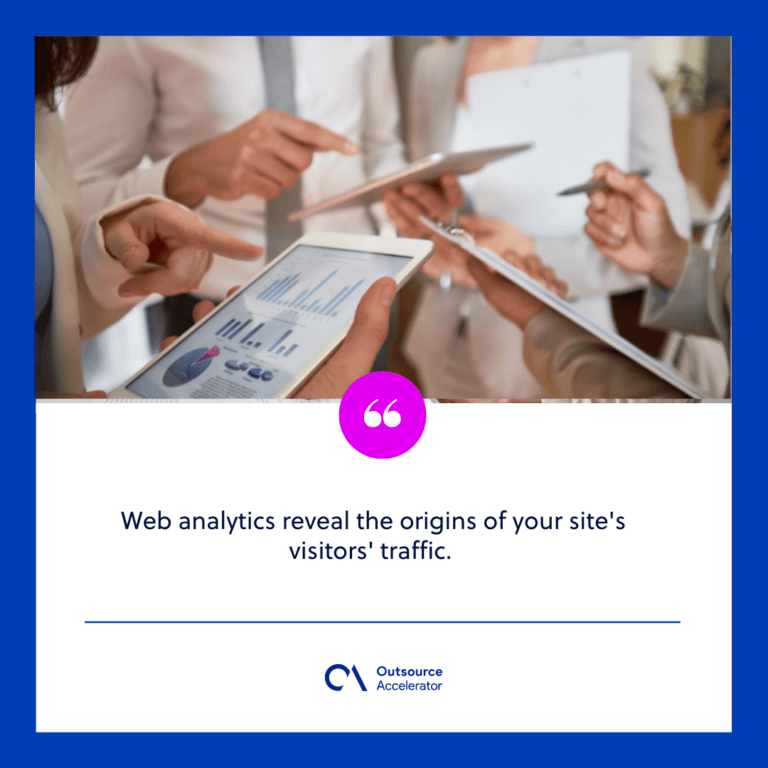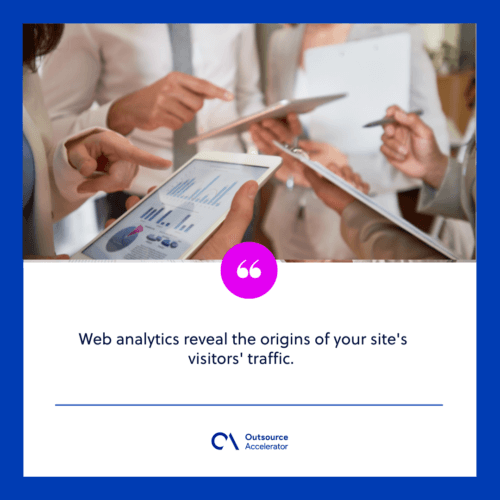 Optimize marketing campaigns
Web analytics can measure unique marketing campaigns. By tracking advertisements that are performing well vs. performing poorly, web analytics can find potentially high-returning campaigns that are more profitable.
Target the right audience
Web analytics offers businesses the knowledge to build and locate suitable target audiences. Relevant marketing campaigns to the right audiences will increase sales and conversions and improve a website.
Improve web services
A firm can identify possible issues on its website and with its services through web analytics.
For instance, if an online store's sales funnel is weak and unclear, the number of purchases would fall, leading to a decline in income.
Users must discover the appropriate material when they visit the site at the proper time. Creating distinct landing pages for various reasons might also be beneficial.
Three main web analytics tools
Now that we have discussed what web analytics is and why it's important, let's look at some main tools your company might track to increase website traffic, leads, and revenue.
Google Analytics is the most popular tool for web analytics. It allows you to monitor bounce rate, unique pageviews, traffic channels, user retention, and average session duration.
Recently, a new version of Google Analytics (GA4) is made available. It opens a smoother way to web analytics. If it's not enough, you can export GA4 to Google Sheets and leverage tracking and reporting of your projects.
Heatmaps, scroll maps, and other types of visual reports may be generated by this one-of-a-kind web analytics tool. It can display precisely how site visitors are engaging with your website.
Google Optimize is a web analytics tool and a marketing platform by Google that helps increase conversion rates.
It is a free tool that can fulfill your site's needs for optimization because it runs almost all types of experiments on a website.
Enhance your website through web analytics
Web analytics can help any business website grow by collecting, reporting, and analyzing data.
You may enhance the user experience on your website and achieve broader marketing goals, such as increasing online sales.
Web analytics helps a company retain consumers, attract additional visits, and raise the amount of money each client spends.
There are still plenty of metrics to discuss. But, like most things, it is necessary to weigh the amount of time it takes to utilize every tool. 
Knowing about web analytics and how it can enhance your website is the first step to moving forward in growing your business.