Should you hire a virtual office assistant?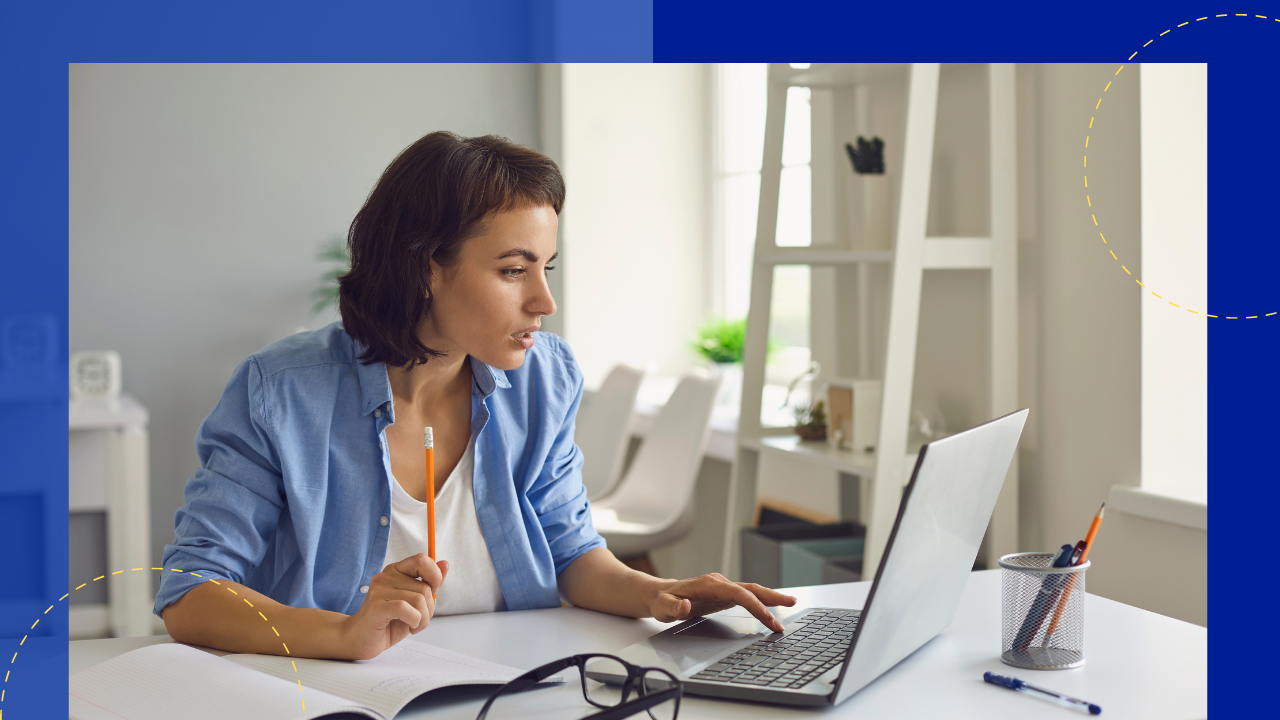 When hiring your first team, you might think having in-house assistants is the only way to go.
Having them in your wing can make sense when you have enough resources and budget to make them work in an office environment.
On the other hand, with the increasing demand and accessibility of remote work, hiring virtual assistants is a more viable option.
This article will explore the considerations of hiring a virtual office assistant and why you should seriously consider adding one to your team.
What does a virtual office assistant do?
A virtual office assistant is a generalist virtual assistant who provides business administrative, technical, and creative support. 
Compared to a specialized VA, virtual office assistants take a more general approach by accomplishing daily repetitive tasks on behalf of a business owner.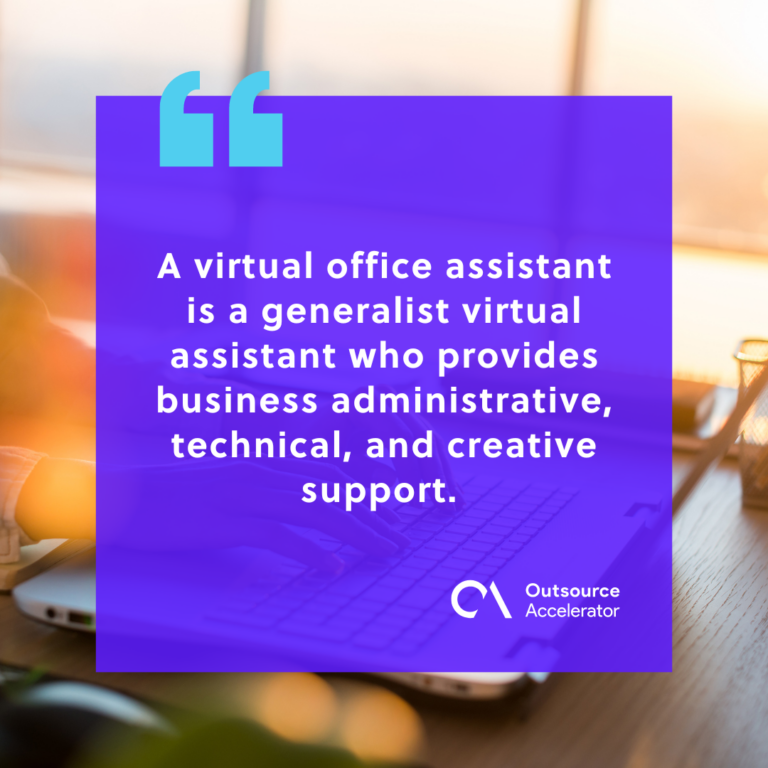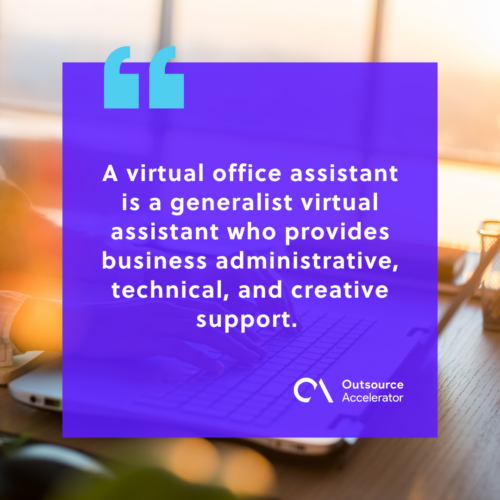 Here are five key responsibilities of a virtual office assistant:
Schedule management
Virtual office assistants excel in managing schedules. They master the art of prioritization and ensure that every task is promptly completed, keeping your business running smoothly.
Instead of handling schedules on your own, they can take over processes such as:
Business communications
Virtual office assistants are skilled in managing business communication channels on your behalf. They can efficiently handle emails, phone calls, and even client inquiries. 
This ensures your business maintains a professional image and excellent client relationships.
Administrative support
Running a business often involves paperwork and supply management. Virtual office assistants can easily handle these tasks, ensuring your business operations remain organized and efficient.
Other administrative processes they can handle are the following:
Research and analysis
Many virtual office assistants also handle specialized work such as marketing and sales. They can conduct thorough market research and stay up-to-date on industry developments.
Whether compiling data or analyzing market statistics, virtual office assistants can give your business a competitive edge.
Expert or specialized work
Business needs can vary and change rapidly. Virtual office assistants are adaptable professionals who can easily handle diverse tasks and adjust to changing requirements. 
Virtual office assistants can adapt to your business's needs, whether you need assistance with a one-time project or ongoing support.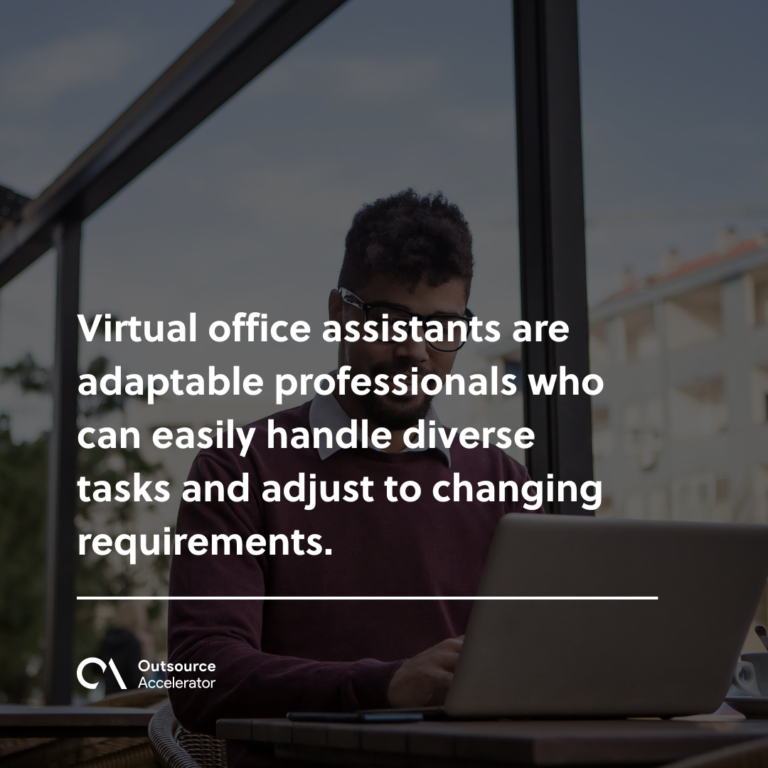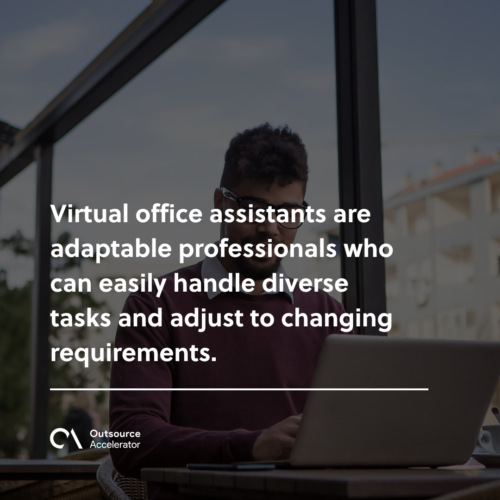 Comparing virtual office assistants vs. In-house assistants
In-house and virtual office assistants may partake in the same tasks, though each has unique advantages and limitations. 
One of the primary advantages of hiring a virtual office assistant is flexibility. In-house assistants are limited within your office location, requiring you to shell out office spaces and equipment for their work.
Virtual office assistants, on the other hand, eliminate the need for these extra requirements. You can contact and work with them anytime, regardless of location.
Furthermore, virtual office assistants offer flexibility in terms of working hours. In-house assistants typically work during regular office hours, while virtual office assistants can accommodate different time zones and work on a project basis.
Factors to consider when hiring a virtual office assistant
Despite the advantages of flexibility and reliability, hiring a virtual office assistant should still be carefully strategized to succeed.
You must consider the following factors to help you get the right virtual office assistant for your business.
Expertise and skills
Ensure the virtual office assistant you hire has the skills and expertise to support your business effectively. Ideally, virtual office assistants have the following abilities:
Apart from these, consider other specialized expertise they possess relevant to your industry.
Communication
Effective communication is vital when working with a virtual office assistant.
Ensure your VA has excellent verbal and written communication skills in your preferred language to prevent further misunderstandings.
Time zone compatibility
Consider the time zone compatibility between you and your virtual office assistant. It is important to ensure sufficient overlap in working hours to facilitate real-time communication and collaboration when needed.
Availability and workload
Discuss the virtual office assistant's availability and workload upfront to ensure your remote worker can support you. Consider your VA's existing clients and projects to avoid conflicts or capacity issues.
References and reviews
Before finalizing your decision, ask for references or reviews from previous clients. This will give you insights into your VA's work ethic, reliability, and ability to deliver high-quality results.
Why should you hire a virtual office assistant?
Hiring an in-house office assistant might be impractical for most businesses nowadays.
Here are the reasons why you should seriously consider adding one to your team:
Many outsourcing companies, such as Remote Employee, can hire virtual team members to take care of the roles you need to be filled.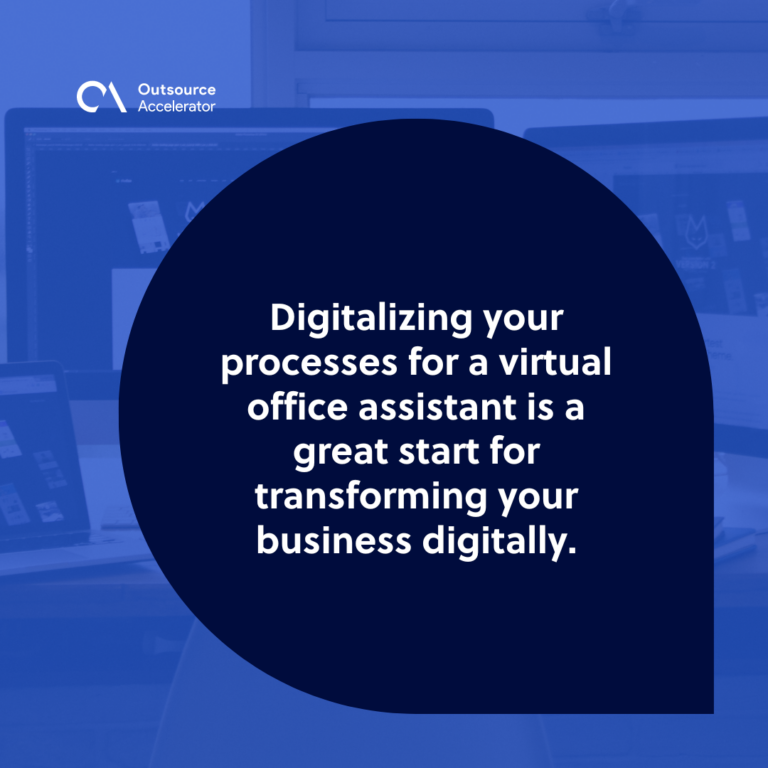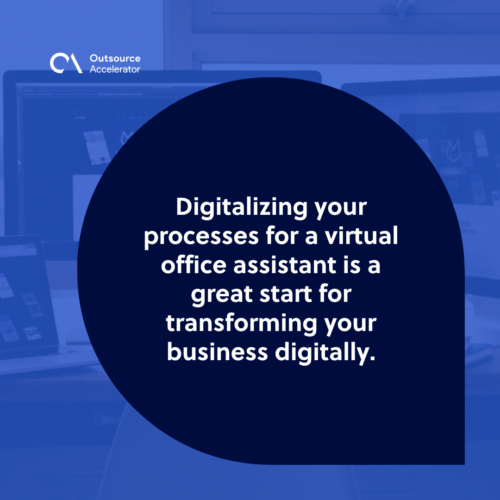 By carefully considering the abovementioned factors and thoroughly assessing your needs, you can find the perfect virtual office assistant who will become an invaluable asset to your team.