From paper to pixels: Harnessing the power of a digital mailroom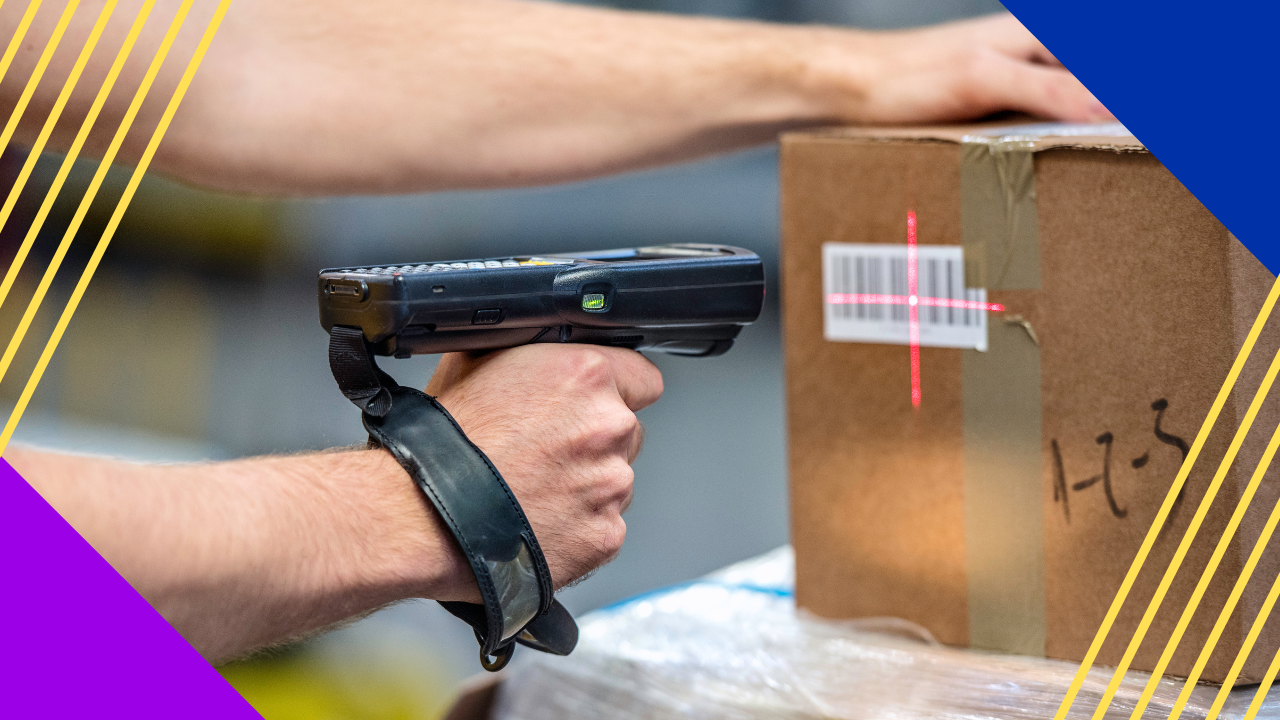 Keeping tabs on the letters a company receives can be tough.
RoadRunner Recycling revealed that an average office worker in the US still consumes at least 10,000 papers per year. Imagine how much effort it can take to maintain, store, and secure paper documents sent via mail daily from its lockers to the office spaces it consumes.
Organizations must have an efficient system to streamline their document-handling processes in today's business environment. This is where a digital mailroom steps in.
A digital mailroom offers a solution to the challenges posed by traditional paper-based mailrooms. This method allows businesses to bid farewell to cumbersome manual sorting and data entry, helping them move forward into a paperless way of work.
Let's explore the world of digital mailrooms and discover how they can transform your business operations.
What is a digital mailroom?
A digital mailroom is a modern solution that replaces traditional paper-based mailrooms. It leverages technology to convert physical mail and documents into digital formats.
Firms can overcome the limitations and inefficiencies of paper-based mailrooms with digital ones. Moreover, digitizing incoming mail and documents allow their teams better access to information remotely.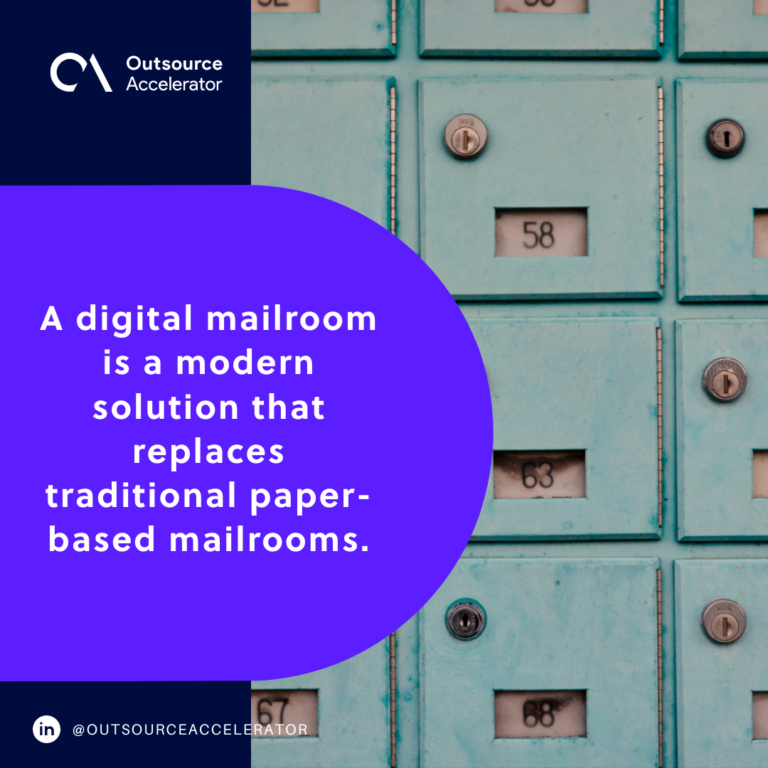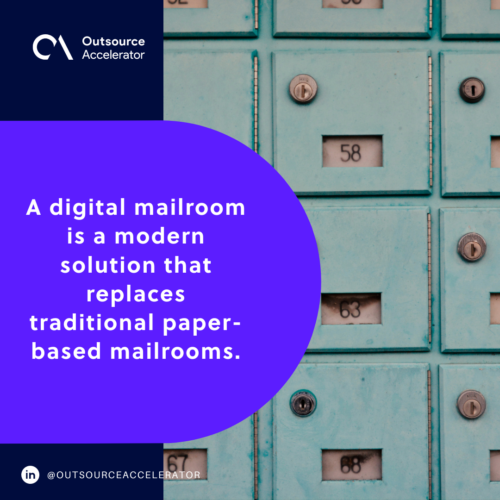 How does a digital mailroom work?
A digital mailroom operates through a combination of advanced technologies and streamlined processes.
When mail and documents arrive at a digital mailroom, they systematically transform from physical to digital formats. This process involves scanning equipment that captures the documents to create high-resolution digital copies.
These copies serve as the foundation for further document processing and management.
Once the documents are digitized, they are stored in a secure and centralized digital repository. The repository acts as a virtual mailroom, housing all incoming mail and documents in an organized and easily accessible manner.
A digital mailroom employs robust categorization to properly classify each document based on its content, sender, recipient, or other relevant criteria.
Key features of a digital mailroom
A digital mailroom offers a range of powerful features that optimize mail processing, document management, and overall workflow efficiency.
One of its key components is its document management system, where users can easily search, retrieve, and view digital files.
Let's explore the other key features in detail:
OCR technology
Optical character recognition (OCR) technology enables the digital mailroom to extract and interpret texts from physical documents. It converts the content into searchable and editable digital formats.
OCR eliminates the need for manual data entry, accelerating document processing and reducing errors.
Intelligent document routing
Intelligent document routing ensures that each digital file is automatically directed to its appropriate destination.
The digital mailroom routes documents to the relevant departments or individuals using predefined rules and intelligent algorithms. This streamlines the distribution process by eliminating manual sending.

Data extraction and integration
A digital mailroom can extract relevant data from incoming documents and seamlessly integrate it with existing systems or databases. This integration eliminates the need for manual data entry and ensures the accuracy and accessibility of information across the organization.
Advantages of having a digital mailroom
Implementing a digital mailroom brings numerous benefits to organizations.
For one, it eliminates the need for paper documents. Physical documents can consume a lot of space and resources to maintain. Not to mention businesses spend at least US$20.00 to file a single document.
A digital mailroom prevents these expenses and security risks by safekeeping a soft copy of all files through the cloud.
Here are other advantages that this technology offers:
Enhanced mail processing speed
A digital mailroom significantly reduces the time required to sort, distribute, and process incoming mail. This accelerated processing speed ensures timely access to critical information.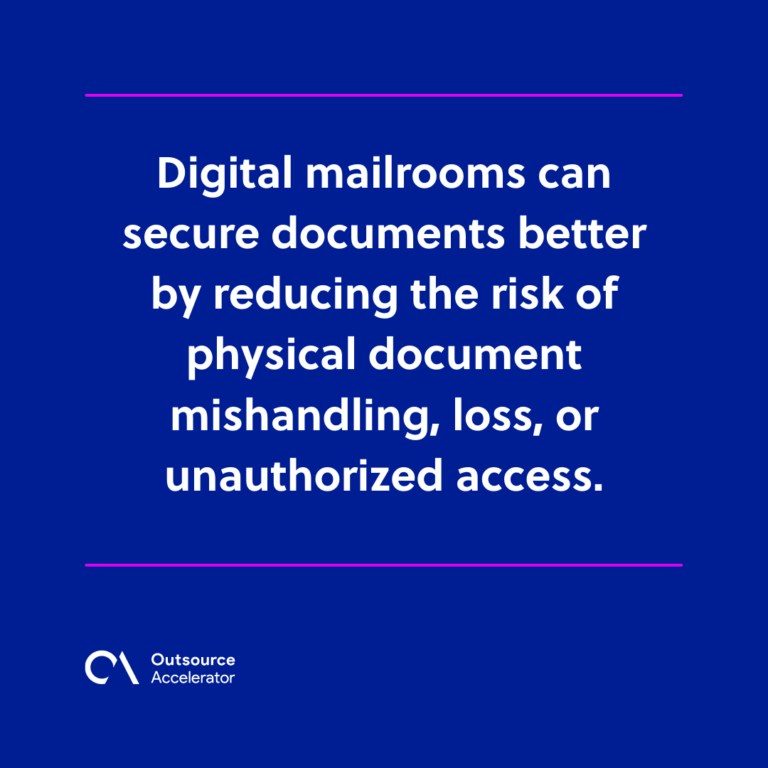 Improved document security
Digital mailrooms can secure documents better by reducing the risk of physical document mishandling, loss, or unauthorized access.
At the same time, firms can maintain compliance with data protection regulations by placing secure digital storage, access controls, and encryption on their documents.
Enhanced access and collaboration
With digital mailrooms, organizations can access digitized mail and documents remotely. Having digital copies of their documents allow employees to access and act on these files from anywhere at any time.
Seamless access promotes efficient teamwork, even in geographically dispersed teams.
Streamlined workflow and task automation
A digital mailroom automates repetitive tasks such as document sorting, distribution, and data entry.
By streamlining these processes, employees can focus on more strategic activities, increasing productivity and reducing costs.
Real-time analytics
Digital mailrooms offer real-time analytics capabilities, providing organizations with valuable insights into mail volumes, processing times, and workflow efficiency.
These analytics empower businesses to identify bottlenecks, optimize processes, and make data-driven decisions to improve performance.
Utilizing a digital mailroom for a sustainable workflow
A digital mailroom not only revolutionizes how firms process and manage incoming mail. It even helps them practice sustainability in their work. This is most important for gaining more customers who expect brands to be more sustainable.
Apart from the product packaging, having a paperless office also helps minimizes paper usage, reduces carbon footprint, and promotes environmental responsibility.
Embracing a digital mailroom optimizes operational efficiency and contributes to a sustainable business environment. 
Explore the possibilities of a digital mailroom and propel your organization into the future.