4 best ways for automating data entry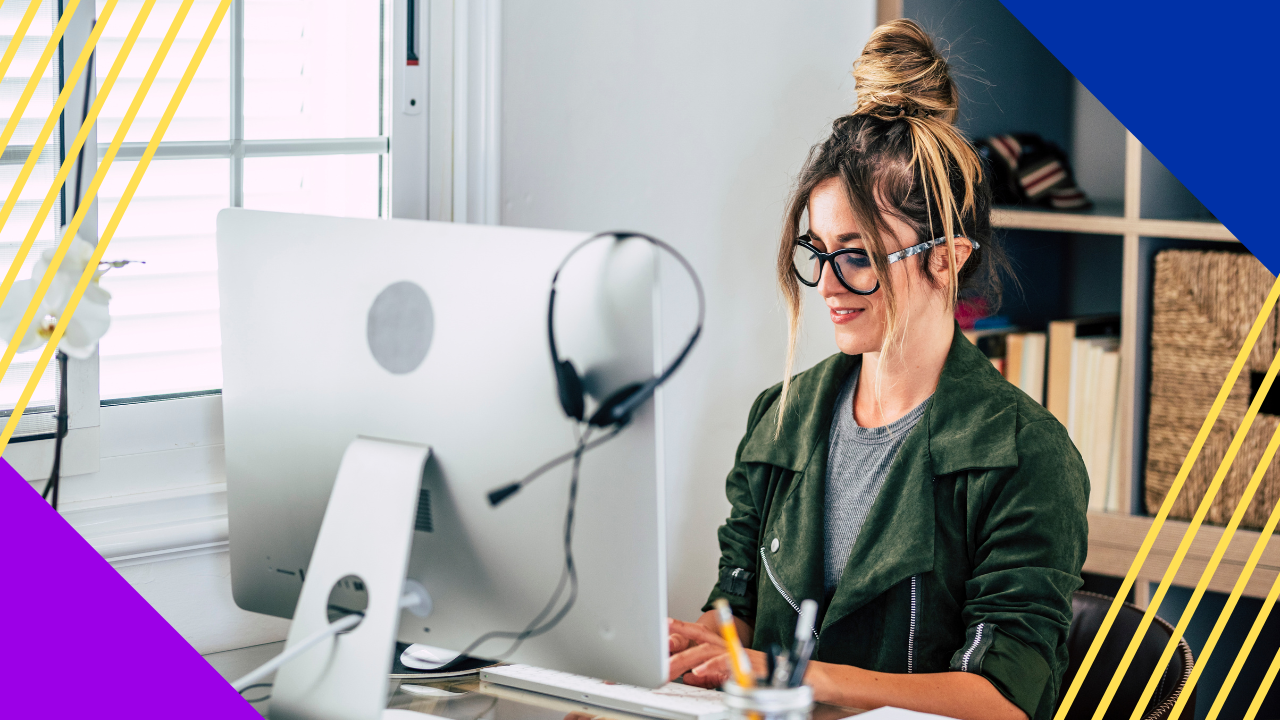 It's not uncommon for businesses to manually enter data into their system. While this may seem like a simple task, it is time-consuming and exhausting as it requires extensive focus — yet results can sometimes be inaccurate. 
Data entry clerks can now automate their data entry processes, saving your team time and ensuring all information is up-to-date and accurate.
This article discusses the four best ways for automating data entry and its significant importance to your business.
What is data entry automation?
Data entry automation is the process of entering data into a software system using the major branches of artificial intelligence (AI) to automate repetitive tasks rather than manual labor. 
Data entry automation allows specialists to swiftly transmit data from one system to another and store and organize vast quantities of data.
Further, businesses may optimize their data management procedures and increase accuracy and efficiency by automating data entry.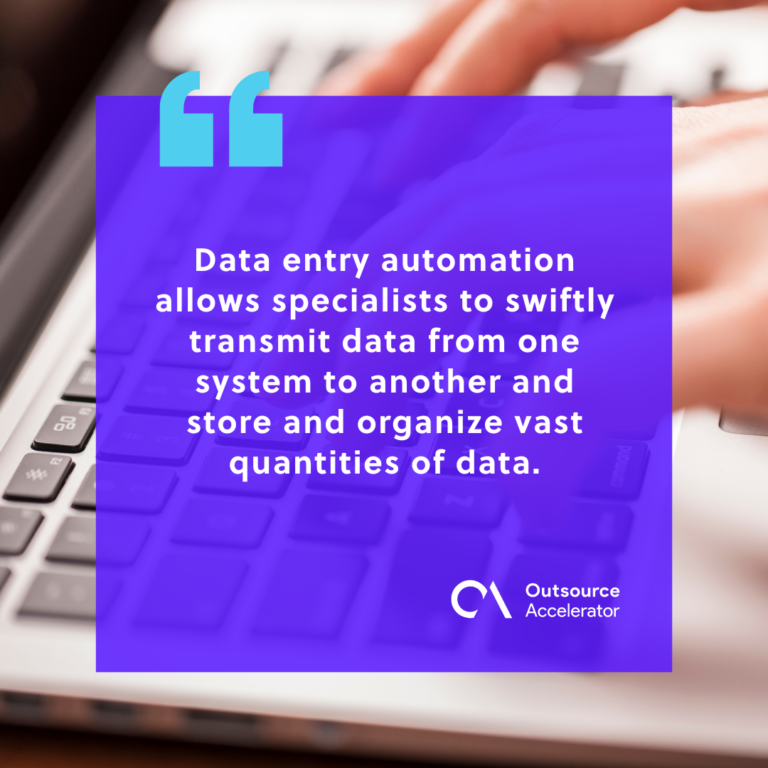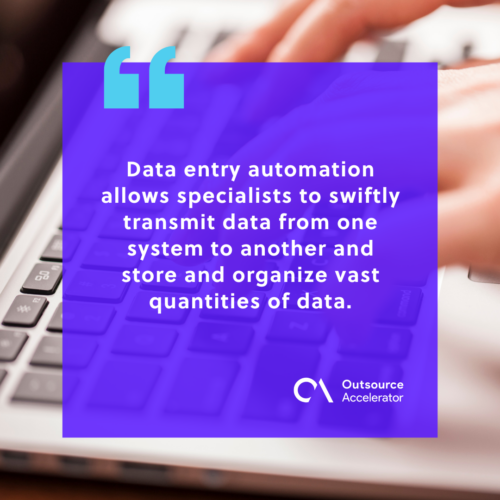 Why is automating data entry necessary?
As mentioned, automating data entry is essential because it reduces the time it takes to enter data manually. Automation reduces the risk of human error, as data can be stored quickly and accurately with fewer typos and mistakes.
It also helps reduce the cost of data entry, as the manual process is labor-intensive and time-consuming. Zapier's 2021 report revealed that automating manual tasks makes 65% of knowledge workers less stressed at work.
To further explain, below are the significant reasons why automating data entry is necessary:
For quicker processing
Data entry positions require 60-80 words per minute (WPM). However, some typists can only type at approximately 40 WPM. Regardless of the demand, this is the average rate at which they are capable of typing.
If the volume of work increases, typists must complete it on or before the deadline. Attempting to type quicker to accomplish tasks on time may only result in typographical errors.
Machines and computer programs lack such limitations. They can work at any hour, and their typing speed is substantially quicker than humans. Their only limitation is that they are not as intelligent as humans.
Automating data entry allows experts to manage a large volume of tasks and process them in a shorter amount of time.
To reduce errors
Human beings are prone to making mistakes no matter how meticulously they work. Further, manual data entry errors can be caused by fatigue and stress. 
Employees who misinterpret texts tend to duplicate data copies, leading to data quality problems. Automating data entry with AI-enabled tools will allow you to constantly provide the same output, reduce errors and give you an accurate statistical analysis.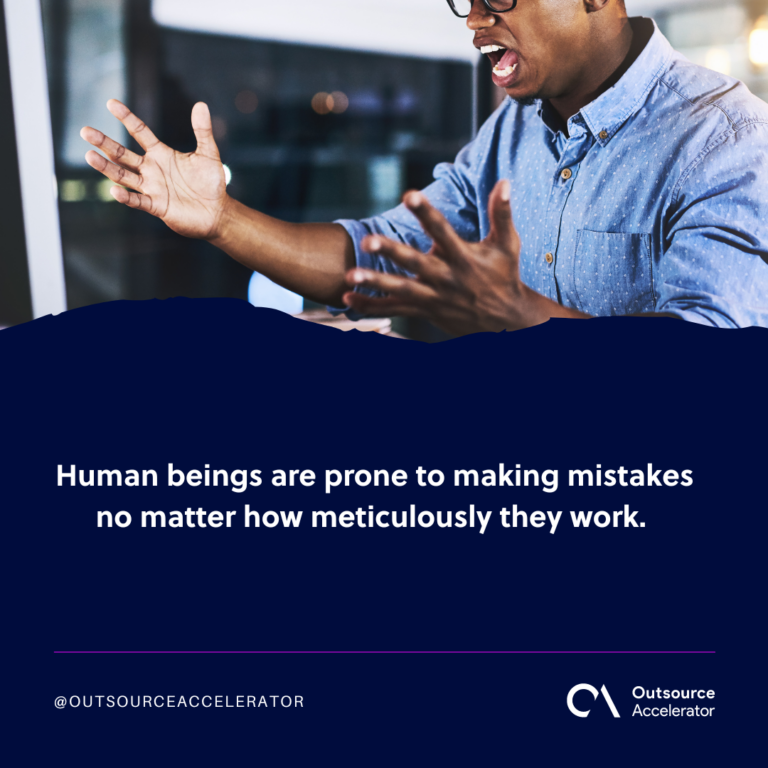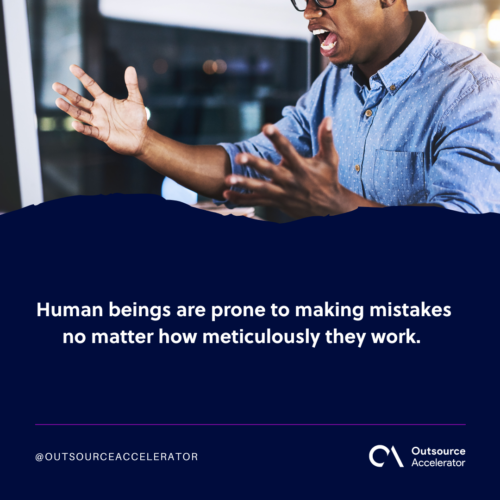 Move up the value chain
Data entry activities may be repetitive, and employees may get burnout from doing them every day. Several diseases might also occur, such as:
Carpal tunnel syndrome

Eye strain

Neck-related difficulties
Automating data entry may free data entry clerks from monotonous tasks — allowing them to move up the value chain to perform more challenging tasks.
Best ways for automating data entry
Now that you know the necessity for automation, let's discuss the top four ways to automate data entry:

1. Natural language processing (NLP)
While it is easy for humans to understand and master a language, it is not the same for a computer. Utilizing NLP for automating data entry enables computers to understand and process human language.
NLP extracts data from unstructured text, such as emails and webpages, to convert it into structured data. It is also used to identify data patterns to improve decision-making.
2. Optical character recognition (OCR)
Automating data entry using OCR makes it easier for your team to convert scanned documents into searchable text. This way, you can find specific information faster than spending hours browsing for hidden data manually.
3. Artificial intelligence (AI)
Like natural language processing (NLP), AI and machine learning (ML) can turn unstructured text into structured data. 
Industries that perform data entry can use AI to quickly and accurately process customer data, allowing businesses to increase customer response rates. Accurate and reliable data collection can help companies improve customer satisfaction and loyalty.
4. Robotic process automation (RPA)
In context, RPA is a type of automation in which a software program replicates usual human activities in digital systems, such as:
Navigating systems

Identifying data

Extracting data

Completing keystrokes
Additionally, instead of having someone manually input the data into your ERP system, the bot will "automatically" enter the data even without your supervision.
Automating data entry reduces tedious manual processes
Overall, data entry automation is a great way to alleviate monotonous manual processes and divert one's energy to more challenging tasks. This is a smart choice for companies looking to streamline its processes and increase productivity.
Start reaping its benefits by following the abovementioned ways for automating data entry.