Skills needed to excel as a data entry clerk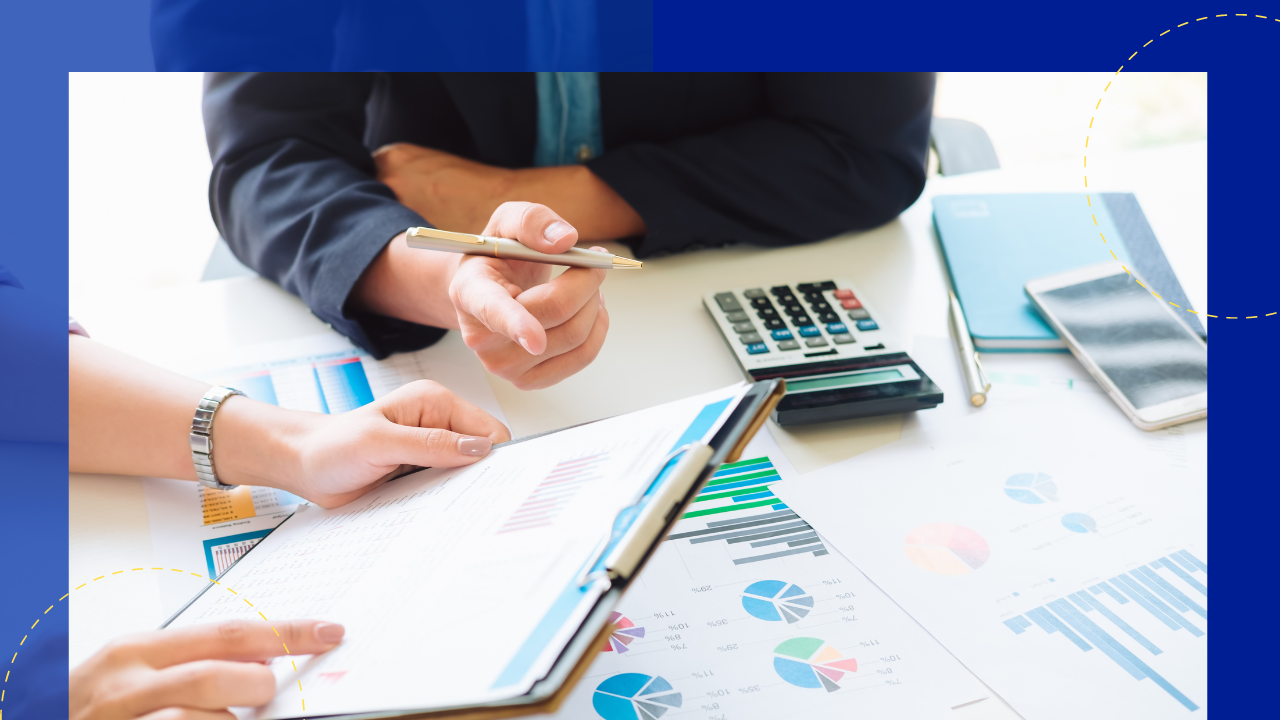 Skills needed to excel as a data entry clerk
Data entry, though a non-core function, is considered to be an essential part of a business. Companies need a reliable person to handle, manage, and store sensitive information in their database and assist their front-office workers with this. Data entry clerks are the ones most trusted by a company to fulfill this responsibility.
Data entry clerks and specialists may be hired through outsourcing firms, such as Booth and Partners. They heavily vet their talent to make sure they fit the standards of the role.
If you want to become a data entry clerk for a company, you need to possess the right skills and expertise needed for the role. Do you think you have what it takes? Find out in this article.
What is data entry?
Data entry refers to the generalized process of transferring or converting documents from one format to another. This involves the use of equipment and tools such as word processors, keyboards, scanners, etc. Data entry can be done in the form of typing, clicking, scanning, and transcribing.
Though it requires a high level of accuracy, data entry is considered entry-level work.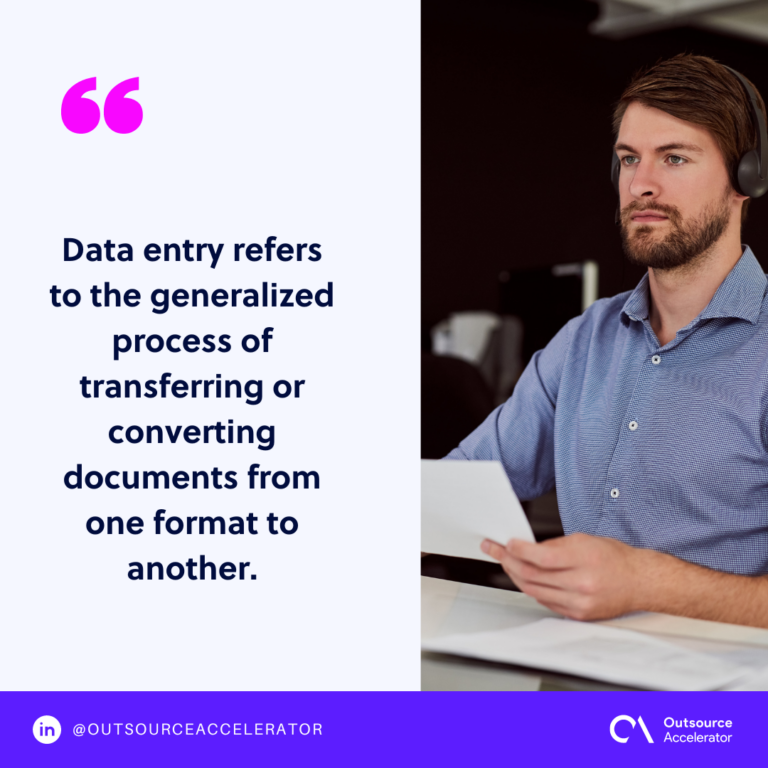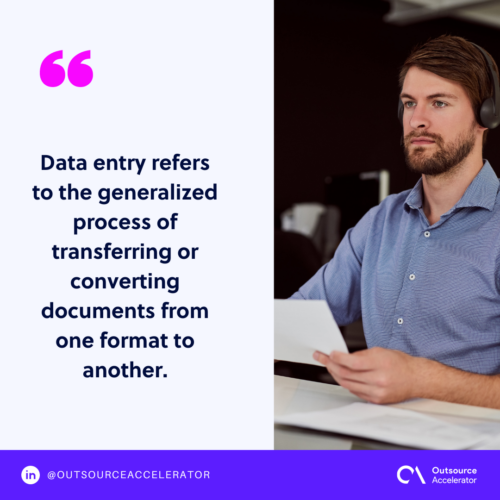 Responsibilities of a data entry clerk
A data entry clerk is the one responsible for managing and updating their client's data. They team up with typists, transcribers, and encoders in inputting data and have a share of these workloads at the side. In addition, they handle volumes of information from multiple sources and input them into a company's database.
They are also responsible for the following duties:
Adding and updating data provided by customers

Verifying data from comparable sources

Storing and retrieving data from the database as needed

Coordinating with internal teams for related concerns

Preparing reports and presentations

Handling confidential information
Skills needed to excel as a data entry clerk
Anyone with at least a high school diploma and basic computer proficiency can be a data entry clerk. Though, to stand out, you need to have the following skills for the role.
Hard skills
Ample knowledge in using data entry tools
As a data entry clerk, you are expected to have sufficient knowledge of the tools used for your work or have the ability to quickly learn them.
Basically, a data entry clerk should know how to use tools such as word processors, excel spreadsheets, and PowerPoint. Aside from this, additional knowledge in using a database or even a CRM system may also be required for storing and recording information. 
Ability to operate hardware equipment
Aside from computers, you are required to know how to operate other equipment used in entering data into a database. You should at least have the ability to operate scanners, printers, voice recorders, photocopiers, and other related hardware depending on what your work needs.
Certifications and compliances
For a more complicated workload such as bookkeeping and coding, companies might request certification to verify their expertise in using a certain tool. 
This goes the same with handling medical and financial records. Businesses are required to follow proper compliances to assure the security and confidentiality of sensitive data they handle. Freelancers often provide these as a part of their qualifications and skill sets.
Meanwhile, compliances are assured by a third-party firm when a company decides to outsource its services there.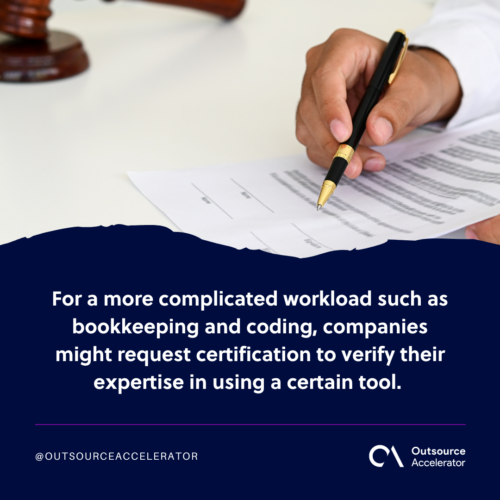 Fast typing skills
Lastly, typing speed is crucial when you want to be a data entry clerk. You should be able to type and encode data quickly and accurately to keep up with a high volume of workload in a limited period.
A good data entry clerk should have an average typing speed of 45 words per minute. Depending on what you will work on, required typing might go up to around 60-90 words per minute. Anything lower than the average typing speed will be less likely to qualify for the role.
You can use free online typing tests to know your typing speed.
Soft skills
Attention to detail
For this role, you should be highly accurate and attentive when entering information into a document or a database. A single misspell or a missing digit in an amount can lead to bigger problems such as filing discrepancies and penalties.
To avoid this, a data entry clerk should have a keen eye for verifying and spotting any errors in a document. They should also act quickly when they see an error in any document they file.
Ability to focus
A data entry clerk has to handle high volumes of data and work on the same task for long periods. This is why they should have high focus and patience when working so they can finish their tasks more efficiently.
Not having a full focus and concentration at work can lead to poor performance and low-quality work results.
Ability to handle pressure
Being a data entry clerk can be stressful when you also have to face clients, both internal and external, and meet urgent deadlines. With this, you should be able to handle pressure and stress better to get on with the day.
Effective communication
Your work won't just be all about facing volumes of documents each day. You will also have to coordinate with clients and your teammates for data verification, recording, and storage. A part of your job is to be able to pull up and provide them the data they need in different transactions.
With this, possessing effective communication skills will be of great help for you. Being able to communicate effectively also boosts your confidence and morale in handling your daily workload.
Organizational skills
Lastly, you need to be highly organized when working with volumes of data. Having good organizational skills can help you to plan your work strategy, prioritize urgent and important matters, and achieve your objectives and quota on a daily basis. 
This also helps you lessen errors and confusion when working with volumes of documents.
How to improve your data entry skills
Nowadays, you can improve your data entry skills in the comforts of your own home, whether through web-based programs or simple improvement of routines and mindset. Here are some ways you can do to improve your data entry skills.
Take typing tests online.

There is a vast resource of typing tests and practices online you can use to increase your speed. Also, take note of your current posture and body language since this can greatly affect your typing ability.
Organize your workspace.

Make sure to clean your workspace and take away anything that could lose your focus on your work. This is also a great practice when it comes to organizing your workload.
Master data entry "hacks".

Don't just stick to a single method of entering data. There are a lot of shortcuts you can use that can cut your time needed in data input.
Always give time for proofreading. Most importantly, don't just give all of your time and effort in simply encoding and transcribing a document. You should as well take time to proofread your work and check if there are errors, misspells, and discrepancies in your output.