How a virtual appointment setter drives business growth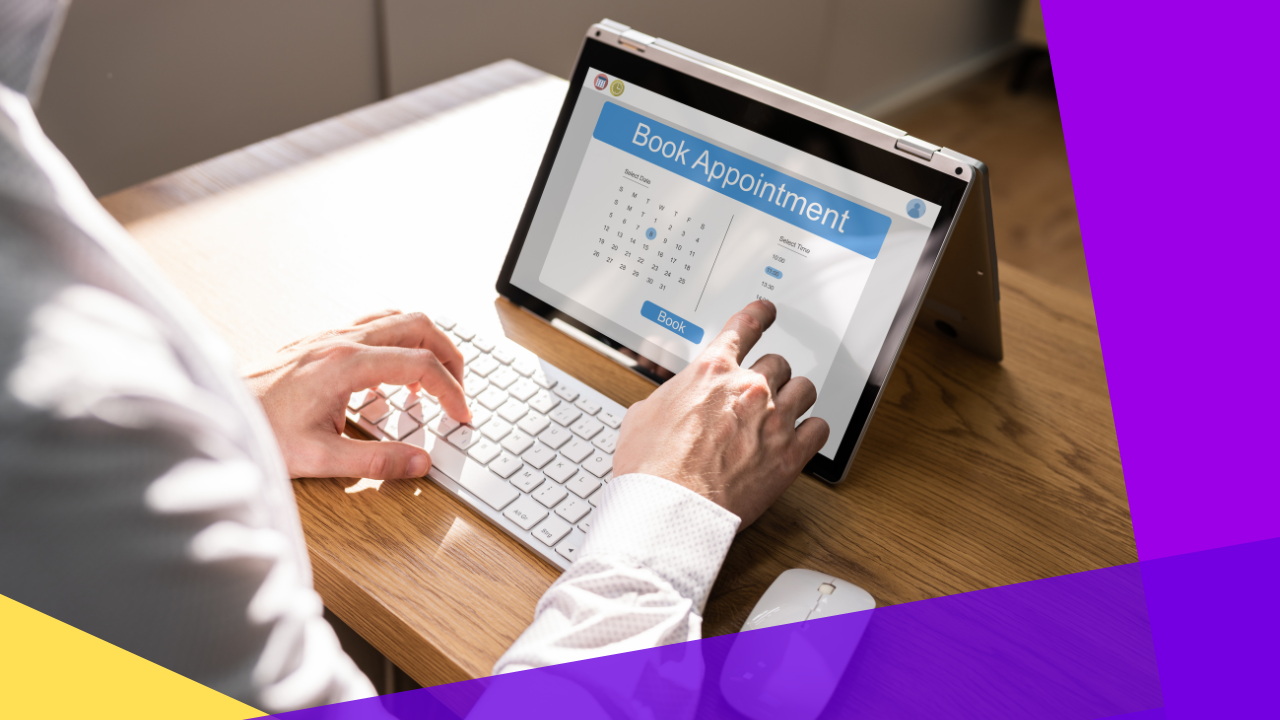 A virtual assistant or VA role describes someone who performs various administrative tasks for a company or individual. 
VAs can be hired remotely to work as independent contractors for clients. They perform multiple tasks, from bookkeeping and data entry to social media management, web design, and content writing for blogs and websites. 
A virtual appointment setter is a type of VA specializing in setting up appointments with prospective clients. These specialists are usually hired by companies who don't have the time or resources to do it themselves. 
Clark Staff is an excellent firm to partner with when hiring remote staff. It has a proven record in providing skilled appointment setters to streamline your needs.
A virtual appointment setter can bring business value to a burdened organization. Read on to find out how.
What is a virtual appointment setter? 
A virtual appointment setter provides a service that allows businesses to outsource their appointment needs. 
The business sends the information they want to share with potential customers, and the virtual appointment setter makes the calls and schedules meetings. 
Virtual appointment setters have frequently also been called telemarketers or cold callers. While the roles contain some similarities, the practice isn't necessarily accurate as virtual appointment setters come equipped with much more client information.
Skills to look for in a virtual appointment setter 
Some skills that you'll want your virtual appointment setter to have are: 
Customer service skills

Communication skills

Organizational skills

Flexibility

Proficiency in scheduling software and tools

A highly motivated attitude
Common tasks of a virtual appointment setter
Here are the common tasks that one can assign to a virtual appointment setter: 
Scheduling appointments
Virtual appointment setters are often the first point of contact for potential clients. It's their job to set up meetings, usually through phone calls or email. 
Virtual appointment setters are most notably found in insurance, finance, and real estate but can work in a variety of industries. 
The primary role of a virtual appointment setter is to schedule appointments. They get people to agree to meet with a salesperson or other professional employee to discuss products and services. 
Scheduling appointments is a valuable and affordable way to get in front of your target market and build trust even before inviting them to view your services.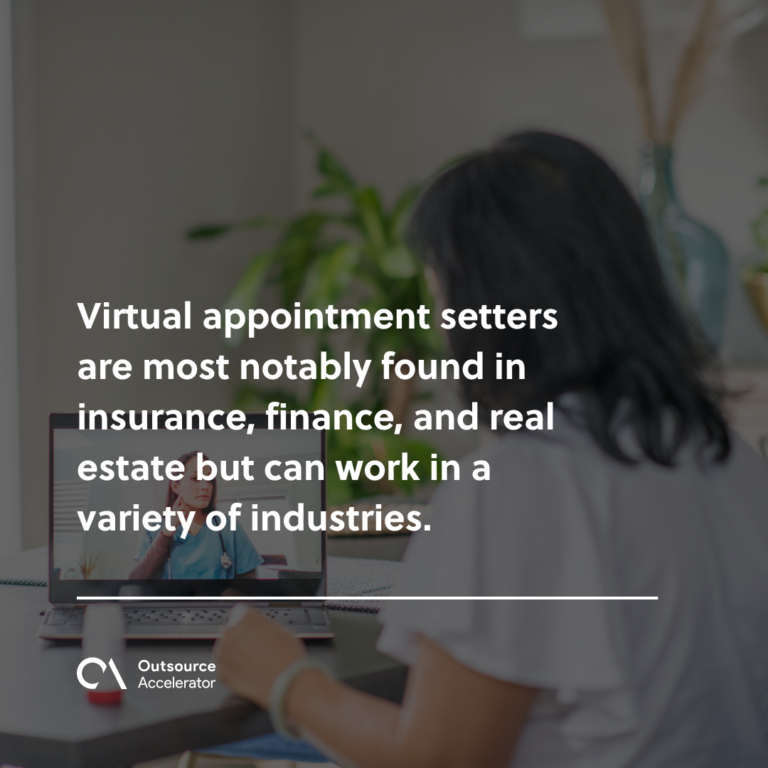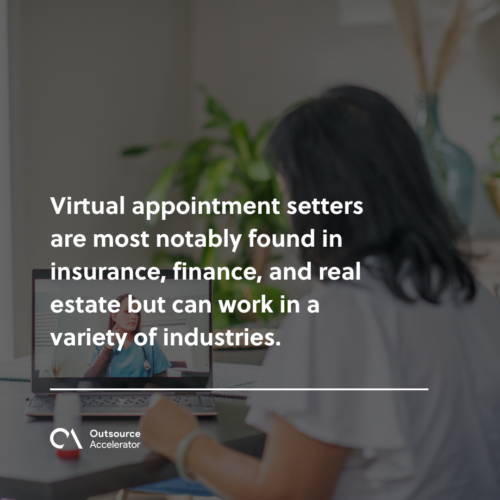 Lead generation and qualification
Lead generation is when a company rustles up new clients by identifying people who might be interested in what they're offering. 
Virtual appointment setters scour databases like customer lists and social media accounts to build a prospective client list. They then contact these people for lead qualification.
Qualifying a lead means ensuring that it's worth your while to spend time selling to that potential customer. When getting a lead from any source, virtual appointment setters need to qualify it first before scheduling an appointment. 
File management and organization
One of the most important duties of a virtual appointment setter is researching prospects' needs to match them with appropriate products and services from the company they represent. 
The more information companies have about their client's needs, the easier it will be to match them with services that can help solve their problems or achieve their goals. You can do this faster than if they had done it themselves. 
File management is, therefore, important. Virtual appointment setters need to keep track of all client information and organize it well for easy access. 
Email management
Effective email management is crucial because it can help avoid losing another client due to poor communication skills. 
The job of a virtual appointment setter includes email management and responding to customer queries. Companies will usually give their virtual appointment setter full access to the sales inbox for more effective management. 
Elaborate on products and services
Though they'll mostly be concerned with scheduling appointments, knowledge about the company they represent is still a large part of a virtual appointment setter's job. 
They should be able to provide detailed information about products and services when asked. 
This will also prove to be an initial step in converting a lead to a customer. Customer service skills will come in handy at this point. 
Specifically, a virtual appointment setter should be able to:

Help customers find products or services that match their needs

Answer customer questions about products or services 

Offer guidance on how to use products and services

Resolve any issues that customers may have after purchasing
Why you need a virtual appointment setter
Hiring a virtual appointment setter makes your business more productive by reducing the monotony you spend on contacting prospective clients.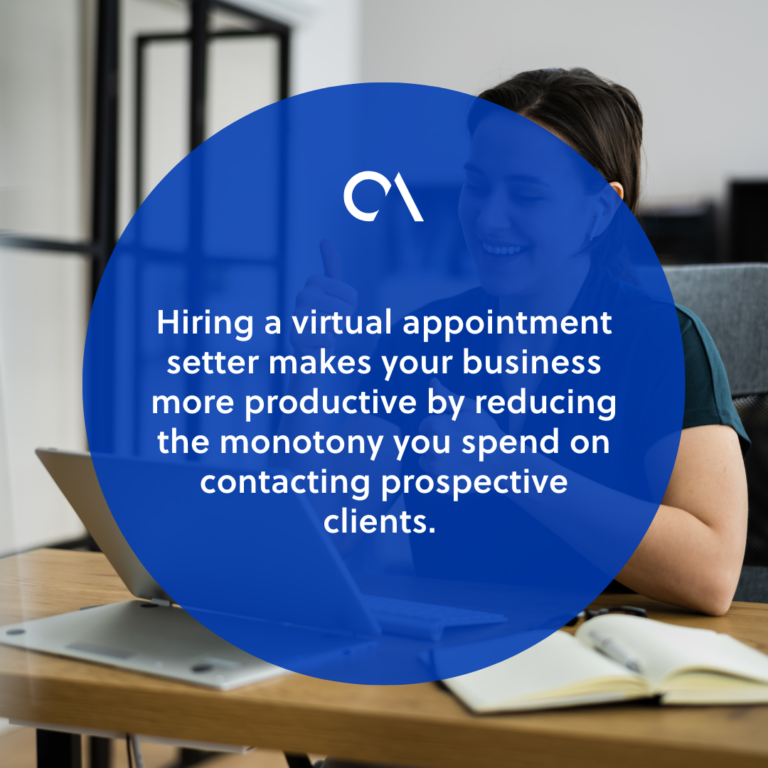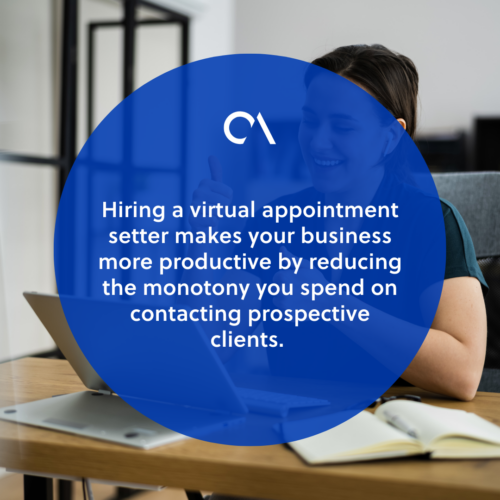 You can assign them different tasks while focusing on building your brand. Here are some other benefits of hiring a virtual appointment setter: 
Saves time 
The services of a virtual appointment setter are designed to save time for busy executives. They take care of all the legwork when it comes to contacting prospects. 
If your business has multiple locations and services, it's unlikely you can schedule all appointments by yourself. A virtual appointment setter can handle that entire process smoothly. 
Cost-effective
Virtual appointment setting is less expensive than traditional lead generation methods like cold calling or door-knocking. You also won't spend as many resources on contacting low-quality leads. 
Because they're remote virtual assistants, you also pay less for office space or in-house equipment. 
Experienced resource
Virtual appointment setters usually have intensive experience, and they can help you grow your business. 
A seasoned virtual appointment setter has done the job for all types of industries, including healthcare practices, financial institutions, and retail. These VAs understand the best methods of reaching out and providing information to possible customers. 
Gain quality clients
A virtual appointment setter only schedules appointments with those most likely to convert or those who have already expressed interest. 
By doing so, your company receives only the most qualified prospects. You won't have to waste time browsing other users. 
Increase sales opportunities
Virtual appointment setters increase sales opportunities for your business. They use all their skills to build relationships with clients to convince them that your company can solve their problems. 
You will also get more time to close deals and move your business forward.