How important is B2B appointment-setting to lead generation?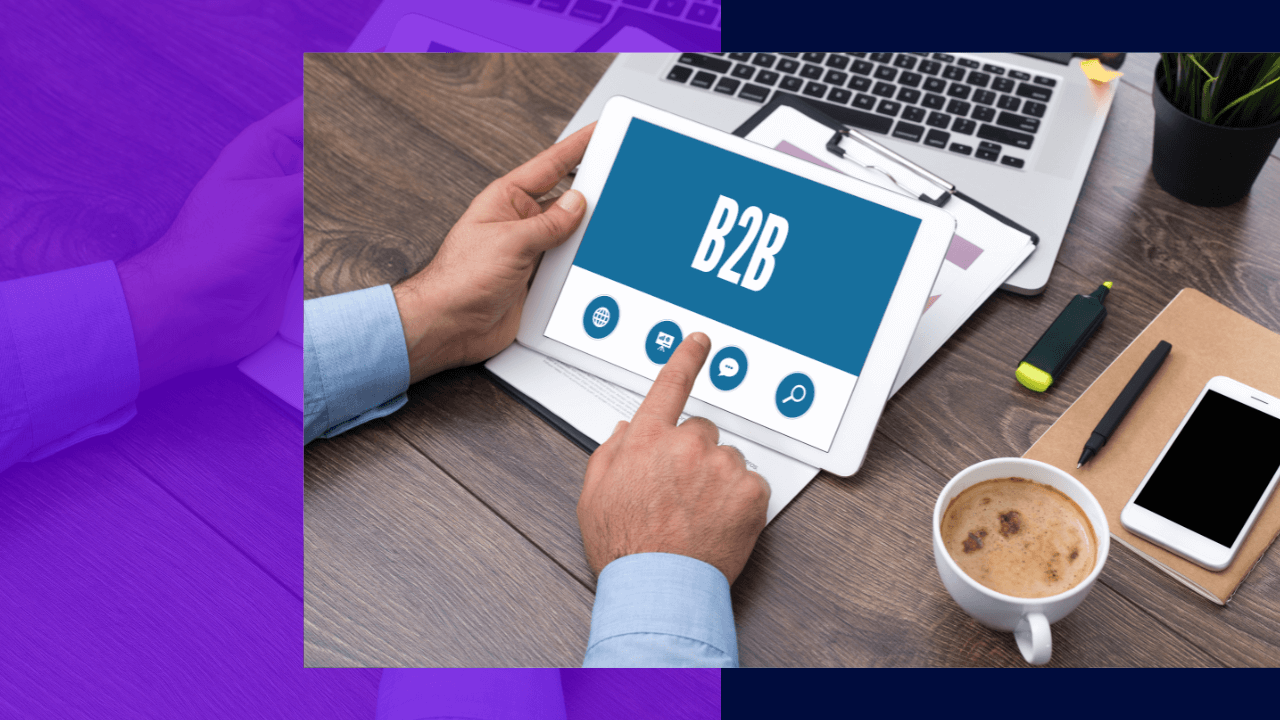 How important is B2B appointment-setting to lead generation
Even while the concept of establishing B2B appointments is straightforward, it's not a simple task. You need to have a well-thought-out strategy in place if you want your B2B appointment-setting program to be reliable and long-lasting.
You run the danger of having a business growth strategy that yields minimal to no returns if you don't regularly contact prospects. Developing connections with leads in the sales pipeline is key, and B2B appointment-setting helps you with that.
What is B2B appointment-setting?
Business-to-business (B2B) appointment setting is a technique in which appointment setters make contact with other businesses as potential customers. Through this, they present their company's goods and services and schedule meetings to close deals.
In B2B appointment-setting, appointments can be scheduled by salespeople to develop their relationship with prospects and advance them through the lead cycle.
Sales staff can make the final sale, draft contracts, and give customers more comprehensive information about a good or service during this meeting.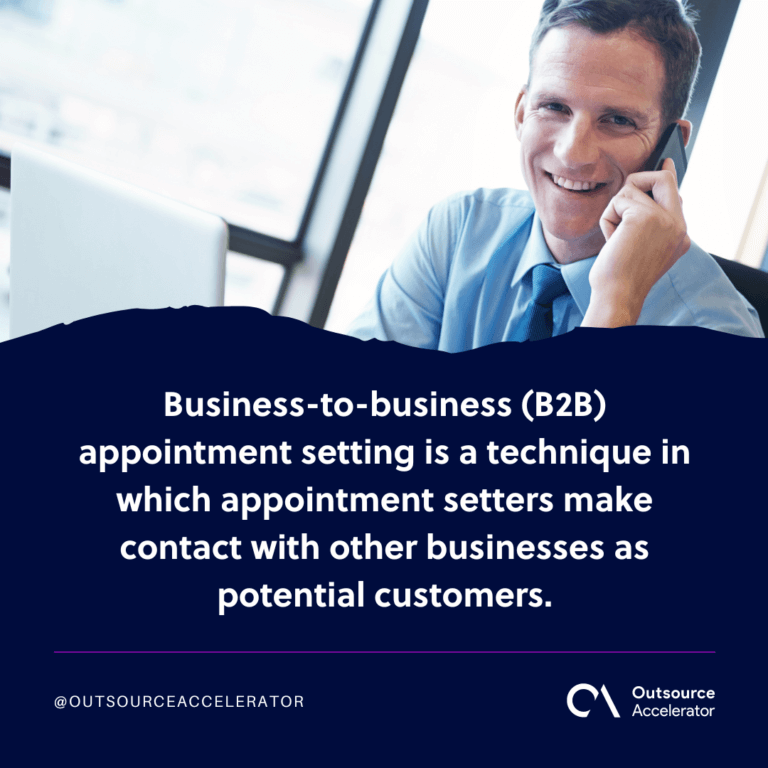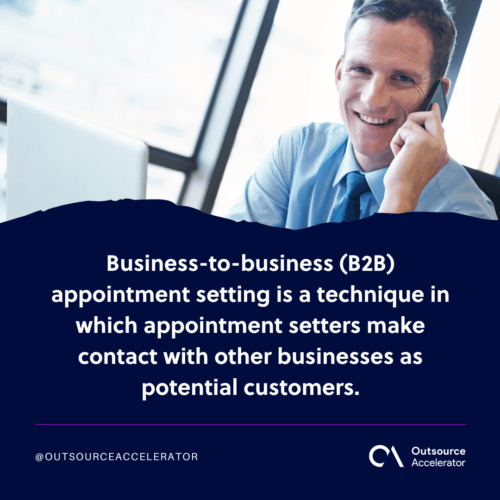 How does B2B appointment-setting work?
Basic research, contact list creation, and funneling initial contacts from the list are all done during the prospecting stage. These lists often contain potential customers' names, phone numbers, emails, job titles, and levels of interest in the company's goods or services.
Sales representatives may meet with prospects several times during the appointment-setting process. They do this to build rapport with them and filter them according to a set of criteria. 
They invite the lead to a formal meeting with a close sales representative after scheduling a time and date with them. During this meeting, they work together on developing and carrying out a final sales proposal.
The closing sales representative may then assist the prospective buyer to resolve any last-minute issues. Afterward, they may persuade them to sign the final contract during the closing appointment itself. 
In some cases, the buyer and the sales representative will meet again to finalize the actual contract signing. This takes place after discussing the details of the purchase and the closure.
How does B2B appointment-setting help in lead generation?
B2B appointment-setting allows your company to connect with managers and business owners who you might not have encountered naturally. 
Here are some other reasons why B2B appointment-setting can be essential in your lead-generation processes:
Finding potential business opportunities
Sales teams look for possible business possibilities during the B2B appointment-setting process. Outbound leads enter the appointment-setting sales pipeline either through a database or on social media.
You can find audiences who would be interested in utilizing your product or service. After compiling a contact list containing the names and contact details of each lead, you can further investigate each lead. Afterward, you can start coming up with strategies to convert them into paying customers.
Qualifying leads
Lead qualification before making calls to prospects is important. This will guarantee that you are only following up and scheduling appointments with leads that fit your criteria for ideal clients.
Determine whether the business has the desire, resources, and need to purchase your good or service. Multiple appointments across channels may be required for the qualifying process.
Maintaining leads
B2B appointment-setting includes maintaining leads. It increases top-of-mind awareness and reassures the possible customer that you are still thinking about them and their company.
Any key information about the prospect you have gathered from your initial engagement with them should be shared with a sales representative. This ensures that the sales representative has data for their closing sales meetings.
They can create a unique pitch or presentation catered to the prospect's requirements and preferences to maintain them.
Setting appointments
This enables your internal sales force to provide the prospect with a tailored pitch and turn them from leads into loyal clients.
Using cloud-based systems can help sales representatives view and update the calendars of the sales team members from any time and location. Make sure you are aware of the closing sales team members' availability in advance.
You may also email invitations to the prospect and sales representative to confirm the meeting.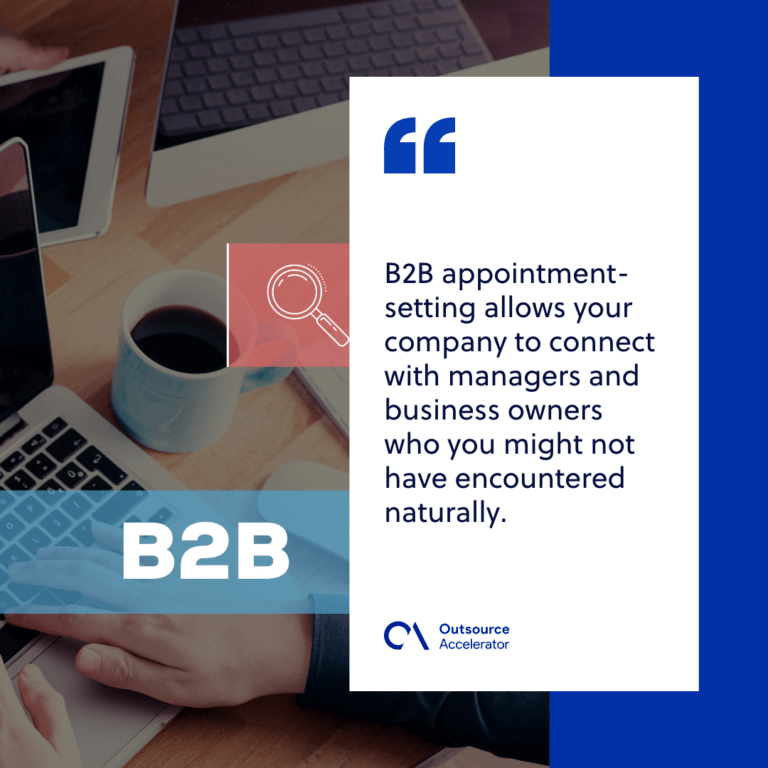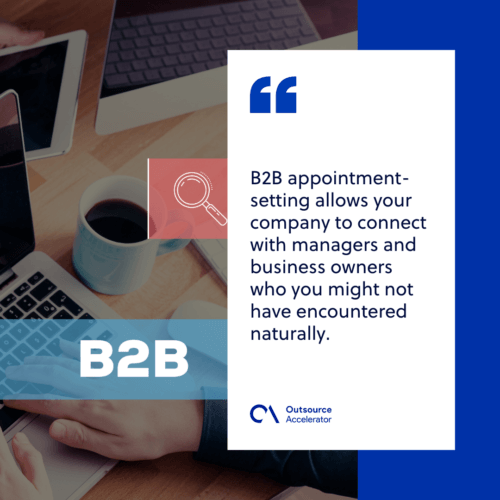 What to look for in a B2B appointment setter?
For sales team members to connect with prospects and engage in interesting conversations, excellent interpersonal skills are essential. It also helps them make friends and establish trust with leads. 
Your appointment setters must be able to communicate with your clients and comprehend their company operations on a high level. They should have a solid awareness of how a potential company makes decisions.
The best B2B appointment setters are skilled communicators who have received training on how to answer the most frequent objections. Instead of giving up and moving on to the next prospect, they use challenges as a chance to learn about the requirements and frustrations of the prospect.
The B2B appointment-setting process is quite simple, but it is not an easy job. Your sales representatives must consistently work to be sustainable and dependable over the long haul. 
Furthermore, keep in mind that even if you do not instantly land your ideal client, having a B2B appointment-setting plan will bring you closer than not having one at all.