Quick guide to hiring a remote virtual assistant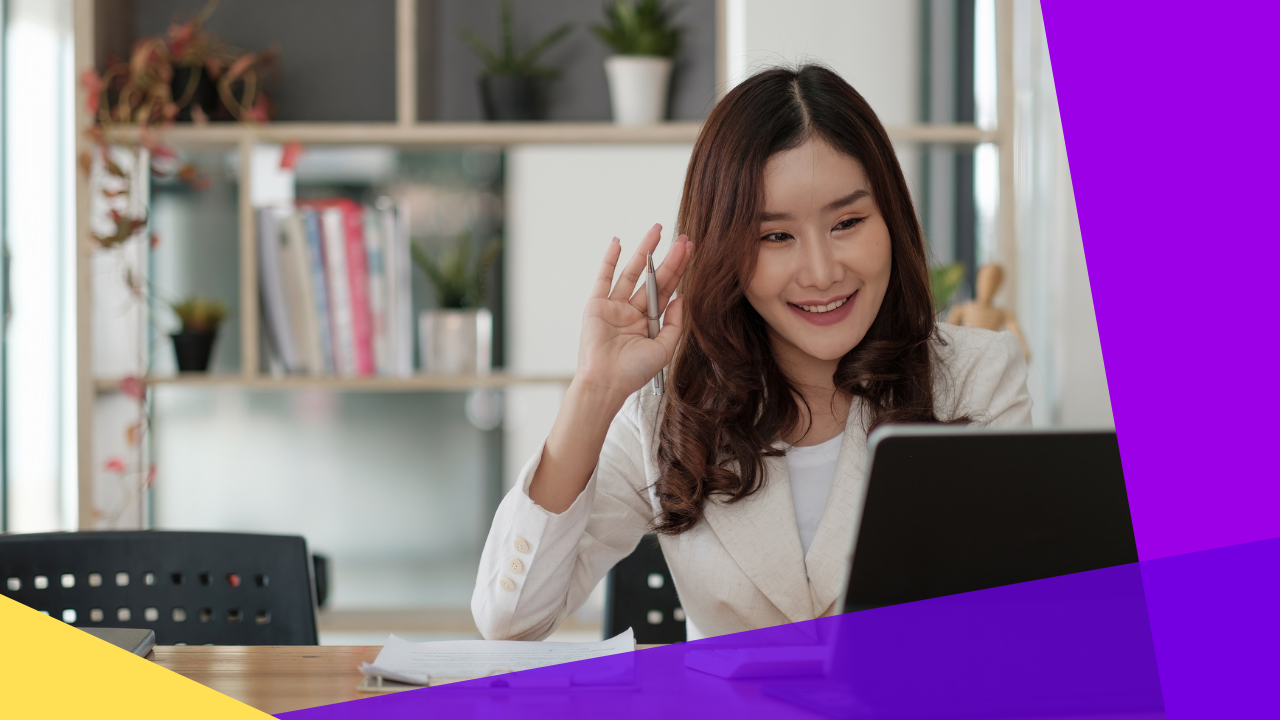 Quick guide to hiring a remote virtual assistant
Finding an effective and reliable remote virtual assistant (VA) can be challenging if you don't know where to look. 
With the increased demand for VA services, the number of virtual assistant services providers also came to rise. Unfortunately, not every firm can supply you with a quality remote virtual assistant.
Partnering with less-than-reputable service providers for your remote virtual assistant needs can do more harm than good for your business. Inexperienced VAs can hinder productivity and lessen the quality of your products or services. That's why knowing where and what to look for in remote VAs is essential.
Read on below to learn where you can find the best remote VAs and the services they can provide.
What is a remote virtual assistant?
A remote virtual assistant acts as a personal or executive assistant for clients in other parts of the world. These remote assistants can be independent contractors or may be employed by business process outsourcing (BPO) firms.
A person working as a remote virtual assistant usually has prior experience as an administrative assistant or office manager. Some remote virtual assistants come from more specialized fields, such as digital marketing and content management.
As the term implies, a remote virtual assistant works outside their employer's office – even in another country or continent. This setup benefits both the assistant and their employer. On the one hand, it lets the employer save on expenses (e.g., additional office space and equipment). 
On the other, a remote virtual assistant can execute their tasks without leaving the comfort of their homes. The remote nature of this role lets employers tap into the larger global market instead of being limited to their local areas.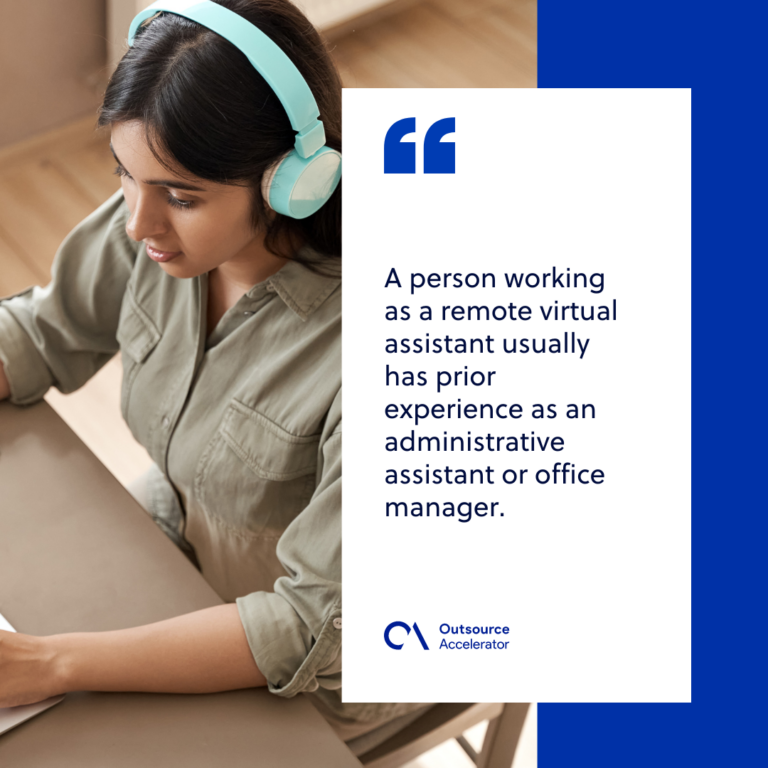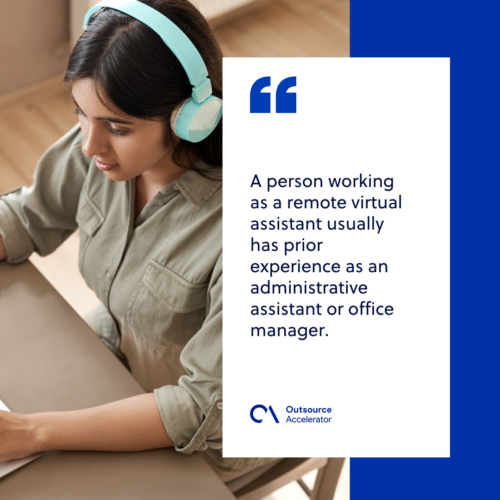 Services of a remote virtual assistant
Employers can delegate many varied tasks to their remote virtual assistants. Whether general administrative duties or more complex jobs, there is no shortage of functions business owners can entrust to a remote virtual assistant.
Below are some jobs employers can delegate to a remote virtual assistant:
Marketing
Marketing is essential to any business. However, it is often a time-consuming process. Business owners can hand this process to a remote VA specializing in digital marketing. Doing so will give them more time to focus on the value-generating aspects of their business.
Social media management
Social media management is another time-consuming activity that requires constant attention to be effective. A remote virtual assistant can take over a business's social media profile and keep its audience engaged. When managing a business's social media, a remote VA's duties may include:
Answering inquiries and comments

Publishing engaging content

Moderating comments



Administrative tasks
Administrative and back-office tasks (i.e., repetitive and relatively mundane processes) are often given to remote VAs. These tasks are time-intensive and tedious but are still critical to the success of any business.
These back-office roles include:
Data entry

Email organization

Call fielding
Web design and development
Business owners can also charge their remote virtual assistant with designing, developing, and maintaining a website for their company.
Accounting and bookkeeping
Accounting and bookkeeping processes can now be done remotely, thanks to technology. The present market is saturated with various accounting and bookkeeping software, such as QuickBooks, Xero, and Zoho.
However, business owners handing over their financial data to remote VAs must ensure their virtual assistants are sourced from highly-reliable service providers.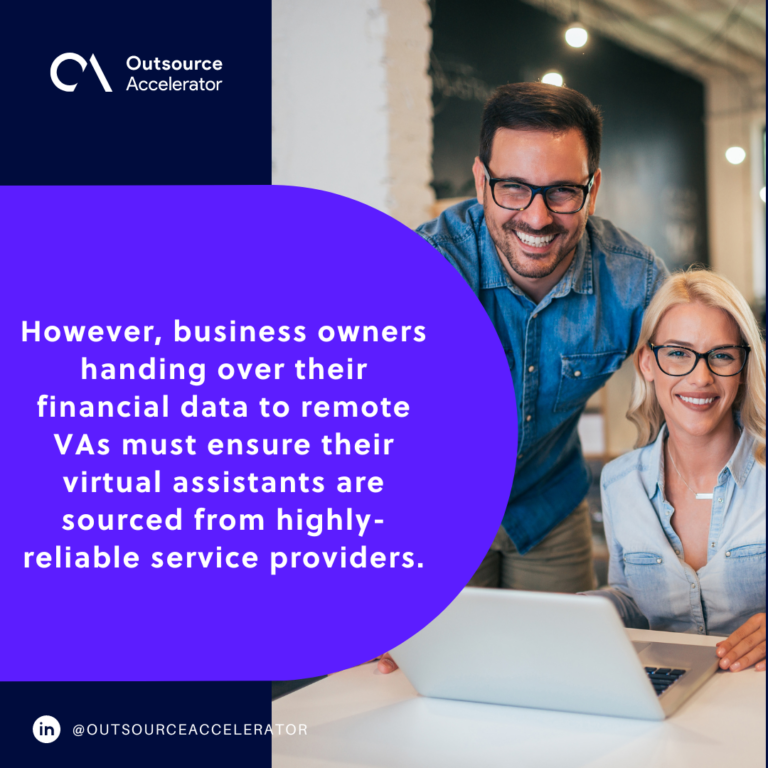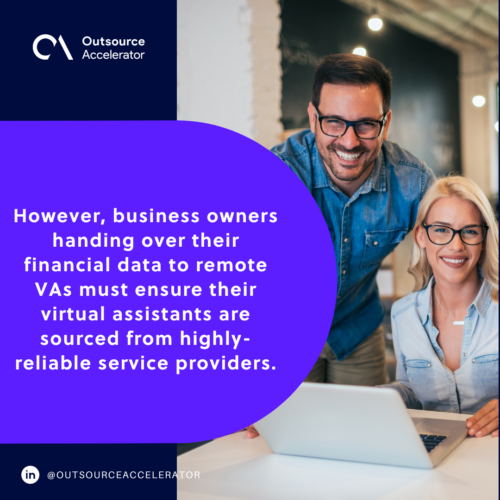 Do you need a remote virtual assistant?
Now that you know what services you can hand over to a remote virtual assistant, it's time to know when is it the right time to hire a remote VA.
Here are some tell-tale signs that you should hire the services of a remote VA:
You get bogged down by administrative tasks
Back-office processes are a necessity in any enterprise. However, spending more time on administrative tasks instead of revenue-generating activities will end up hurting your bottom line.
You don't have all the skills required for your business
No man is an island, especially when it comes to running businesses. You may be a pro at marketing, but it doesn't make you skilled at managing taxes and finances. 
If you want a smooth-sailing business, it's best to delegate some processes to specialists in those areas.
You don't have a healthy work-life balance
One sure sign of an unhealthy work-life balance is constantly spending more time looking over spreadsheets than doing non-work-related activities. 
According to a Future Forum Pulse report, overworking yourself can lead to burnout – a condition affecting 40% of executives globally.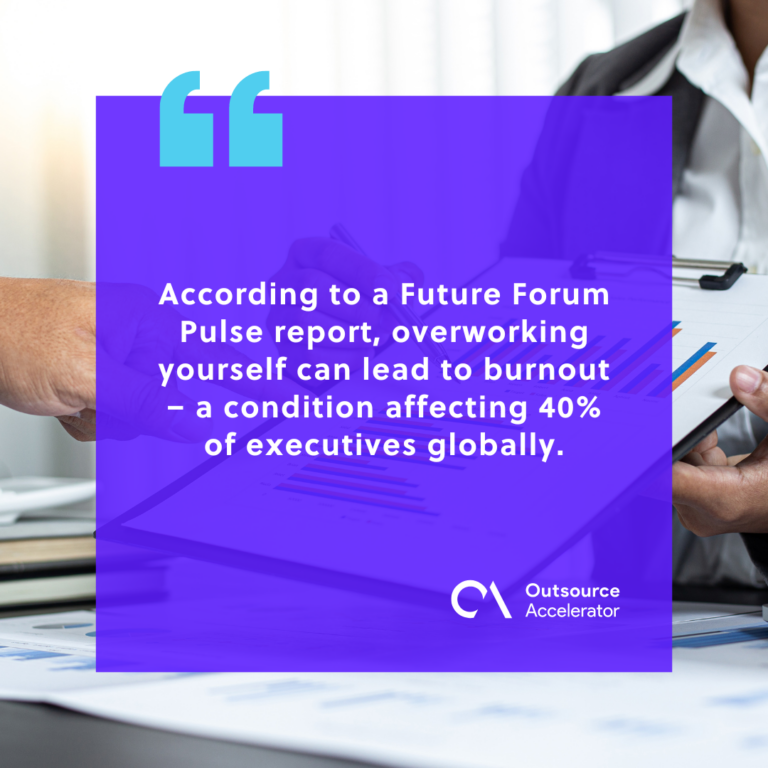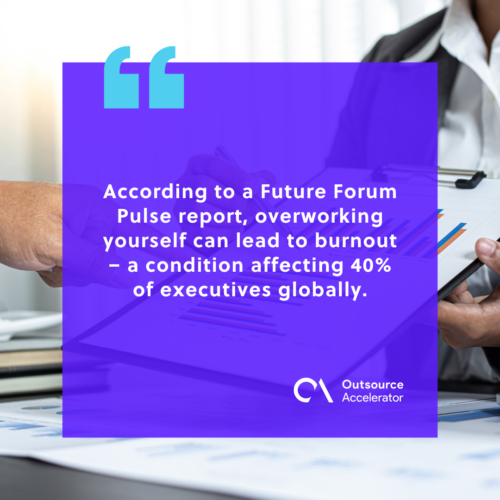 Where can you hire a remote virtual assistant?
Due to the high demand for their services, remote virtual assistants are now a dime a dozen. While an abundance of remote VAs keeps prices competitive, it also poses a risk for business owners looking to hire one.
People looking for quality remote virtual assistants may end up hiring unsatisfactory VAs and spoil the experience for them. The key to landing a qualified remote virtual assistant is hiring through trusted and well-established BPO providers.
Outsource Accelerator is the world's leading outsourcing marketplace and advisory. The company has over 3,000 BPO firms from across the world in its global directory and can provide you with detailed information, price guides, and reviews.
Whether you're a solopreneur, SME owner, or corporate executive, we can help you find the most suitable outsourcing provider for your remote virtual assistant needs.