What tasks can you delegate to real estate VAs?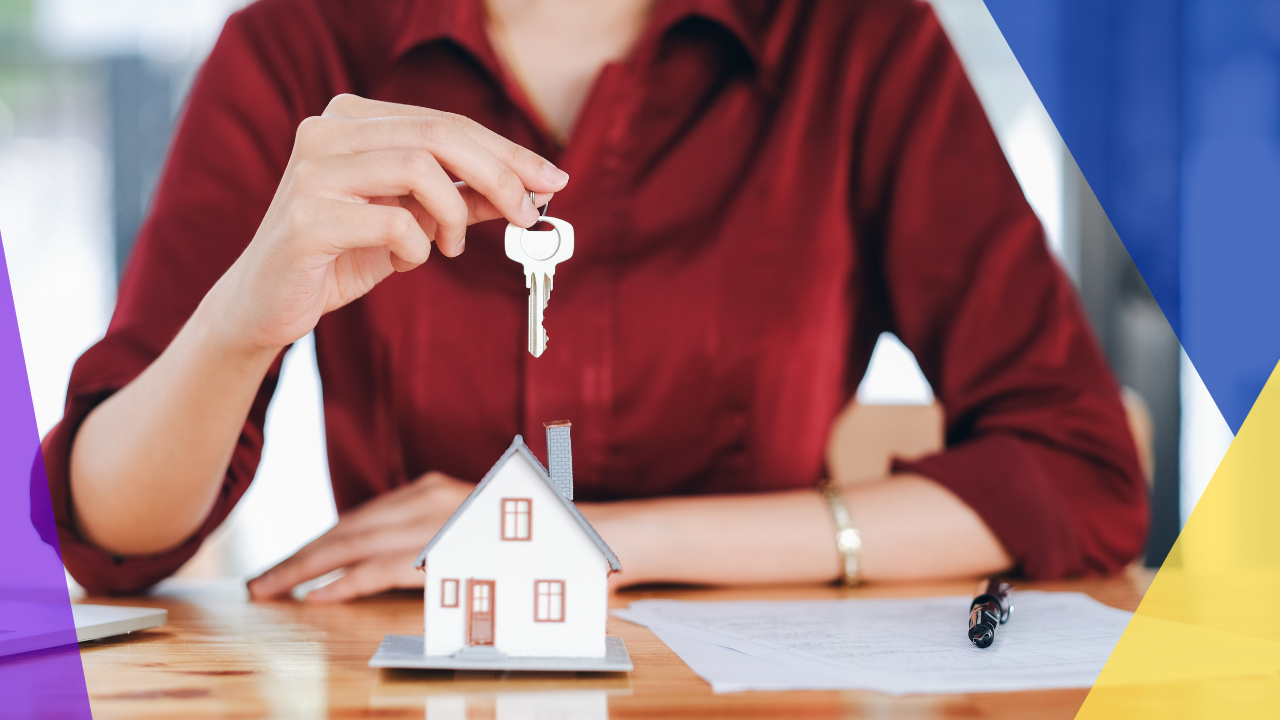 Hiring a real estate VA is an effective solution for companies who need an additional pair of hands in finishing their daily tasks. Real estate employees usually spend the majority of their time chasing leads and closing deals. 
Because of their busy schedules, they need help in managing their calendars, contacts, property contracts, and databases.
This is where a real estate VA can enter the scene. 
What is a real estate VA?
A real estate virtual assistant (VA) refers to an employee that provides services to a real estate company from a remote location. They assist in covering a diverse range of tasks and help your business run smoothly.
VAs are known to be highly skilled at their work. They have the potential to be great assets to your firm to assist you in reaching your goals while maintaining a steady day-to-day operation. 
If you think that a full day is not enough to finish all the to-do lists in your schedule, then it is time to hire a real estate VA.
With their expertise, your business can thrive in a competitive industry of selling houses and properties.
Key benefits of having a real estate VA
Doing routine, non-core work can leave your in-house realtors with little time to focus on their main tasks.
Recruiting a reliable real estate VA can help you get those tedious tasks done while your central staff prioritizes the further development of your business.
Aside from that, here are some of the key benefits of having a real estate virtual assistant.
Lower salaries

. Virtual assistants usually charge hourly rates for doing their tasks — a huge saving compared to the fixed salary of an in-house employee.

Save up on overhead fees

. You can also save on electricity, internet, and other office expenses if you hire a real estate VA as they work remotely and are often equipped with the tools needed for the job.

Minimal training costs

. As most of them have worked in the industry before, they require little to no training for their workloads. To maximize use, you can give them specific tasks based on their expertise to ensure favorable results.

Better work-life balance

. With the help of VAs, your employees can have enough free time to indulge in personal time and balance their work and personal commitments.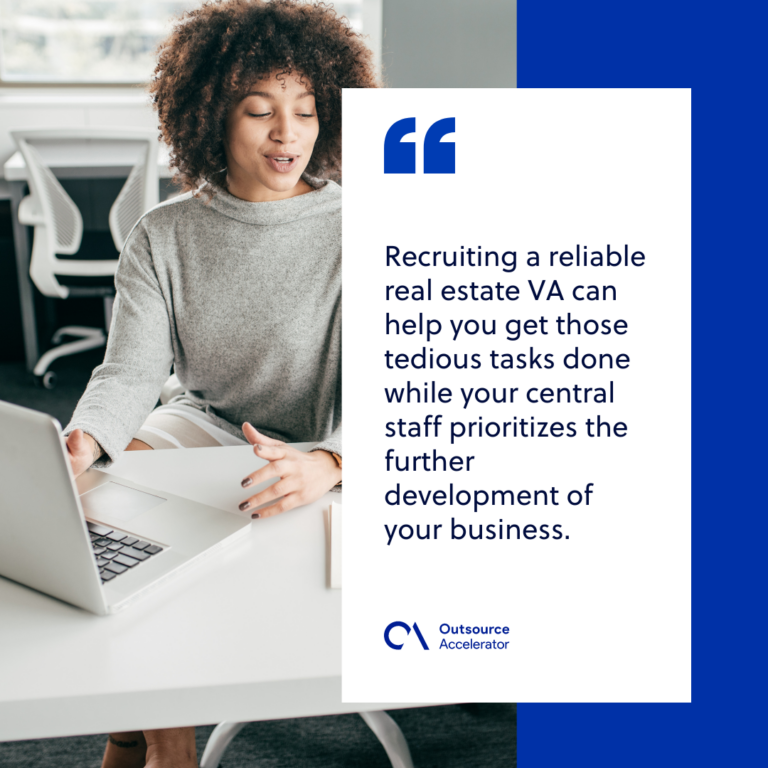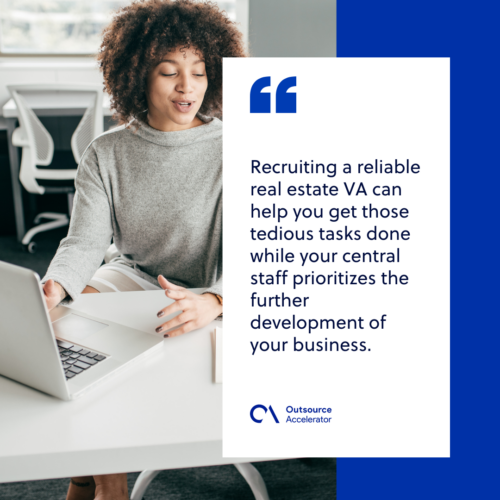 What are the tasks that real estate VAs can do?
Before you hire your first VA, you need to lay out exactly what it is you need them to do. Map out a list of workloads and responsibilities that you need help with. 
Here are some of the many tasks a great real estate VA could do to help you scale your business.
Marketing
Marketing is an important part of any business, but it is also time-consuming.
Fortunately, you can hire marketing experts as virtual assistants to handle the heavy task of promoting and spreading the word about your company.  
A real estate VA can help you design your digital and print promotions, update your website, and write articles about your organization.
Most importantly, they could advertise on social media and track your marketing analytics to see the sphere of influence of your firm.
Operations
A real estate virtual assistant can help with various tasks that help keep your office running smoothly every day.
If juggling projects, deadlines, and other people's schedules are not your forte, having a VA to assist in your operations can be a big help.
You can assign them in entering data in your system, organize your presentations, collect feedback from clients and team members, schedule open houses, prepare performance reports, and manage contracts or agreements, among others. 
Sales
A real estate VA could also help you in various workloads related to sales. While some tasks may require a higher level of English fluency, you can still delegate various duties to a virtual assistant.
They can help in enhancing your Customer Relationship Management (CRM) and put notes on your prospective buyers.
Real estate VAs also follow up with clients, set appointments, and update your sellers on their estates' weekly performance, among other tasks.
Admin
You can also hand over your administrative responsibilities to a real estate VA.
They can respond to emails or inquiries from your potential clients, set up meetings, answer incoming calls, record meeting minutes, manage your calendar, and organize events.
A virtual assistant can deal with all the minor, but essential, tasks so that your internal team can focus on doing the major, revenue-building duties in your company.
Research
Research is one of the most crucial tasks in a real estate business and it must be done regularly.
Having the right real estate VA on your team can help you employ someone who can analyze the various information needed for your client presentations.
Additionally, a VA can give you a report on various research points that would help your business. 
This includes ownership of a property and deed type, checking out establishments within a property's vicinity, and looking for properties with good pricing and upsell potential.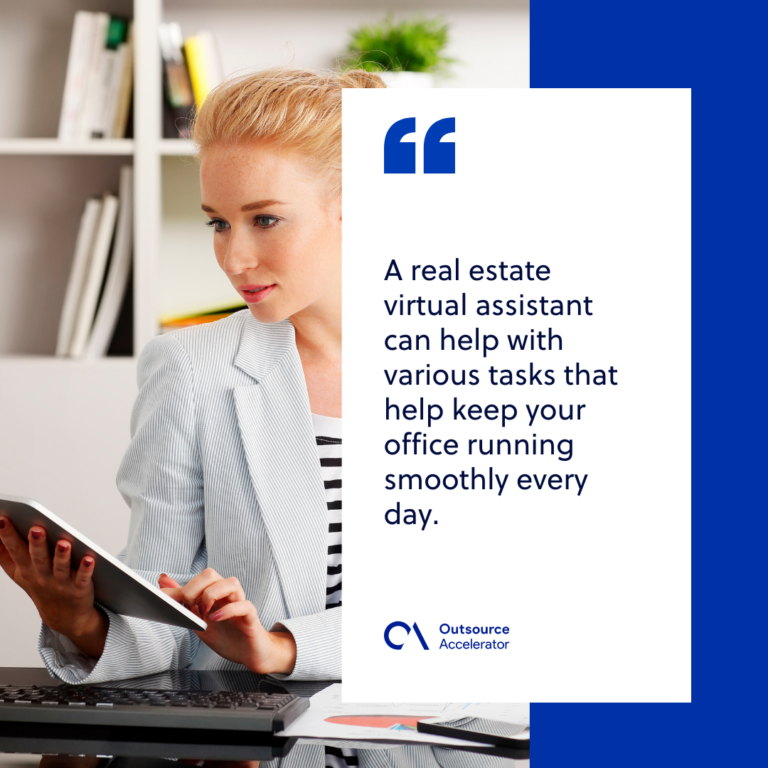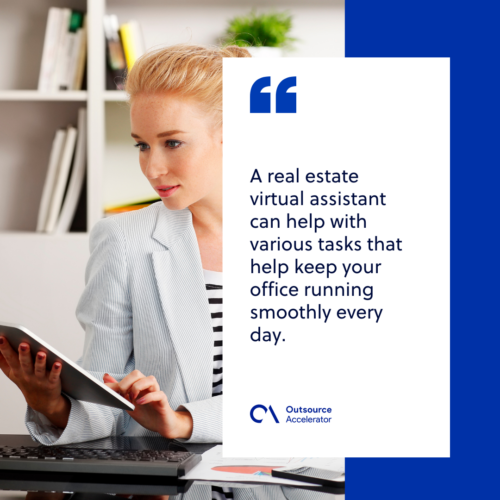 Remote CoWorker and its real estate VA services
You can partner with an outsourcing agency in hiring real estate VAs in your team. They help provide top VAs for your company that fits into your brand. 
Scale-up your business with professionally trained virtual assistants from Remote CoWorker. They provide dedicated and high-quality VAs who are fluent in English and Spanish and offer 24/7 support for clients.
Visit Remote CoWorker's website now and explore the other services that they are offering.