Real estate virtual assistant
Definition
What is a real estate virtual assistant?
A real estate virtual assistant performs remotely to provide various services related to the real estate industry. They are entirely dedicated to your company and can handle various responsibilities.
In most cases, real estate virtual assistants do not specialize in a single field. They are generalist team members who assist you or your in-house employees.
Tasks of a real estate virtual assistant
A real estate virtual assistant is responsible for setting appointments and confirming them, calendar management, data input, and any other tasks assigned to them.
Your experienced real estate virtual assistant will handle all of your real estate business's time-consuming administrative duties.
Despite their remote location, they work the same hours as you. Virtual assistants are always there to assist their clients. More businesses globally are hiring real estate and virtual assistants. 
In-house employees are not only costly, but they also dislike being burdened with administrative duties. That's why hiring offshore staff makes sense in today's competitive era.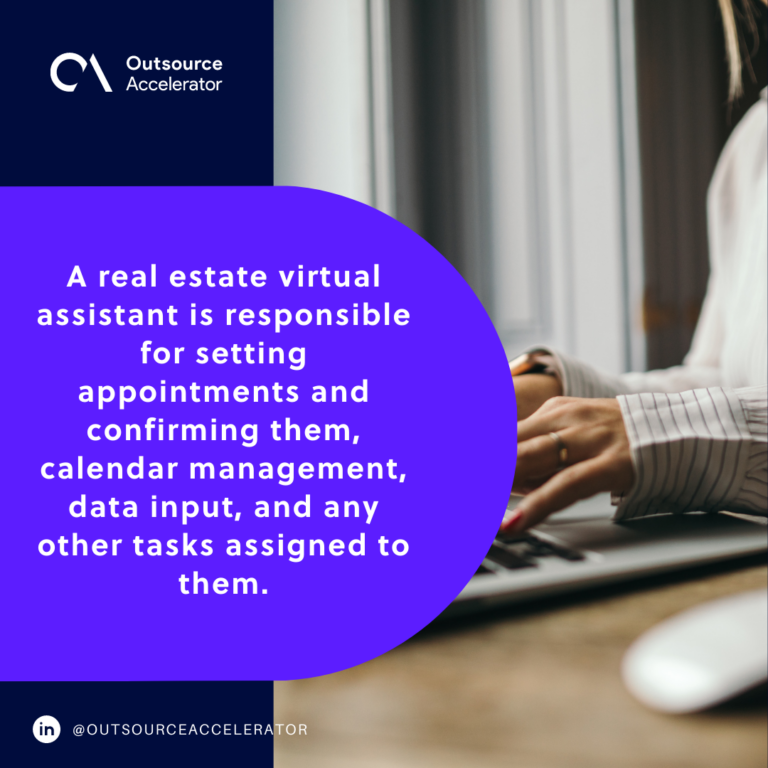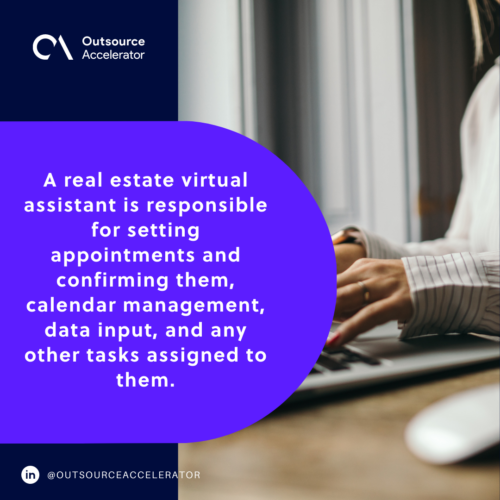 Three key benefits of hiring a real estate virtual assistant
Here are the main benefits of hiring a real estate virtual assistant for your business:
Increase business productivity
Real estate virtual assistants must perform a variety of tasks, such as updating property databases and sending follow-up emails to increase business productivity.
These essential tasks can all be managed remotely. However, involving your in-house team in such tasks or doing them yourself isn't ideal, as these can be tedious and time-consuming.
These tasks consume time and resources that may be spent on more important projects that need your input. An experienced real estate virtual assistant can complete such tasks efficiently.
This allows your employees to concentrate on essential business operations such as closing new leads.
Save on hiring and training costs.
It is typically less expensive to hire an experienced virtual assistant than to hire a full-time employee with benefits.
You only need to pay for the work they do, as most real estate virtual assistants usually charge hourly rates.
Because the assistant works remotely and is responsible for their work environment, you can also save money on electricity, internet, and other office expenses.
Further, real estate virtual assistants can help you save money on training. They know the drill and are not required to have any training as most of them have excellent real estate industry experience. 
If you want to save even more money, consider outsourcing all non-client-facing tasks to a real estate virtual assistant in a low-cost country.
Find a better work-life balance.
Real estate brokers sometimes have busy lives that include extended and hard workdays.
They may find it tough to take time for themselves given unanswered emails, constant phone calls, and messages.
How can virtual assistants help in the real estate industry? Real estate virtual assistants may help with performing routine activities like answering emails and organizing property documents.
This allows you enough free time to relax and unwind. You may also engage real estate virtual assistants in different time zones to give your clients seamless 24/7 customer service.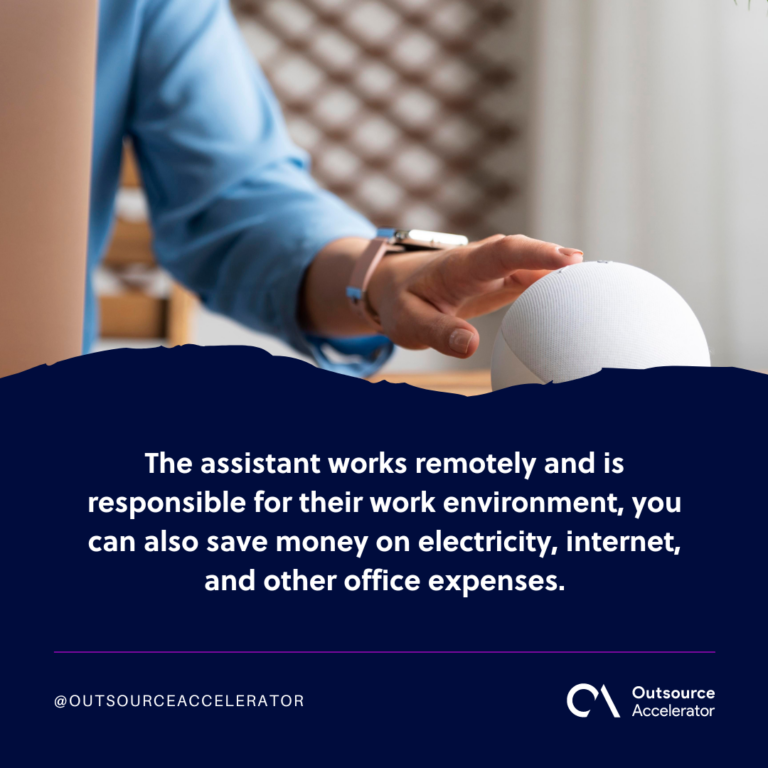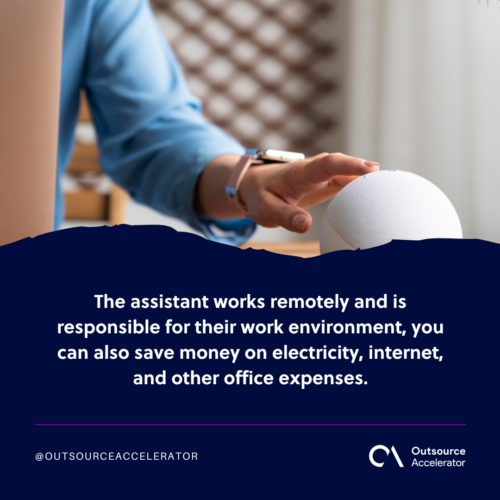 What tasks can real estate virtual assistants do?
Real estate virtual assistants can assist real estate professionals with any remote job.
Here's a glance at four common virtual assistant services in real estate:
Real estate research
Real estate agents need to answer tons of questions, like:
"How are you going to market my property?"
Or
"Do you have a property that fits my requirements?"
Answering these queries efficiently is the key to closing a deal.
Focusing on recruiting and locating property data such as location, features, and amenities, real estate VA can act as an inside sales agent (ISA).
They can also track market trends and pricing points for different locations and analyze competitor businesses.
You won't have to look for the data yourself, and you'll have all the information you need right at your fingertips!
Appointment scheduling
When you have a lot of appointments to manage in the real estate industry, calendar management may get stressful. This can be accomplished using a mobile application for your real estate business.
By using a customized solution for your real estate firm based on your needs, you can organize all of your appointments in one place and allow quicker sales processes.
You can also outsource real estate virtual assistants to manage your calendar and plan appointments by answering calls and emails.
They'll know how to use popular calendar tools like Google Calendar and Calendly to schedule your appointments.
Social media marketing
According to research done by the National Association of Realtors, 98% of older millennials(aged 29-38_ have looked for their home online. This shows that to compete in the market, you must have a strong social media presence and a talent for digital marketing.
You should hire a real estate virtual assistant instead of hiring and training an in-house team for this. 
As they're experts in the field, they'll be able to run different social media campaigns and respond to potential clients on social media.
They can also create marketing materials using graphic design tools and start blogging by writing relevant articles.
They'll also be up to date with current trends in the real estate industry, as well as monitor engagements and analyze statistics to determine which methods perform best.
Data entry and bookkeeping
Real estate agents work with a lot of data daily. Keeping track of customer information, financial data, and property information may be time-consuming and exhausting.
It is, nonetheless, a critical administrative duty. So why not hire a virtual assistant to help you with data input and bookkeeping?
Your real estate virtual assistant will most likely be a spreadsheet expert with years of expertise managing similar chores. They'll be equipped with the necessary skills and tools to perform the work quickly.