Everything you need to know about virtual agents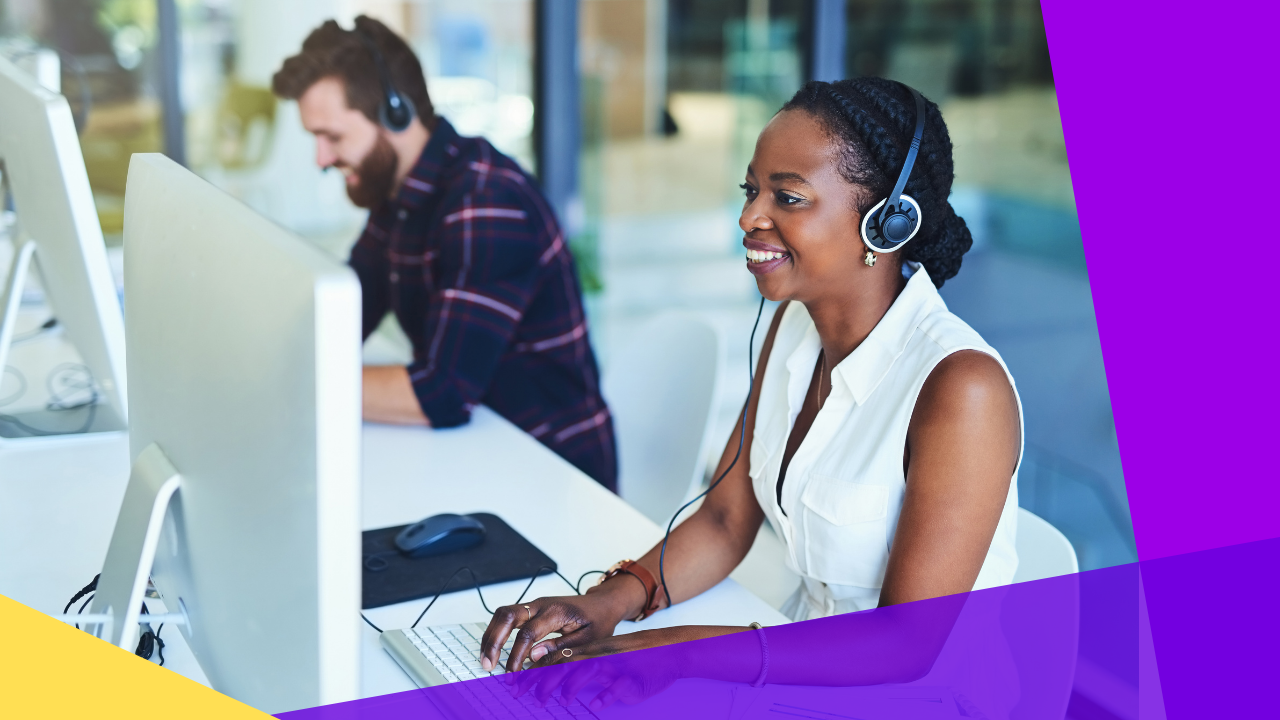 The current business and economic environment necessitate new strategies and practices to remain competitive. That is why many businesses keep on innovating their processes and customer service.
Companies today are seeking a virtual type of technology. AI-powered virtual agents will lead to improved user experiences and more productive and happier customer support employees.
In addition to providing basic information to consumers or workers, it may also help customers in answering queries. Virtual agents can also direct customers to a human agent if their issues are more complicated.
What is a virtual agent?
A virtual agent is a type of software program that combines natural language processing and pre-programmed responses to assist humans' online interaction. Virtual agents are also known as Intelligent Virtual Agent (IVA), virtual reps, or chatbots.
Companies use virtual agents as their identity, a guide for their customers, or help desk workers. Chat-based user interfaces are the most common example of virtual agents.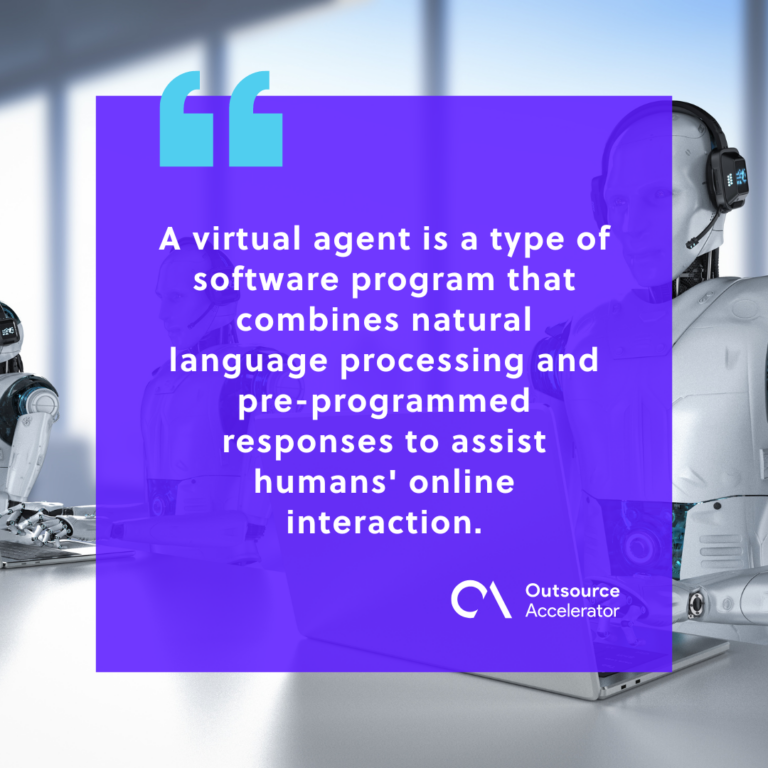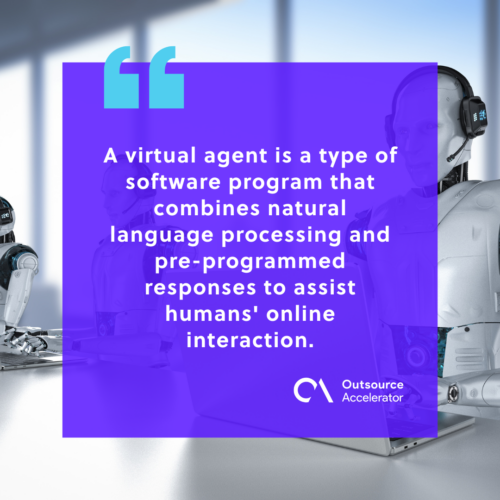 Virtual agents vs. virtual assistants
Virtual agents and virtual assistants are more likely to be used interchangeably since they are closely related. However, it's easy to differentiate the two terms.
Virtual assistants are human agents, and virtual agents are computer programs.
A virtual agent is more typically used in the context of a company's customer service or staff assistance. It engages consumers in intelligent conversation and replies to the customers' inquiries.
On the other hand, a virtual assistant is an employee who works from home and does work assigned by their company. Scheduling appointments and organizing calendars are among the duties they may be expected to perform.
Uses of virtual agents
There are two major uses of virtual agents for the company. First, it is used for customer service to handle customers. Second, it is used as technical support for minor issues.
Customer service
Companies integrate virtual agents to free up time for live customer agents. Virtual agents can provide customers with all of the information they need from providing insights.
It is useful for minor transactions such as canceling a financial transaction and sending a refund.
Virtual agents are also useful for first client encounters, such as via click-to-chat. People can easily get in touch with your business by clicking on the "Click to Chat" buttons.
Virtual agents can support multilingual self-help and give exceptional customer service.
IT support
Like customer service, virtual agents can be utilized to reduce IT service desk ticket volume. Companies frequently find it useful to complete the customers' standard requests and solve simple problems.
The good thing about these virtual agents is, they provide round-the-clock assistance for staff and customers. Virtual agents can also provide IT services at the corporate level.
Benefits of having virtual agents
Virtual agents have a lot of advantages for your customers, employees, and company. Here are some of the significant benefits of hiring virtual agents:
Acquire and convert better leads
Virtual agents are helpful in helping a solopreneur or an organization in acquiring and converting better leads. They are designed to process lead qualification, cold calling, and make follow-ups.
In addition, a virtual agent's ability to provide 24/7 is vital for organizations that operate in multiple countries.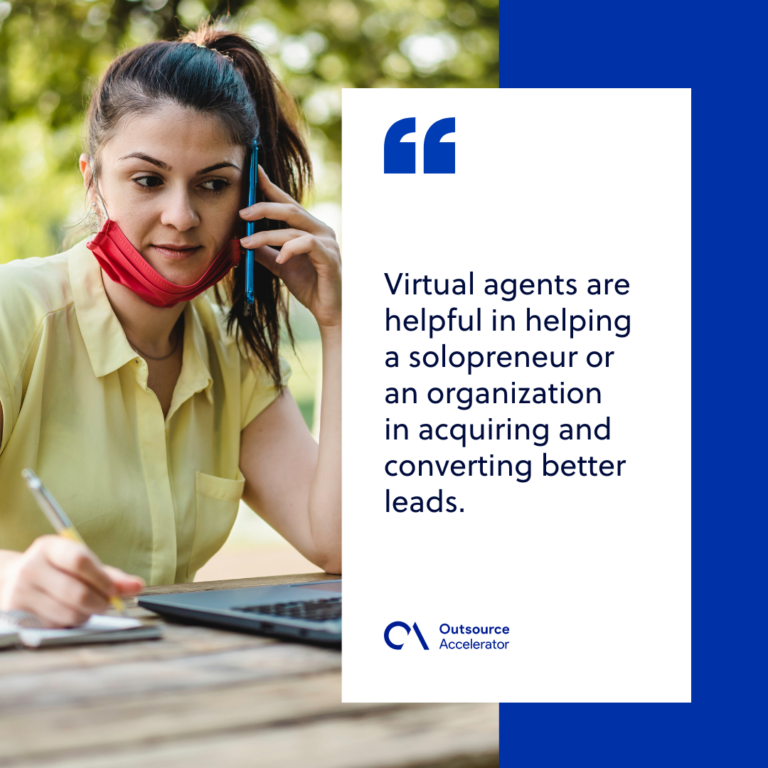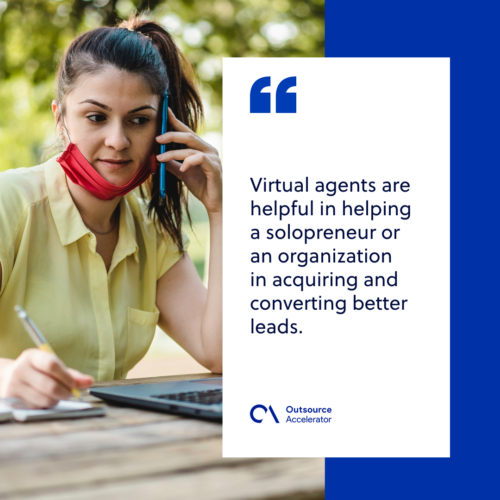 Scalable and profitable
Virtual agents are meant to assist your employees in providing better service to their consumers. Utilizing virtual agents can be cost-effective, scalable, and profitable for your company without requiring additional training or hiring new employees.
Reduces the cost of labor
If you hire an employee, you must provide them compensation, benefits, and monthly salary if they were hired full-time.
An alternative is to hire a virtual agent, who works as an independent contractor. It may only need to commit a substantial amount of time and money in the beginning.
Automates various routine jobs
While virtual agents can be used to automate repetitive work, a good balance of human and virtual agents can lead to a more sustainable expansion plan and higher ROI.
Scheduling a meeting, canceling an order, signing up for a webinar, and upgrading an account are all examples of repetitive tasks that a virtual agent can do.
Automating routine jobs to virtual agents will improve the productivity and responsiveness of your customer service. 
Collects marketing information
The use of chatbots and other voice agents is an excellent approach to increase the size of your marketing database.
For example, requesting an email address and phone number might help you to create your marketing lists.
As your list increases, you'll be able to construct more targeted marketing campaigns.
Assists customers to find products 
As long as you have the correct virtual agent in place, your clients may easily locate what they're looking for without having to navigate the site too much. Customers get a greater buying experience than they would get from just clicking around the website.