How a virtual address helps your business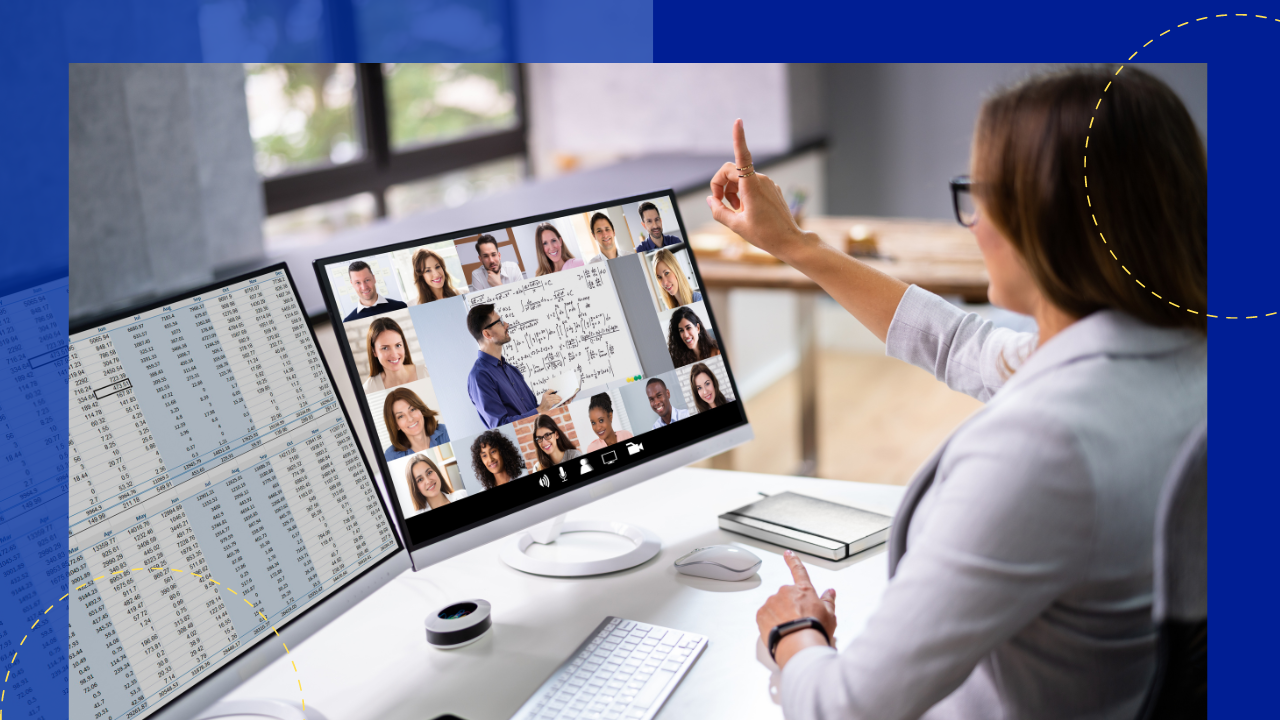 With many businesses shifting towards a more dynamic and remote approach, traditional office setups are becoming less relevant.
Companies are adapting innovative ways to establish their commercial identity — one that requires a virtual touch and no physical presence.
One such solution is a virtual address, which offers many advantages to enterprises of all sizes.
What is a virtual address?
A virtual address allows organizations to have a professional presence in a specific location. It is a service that removes the need for physical office space.
This location also acts as a mailing address for correspondence and receiving mail and packages. With a virtual address, firms can enhance their credibility and expand their reach to new markets.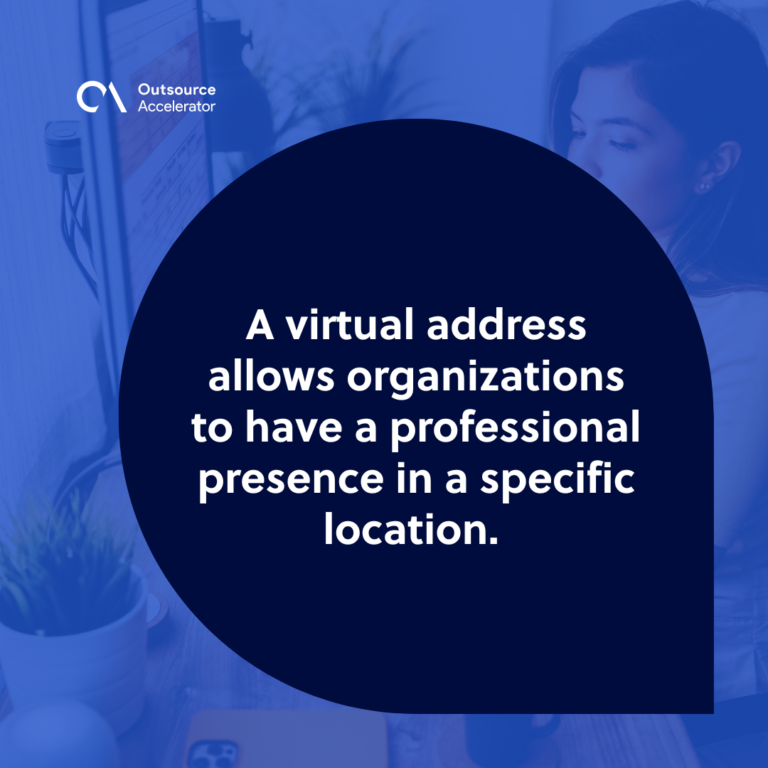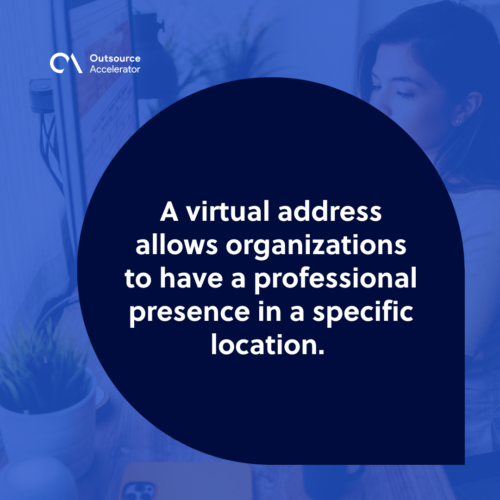 Virtual address vs. Virtual mailbox
Though "virtual address" and "virtual mailbox" are perceived similarly, they have distinct differences.
A virtual address typically refers to the physical address provided by a virtual office service.
On the other hand, a virtual mailbox is a digital platform where mail and packages are received, and users can access them online.
Virtual mailboxes often come bundled with virtual address services.

Virtual address vs. PO box
PO boxes are another form of mail forwarding, but unlike virtual addresses, they offer no physical location for your business.
A PO box is unsuitable for companies seeking a commercial location in a prestigious or high-end area. This means having a virtual address helps create a strong brand image.
How a virtual address helps your business
Virtual addresses bring many advantages to enterprises of all sizes. Here are some key benefits of having one for your business:
Boosts your image
A physical address associated with your company gives a sense of credibility and professionalism.
Therefore, a virtual address establishes trust among clients and partners. Because they would perceive your business as having a legitimate presence in a specific location.
This particularly benefits startups, freelancers, and SMEs looking to build a strong reputation.
Saves money and resources
Renting and maintaining an office space can be expensive, especially for SMEs. Virtual addresses offer a cost-effective alternative by eliminating the need for a physical space.
You can also reduce overhead costs like rent and utilities with a virtual address. All the while maintaining a professional image.
Booth and Partners offer a smart, cost-effective solution for SMEs and businesses.
Flexibility and mobility
Virtual addresses provide the flexibility to operate from anywhere. You can work remotely, travel, or have a distributed team while maintaining a primary business address.
This allows you to adapt to changing needs and explore new markets without the limitations of a fixed location.
Privacy and security
Using a virtual address ensures the privacy and security of your personal address. By separating your company and personal addresses, your personal information can be protected.
Additionally, virtual addresses often include mail-handling services. These services ensure that mail and packages are securely received, stored, and forwarded per your instructions.
Virtual addresses for e-commerce
Virtual addresses have become popular among e-commerce businesses. Especially those that store, package, and ship their products.
With a virtual address, e-commerce enterprises can:
Receive their inventory directly from their suppliers

Store them in a secure warehouse

Process the orders remotely
This means customers can expect reliable and timely delivery of their orders while firms can scale their operations faster and more efficiently.
Virtual addresses and local SEO
Virtual addresses have a significant impact on the local search engine optimization (SEO) of your enterprise.
Platforms like Google Business Profile and Bing Places assign higher points to businesses with physical locations. These tools assume those brands are more reliable and trustworthy.
By setting up a virtual address, companies can enhance their online presence by showing up in more search engine results. Therefore, it helps improves local SEO.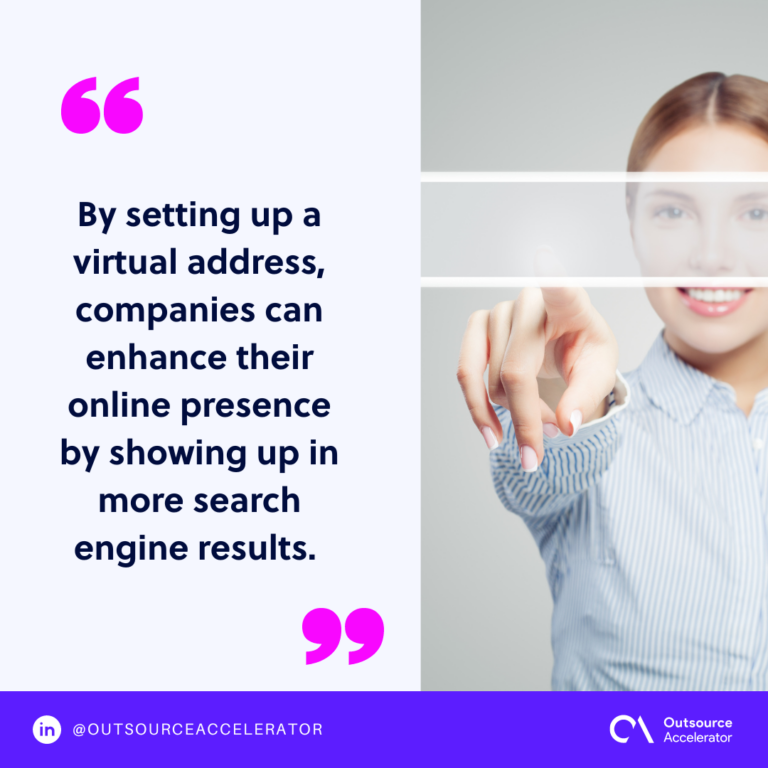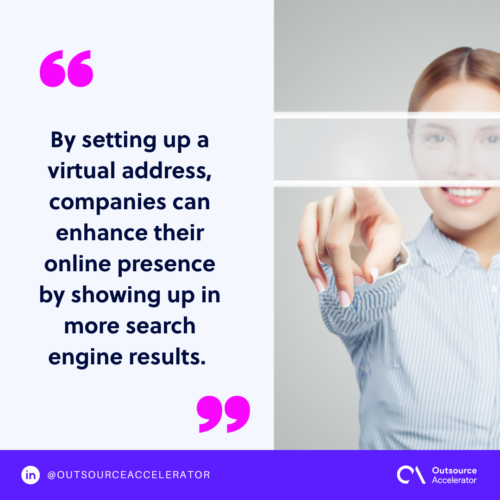 Setting up a virtual address
Setting up a virtual address is a straightforward process. Here's a step-by-step guide:
1. Research virtual office providers
Look for reputable virtual office providers that offer virtual address services in your desired location(s). Consider factors such as pricing, additional services, and customer reviews to make an informed decision.
2. Choose a plan
Select a virtual office plan that suits your business needs. Plans vary regarding the number of addresses, mail handling services, access to meeting rooms, and extra features.
3. Provide required information
Provide the necessary information to set up your virtual address. This may include your business name, contact details, and any more requirements the provider specifies.
4. Mail handling instructions
Specify your mail handling instructions, such as mail forwarding, scanning, or collection. Some virtual office firms offer online platforms where you can manage and view your mail digitally.
5. Update your business information
Update your business information to reflect your new virtual address. This may include data on your website, online directories, and other platforms. Being consistent is key to a strong online presence.
6. Use additional services
Explore the extra services offered by virtual office providers. More features may include virtual receptionists, meeting room rentals, and call-answering services. These services can further enhance your business operations and customer experience.