Top 20 virtual office software in 2023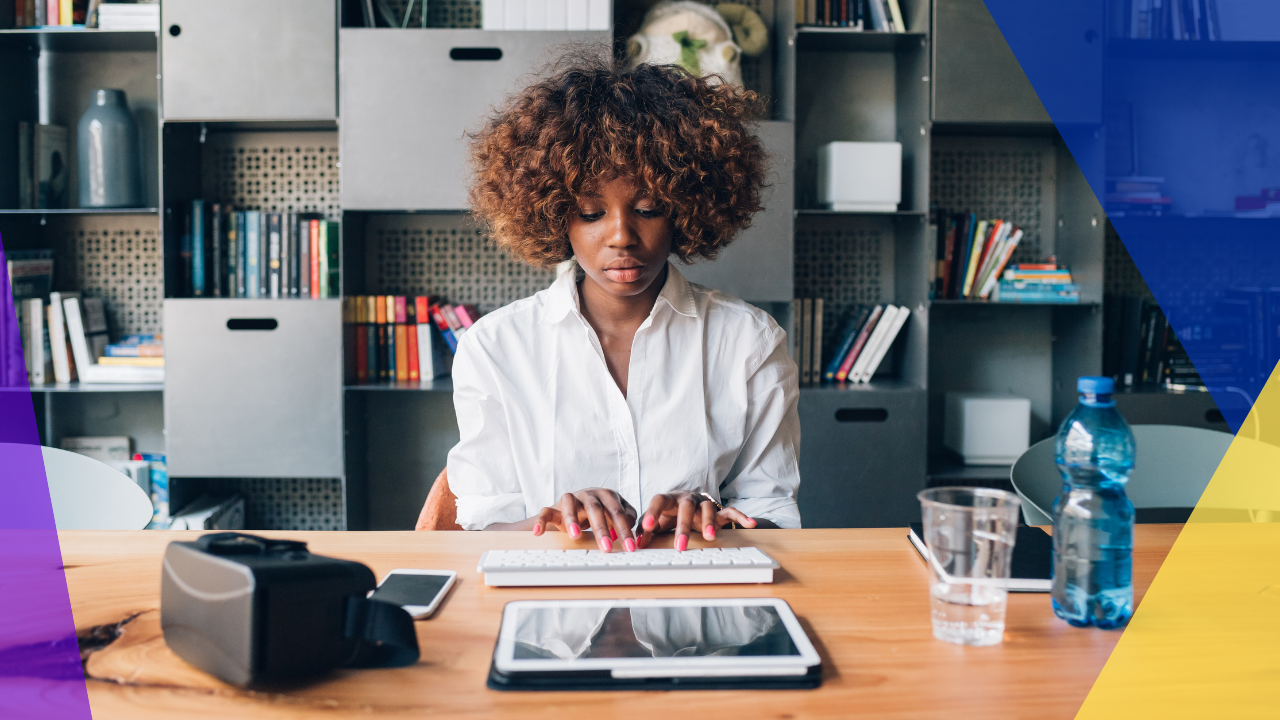 Virtual office software provides businesses the convenience of office setups in the comfort of their homes.
This type of software has greatly increased the efficiency of the virtual work setups that have become the norm during the height of the COVID-19 pandemic.
Even as the world gradually returns to normalcy, virtual work has remained popular among employees.
For companies that have employees working remotely, utilizing virtual office software is a must.
List of the top 20 virtual office software in 2023
What is virtual office software?
A virtual office software is a type of software used by many businesses to streamline virtual work setups and make them more efficient.
There are virtual office software designed for a particular purpose, such as communication, document sharing, and project management.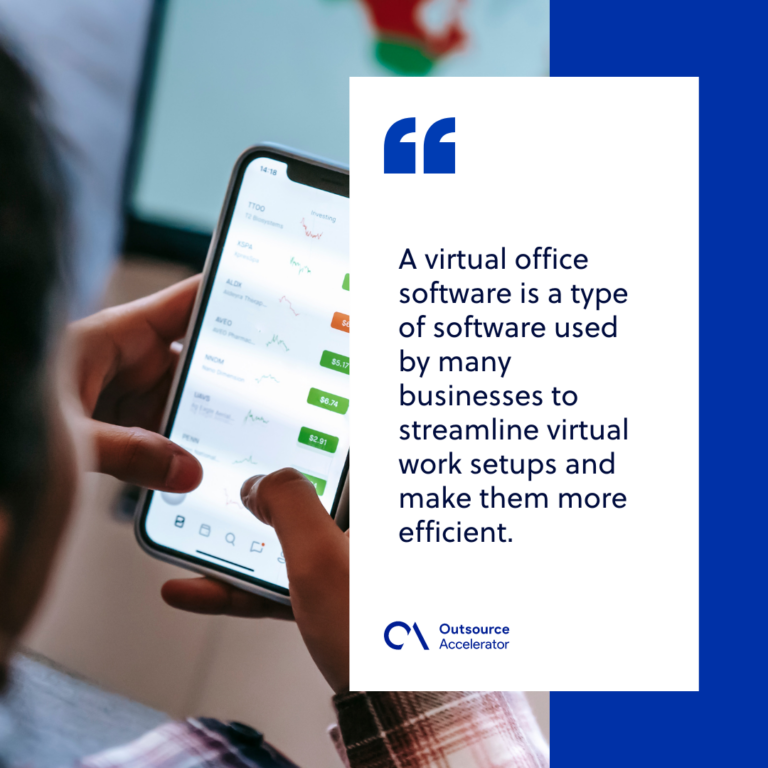 Some of the functions covered by these software solutions are:
Project management

Instant messaging

Video conferencing

Team collaboration

Virtual workspace

Productivity management

Cloud storage

Mental wellness

Employee engagement

Online security
There are also some that have all-in-one functionalities.
Whether specific or all-in-one, a virtual office software's purpose is to make virtual work setups run as smoothly as physical setups.
How does virtual office software work?
Virtual office software makes remote work setups more efficient by streamlining communication, task delegation, and work collaboration.
As mentioned earlier, different types of virtual office software have varying functionalities depending on their purpose.
Some of these software help track employee time and attendance, while some monitor productivity.
Other software serve as video conferencing platforms with helpful functionality like whiteboards and screen sharing/presentation.
In short, these types of software allow employees to work from virtually anywhere and still retain the same level of productivity and output quality as on-site work.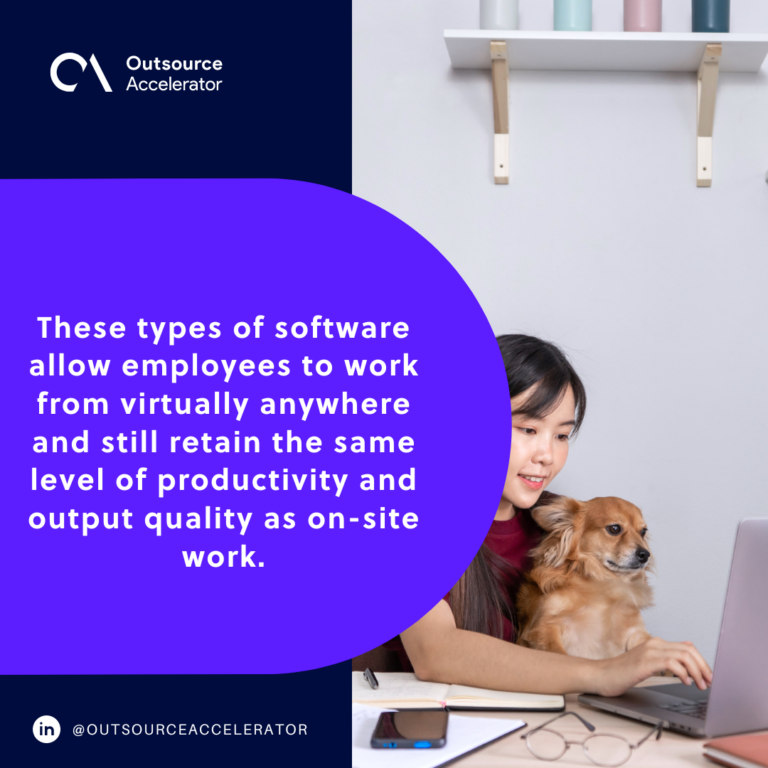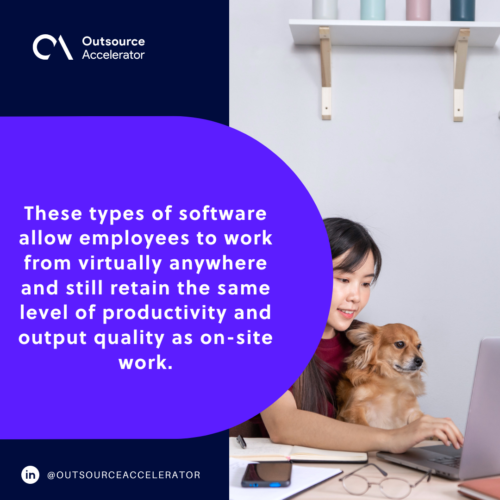 20 best virtual office software in 2023
Owing to their popularity and large demand, a huge number of virtual office software has flooded the markets since the pandemic's onset up until now.
Although these software solutions may be equal, some software are more equal than others.
We've compiled a list of the most popular and useful software solutions to help narrow down your choices.
Time Doctor is a performance management and employee time tracking software popular with small businesses and large enterprises alike.
Its key features include a simple and easy-to-use time-tracking system that can be used manually or set to automatically start when employees open their laptops.
Moreover, it has analytics and self-reporting capabilities that give insight into the time employees spend on their work, breaks, or mobile devices.
Teamflow's virtual office software solution serve as a virtual office for teams working remotely.
With Teamflow, teams can converse in real-time, brainstorm, and exchange ideas on projects and other tasks.
Teamflow's platform has built-in notepad and whiteboard features and allows users to embed web applications, such as google docs and sheets, for better presentation.
Zoom's software enables better communication between team members through its synchronous communication platform.
While its free plan has a 40-minute limit on call duration, it still grants access to powerful features such as:
Screen sharing

Built-in recording

Transcription capabilities

Hosting one-on-one meetings with up to 100 participant
Tandem is another team collaboration tool for employees working remotely.
Its features include:
Meeting widgets (e.g., timers, poll, and agenda creation)

Meeting reminders and auto-join setting

Instant screen sharing

Cursor sharing

Remote screen control

Public and private rooms
It also seamlessly integrates with over 200 other software, such as Asana, Google apps, Trello, Slack, and iTerm.
Trello is an intuitive project management software that lets users organize tasks as they would in a physical office setting.
Users can easily track task progress by adding comments, attachments, and due dates to Trello cards. They can also make use of Trello's advanced checklist for better project management.
Trello's platform also has built-in workflow automation to help boost productivity.
Dropbox offers secure and centralized cloud storage for remote teams.
With Dropbox, team members working remotely can access files from virtually anywhere, even using their mobile devices.
Dropbox also integrates with other software, such as Zoom and Slack, so users can access these apps without leaving Dropbox's platform.
Like Teamflow, Sococo offers a virtual office space for employees working remotely.
Sococo's virtual space lets team members know who's currently available and who's not to be disturbed. It also lets them "knock" on their co-worker's offices to invite them for a chat.
Aside from enabling real-time collaboration and brainstorming, Sococo's platform increases employee engagement and fosters team camaraderie.
Fond's software is slanted towards employee engagement and recognition and improving company culture.
Its key features let employers create service award catalogs where employees can choose their rewards for their accomplishments.
Fond also tracks employee work anniversaries and offers plaques and trophies to show appreciation.
Asana's project management platform offers a full suite of powerful features for remote employees.
These features include:
Automated workflow builder

Kanban boards

Calendar

App integration

Forms creation and submission

Goal setting and progress reporting

Workload management
Sync's software solution is similar to Dropbox's the cloud storage offering.
Its granular user permissions systems creates a more efficient information and file management process. Users can also organize the data stored in Sync's cloud storage for easier access.
Sync's features include 1 terabyte of cloud storage space for its basic plan and an unlimited storage for its higher tier plans. 
Google Workspace, formerly known as G-Suite, is an all-in-one virtual office software that integrates Google's tools into one platform.
Google's integrated platform allows employees to engage more efficiently using the software's collaboration tools, such as Google docs, Drive, Gmail, and Google Meet.
The software features cloud infrastructure to keep any relevant business data secured.
Clockify is a 100% free-to-use employee time-tracking software with various other schedule-related features.
This software's functionalities include a time tracker, timesheet, calendar, reporting, and project progress and budget tracking capabilities.
It can also integrate with other virtual office software like Jira, Asana, and Trello.
Like Google Workspace, Microsoft 365's virtual office software package includes the Microsoft collaboration tools users are already familiar with, such as – MS Word, Excel, and PowerPoint.
The following are also included in the package: 
Microsoft's communication software

MS Teams

Email and task management platform

MS Outlook
ONLYOFFICE Workspace is a virtual office software package that includes features similar to those offered by Google Workspace and Microsoft 365.
Its package includes collaborative online document editing software and other tools for managing mail, projects, CRM, and calendar.
The software also features cloud storage and can be used by different operating systems, such as IOS, Android, Linux, and macOS+.
Zoho Cliq connects team members wherever they may be and makes remotely working together easier and more simplified with its collaboration tools.
With Zoho Cliq, users can make communication more organized with the channel creation function. They can also brainstorm better with video conferencing, and never miss out on deadlines and meetings by setting up reminders in the software.
Pumble is another remote collaboration tool that offers more than just one-on-one and group chats and video conferencing.
Its platform allows multi-channel communication and conversation thread creation for more efficient real-time collaboration.
It also supports link and file sharing, smart notifications, granular permissions, and separate virtual workspaces.
Like Sococo and Teamflow, Wurkr offers a virtual office software solution that simulates a physical workspace experience and atmosphere.
It has collaborative features such as video conferencing, multiple screen sharing, instant chats, and virtual hops for cross-team collaborations.
Wurkr can also integrate with other similar software like Slack and Google to make for a truly one-stop collaboration platform.
As the name suggests, GoToMeeting is an online meeting software designed to host ultra-secure video conferencing on desktops, tablets, and mobile devices.
However, this virtual office software offers more than just video conferencing capabilities.
GoToMeeting's features include cloud recording, automatic transcription, drawing tools, and third-party software integration.
Basecamp's virtual office software offers a project management platform that brings efficiency and productivity to remote work.
Its array of tools include:
A message board (eg., for announcements or progress updates)

To-do lists

Schedules

Docs and files sharing

Group chat

FAQs setup

Third-party software integration
Its notification settings can also be setup to only notify during work hours to ensure a proper work-life balance even when working from home.
ProofHub is another project-planning software for remote working teams.
This software's platform has a wide range of work organization and collaboration tools, including:
Kanban boards

Gantt chart

Custom workflows

Custom roles

Task management

Calendar

Time-tracking

Group chats and discussions

Files sharing and organization

Setting approvals
Like the other software in this list, ProofHub supports third-party software integration.
Why investing in virtual office software is a must for businesses
Remote work setup has become widely favored by many employees.
In fact, such is its popularity that BPO giant Concentrix gave up its tax benefits in exchange for letting its employees keep their work-from-home and hybrid work setup privileges.
Thus, it's not unwise to say that virtual work setups are here to stay for the foreseeable future.
To make this situation work for them, businesses must invest in virtual office software to retain – if not surpass – the same productivity levels  of on-site work setup.