This article is a submission by The Virtual Assistant Company. The Virtual Assistant Company is a family-run, multi-award-winning team of dedicated Virtual Assistants.
"Should I start outsourcing?" If you're asking yourself this question, chances are your business has reached the stage where you are ready to begin outsourcing in order to grow and scale.
Think about those tasks that are vital for the success of your business but don't require your personal expertise. The tasks that could easily be outsourced to another pair of hands.
By outsourcing these tasks, you'll be able to focus on the areas of the business that require your time and attention.
Outsourcing your business tasks to a virtual assistant can be a great way to free up your time. It can take a load off your plate so you can focus on growing your business.
Now we've established why a virtual assistant can be a valuable asset to your business, let's take a look at the type of tasks they can help with.
General admin
Admin is an important aspect of any business, but it can be time-consuming. Why not let a virtual assistant take care of some of your day-to-day admin?
Here are some examples of admin tasks that a VA could handle for you:
1. Calendar/diary management – have your VA manage your calendar and help get you organized.
2. Setting up meetings – your VA can help to set up meetings, Zoom calls, and send calendar invites.
3. CRM management – have your VA tidy up your CRM by updating names and contact details, and adding or removing contacts where necessary.
4. Research tasks – need to carry out some research? Have your VA do this for you.
5. Book travel – your VA can handle booking flights, tickets, or hotels and even organize your entire trip.
6. Event planning – whether it's organizing a personal or business event, your VA can help.
7. Minute-taking –  a VA can be tasked to take notes from your meetings.
8. Document formatting – need to format a document? Delegate this to your VA, or have them create document templates and slide deck designs.
9. Personal to-do list – your VA can help you with personal tasks too! Let them help you organize your travel, family calendar, parties, holidays, and more.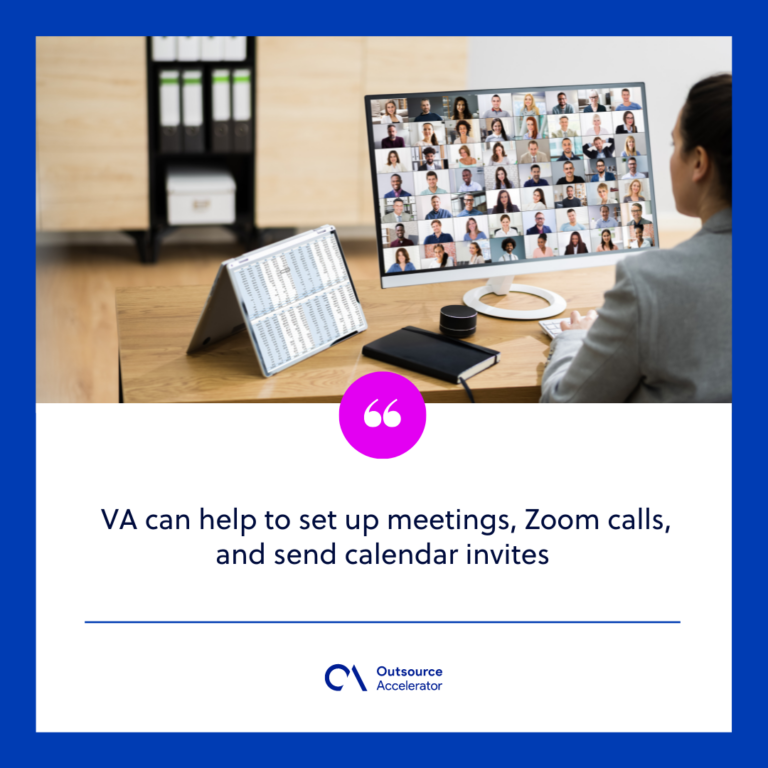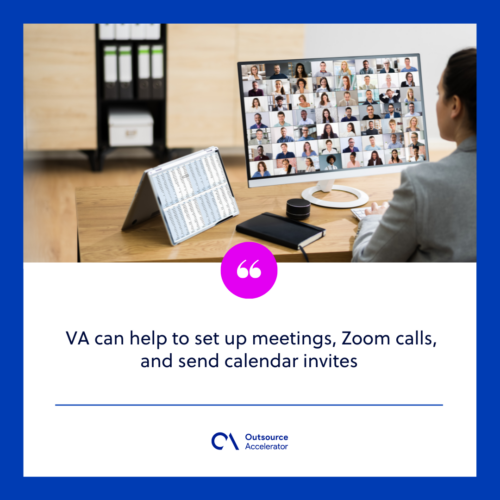 Website support
Your website is the digital shopfront for your business. It's often the first time a prospective client finds you, so leaving a great first impression is important.
It's therefore important to ensure your website is regularly updated, which helps with SEO too! Your VA can help with updating and maintaining your website.
Here are some examples of some tasks your virtual assistant can take care of for you:
10. Content updates – have your VA update your website as and when necessary.
11. Blog writing – a virtual assistant can write, edit and publish blog posts to your website.
12. Content writing – need to update your website's copy? A VA can write effective copy for your website.
13. Design and maintenance – VAs specializing in website design and maintenance can help you out with these tasks.