Top 15 healthcare payroll software in 2023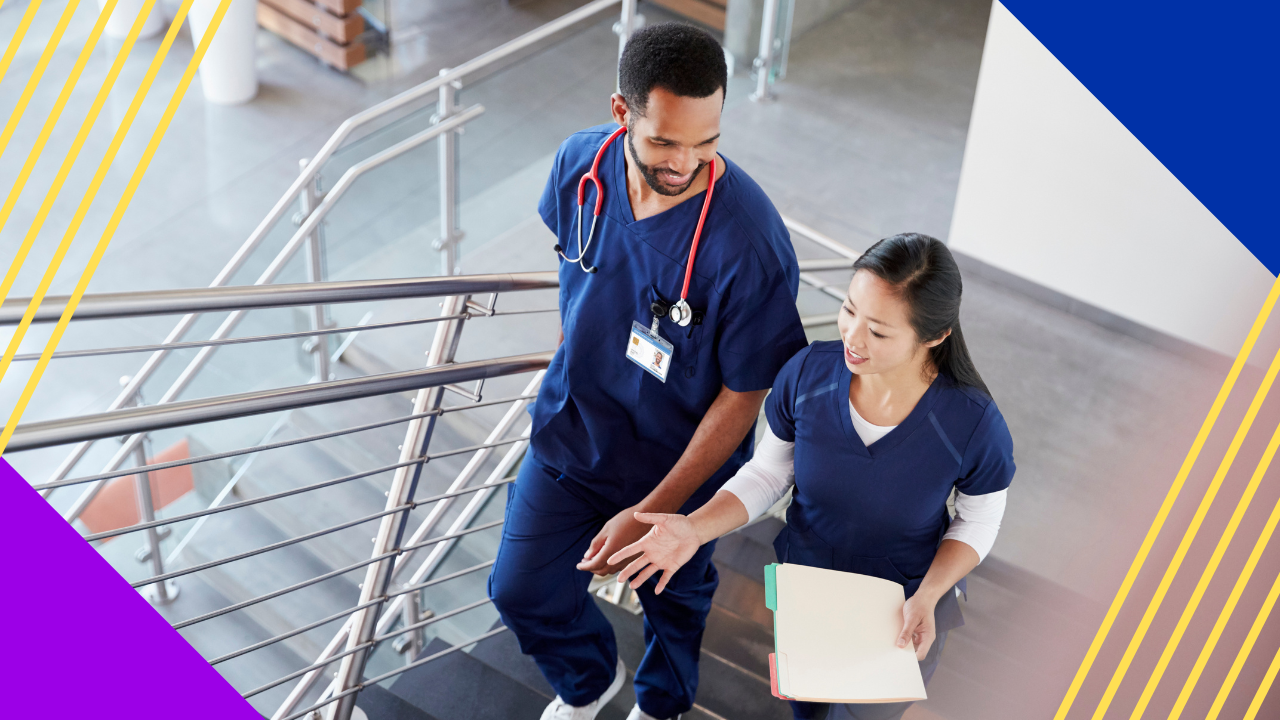 List of 15 healthcare payroll software 
Payroll processing is a complex part of the healthcare industry, or any industry for that matter. It usually involves coordination with different parties, there are also rules and regulations that must be strictly followed. 
With healthcare payroll software, you can streamline HR processes and save time on accounting tasks. 
In this article, we'll take a look at the top healthcare payroll software for 2023. 
An overview of healthcare payroll software
Healthcare payroll software is used by healthcare providers to manage payroll and accounting. It automates many of the tasks related to processing employee paychecks, including taxes and insurance reports. 
Healthcare payroll is used by various medical facilities, including hospitals, clinics, and even nursing homes. 
Key features of healthcare payroll software
Some notable features included in many healthcare payroll software are the following: 
Tax reporting 
Payroll taxes are calculated differently for each state and city, much less country. Healthcare payroll software saves you the time of figuring out the different deductions by automatically computing the right rates. It also submits them on time. 
Labor costs 
Employees in the healthcare field tend to receive different types of compensation. These include hourly wages and salary bonuses. 
Healthcare payroll software tracks these payments and improves your accounting database.
Benefits management 
Medical facilities offer several benefits to their employees, like health insurance plans or retirement accounts. Through automation, healthcare payroll software removes the complications of administering these tasks.
How healthcare payroll software improves your operations
Here are some of the many benefits that a top healthcare payroll software system can add to your business: 
Lessened errors in payroll processing

Time reduction

Increased accuracy of released paychecks 

Ensures compliance with legal regulations 

Boosted productivity levels due to automation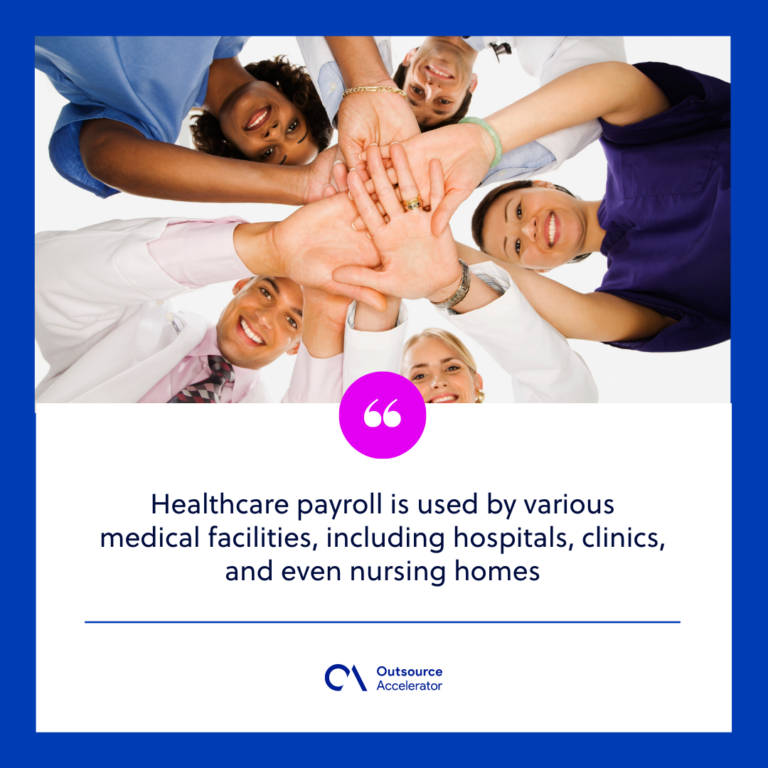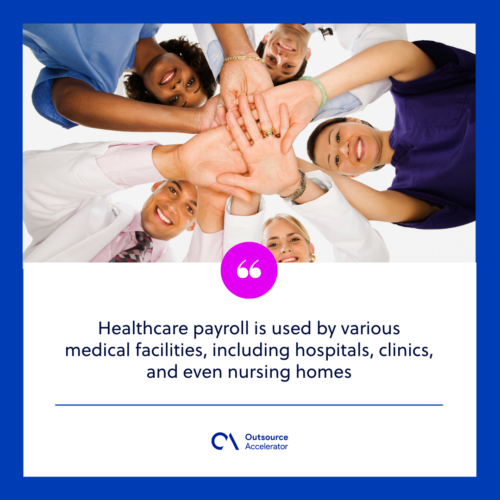 Top 15 healthcare payroll software in 2023
Pricing: Contact ADP for custom pricing. 
ADP has a strong history of providing HR solutions, including managing payroll. For over 70 years, it has defined the standard in offering business solutions.
With its top healthcare payroll software, your facility can rest easy knowing that your staff is paid properly, they're fully trained, and your organization meets compliance. 
The platform is designed with input from their healthcare clients, resulting in software that meets needs. 
Pricing: Pricing starts at $8/month/user, but they also offer custom pricing
Rippling is a top-rated workforce platform. Its system allows you to manage all your people operations in one place effortlessly. 
Rippling is the cure for your payroll, compliance, and HR headaches in your healthcare facility. This top healthcare payroll software boasts a 96% decrease in time spent on HR and IT tasks, syncing your data so you can run payroll in minutes. 
Pricing: N/A
UKG's purpose is in people, and its services are all about providing payroll, HR, and management solutions that inspire and elevate the workplace. 
UKG also targets the medical industry with its UKG for Healthcare solutions. This top healthcare payroll software provides a complete workforce solution to help control labor costs, minimize compliance risk, and improve productivity. 
Pricing: Packages start at $199/month
While primarily an HR and recruitment platform, Hireology also contains a comprehensive payroll system. It's an all-in-one suite of executive tools equipped to help you manage your workplace effectively. 
Hireology's healthcare payroll software has everything your staff will need to maintain an excellent medical facility or home-based care. Manage payments and tax filings automatically to boost efficiency. 
Pricing: Custom pricing on a per-employee, per-month basis. 
BambooHR is a complete HR software trusted by more than 30,000 companies. Bring all your tasks together in its integrated healthcare payroll software, which also comes with a time-tracking feature. 
BambooHR's service to the healthcare industry was particularly seen during the COVID-19 pandemic. Its platform assisted many private clinics in caring for their patients adequately.  
Pricing: Custom pricing based on organizational size
Paycor's HCM empowers leaders to build winning teams, driving engagement and results. Over 40,000 businesses in the US alone trust Paycor and its focus on talent development. 
Paycor's healthcare payroll software assists healthcare leaders in their operations through product differentiation, community, and customer experience. 
Its seamless technology helps solve the challenges encountered by healthcare administration.  
Pricing: Customers may select from factoHR's plans with custom pricing.
factoHR distinguishes itself by being a mobile-first HCM platform. You can automate HR operations, engage talent, build a high-performing workforce, and of course, manage payroll successfully. 
factoHR has flexible healthcare payroll software that automates accounting for smooth expense management. Keep payroll on time, every time. 
Pricing: Contact sales for a quote. 
Workday puts AI at the center of their top healthcare payroll software. It promotes agility by placing its payroll, HR, and time-tracking in one platform. 
Workday HCM is designed for how healthcare works, providing a single cloud-based system to address the payroll and HR needs of healthcare professionals. 
Pricing: All plans begin at a base price of $38/month
Regular: Base price + $5/employee/month

Plus: Base price + $9/employee/month

Premium: Base price + $11.5/employee/month

Enterprise: Custom pricing
Qandle is a smart HR for the modern workplace, containing over 40 HR modules to help nurture your talent. 
Its top healthcare payroll software simplifies payroll and compliance management for the healthcare industry. Manage your employees' entire payroll structure, including multiple salary plans, flexible pay, advances, and taxation in one place. 
Pricing: Get a quote through their website for competitive, custom pricing. 
APS Payroll designs its technology to make workforce management easier. It offers solutions for payroll, core HR, benefits administration, attendance, recruiting, and employee onboarding. 
APS recognizes the ever-changing nature of the healthcare industry. It, therefore, created its healthcare payroll software to make it easy for medical facilities to manage their accounting on one application. 
Pricing: 
Essentials: Prices start at $249/month

Premium: Prices start at $399/month
HR for Health is the only HR software catering to medical and dental practices. Its focus on the healthcare industry allows it to offer definitive solutions in the realm of HR and payroll. 
HR for Health addresses the needs of medical facilities to acquire top healthcare payroll software. With just a few clicks, their platform handles all related tasks, especially compliance.  
Pricing: N/A
symplr builds workforce management solutions tailored to the healthcare industry. Its technology (including healthcare payroll software) reduces administrative burdens and gives clinicians more time for patient care. 
symplr works from its decades of experience delivering customer outcomes for healthcare facilities. Optimize costs and remain compliant with their healthcare payroll software. 
Pricing: 
Standard: Starts at ₹2495/month for 50 employees

Professional: Starts at ₹3995/month for 50 employees
Pocket HRMS is a top healthcare payroll software in India, trusted by over 1000 businesses. The cloud-based platform leverages AI to empower industries. 
Pocket HRMS's top healthcare payroll software offers flexibility to healthcare professionals. It accounts for their various working shifts and ensures full HR compliance, providing accurate compensation all the time. 
Pricing: Comes with a 30-day free trial.
Essential HR: $1.50/user/month

Professional: $2.50/user/month

Premium: $3.50/user/month

Enterprise: $5/user/month

People Plus: $10/user/month
Zoho People is crafted to make HR management agile and flexible. Aside from healthcare payroll software, it also simplifies core HR tasks, optimizes time, and provides learning and development. 
Zoho People keeps all members of the medical staff connected and coordinated on their responsibilities. Take the tedium out of payroll processing with its stress-free process. 
Pricing: All pricing plans come with a 7-day free trial.
Starter: ₹0/month for 25 employees

Essential: ₹3495/month for 50 employees

Growth: ₹5495/month for 50 employees

Enterprise: ₹7495/month for 50 employees
The greytHR platform contains all the necessary HR tools you need to survive and thrive in your business. As a healthcare payroll software, it secures all compliance for safe operation.
Access faster processing and accurate payouts as greytHR puts you in control of the full payroll cycle.