Should you outsource your medical billing compliance?
The healthcare sector is one of the busiest industries, and healthcare providers don't just focus on patient care—they also handle other critical administrative tasks.
Nowadays, outsourcing is an effective way for medical institutions to improve accuracy, reduce costs, and develop greater efficiency. Just like any other industry, healthcare establishes all regulatory requirements to provide patients with high-quality care.
Medical billing outsourcing is a popular option for healthcare establishments wanting to ensure compliance with the latest regulations while focusing on other medical duties.
Keep reading to learn more about how outsourcing your medical billing compliance can help your practice succeed.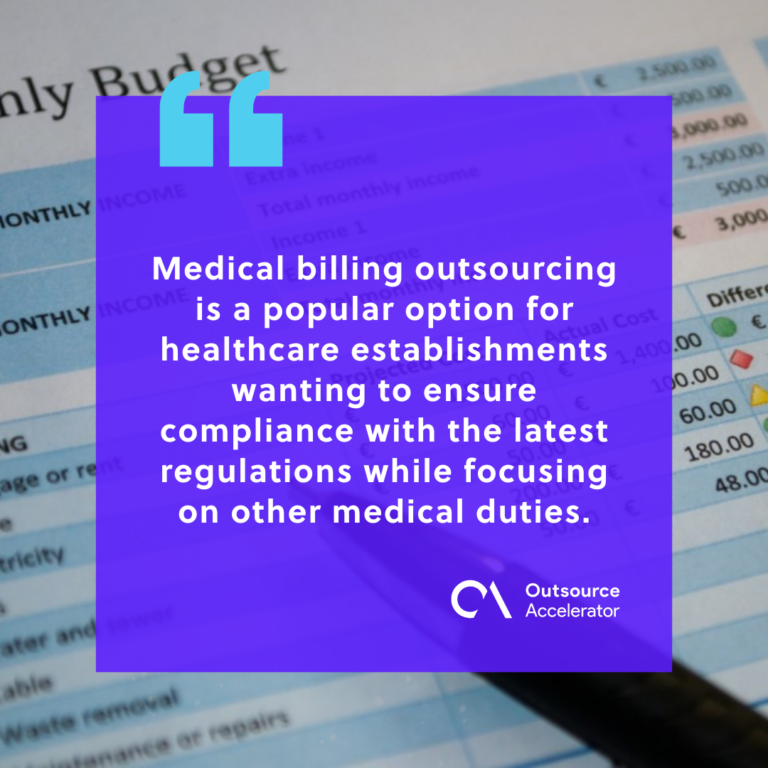 What is outsourced medical billing?
Medical billing is the process of filing a claim for payment to an insurance company. Medical billing experts ensure that claims are precise and submitted on time.
However, not all medical billing professionals have extra time to do all tasks alone, so other healthcare providers outsource their medical billing compliance.
Outsourced medical billing is a process that involves a third-party provider handling the administrative tasks associated with medical billing, such as:
Submitting claims insurance

Collecting payments

Ensuring regulatory compliance



Why you should outsource medical billing compliance
Besides cost-savings, improved accuracy, and increased efficiency, the following are other compelling reasons to outsource your medical billing compliance:
Medical biller expertise
Outsourcing medical billing compliance gives you access to medical billing specialists who can facilitate invoices, payments, and insurance claims on your behalf.
Most outsourced medical billing teams are highly trained and experienced professionals. They understand the complexities of medical billing and coding, know the latest regulations, and prioritize your need.
They can also help you stay up to date on the latest regulations and changes in the industry, helping you avoid any potential fines or penalties.
Fewer medical coding and billing errors
Healthcare organizations with in-house teams are more likely to make billing and coding errors due to handling other overwhelming healthcare tasks. This affects making timely insurance payments.
Some of the common billing and coding errors are:
Upcoding –

occurs if a billing department employee makes a mistake inputting diagnostic and treatment codes or if the employee input incorrect information on the physician's report.
Insufficient data –

inability to supply payers with supporting information for claims results in denials or delays. For instance, billing department staff fails to link a diagnostic code to a Current Procedural Terminology (CPT).

Telemedicine coding errors –

payment delays occur due to improper use of variables for telehealth services.
As mentioned, outsourced medical billing professionals receive continuous training in the industry's best practices. This can effectively help reduce the risk of errors that can lead to costly payment delays.
Keep in mind, with fewer errors comes a quicker income flow.
Faster insurance payments
Outsourcing your medical billing compliance can speed up getting your claims paid by insurance companies. As a result, it reduces the time and money you spend managing your billing process.
Easier to integrate with EHRs
It can be difficult and time-consuming to maintain multiple electronic health records (EHRs). By outsourcing medical billing compliance, you can ensure that your EHRs are properly integrated with your billing system. 
Better patient satisfaction
Every medical office strives to provide exceptional treatment and customer service, but it can be tough to satisfy all of your patients' expectations when you have so much on your plate.
By outsourcing medical billing, you relieve your staff of some of these typical healthcare industry chores:
Scheduling check-up appointments

Checking with patients check-in and check-out

Maintaining the records

Addressing clinical issues
Further, it allows your employees to better cater to patients' requirements resulting in increased patient satisfaction and retention.
More time on core tasks
Healthcare providers can save time and money by avoiding the need to hire and train additional staff to handle medical billing compliance. 
Additionally, it will allow healthcare providers to focus on core tasks such as patient care, research, and administrative duties.
Ensured compliance
Outsourced medical billing experts can ensure that your billing obligations are up to date with the latest healthcare compliance standards.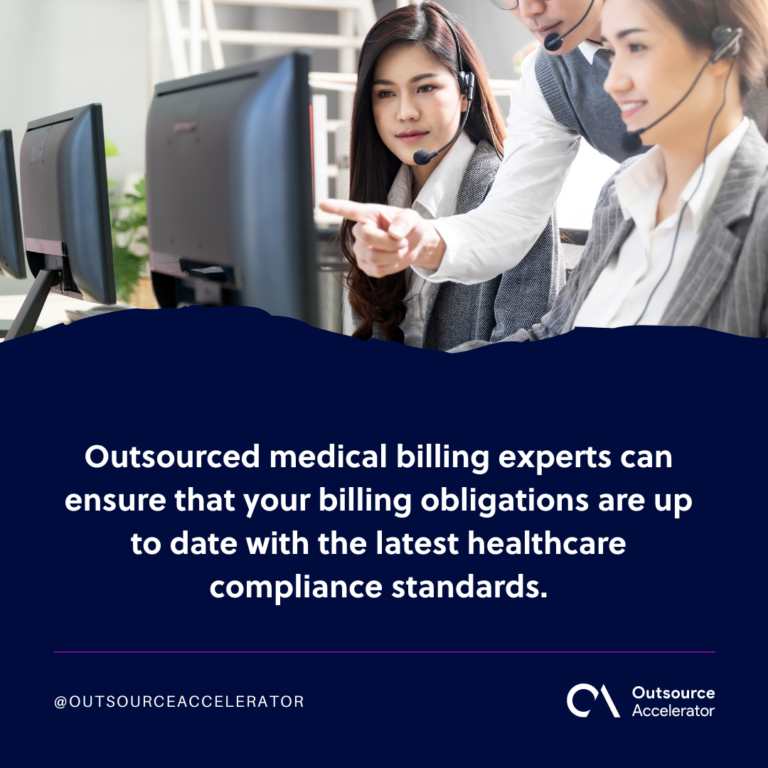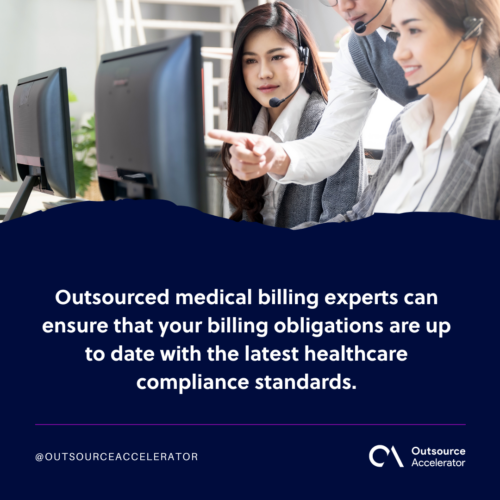 Reduced costs
Finally, outsourcing medical billing compliance helps save costs because it reduces the amount of time and money spent on managing and maintaining billing systems.
Outsourcing medical billing compliance can also help improve billing processes' accuracy and efficiency.

Outsource medical billing compliance to elevate your patient care
Overall, outsourcing medical billing compliance can provide you with several advantages. 
It is a cost-effective and efficient way to ensure that your organization is compliant and that you take the necessary steps to protect your patients and your practice.
There are effective medical billing companies that can provide quick response times for submitting claims. They have the right experts and tools to guarantee claims are completed and filed before the specified deadline.
To provide high-quality patient care with all the necessary regulations, outsource your medical billing compliance today!