The pros of working night shift, according to a BPO Operations Manager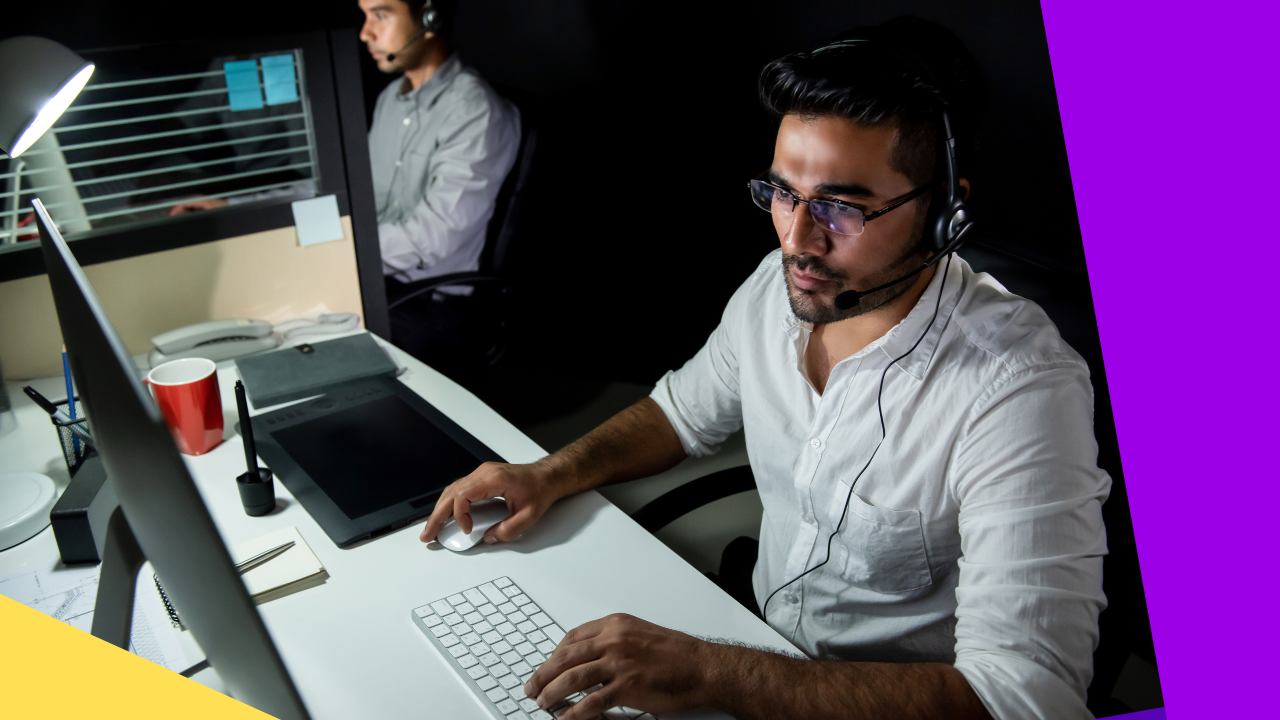 The night shift work is crucial to a business in general, as companies and customers alike benefit from the after-office customer service that night workers provide. In addition, workers in the healthcare and security sectors can ensure the community's protection even when they're asleep.
BPO workers are considered front liners, even before the pandemic. Along with healthcare workers and other essential employees, they get to help customers with their concerns at any time of the day, even if it means they get to work the night shift. 
Night shift work can be challenging, especially for employees who are new to the concept. Yet, more workers, especially in call centers in the Philippines, choose this with the advantages it can bring to them.
LJ Gacho, an Operations Manager at SixEleven Global Teleservices, has been working night shift for 14 years. She gets to share her experience and the advantages of a night shift work in the latest episode of Outsource Accelerator podcast.
Advantages of working night shift
LJ loved the night shift. Working at SixEleven for 14 years, one of the things she pointed out in working the night shift is the quietness of the city at night time. 
Indeed, Davao City can be quiet at night time. Night shift employees as well enjoy the quietness at night time since they get to focus more on their work and have less distractions. This further increases their productivity.
Aside from this, night shift employees enjoy the following advantages:
Bigger pay
Night shift employees can earn more than their day shift counterparts. They usually get night differentials, hazard pay, and allowances on top of their basic salaries.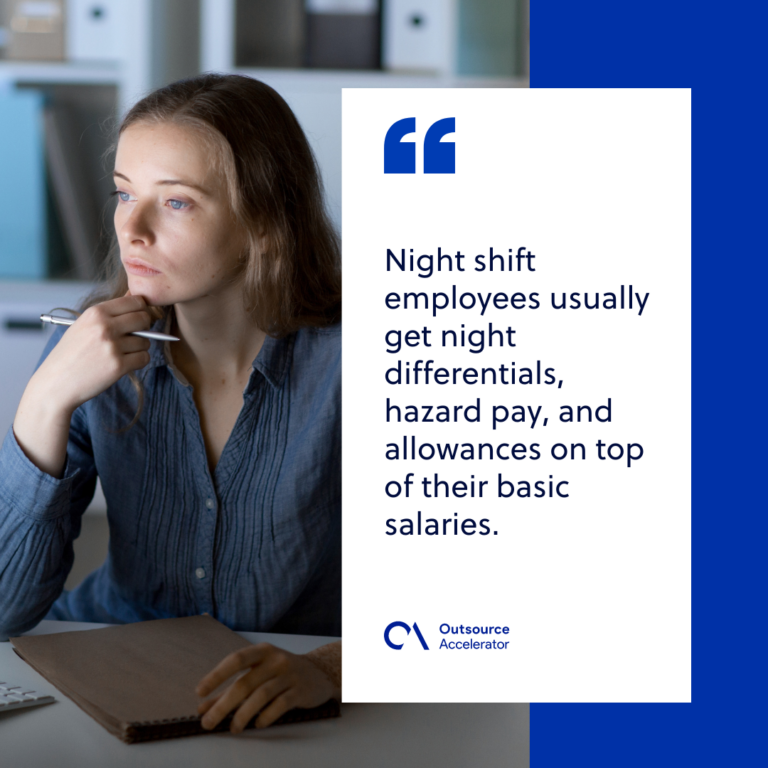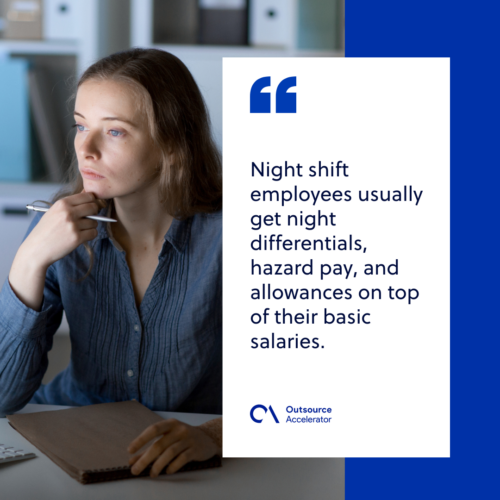 Less travel time
One of the aspects that add stress to day shift workers includes the traffic they experience during rush hour. Night shift employees won't have to spend much time on their drive or commute to work. 
When working the night shift, their travel times can be shortened since it's the end of the day for most people. 
More time to access public services
Some services, including banks and government offices, are closed on weekends. Groceries, meanwhile, can also be crowded during these days.
Night shift employees can work around their day to do their chores. This is since they have more time to access public services with less demand.
Less competition
In some cases, working the night shift can help employees climb the career ladder faster. 
Most of the office competition is found in established offices working throughout the day, with employees bringing more seniority and experience to the table. Having night shift work can give them the chance to stand out more and even become the senior staff in a shorter time.
More time for skill development
Lastly, with night shift work, employees have the chance to develop their skills further outside of their workplace.
During the day, they can take short courses to develop different interests and work skills. They can even take further education to build their credentials and step up in their careers.
Best practices for working night shift
Despite these advantages, there will always be downsides for people working night shifts. Having a night schedule could affect a person's physical and mental health. They can be more prone to illnesses such as diabetes, heart disease, and even depression.
A night shift work can also affect personal relationships since workers don't have the same schedule with their loved ones. 
When mismanaged, it can make them feel isolated and distant from their friends and relatives outside the workplace.
Proper management is always the key to make night shift work and avoid its disadvantages. Here are some best practices when working on a night shift.
Maintain a proper sleep schedule
Always have a proper sleep schedule to follow, even on weekends and rest days. This helps the body to adapt to one sleep schedule without having to always adjust.
Control exposure to light
One of LJ's best practices in working the night shift is that she gets to sleep more easily when the room is dark. Indeed, this can help trick the body into staying awake with much light exposure.
Maintain a balanced diet
Studies show that night shift employees are 29% more at-risk of becoming overweight and obese with improper diet and disrupted body clocks. 
They can avoid that by maintaining a balanced diet, eating lightly, and being hydrated.
Get loved ones onboard 
It will be best if the worker's families and friends are more inclined and supportive of their schedules. 
This is why they should be oriented with the employee's schedule as to when they are at work, asleep, and available to avoid inconveniences in both parties.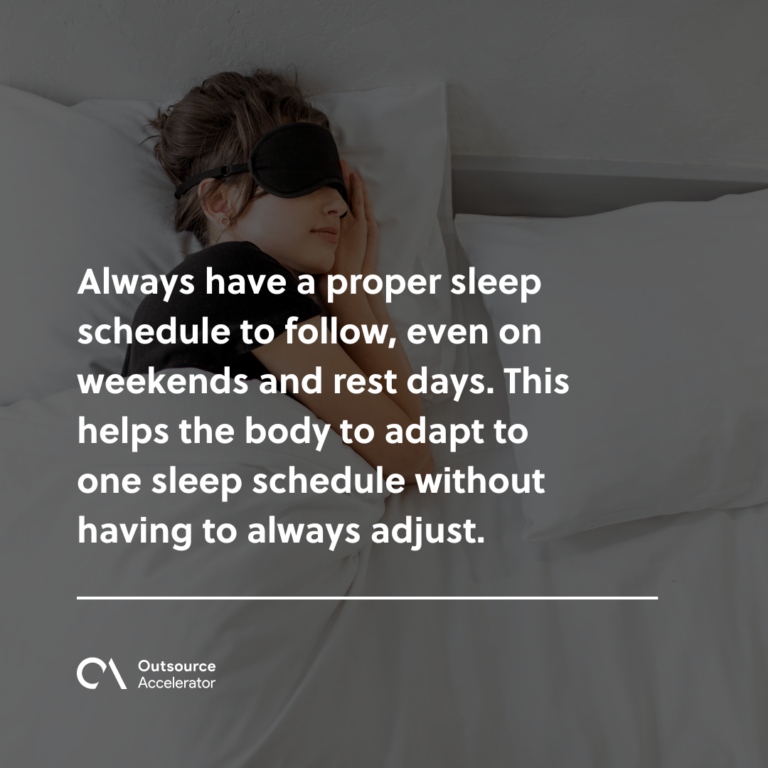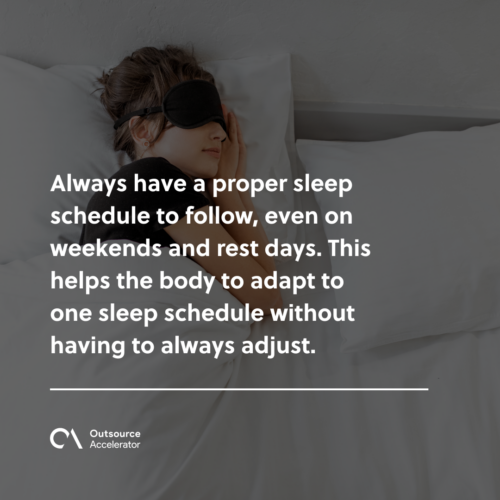 Moderate caffeine intake
Lastly, it's a common notion that night shift employees love coffee. However, too much caffeine has side effects in a person's health and sleep inertia.
This is why it's best to regulate caffeine intake each day. One suggestion is that intake should be stopped six hours before bedtime to prevent it from affecting their sleep.
SixEleven on taking care of their night shift employees
Being in the industry for decades now, SixEleven prides itself in providing the best service for their small and medium enterprise (SME) clients around the world. One way they do this is by taking care of their outsourced teams fairly and treating them like a family.
What's more, the company provides generous benefits to their employees. They are given commission-based bonuses and monthly incentives on top of their salaries to motivate them on their work.
Check out their website and listen to the latest podcast episode here.