Welcome to Inside Outsourcing: The Outsourcing Week in Review
THE WEEK IN REVIEW
It's been a busy week for outsourcing (though, thankfully, not as crazy as the financial markets in US). We've got some juicy growth forecasts, acquisitions, and Women's Day celebrations! Here we go.
The global Knowledge Process Outsourcing (KPO) market is projected to reach US$51.7 billion by 2028 at a compound annual growth rate (CAGR) of 7.3%. Intelligence firm Vantage Market Research (VMR) says legal services will "develop the fastest" and will account for more than 27% of the total sales of the KPO market in 2028 due to its efficiency and cost savings. VMR also expects technological advancements to drive the sector's growth in the next five years.
Another intelligence firm, Visiongain, is forecasting the expansion of the Asia Pacific (APAC) Business Process Outsourcing (BPO) market by a CAGR of 8.2% between 2023 and 2033. In its report, Visiongain said outsourcing will benefit from cost-cutting practices, the digital transformation of established companies, and the rise of small businesses. Visiongain added that partnerships with SMEs could bring "strong opportunities" for APAC's outsourcing sector.
The outsourcing world enthusiastically supported the International Women's Day last week with meetups, announcements and celebrations. Here are some highlights.
Jamaica expects more women BPO leaders in the next decade. According to Global Services Association of Jamaica President Anand Biradar, a 50:50 gender ratio in executive management is possible, especially now that 70% of the sector's 60,000 employees are women. Biradar added that this would be an "inevitable and definitely welcome" change as they invest strongly in hiring women. Similarly, the Information Technology-enabled Services (ITeS) and BPO industries are driving demand for women in India's workforce. According to job search platform foundit (formerly Monster), the two sectors made up 36% of overall jobs for women in February, up from 30% last year. Along with ITeS/BPO, IT/computer software and banking/accounting/financial services sectors are among the top three industries employing more Indian women.
Still in India, digital business solutions firm Worxpertise announced its new menstrual leave policy, effective April 1, 2023. The policy — a first in India's outsourcing industry — will give women 12 days of paid leave per year to manage their menstruation-related challenges. Worxpertise aims to support self-care during monthly periods and menopause without depleting the leaves of their women employees.
Nice work!
February was a strong month for the web traffic of outsourcing marketplace Outsource Accelerator (OA). OA recorded 839,117 page views and 260,634 unique visitors last month. The platform generated 1,564 inbound inquiries from 63 countries across 28 sectors from this traffic. These high figures coincided with the release of Time Doctor OA500, the first objective index ranking the world's top 500 outsourcing firms.
In other news, advisory platform UPSTACK recently acquired the network and cloud-sourcing business of tech management firm LinkSource Technologies. Both firms said they will work to provide a seamless experience for customers as part of a new strategic partnership. LinkSource CEO and Founder Curt Lewis and President Jason Newbold will remain as invested owners of the firm and continue to grow the hardware sourcing business. Meanwhile, British outsourcing firm Capita will sell its resourcing businesses — Capita Resourcing, HR Solutions, and ThirtyThree — to investment company Inspirit Capital. According to Capita, this acquisition is part of its efforts to strengthen its balance sheet and simplify operations. The outsourcing agency is also looking to sell most of its remaining non-core portfolio businesses in the first half of 2023.
Several partnerships were also inked in the past week. Cloud communications provider RingCentral announced a multi-year strategic collaboration with Amazon Web Services (AWS) to offer industry-leading solutions through a unified communications platform. Both firms are set to share resources to train subject matter experts on cloud migration optimization. RingCentral and AWS will also invest in joint marketing, lead generation, and promotion activities. Concurrently, software firm Qualtrics is partnering with cloud-based contact center Five9 to deliver improved agent and customer experience. The deal will integrate Five9's Event Subscription Services and Qualtrics' XM Platform, and is expected to improve a contact center's customer experience. Qualtrics XM for Customer Frontlines Chief Product Officer Fabrice Martin added that this integration will help contact center teams " improve operational efficiencies, reduce costs, increase customer loyalty, and minimize risk and compliance issues."
Other industries are also tapping outsourcing agencies for help.
Global food and beverage company Nestlé Pakistan Limited will collaborate with Ufone 4G's BPO arm to establish a "state-of-the-art" customer service solution for their customers. Ufone will manage the firm's social media engagements and end-to-end consumer support while enhancing Nestlé Pakistan's customer experience. Ufone 4G has a proven track record of delivering high-quality digital B2B services to enhance large-scale businesses' efficiency, productivity, and competitiveness. At the same time, IT company DXC Technology extended its partnership with Siam Cement Group (SCG) for five more years to boost transformation efforts. DXC will help SCG enhance customer experiences by delivering IT infrastructure and solutions. The tech firm added that this partnership will transform the cement-building material company's services and security levels and help it reach its net-zero emissions goals by 2050.
Mobility specialist ZF is collaborating with outsourcing firm Infosys to restructure its multi-echelon supply chain. Infosys was chosen to assist ZF on this transformation journey due to its expertise in SAP IBP implementation and a plethora of in-house tools and accelerators backed by efficient teams. Infosys EVP and Global Head of Manufacturing Jasmeet Singh said they are delighted to help make ZF's supply chain "more resilient and intelligent."
Loyalty is still a big issue in the business world. In Morgan McKinley's latest report, 57% of employers believe they will lose staff in the first half of 2023. This belief is backed by a poll where 53% of employees across Australia, Canada, Hong Kong, Ireland, Japan, China, Singapore, and the United Kingdom (UK) are moving jobs in the following months to look for higher salaries. Morgan McKinley Group CEO Seb O'Connell said they expect a "slight recalibration of salaries this year" to retain and attract employees.
On the other hand, salaries in Singapore's tech sector jumped by double digits in 2022. Tech salaries aggregator Nodeflair and venture capital firm Iterative reported that blockchain engineers, mobile engineers, and site reliability engineers received the highest wage increases with 15.62%, 11.73%, and 10.63%, respectively. Across Asia, software engineers in Singapore earned the highest — between an average of US$3,703 for junior positions and US$10,183 for managerial positions — followed by Taiwan and Malaysia. 
Now, that's one fine pay day!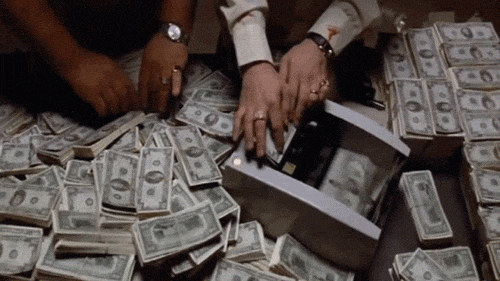 Tuesday, March 14, 2023
NEWS THIS WEEK
13 March 2023
10 March 2023
09 March 2023
08 March 2023
07 March 2023