Welcome to Inside Outsourcing: The Outsourcing Week in Review
THE WEEK IN REVIEW
Rising at an 11.2%  compound annual growth rate (CAGR), the global contact center analytics market is expected to reach $3.1 billion by 2028. According to market research firm ReportLinker, the industry's growth will be boosted by two factors — increasing technological adoption and rising demand for self-service interactions. ReportLinker also found that numerous enterprises are incorporating "rigorous" software and analytics-based technologies in their contact centers to maintain their omni channel communication with clients. The report added that a growing number of contact centers could be looking to use self-service bots and modern technology to improve customer experience.
Meanwhile, 70% of businesses in the United States (US) are looking to bring their production facilities closer to American shores, according to a survey conducted by automation vendor ABB. ABB Robotics & Discrete Automation President Sami Atiya said that companies are being pushed to reshore or nearshore their production to increase flexibility and resilience, as well as help them cope with current economic pressures — particularly geopolitical disputes, raw materials shortages, and trade issues.
A recent report suggests that the rising attrition rate, especially in the tech industry, is worrying outsourcing clients. In an interview with 496 global enterprise executives, research firm Everest Group revealed that most clients shared that their tech providers are finding it hard to replace talent quickly and effectively, which negatively impacts project timeline, cost, and quality. Everest stated that the majority of enterprises, to allay concerns, are looking for outsourcing providers that can ensure four things: talent availability; low attrition; strong learning and development programs; and robust internal and external communication. While the tech talent shortage persists, the white-collar job market in India dropped a dramatic 12% month-on-month in June. According to specialist staffing firm Xpheno, the overall drop in hiring numbers came even as non-tech sectors continued to open more job positions in the country. Experts attribute the moderation in hiring numbers to a wait-and-watch approach in technology, startups, and allied sectors. Anil Ethanur, the co-founder of specialist staffing firm Xpheno, said that the global investor sentiment is causing "ripples" in the Indian tech ecosystem due to the sector's export services model. However, non-tech sectors collectively put out 25% of job vacancies in the same month.
In other news, BPO giant Concentrix is preparing to launch a "mega contact center" in Medellín, Colombia. Concentrix Country Manager Clara María Bernal said that they chose Medellín as it is the "innovation center of Colombia." She added that the new facility is set to "contribute to the socio-economic growth" of the city and the region of Antioquia. Concentrix plans to hire 600 employees this year, and 1,500 more in 2023.
More businesses are set to explore outsourcing this year. Nonprofit healthcare system OhioHealth announced it will outsource its IT and revenue cycle management (RCM) operations. OhioHealth spokesperson Colin Yoder said that this will allow them to continue delivering a "best-in-class, patient-centric, personalized healthcare experience" to their clients without taking away from their previous investments. Although the outsourcing plan will compromise 637 in-house roles, Yoder stated OhioHealth will be providing outplacement support, job fair, temporary salary, as well as upskilling training to affected employees. American holding company CSX Corp. is also slowly transitioning some of its IT operations to BPO provider Tata Consultancy Services (TCS). In a statement, CSX said that TCS will be providing operation, maintenance, and support services for their IT systems to keep up with advances in technology. The firm added that this strategic move will ensure that CSX will remain a "transportation industry leader in both [technological] performance and innovation." CXS promised their affected in-house employees an opportunity to join TCS and continue to provide support services to the company.
On the other hand, BPO firm Computer Generated Solutions (CGS) will be adding 800 new employees to its operations in Romania. CGS Romania Country Manager Vladimir Sterescu said that their growing portfolio and incoming projects from existing and prospective clients generate a need for expansion within the company. The job openings will be available at their support centers in the cities of Bucharest, Brasov, Sibiu, Targu-Jiu, Miercurea-Ciuc, Constanta, and Galati. There will also be remote job postings in cities where the company does not have offices.
In China, almost 46% of households believe that the employment situation remains "grim" in Q2 — the country's lowest since the global financial crisis of 2008 and 2009. According to a survey conducted by the People's Bank of China (PBOC), this dip in employment confidence is due to the tough COVID-19 lockdowns in the country from April to June. PBOC also reported that the jobless rate across 31 big cities in China rose to a record 6.9%. With this growing problem, People's Republic of China Premier Li Keqiang vowed that the government would strive to return the economy to a standard track and cut the jobless rate as soon as possible. Meanwhile, remote job postings in Singapore dropped by 25% since the beginning of the year. In the latest report from employment website Indeed, job postings that featured keywords such as "remote" and "work from home" only reached 7.4% at the end of May. However, most job seekers in the country remain intent on working remotely as 3.6% of searches on Indeed Singapore are for remote positions. In fact, APAC Senior Economist Callam Pickering said that the search for "greater flexibility and autonomy" in the workplace by Singaporean employees has been intensified by the onset of the pandemic.
In India, the hiring intent hit a 27-month high as 61% of companies are planning to recruit white-collar and blue-collar roles in the July-September quarter. According to the latest Teamlease Employment Outlook Report, most employers will go ahead with their Q3 hiring plans despite macroeconomic headwinds from high inflation, the rising cost of money, and ongoing geopolitical tensions. Teamlease Services Executive Director Rituparna Chakraborty explained that the double-digit attrition in several sectors — including IT, education, and healthcare — is prompting companies to "pre-empt and hire" more talent. The festival season in August will also lead to a lot of demand for talent, especially in the blue-collar segment. For the young population, South Africa's Department of Public Service and Administration (DPSA), National Youth Development Agency, Public Sector Education Authority, and United National Development Programme recently launched the FOW ambassadors program. DPSA Director-General Yoliswa Makhasi stated that they aim to use the program to coordinate its human resource processes and make a "fit-for-purpose and future-fit" public service. Under the program, 33 young graduates will be placed in internship programs across selected national and provincial departments for 24 months. Acting Public Service and Administration Minister Thulas Nxesi stated that the FOW ambassadors program "will unlock potential in young graduates."
Women are set to have a larger role in the tech industry. Tech giant Google will be investing US$9.9 million in a digital skills training program for women in Mexico. According to the International Youth Foundation, a nonprofit which will manage the funds, this initiative will help increase job opportunities for women, particularly those living in the country's southeastern region. Google's Director of Communications in Spanish-speaking Latin America Florencia Sabatini said that this is the company's biggest ever investment in training women in the digital technology industry. The tech company had previously given US$2 million to another training initiative for women residing in the states of Tabasco, Yucatán, and Quintana Roo.
Girl power!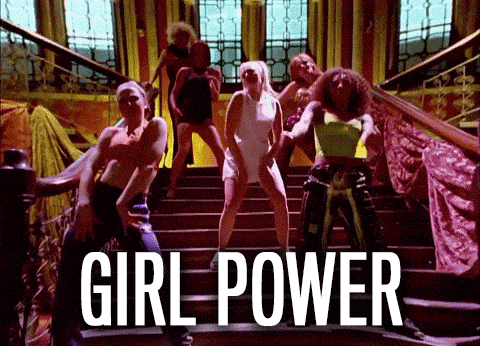 Tuesday, July 12, 2022
NEWS THIS WEEK
11 July 2022
8 July 2022
7 July 2022
6 July 2022
5 July 2022