Boon and bane of overcoming telework challenges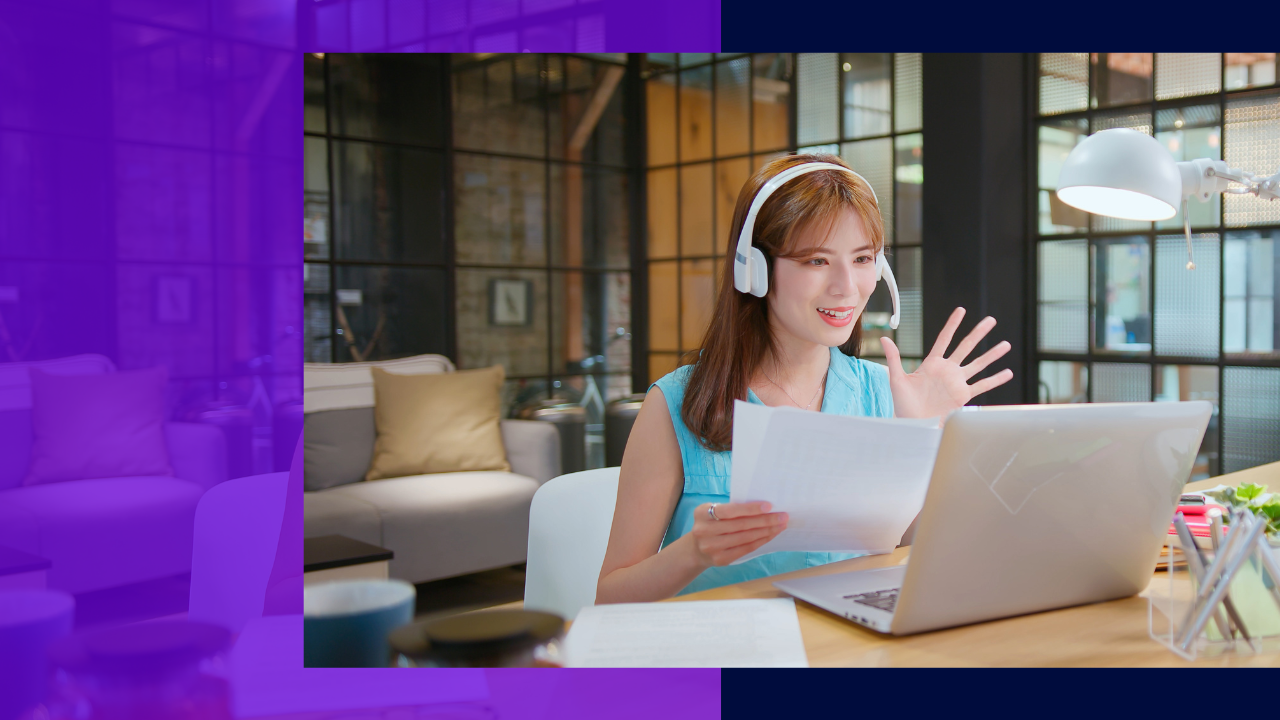 More and more businesses are allowing their employees to do remote work.
According to Remote.co's 2022 Job Prospects and Remote Work Availability report,  63% of surveyed global employees stated they would "definitely" look for a new job that offers remote work.
The high tendency of professionals to leave their present positions to look for remote work demonstrates the value of work flexibility in today's industry.
The perks are obvious — less hassle of commuting, less stress, and more time with family, among other benefits.
For businesses, the remote work benefits are more centered on their business model:
Hire and select a great workforce from a large talent pool 

Employee retention 

Increased employee satisfaction and productivity
But every great opportunity comes with obstacles. Inevitable telework challenges cause other smaller businesses to remain on the traditional work side: in-office setup.
Telework defined
Telework is the simple term for "remote work" or "work-from-home" setup. This arrangement allows an employee to carry out work responsibilities from a remote location.
This also refers to a work arrangement that permits an employee to accomplish work during regular, paid hours, even in a co-workspace, as long as with a stable internet connection.
With the rise of telecommuting among businesses, employers provide more flexibility through a hybrid setup. To support this statement, PwC reports 63% of respondents prefer a combination of in-person and remote work.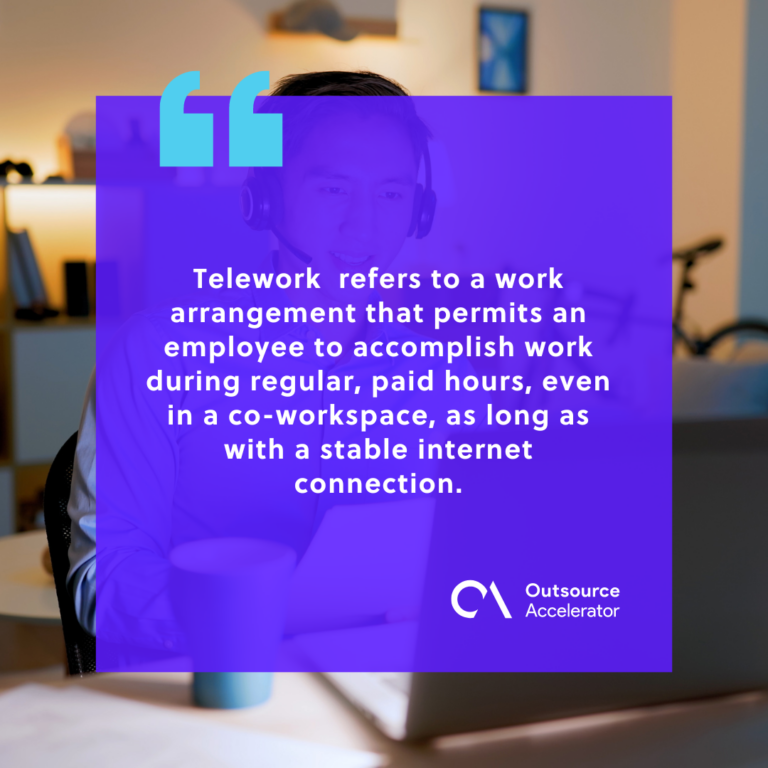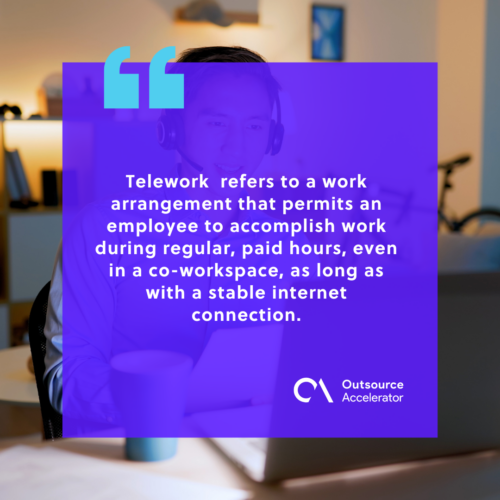 However, some companies still "don't believe in the efficiency of actually working from home" because some telework challenges might impact how the business functions.
Mary Lupisan, CMO of Callhounds Global, discussed their significant growth in the BPO industry and how they lean toward an in-office arrangement in the 428th episode of the Outsource Accelerator podcast.
Boons of telework opportunities
Let's look at the significant benefits of remote work for employees.
Cost-saving
Telework eliminates the need to travel to the office – saving costs from commuting fares, such as public transportation, gas, and car maintenance. Additionally, telecommuting may save employees money on office supplies.
Remote workers no longer need to spend on lunches or snacks as they can just cook their meals in the comfort of their homes. 
This telework advantage does not only pertain to saving money. It also helps save more time on commuting and preparing packed lunches.
However, one of the telework challenges associated with this boon is the discipline to spend one's time wisely. 
Freedom and flexibility
Telecommuting allows staff to work at their own pace — meaning they can create schedules and work during their most convenient time. Some even became digital nomads because they have the freedom to work from anywhere.
Employees can also avoid stress by working in a conducive environment.
Work-life balance
Taking frequent breaks helps employees stay focused and motivated and avoid burnout. A study by INC suggests employees should be encouraged to take a recharging break every 90 minutes.
That said, working remotely allows employees to take breaks whenever needed, which may help them stay motivated and productive. 
Boon of telework challenges
Working from home isn't always convenient. Despite its growing advantages, there are still telework challenges. 
Although Mary acknowledged that "COVID itself was a very huge challenge," she revealed that "most of [their] clients actually don't believe in the efficiency of actually working from home."
To explain further, here are the three disadvantages of teleworking:
No personal touch
One of the toughest telework challenges is the difficulty of forming relationships with coworkers and clients — which can lead to a lack of trust and understanding between the two parties.
Mary noted that "[Callhounds team] are more into personal touch," so remote work can make project collaboration harder.
Most brands want to establish a personal relationship with their clients, "especially since we are trying to hone a lot of internal promotions in the company, which I think is also one of the main things that our clients love about us," she added.
Unmonitored performance
For most firms, "KPIs are very much important," and unmonitored performance and the absence of one-on-one coaching is one of the telework challenges that might result in low productivity scores.  
Employee recognition and assistance might be tough to offer when working remotely. It might be also tough to deliver constructive feedback and ensure that personnel is on the correct path.
She believes that "it's easier for team leads to actually coach [employees] if they are in the room all at once."
"Of course, [their safety] is important. There's no doubt about that. But our KPIs are also as important as they are," the Callhounds' CMO clarified.
Distraction
Another common telework challenge is work distractions. It's easy to become sidetracked by the various happening in your surroundings, even when you are in the comfort of your home.
It's hard to resist the temptation of overbreak and napping when you're distance working.
That's why "most of [Callhound's] employees are more into working on site, especially because they don't want to be pulled back by their own beds to not work."
Mary assures that their employees "enjoy being onsite." The reason points to a quiet environment that BPO industries typically require. 
"Since we are a call center, the challenge would always be the background noises. And some of our employees would be staying at a shared space or even having a small family where children would probably be playing," she explained further.
Is telecommuting problematic for smaller companies?
Every solution and approach has boons and banes. There are no perfect systems and business models.
Some professionals prefer to work from home, while others long to return to their job, sit in their favorite office chairs, and meet their coworkers.
The problems mentioned are reasons why some organizations resist the notion of remote labor, and the fear is valid. This holds true especially for smaller companies that are just starting to grow their business. 
But telework challenges shouldn't be seen as a threat or a problem, but as an approach that needs to be optimized for employers and employees.
Per Mary, "The strategy is just to really have the right leaders, [and] experienced managers as well, to help you cope up with any other challenge."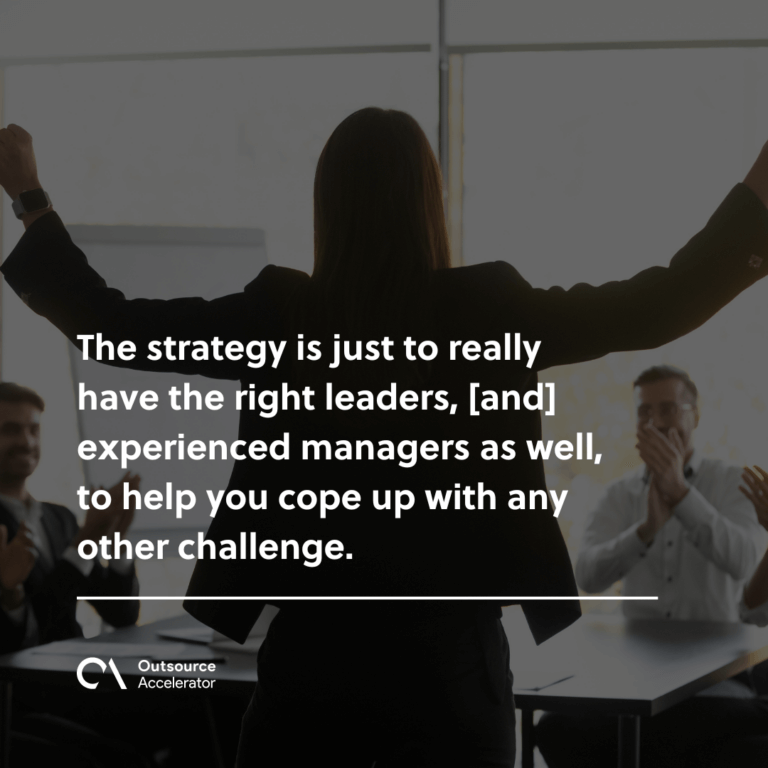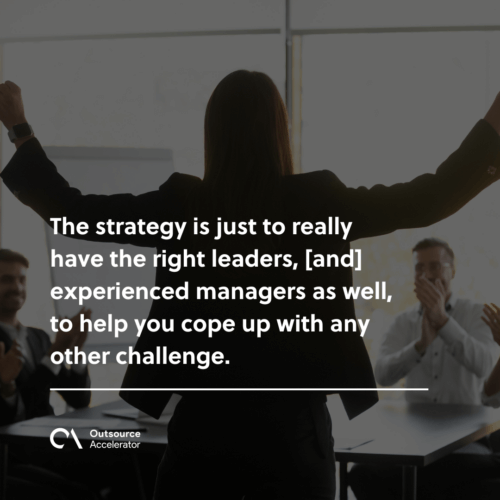 Adaptability helps overcome telework challenges
While this new normal work approach has enabled many businesses to continue operating, it has also brought several obstacles. 
Fortunately, organizations may overcome these telework challenges through adaptability. This involves introducing new technology, building new procedures, and establishing new regulations.
If you want to know about Callhounds Global services, you may connect with Mary Lupisan on Linkedin or email [email protected]. Their team would be happy to answer your business queries. 
Further, visit Callhounds Global's official website and listen to episode 428 of the OA podcast here.