10 essential technologies for small businesses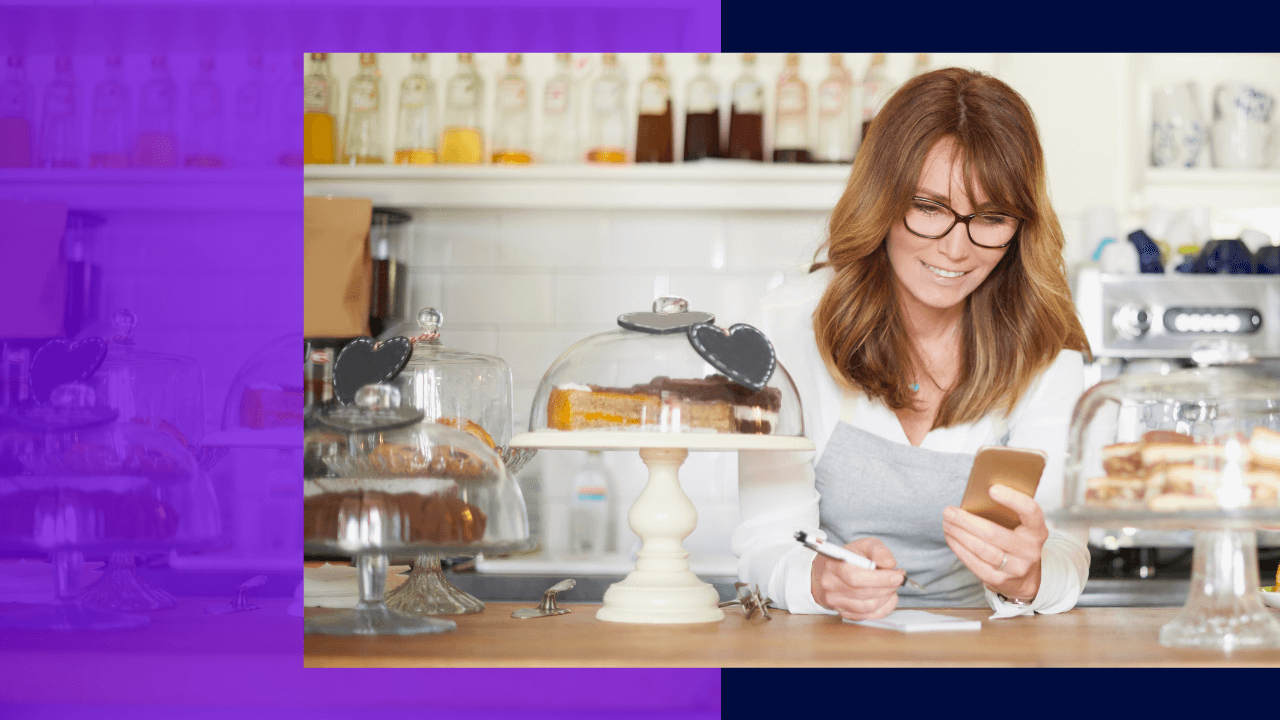 The growth of the internet and the widespread use of smartphones means that, in the last decade or so, technology has become an integral part of most people's lives. 
Whether it's checking emails on the train or using an app to pay for groceries, we now rely on computers and mobile phones. They help us do everything from managing our finances to staying connected with friends and family. 
There has also been a boom in technology for small businesses. Business owners can use new applications to streamline workflows and make their companies more efficient. 
Small businesses form an important component of the economy, so we must make efforts to uplift them as much as large corporations. 
Technology for small businesses should be a core part of any business strategy. However, it isn't always easy for small firms to keep up with the latest developments or even know what to begin with. 
In this guide, we'll look at ten essential technologies for small businesses. 
The role of technology in small businesses 
Technology is a small business's best friend. It makes tasks easier, allows you to reach more customers, and is cost-effective. 
The role of technology for small businesses has changed over the years. From being a tool to automate tasks, it has evolved into a business enabler[1] that helps improve the overall customer experience. 
The challenge that small businesses must overcome is that many don't have a dedicated IT department to handle the day-to-day operations of running the company. Their technology needs are simply different. 
Small businesses can leverage technology to create a competitive advantage and grow their business faster than their larger competitors. 
Fortunately, many available tools and technology for small businesses let them manage their needs while keeping costs down.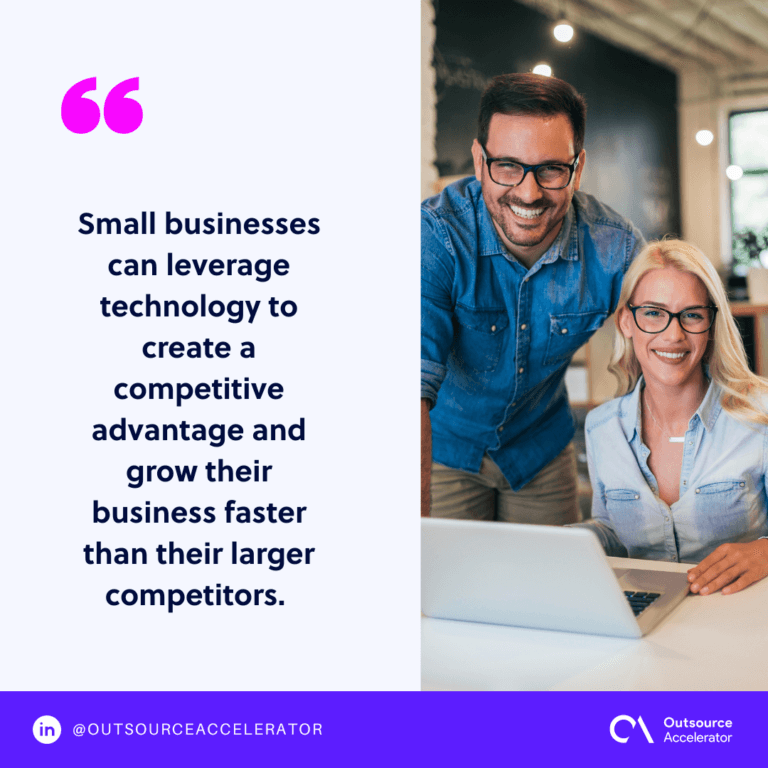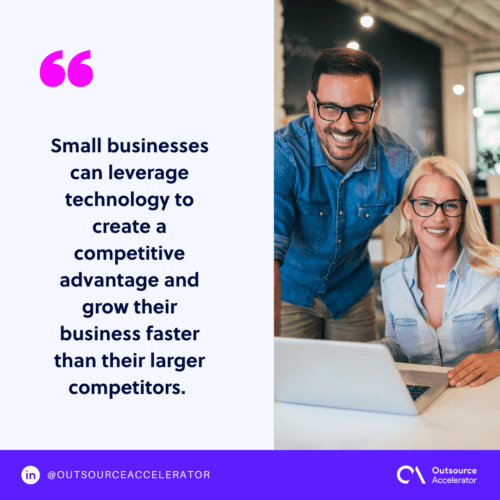 Benefits of using technology in small businesses 
Here are some of the benefits you'll see when you introduce technology in your small business:
Cost savings 
You can use technology for small businesses to store data and documents electronically instead of using a paper-based system. In fact, plenty of online tools can replace more expensive physical implements. 
Saves time 
By streamlining routine operations, you may save time with the proper technology for small businesses. Software that offers business choice options based on data rather than intuition can help you work more intelligently. 
Automation 
Automation is critical to streamlining business operations. You can automate tasks like accounting and inventory management, leaving you more time to focus on revenue-generating activities. 
Access to information 
Companies need access to information[2] to succeed. Technology-enabled information enables small businesses to communicate better with consumers and attract new clientele.  
Higher productivity 
Small businesses can increase productivity by utilizing technology that makes work simpler and more efficient. This saves you time and also improves your accuracy as it allows you to avoid committing human errors.
Top 10 technologies for small businesses
Here are some of the top technologies helping small businesses thrive:
1. Customer relationship management
Sales, marketing, and service contacts with customers are all managed by customer relationship management (CRM) software.
Keeping track of consumers might be challenging when you're a small business. A CRM is a piece of technology for small businesses that makes it easier to find and manage the most valued clients.
The most prevalent kind of CRM technology for small businesses is a database. This database stores the location, age, gender, as well as the purchasing patterns of customers.
Coupled with email or direct mail marketing efforts, this data may be utilized to provide tailored promotions or offers.
A CRM can be offered as software, a web service, or even printed material as a technology for small firms. It assists businesses in understanding their clients' and prospects' wants, demands, and methods.
CRM systems can also help companies predict future trends and better decide about where to invest their resources. 
2. HR software 
If you operate a small business, chances are you can't afford a full human resource (HR) team to handle all those tasks just yet.
HR software comes in handy by automating the most time-consuming parts of the HR process so you have more time to focus on other areas of your business. 
The best HR software also lets you easily find and recruit new employees, track their progress and performance, and get insights into the best ways to supervise them. 
Common features of HR software include:
Benefits administration

Data entry

Employee scheduling

Payroll

Employee onboarding 

Performance evaluation

Training management 

Compliance tools
If you don't have an HR software in place yet, now is a good time to implement this technology for small businesses. 
3. Website enhancement tools
The website is the face of the business, and it's important to keep it up-to-date. 
Many people undervalue the website as a technology for small businesses, yet it can be a powerful tool for attracting customers and generating leads. You lose customers and credibility if your website isn't functional or professional.
Consider using the templates of website enhancement tools to revamp your site. Many types of this technology for small businesses even come with e-commerce features and methods to increase your brand's search engine visibility. 
You won't need any coding skills or prior web design experience to build a professional-looking website.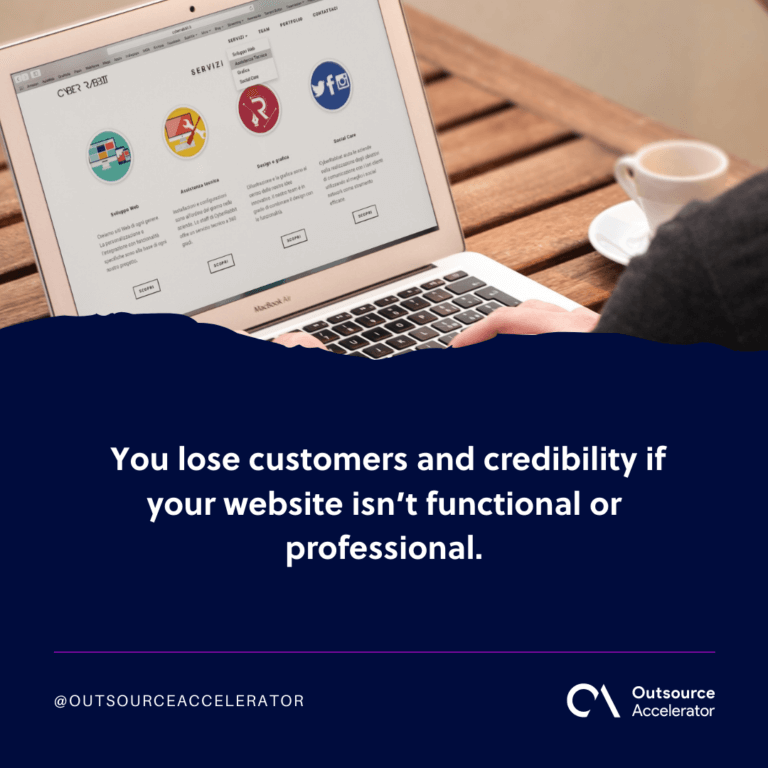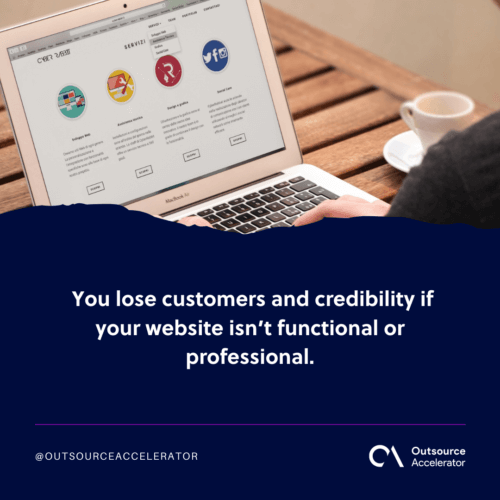 4. Cloud computing 
Cloud computing is a term that describes a broad spectrum of services provided through the cloud. This technology for small businesses allows users to access data and programs stored on remote servers instead of in-house infrastructure. 
Cloud computing offers many benefits, including:
Reduced costs

– you don't need to purchase expensive equipment or software.

Remote access

– your small business can access company data anywhere online. 

Scalability

– if you're a small business expecting to grow, cloud computing lets you scale up or down as needed. 
5. Communications and collaboration platforms
A good communication platform is an integral technology for small businesses. It allows employees to share information easily and quickly. 
The key is finding a platform that works well with your staff's existing devices and integrates with other applications and services you use. 
This type of technology for small businesses allows you to:
Communicate with customers

– a central communication hub is key for any business for your patrons to receive your messages without fail. 

Collaborate with team members

– you need to be able to share important information with employees at any time. 
6. Data backup and security
It's impossible to overstate the importance of data backup and security[3] as a technology for small businesses. Organizations need to protect their data from theft or loss, but small businesses have less money and fewer resources than larger ones do. 
It's important that small business owners understand how to keep their data safe, secure, and backed up since they have no internal IT team to help. 
Data backup services allow you to store all your files in a secure location that you can access easily. This type of technology for small businesses even lets you restore lost files no matter where they are on your network. 
7. Accounting software
This technology for small businesses is a computerized version of the paper-based system companies use to document their finances. Many come with automation features designed to make your invoices, inventory, payroll, and taxes easier. 
Small businesses can have more time for revenue-generating activities like customer service and marketing. 
8. Payment processing tools 
Digital payment is a beneficial technology for small businesses. These methods include mobile payments, e-commerce, and point-of-sale (POS) systems.
Customers pay online using their smart devices, which small businesses can accept from anywhere in the world. Companies won't need to invest in expensive hardware or software. 
Because the currency is digital, it offers a wide range of solutions that support multiple payment types from different countries. The time spent on accepting payments is also reduced. 
9. Inventory management tools
Inventory management is crucial in running a small business. Whether you're selling products or services, keeping track of your inventory levels is important so that you don't run out of stock and lose sales opportunities. 
A good inventory management tool will allow you to add items quickly and easily and track details like their sales history and price changes.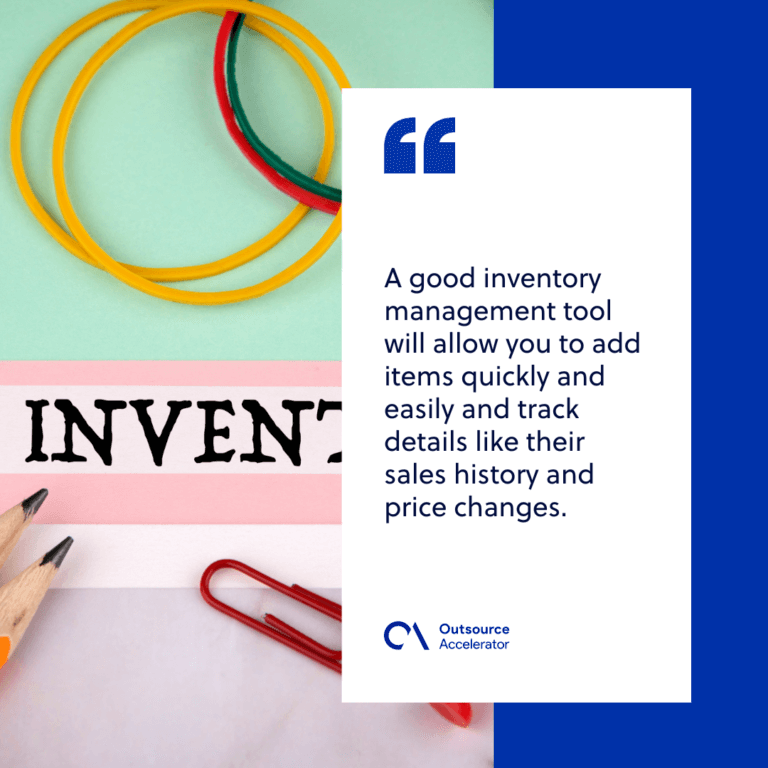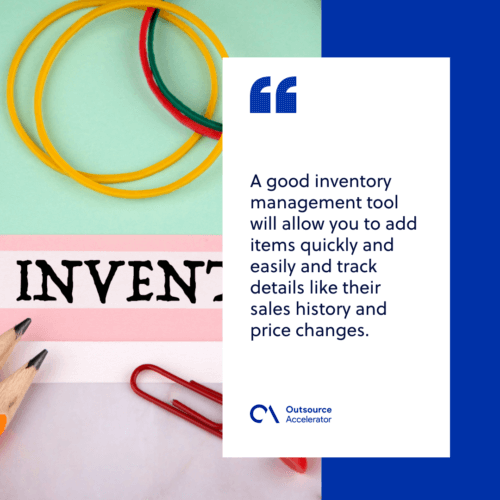 10. Email marketing software
Email marketing is a powerful technology for small businesses as it helps them reach out to customers easily. This method works best when a company has a lot of content (e.g., blog posts, news, and press releases) that can be sent out regularly. 
Email marketing deploys targeted messages based on user interests and needs. This technology for small businesses is direct and relatively inexpensive for brand promotion. 
Even if you don't have something new to share every week, sending out occasional reminders about your brand is worthwhile.
It's a mistake to think that only large companies can enjoy powerful tools. These essential technologies for small businesses can provide significant benefits even to the newest start-ups.
References:
[1.] Business enabler. Akpan, I.J., Soopramanien, D. and Kwak, D.H., 2021. Cutting-edge technologies for small business and innovation in the era of COVID-19 global health pandemic. Journal of Small Business & Entrepreneurship, 33(6), pp.607-617.
[2.] Access to information. Sahut, J.M., Iandoli, L. and Teulon, F., 2021. The age of digital entrepreneurship. Small Business Economics, 56, pp.1159-1169.
[3.] Data backup and security. Teymourlouei, H. and Harris, V., 2019, December. Effective methods to monitor IT infrastructure security for small business. In 2019 International Conference on Computational Science and Computational Intelligence (CSCI) (pp. 7-13). IEEE.