25 best HR software in 2023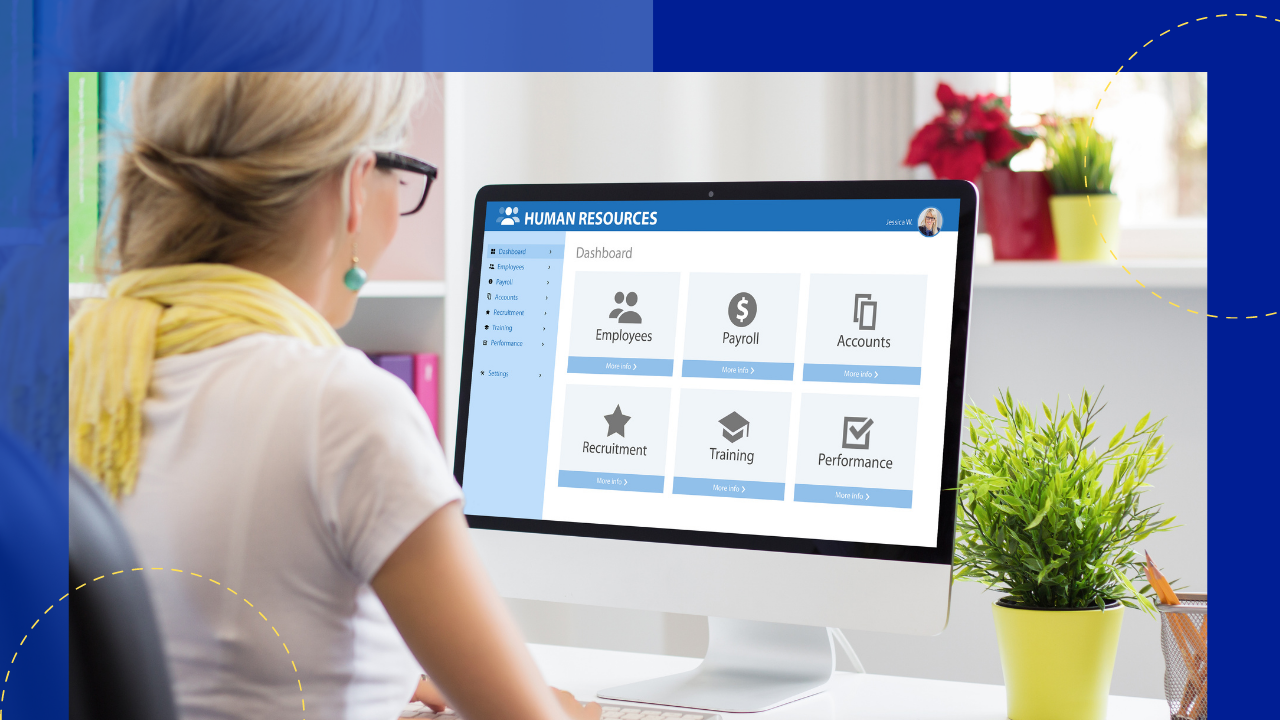 Human resources (HR) play a critical role in shaping, reinforcing, and changing an organization's culture. HR not only ensures employee satisfaction, corporate efficiency, and overall performance. It also gives the company a clear idea of its competitive advantage.
As a business grows, HR management tasks can be overwhelming. Even those that appear to be simple might quickly turn into a challenge. To address this, human resource departments utilize HR software to focus on more strategic HR activities.
What is HR software?
HR software is a type of business application that supports the management of personnel data and HR-related duties. People management, task automation, and information organization are all made easier using HR software systems.
They effectively incorporate functions like recruiting and onboarding and payroll solutions, and strategic HR management.
There are two main types of HR software:
Human resource management system (HRMS)

. Everything from recruiting to retirement is covered in this type of HR software.

Human resource information system (HRIS).

This HR software handles all of the company's human resource management needs.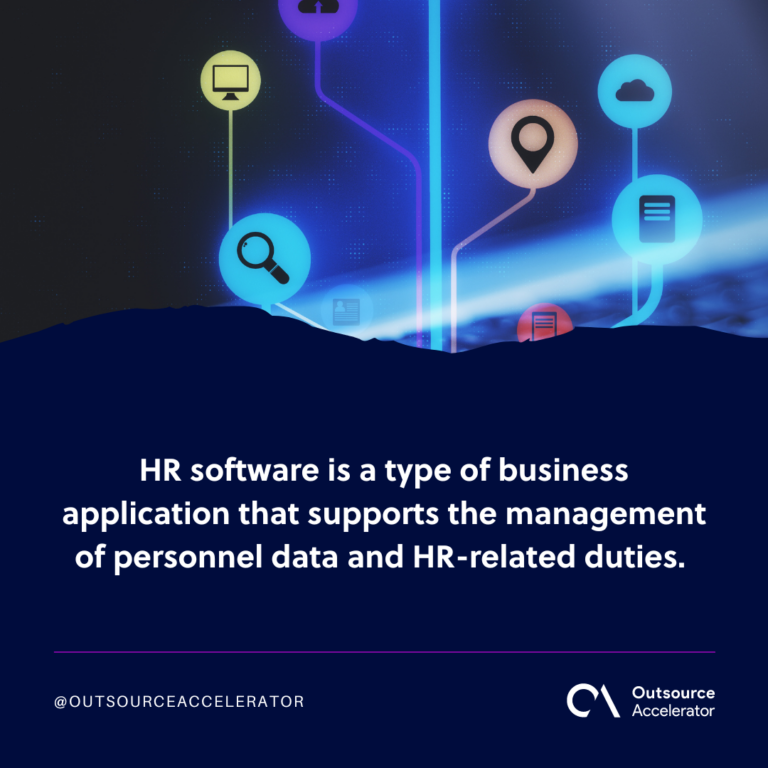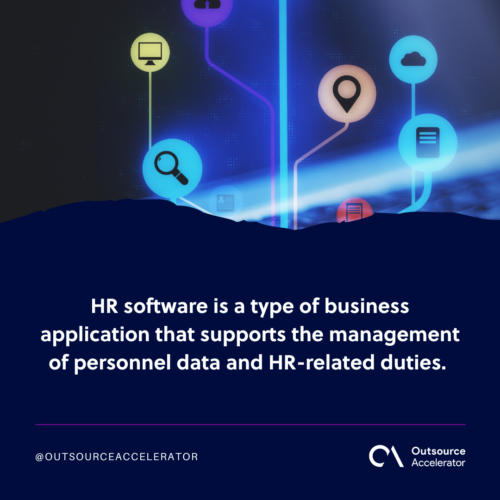 Common features of an HR software
HR software capabilities cover all administrative procedures and tasks that have an impact on a company's employees. If you are looking for good HR software, make sure that you consider these features:
Centralized employee database.

It keeps information in an interactive database that can be integrated into other systems.

Employee portal.

Employee information, such as their job titles, personnel files, start dates, and salaries, is all available in one place.

Payroll.

This feature calculates salaries, necessary tax withholding. It also organizes the printing and distribution of paychecks.

Employee benefits administration.

It handles the management of employee remuneration and eligibility standards, as well as the execution of payments.
List of top 25 HR software in 2023
Best HR software in 2023
Using specialized HR software is beneficial to every firm, no matter how large or small. Here is the list of the best HR software you can find on the market.
ADP  provides an easy way for you and your staff to get payroll, time and attendance, and other vital HR information. It also includes long-term HR counseling obligations relating to merger and acquisition activity. 
This HR software helps small and medium businesses to organize their HR activities. BambooHR is an integrated applicant tracking system that provides a web-based human resource service. 
It onboarding features like e-signature approvals, time-off tracking, performance management, and interview scheduling. 
HR and payroll procedures are made easier with Paylocity's cloud-based HCM software, which integrates seamlessly into your business processes. 
Paylocity offers online payroll functions, easy HR administration, and improved employee experience. Other perks include improved data accuracy, increased productivity for your employees, and attracting top talent.
Human resource management software (HRMS) like SageHR increases staff involvement and is simple to use. 
There are several elements integrated into the system, including 360-degree customer feedback capabilities, workforce management, time-off policies, applicant tracking, and life cycle management. 
Employee benefits, payroll, and computers are all managed through Rippling's single platform. The main feature of this HR software is a modernized platform that combines HR and IT. 
It also has a single accurate system of records, which means that rules and employee information don't need to be updated regularly.
Paycom is an HR software for payroll administration and processing. There is no need to re-enter data when searching for, hiring, and onboarding the best employees with the help of the software's talent acquisition features. 
Paycom can also manage time and attendance, hardware terminals, labor allocation, and labor analytics.
Dayforce HCM is a global human capital management software solution, which makes it possible to manage the growth and development of your personnel. 
This HR software incorporates HR, workforce management, payroll, benefits, and talent management into one package. 
Papersign by Paperform is an easy-to-use e-signature tool with powerful features, enhanced security & compliance, and many customization options. Feel free to try out Papersign and see how you like it.
ProProfs HR Training Software creates, builds, shares, and tracks training courses for your staff quickly. It has an attractive user interface, cross-device interoperability, and automatic evaluation.  
You'll also benefit from ProProfs' customization, collaborative learning, security controls, and branding features.
Darwinbox is a new-age, mobile-first cloud-based HRMS platform for global corporations. This HR software help streamline processes throughout the employee lifecycle. 
Darwinbox's mission is to motivate and inspire employees while also automating and streamlining all of the company's human resource functions.
Zenefits is a full-featured HR platform that integrates HR, benefits, payroll, and scheduling to make your business operate more smoothly. It facilitates smooth onboarding, conveniently tracks paid time off, and hosts other tasks. 
Zenefits simplifies the process, from comprehensive health insurance policies to employee benefits. 
TriNet gives users access to a wide range of services like payroll, compliance, insurance, employee benefits, and retirement plans.
TriNet assembles a group of experts that you can enlist for assistance as you expand your firm. You don't need to have a certain number of employees to use TriNet's services, so it's perfect for small and medium-sized firms.
Paychex can handle all of your HR management needs on one platform. Its HR solutions provide self-service options, from online payroll to human capital management.
This software allows you to concentrate on more strategic tasks or provides your company with more comprehensive HR management services through outsourcing.
ZoomShift makes it easier for your company to create work schedules, save money on payroll, and provide time-tracking capabilities for your employees. The software lets you keep track of worker duties in one location, which can help improve accountability in the workplace.
Kronos Workforce Central is designed to help you improve business outcomes through employee retention, cost control, productivity, and risk reduction. Organize your staff on a mobile, secure, and scalable cloud platform that is easy to use.
Kronos Workforce Central has numerous features such as employee time and attendance, HR and payroll, mobile and tablet access, and full automation.
APS Core HR Solution is a user-friendly platform that offers various human resource services and benefits administration. With superior analytics and reporting, APS provides a thorough understanding of business indicators and delivers intuitiveness, dependability, and top-notch customer service.
DevSkiller helps recruiters who may not have the technical knowledge to evaluate talents in the tech field. Both recruiters and prospects will have a flawless experience by utilizing data-based assessments of skills. The platform also has specialized training solutions for tech roles like developers.
Lever is the most highly recommended modern recruiting program for growing companies. You can find, source, interview, and develop the best personnel for your company with Lever HR software. 
It offers a wide range of products to meet your specific requirements, including the Lever Talent Suite, Lever Hire, Lever Nurture, and Lever Analytics solutions.
Imocha generates reliable test results that pinpoint the core competency levels of company personnel. With this HR software, the entire procedure is open, thorough, and devoid of human error. Administrative work and expenditures also decrease thanks to its automated functions.
Recruiterbox is an HR software that makes your recruitment and candidate management easier. In comparison to other HR software, it's easier to use and more productive. It also helps you in meeting your objectives with the use of features like web-based applicant tracking.
Deputy is an excellent software for managing employee schedules and tracking productivity. It lets you and your employees manage everything on one platform, making it a time and cost-saving HR solution. 
Data security and privacy are the top priorities of Deputy, and they've delivered industry-leading technology and world-class processes. 
OrangeHRM is a personalized HR software that connects your entire workforce on one platform. Its modules help HR management to handle and solve issues quickly. 
Employee performance tracking, leave management, time usage, overtime compensation for projects, pay regulations, and work efficiency are some of the essential features of OrangeHRM. 
Cezanne HR offers a global and modern cloud HR software suite for different business sizes. It provides all the capabilities needed for efficient human resource management using cloud-based technology. 
Security, time savings, and ease of connecting, managing, and engaging your staff are just a few of the many benefits of using Cezanne HR software.
People HR is a platform for all processes like candidate tracking, employee tracking, and execution audit. The program automates the HR tasks to concentrate on the areas that are more important to your business. 
Flair is a comprehensive HR solution for the salesforce. Implementing any feature into this platform is easy, whether you do it yourself or hire a consulting firm. 
This HR software is fully customizable, and it can automate every internal function your department has. Flair makes it easier to prepare reports and keep track of key performance indicators.
Advantages of using HR software 
For all businesses, big or small, having HR software is almost a necessity to keep operations running smoothly. Here are the top advantages of integrating HR software:
HR software saves time
Simple activities like holiday allowance, absence monitoring, and training may be automated with HR software, saving you time. As a result, you can better enhance your productivity and work management.
HR department can operate more efficiently
Another benefit of utilizing HR software is the efficiency it offers in tracking the progress of individual employees. You can use it to keep track of things like performance evaluations, training, and goals.
HR software keeps data secure
Cloud-based HR software secures your sensitive employee data and allows you to access it from any computer or device without any risk. With HR software, you get a complete document management solution.