How strategy consulting helps create new ideas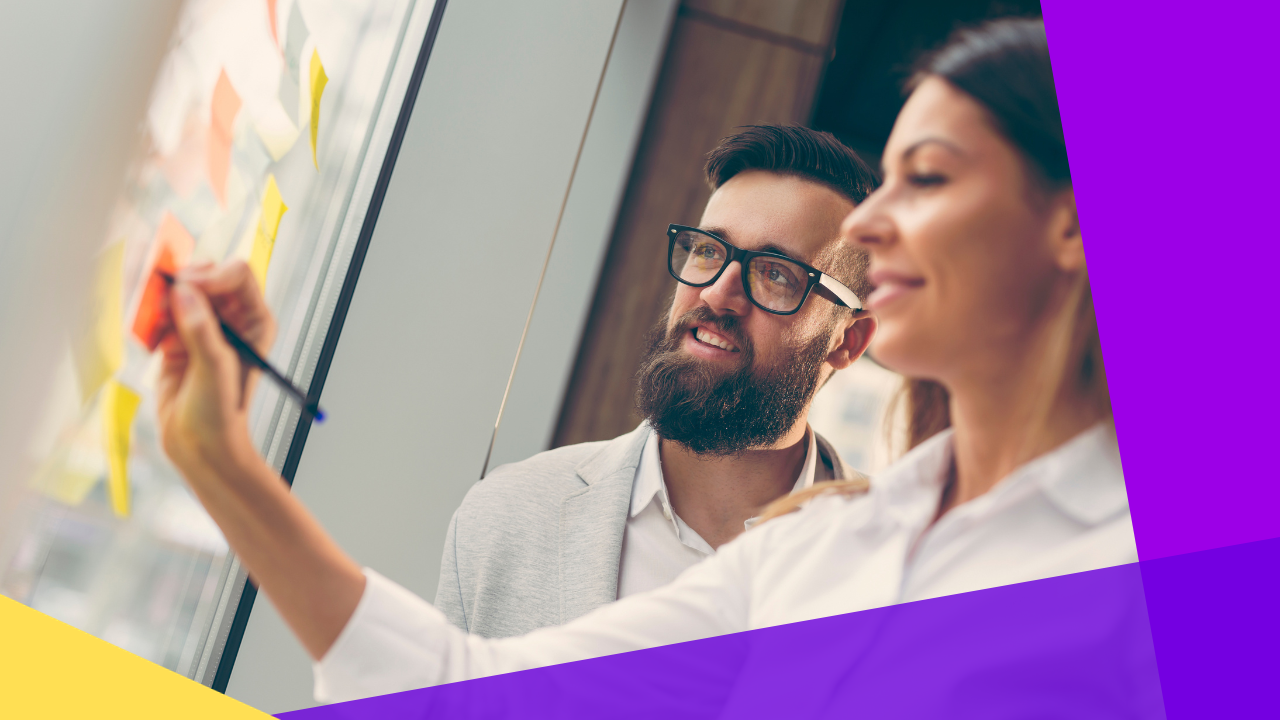 As a business owner, you might encounter creative roadblocks and process barriers affecting your operations. It ranges from applying new trends and processes to strengthening currently left-behind areas.
This is where strategy consulting comes in. It is a powerful way for businesses to gain fresh perspectives, insights, and strategies to overcome complex issues and launch new ideas.
This article will dive into strategy consulting and how it helps you create new ideas.
What is strategy consulting?
Strategy consulting is a specialized field within management consulting that focuses on helping businesses develop and implement strategic plans.
The core purpose of strategy consulting is to:
Help organizations identify their goals and objectives

Analyze their competitive landscape

Devise effective strategies to achieve sustainable growth
Strategy consultants bring their industry expertise, analytical skills, and deep understanding of market dynamics to assist businesses in realizing their full potential.
Companies can hire an internal consultant to constantly keep up with the industry breakthroughs or get external consultancy from service providers.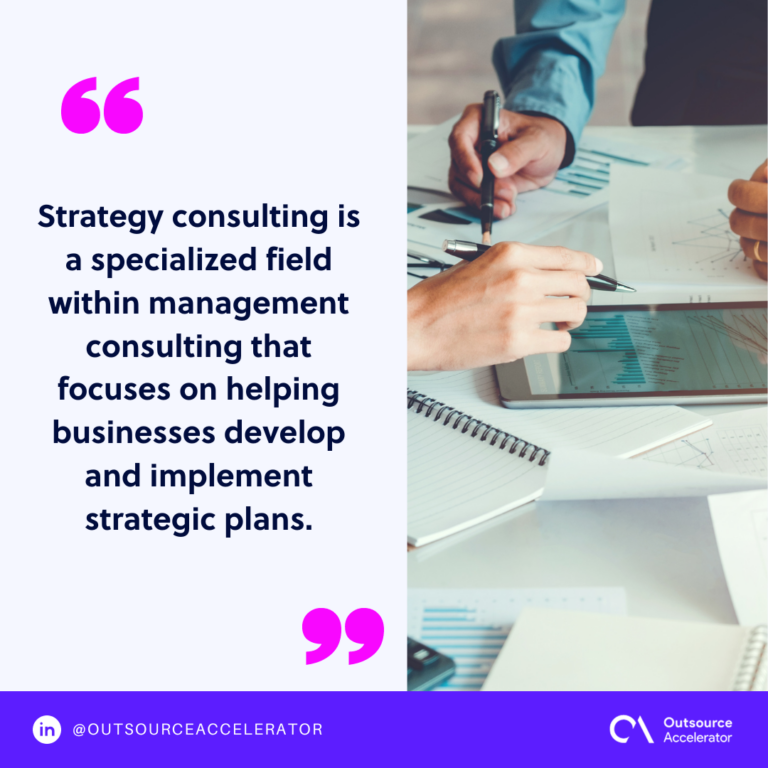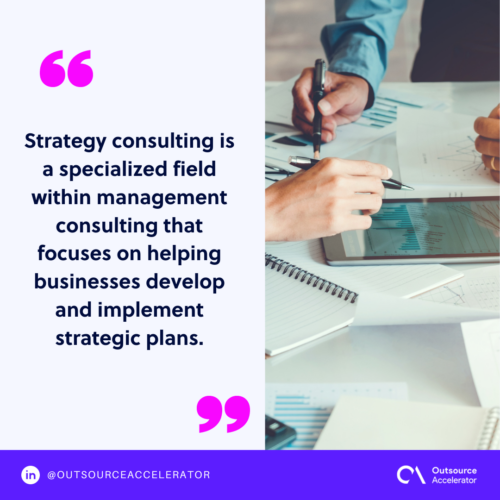 Duties of a strategy consultant 
A strategy consultant's role is to help clients find new and innovative ways to solve problems, make decisions, and grow their businesses.
Strategy consultants start by getting to know their clients, industry, competitive landscape, and goals and objectives. From there, they develop a customized strategy that aligns with their clients' goals and helps them succeed.
To achieve this, a strategy consultant employs various tools and techniques, including market research, customer analysis, benchmarking, data analysis, and strategic planning.
Strategy consultants may hold various areas to focus on, such as the following:
Social media

Business continuity

Cloud computing
They work collaboratively with their clients to discover new opportunities and find creative solutions to complex challenges.
Types of strategy consulting
There are different types of strategy consulting, each with its unique focus. Here are five common examples:
Corporate strategy
Corporate strategy consulting focuses on helping businesses create long-term strategic plans.
Strategy consultants analyze a company's strengths and weaknesses. They identify potential growth opportunities and develop a cohesive strategy supporting the company's overall mission and vision.
Digital strategy
Digital strategy consulting focuses on helping businesses adapt to the digital age. This involves analyzing a company's digital presence, identifying gaps and opportunities, and developing a roadmap to improve its digital capabilities.
This may include developing a social media strategy, creating a new website, or leveraging new technologies to improve efficiency and profitability.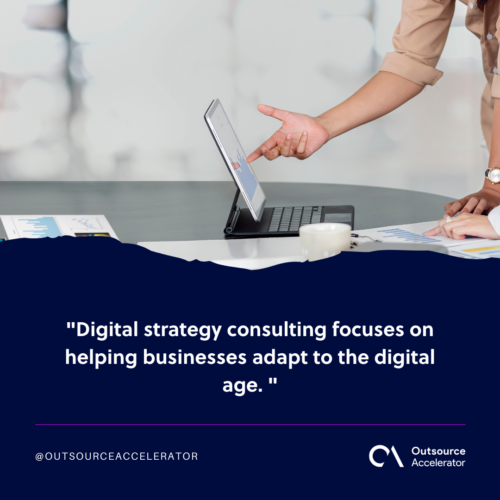 Marketing strategy
Marketing strategy consulting helps businesses improve their marketing efforts. 
Marketing strategies involve market research, brand development, audience segmentation, and developing a comprehensive marketing plan that aligns with the business's goals.
Sales strategy
Sales strategy consulting focuses on helping businesses improve their sales efforts.
A sales strategy encompasses market research, pipeline analysis, and developing a comprehensive sales plan that aligns with the business's goals.
Operational strategy
Operational strategy consulting focuses on helping businesses improve their operational efficiencies. This may involve analyzing current processes, identifying inefficiencies, and developing a comprehensive plan to improve workflow and profitability.
Mergers and acquisitions (M&A)
Mergers and acquisitions strategy consulting provides guidance and expertise to companies during mergers, acquisitions, and other strategic partnerships.
Strategy consultants in this area help companies assess their value and develop strategies to negotiate and integrate these transactions successfully.
They provide valuable insights into industry trends and regulatory considerations that can impact the success of the M&A process.
Economic policy
Economic policy strategy consulting provides advice and analysis related to economic policy decisions.
Strategy consultants specializing in economic policy work with international organizations and other stakeholders to shape economic policies and regulations.
They help assess the impact of existing policies, identify potential improvement areas, and develop strategies to promote economic stability and sustainability.
Strategy consulting vs. Management consulting
Strategy consulting is a part of a broader scope of management consulting. While both tackle a company's growth, it has different focuses and scopes.
Strategy consulting primarily aims to generate more revenue for the organization. It tackles specific areas where they can improve by helping them solve their challenges and conflicts.
Meanwhile, management consulting is a broader term encompassing entire operational management, whether short-term or long-term.
Management consultants may advise on topics like organizational design, human resources, and financial management. However, it will deal more with how companies can create further impact on their stakeholders.
Why does strategy consulting matter?
Strategy consulting provides businesses with the expertise and guidance they need to develop and implement new strategies that help them stay ahead of the competition.
By partnering with a skilled strategy consultant, businesses can gain valuable insights, overcome complex challenges, and achieve long-term success.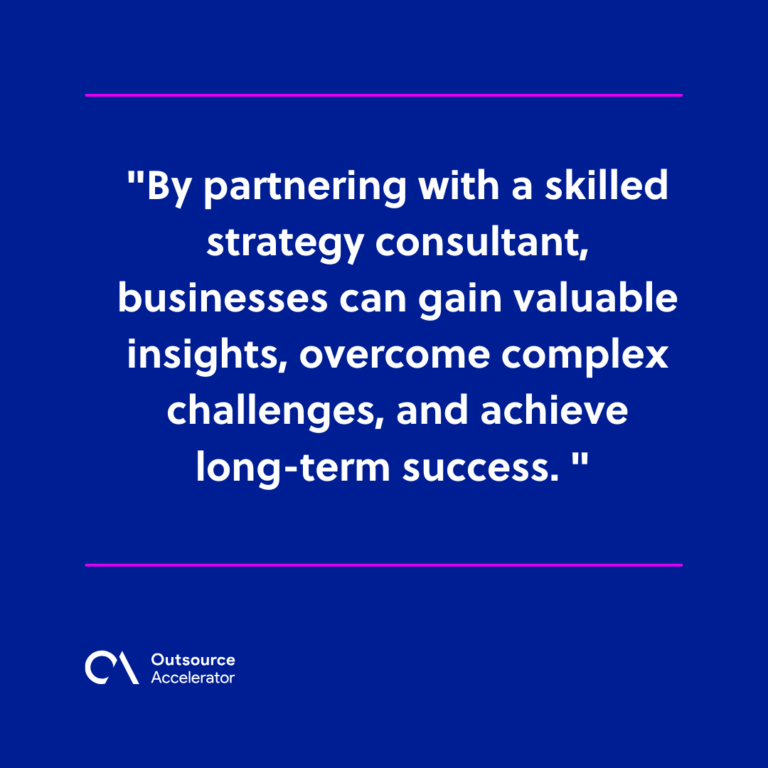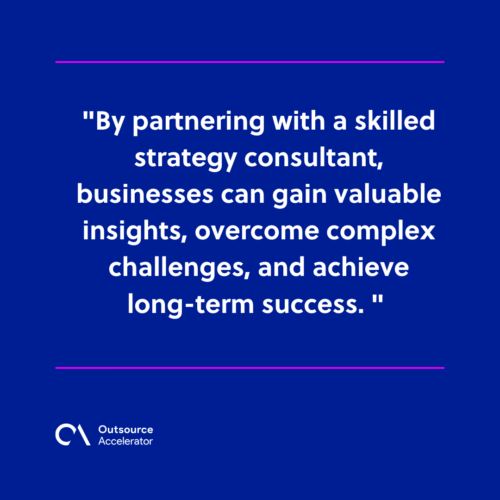 Additionally, strategy consulting can help businesses capitalize on new opportunities. This gives them the chance to enter new markets and develop new products and services that meet the evolving needs of their customers.
With the right guidance and support, businesses can successfully navigate the ever-changing business landscape and achieve their full potential.