Strategic outsourcing: Bringing back accountability in the workplace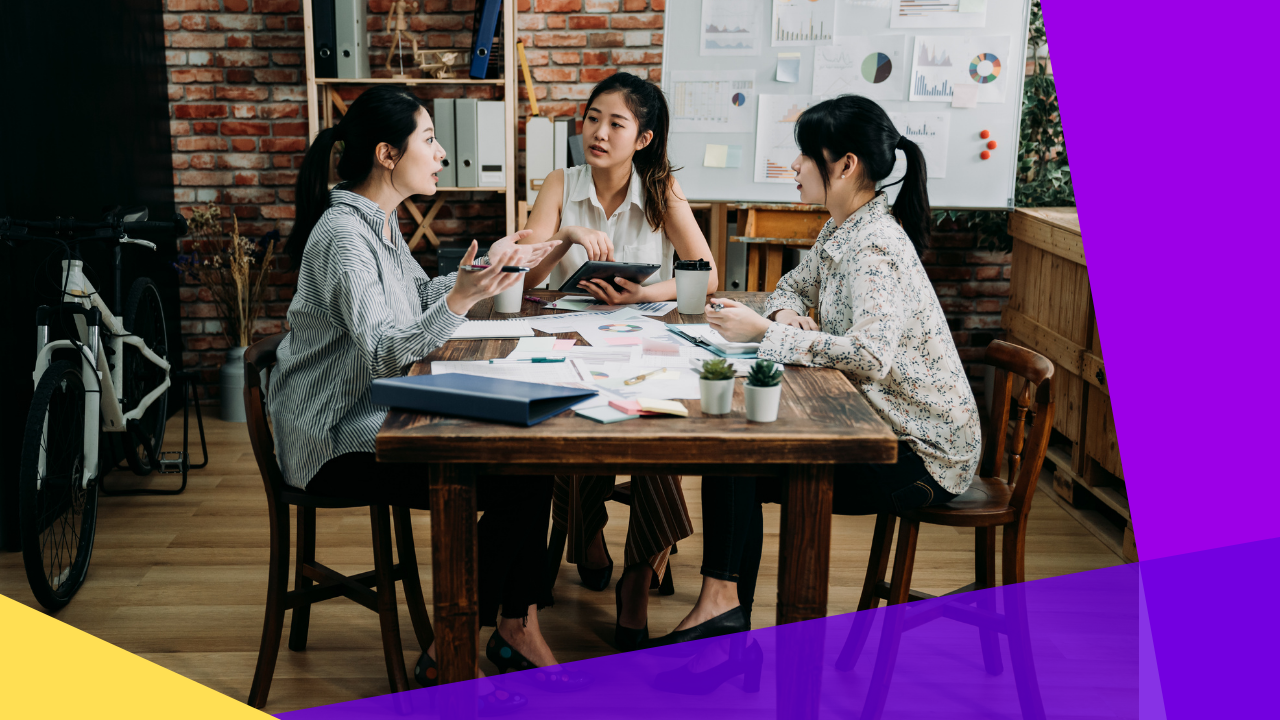 Strategic outsourcing brings out the best in any organization that adopts the practice, bringing benefits like nothing else.
This has led many industry pioneers to come up with different adaptations of the practice, revolutionizing the outsourcing sector.
What is strategic outsourcing?
The practice of outsourcing offers many advantages, but it still takes effort to accomplish successfully. It requires weeks and months of delegation and coordination with all the parties involved.
Strategic outsourcing is a business approach where a company implements a failsafe plan to outsource a set of processes to an outsourcing vendor for the long term.
Part of what makes it strategic is the process of choosing the functions that a company will outsource to an external service provider.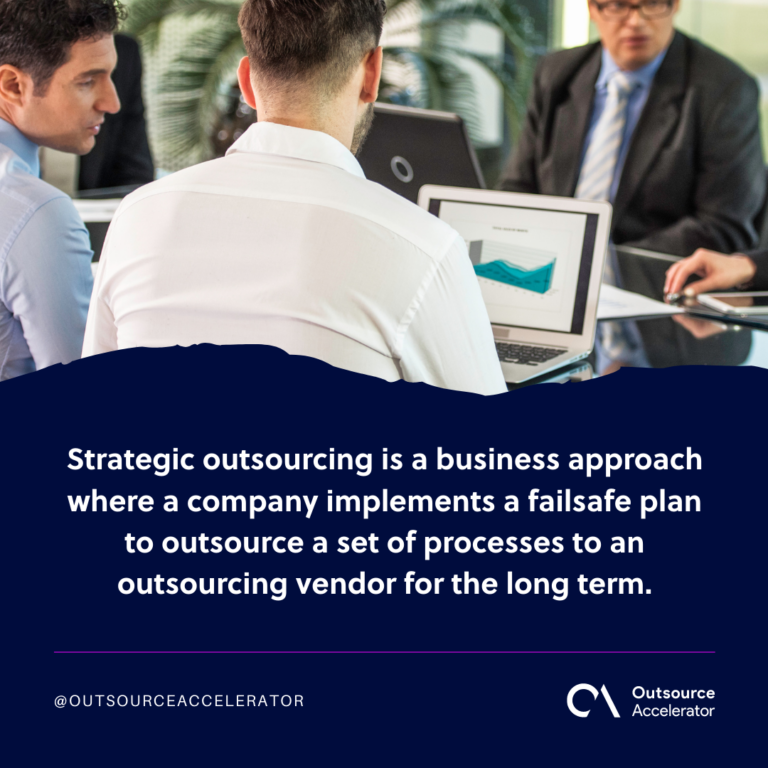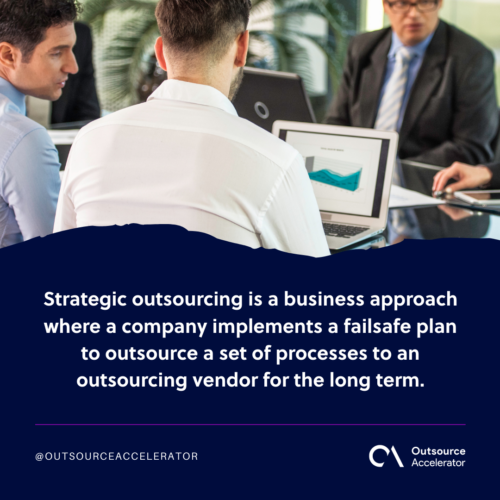 3 types of strategic outsourcing
These types of strategic outsourcing are the most common, but the business functions a business can outsource are not limited to these. 
1. Business process outsourcing
Business process outsourcing refers to offloading any work processes to a service provider. These processes include customer service, telemarketing, telesales, digital marketing, and more
These processes are given to BPO vendors to cut down on overhead costs brought by the inevitable growth of demand.
BPO careers are regarded as one of the fastest-growing careers in the modern world — all thanks to the unending demand for growth and development in place.
2. IT outsourcing
Majority of the IT department can be outsourced, including tech support and helpdesk.
In IT, workflows are often done in an agile manner and have to be as efficient as possible—making it one of the most structured and organized subsectors of strategic external sourcing. 
3. Manufacturing outsourcing
One of the earliest types of strategic outsourcing is manufacturing. This can be anything from clothing-related or tech-related. 
Even the biggest names in the tech industry have outsourced and offshored their manufacturing activities to other countries. From a historical perspective, this has been a common strategy by factory owners to cut costs and boost production.
Benefits of strategic outsourcing
Strategic outsourcing requires all decision-makers, executives, and team leaders to strategize and plan their business approach. When done properly, this practice offers the following benefits.
Global knowledge
Strategizing outsourcing will give any company a wider reach in the global industry. 
Global knowledge complements trade secrets within the organization, allowing them to use those to their advantage. With these in mind, they can make sound business decisions that will benefit everyone involved.
World-class talent
With global knowledge comes world-class talent. Even contracting a freelancer counts as external sourcing, so it's safe to say that all sectors have been touched by strategic outsourcing.
Having an outsourcing partner will give any business an easy way to acquire global talent without much hassle.
Greater workload flexibility
Onsite and insourced employees may have the same responsibilities as those outsourced, but they have more flexibility when it comes to the workload and vice versa.
Greater flexibility can often be found in hybrid and outsourced distributed workplaces around the globe. With the flexibility afforded by strategic outsourcing, insourced employees can focus on their core tasks and address other crucial challenges in the department.
This significantly increases efficiency, productivity, employee satisfaction, and morale in the workplace.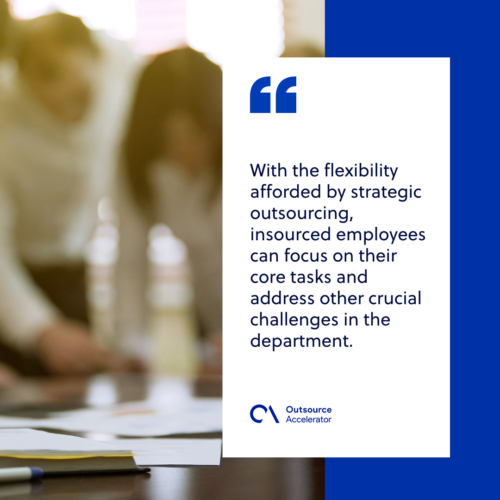 Overhead cost reduction
It's not a surprise that strategizing outsourcing is a great way to cut overhead costs while maintaining work quality and efficiency.
Without adding any physical workstations and expanding offices, businesses can acquire more team members participating in strategic outsourcing activities.
Competitive edge
Businesses that partner with service providers are often more successful than their competitors. From lower overhead costs to providing high-quality products and services, businesses with strategic outsourced operations have a greater edge.
Risks of strategic outsourcing—and why you shouldn't be scared
Like any other business model, strategic outsourcing has its own risks and disadvantages. But those shouldn't scare you from trying it out for yourself. 
These risks are easily mitigated by asking questions, having preemptive measures, and communicating with companies — and these are at the heart of strategic outsourcing.
To help you prepare a failproof strategy for outsourcing, here are the common risks to look out for.
Loss of control
It's true that dabbling in external sourcing may reduce some control over business processes. That's why BPO companies offer full transparency reports to their clients.
With those reports, every decision is reported and analyzed by team leaders and managers, leaving out no details to prove their worth and trustworthiness.
Most providers will also allow you to touch base with the outsourced employees for your account so that you can monitor their performance on a more personal level.
You may also make a "best practices" guide for the team members to internalize—ensuring that their work is on par with their onsite counterparts.
Hidden costs
Strategic outsourcing is a model that is primarily aimed at small businesses so every penny should be accounted for. That said, asking questions and allocating an accountant to go over financial transactions can mitigate this risk.
To avoid hidden costs, be wary of companies that use flashy words and make extravagant promises at the very start of the deal—they may be overcompensating and exaggerating results. 
Another red flag to look out for is over-selling or upselling a heavier deal than the original. They may coerce you into signing a deal that's more expensive yet unnecessary.
Go for companies that are completely transparent with their computations and allow you to cater their packages and services to just what your business needs.
Most, if not all, good-natured companies will allow you to customize the deal and to have room for flexibility and changes down the road.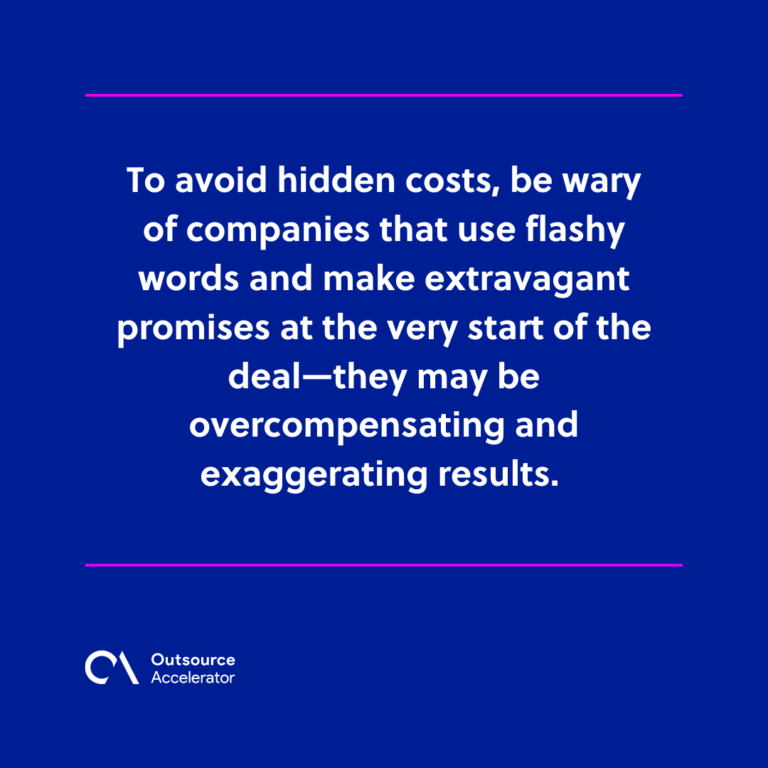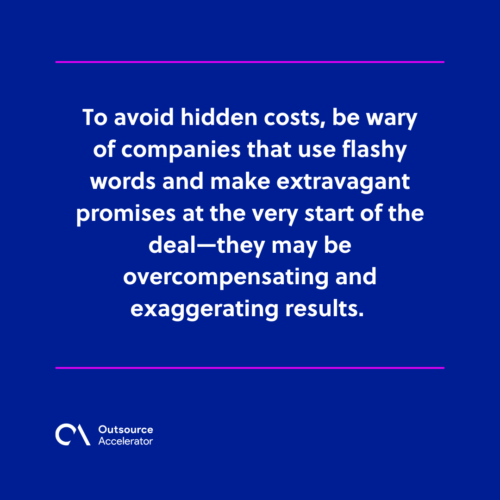 Misaligned company values
Company values shouldn't be abandoned as a means of cutting costs. These values, the mission, and the vision are the guiding force for employees and everyone in the organization.
If you suspect that a business process outsourcing company has misaligned company values, you are allowed to turn elsewhere. There's no point in furthering the deal if two companies are clashing with each other.
That said, it is important to make your core values and other business interests clear early on in strategizing outsourcing. This helps you find an external team with the right cultural fit, preventing friction with your in-house talent.
Strategic outsourcing and accountability
Accountability is such a big word when it comes to strategic external sourcing. It all encompasses the internal and external affairs of the companies involved.
As mentioned above, good outsourcing companies do not leave their clients in the dark. They have systems in place, such as transparent reports that offer a comprehensive look at what is happening in the outsourced workflows.
This transparency demonstrates a strong sense of accountability and strengthens the trust and the bond between major decision-makers in both organizations.
This is also one of the reasons why strategic outsourcing is a perfect approach for those looking for a beneficial partnership with companies around the world.