The ultimate guide to startup types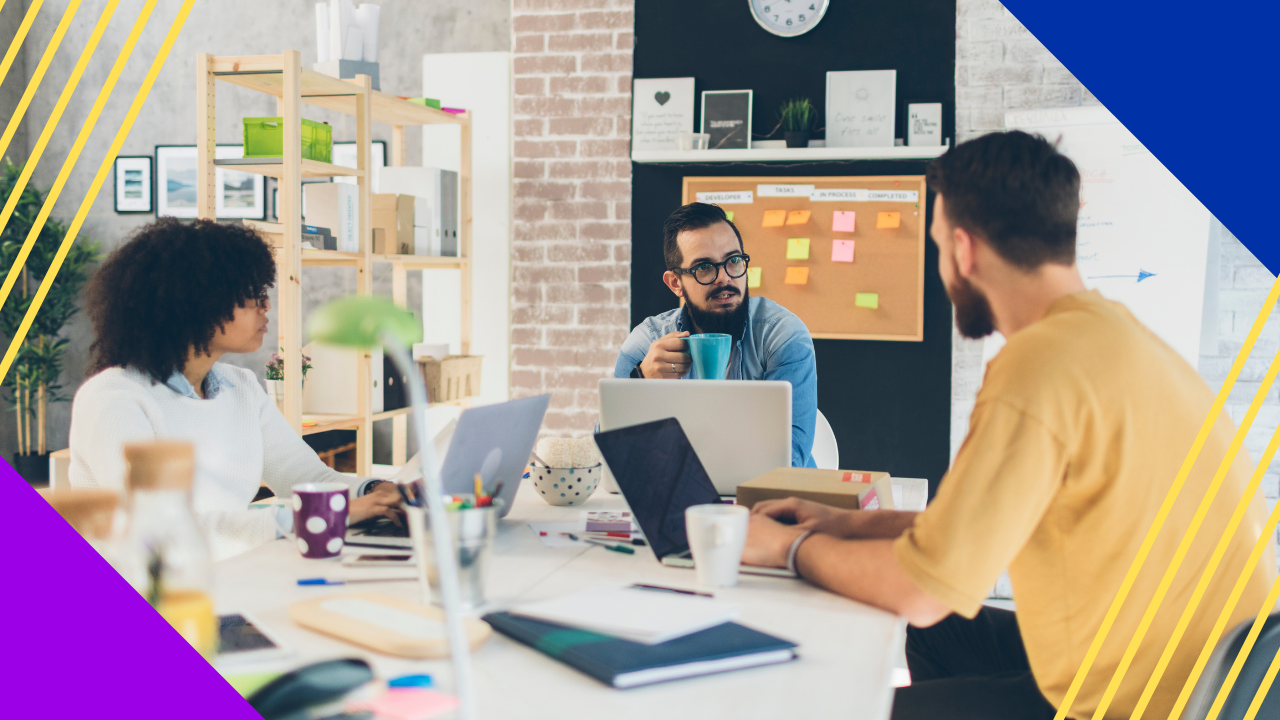 A lot of people these days opt to venture into their own businesses, but it is not a smooth and easy process.
For anyone thinking about launching a new business, more so attracting investors and funding, it is essential to understand the ins and outs of the startup industry fully. 
What does it mean to have your own startup company? What are the startup types you can venture into? In this article, we'll explain the basics of a startup business, the startup types, and other essential tips.
What is a startup?
A startup is a company built to create innovative products or services to answer their market's concerns. They make their products irresistible to their customers by developing something they believe will be in high demand.
When speaking of a startup, most people would perhaps immediately relate it to technology hubs like Silicon Valley.
Indeed, a startup may also mean a tech company employing less than 100 staff. However, not all startups are established to revolve around the tech sphere. 
It is essential to know that different startup types suit each business concept and entrepreneur. More so, startups can also be classified in terms of entrepreneurship and the tech field.
Startup
vs.
small business
A startup is not just a small business. A small business is, in fact, among the startup types we'll be discussing as we move along this article. 
Startup guru Steve Blank describes a startup as "a temporary organization designed to search for a repeatable and scalable business model." In contrast to this, a small business operates under a fixed and definite business model. 
Further, a startup incorporates these three main functions:
Establish a product vision

with a

set of characteristics.

Set up several perspectives of the business model according to customers, the financial health of the company, and distributions. 

Determine whether your designed business model is well suited to your kind of industry.  
A startup does not have a definite business model. Its main objective is to create a specific product/s that is within an untapped market. A startup aims to cultivate and add more value to existing product options.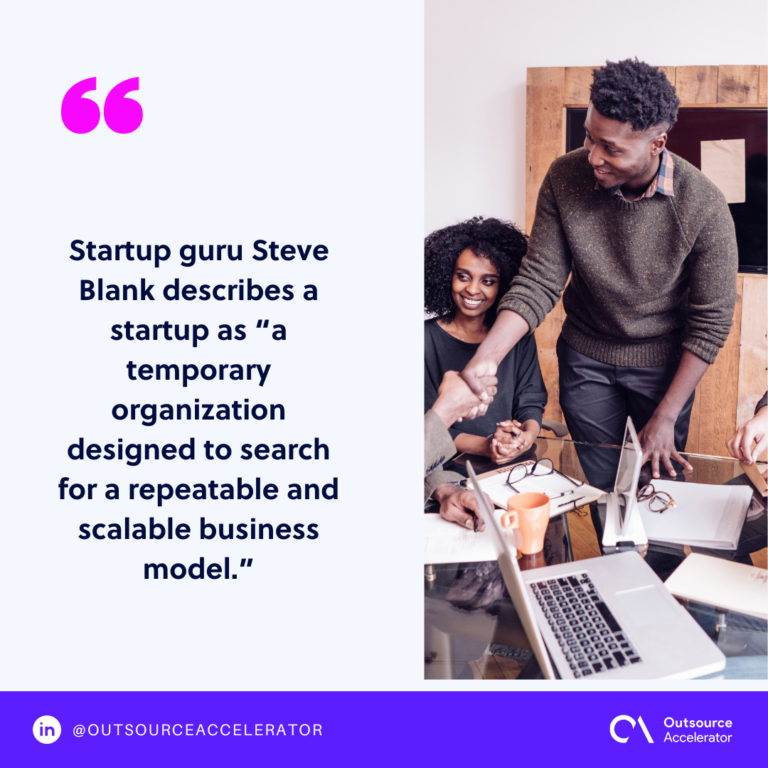 Common industries for startups
Many businessmen, investors, and entrepreneurs at present launch their startups in the following sectors:
Real estate

Healthcare

Retail and e-commerce 

Insurance 

Marketing and advertising 

Blockchain and cryptocurrencies

Information technology (IT)

Environmental and energy

Education 
While most of these industries are in the tech field, you also still have other nontraditional options for your startup.
Pros and cons of startups
Startups can be risky, with little security and few guarantees. But they also come with many benefits. Here are some of the pros and cons of startups.
| | |
| --- | --- |
| Pros | Cons |
| Flexibility and autonomy to the employees | High costs |
| More opportunities for quick promotions, as well as training  | Unpredicted revenue streams |
| More autonomy for employees to take risks and follow their passions | Lack of experience in their field |
| A good working environment where staff can learn and grow quickly  | Rish of business failure |
| More excitement compared to working in a corporate setting  | |
How a startup is founded 
Much like a small business, all startup types originally start from a pure concept and vision. 
Your startup's capital can either come from bootstrapping, getting a loan, or from your family or friends. 
As you gain profit, you may seek additional funding with the help of angel investors, IPOs, and venture capitalists. 
Take note that your investors will essentially become co-owners of your startup. More so, they will also earn a share in your company for every investment.
6 T
ypes of startups in terms of entrepreneurship
There are six different startup types that every entrepreneur should be aware of.
Small business startups
A small business is among the startup types that prioritizes longevity rather than scalability. A small business startup is usually designed to bring in enough money to support financial stability, and it only caters to a small target market.
Small business owners are typically individuals who manage their own businesses for the sake of their families. Some examples of small businesses include grocery stores, hairdressing salons, and bakeries.
When to consider a small business startup
A small business is an ideal startup type for you if: 
You are planning to contribute to your community.

You are more focused on employing locals or your family members to help with your daily operations. 

You wish to establish a sustainable business that will last for a long period.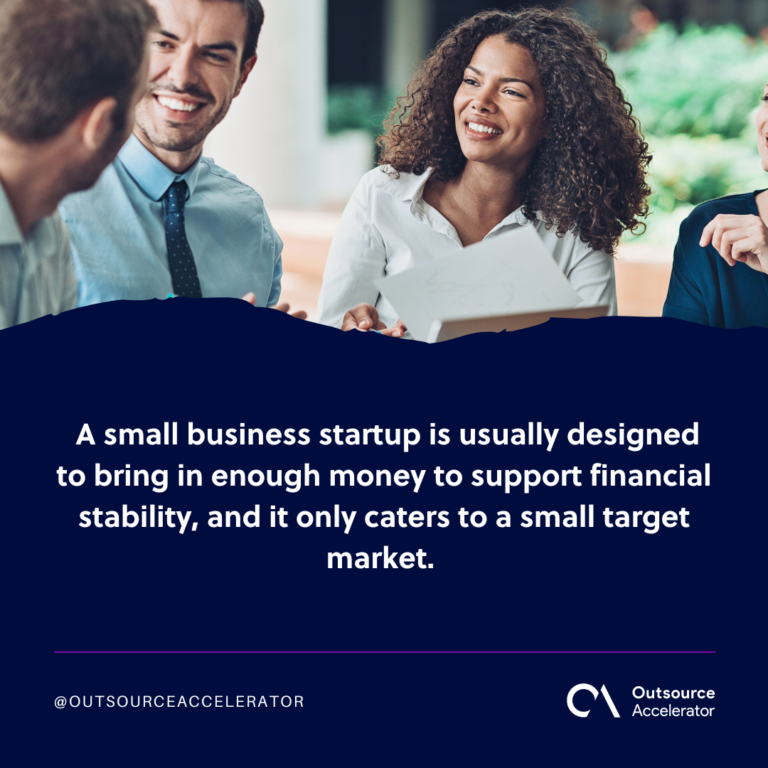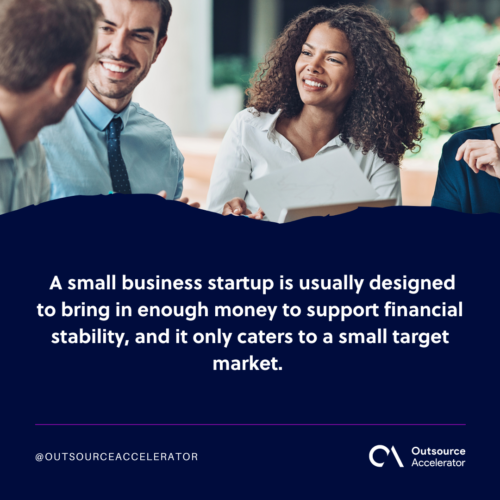 Buyable startups
Compared to other startup types, the goal in building a buyable startup is for it to be sold to a bigger corporation for a fixed amount.
Buyable startups are built to be bought, and this startup type has now become popular in the tech industry. There are several buyable startups today that create their web or mobile application solutions that are later sold to larger companies.
When to consider a buyable startup
A buyable startup is an ideal option for you if: 
You are considered a

serial entrepreneur

. 

You want to start a company but do not plan on committing to it in the long term.

You have a startup vision with huge growth potential. 
Lifestyle startups
Lifestyle startups are owned by entrepreneurs who are typically pursuing their passion and have no desire to work for anyone but themselves.
One example of this kind of startup is a travel enthusiast who plans to start a tour guide business. Another is a web developer who prefers to take freelance projects from various clients.
When to consider a lifestyle startup
A lifestyle startup is your best option out of all startup types if: 
You want to be your own boss. 

You are self-motivated, creative, and well-disciplined.

You are truly driven to pursue your passion.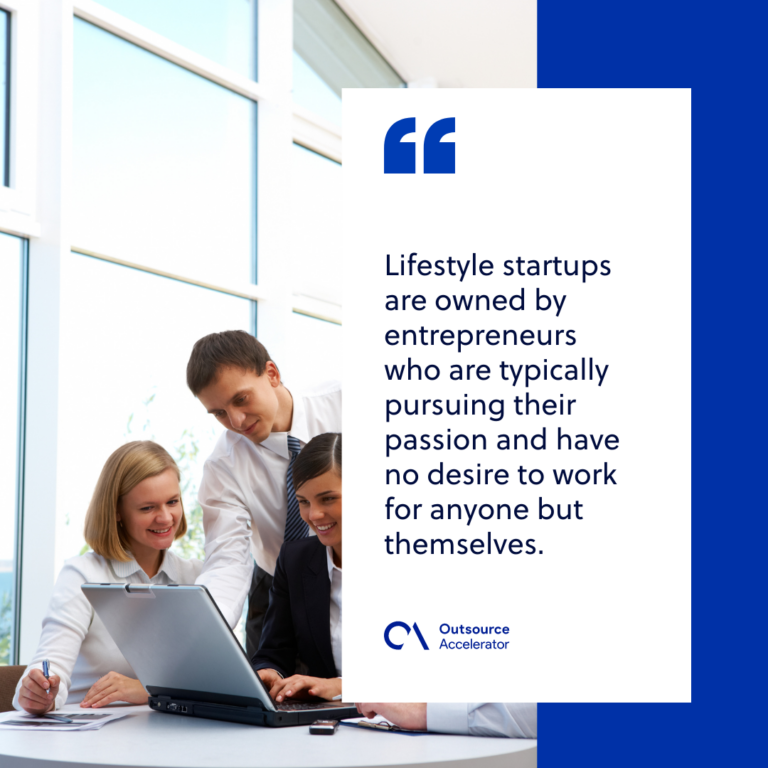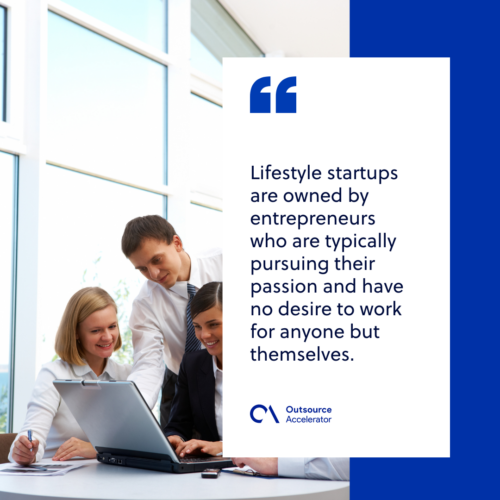 Social startups
Unlike other startup types, social startups are built to make the world a better place instead of obtaining wealth. It is driven by a passion for creating environmental or positive social changes in the community. 
You can still acquire financial resources from this type of startup. However, you should not expect a big sum of money from a social startup.
When to consider a social startup
A social entrepreneurship startup is a perfect startup type for you if: 
You are planning to set up a company that is focused on making an environmental or positive social impact.

You have an idea that can solve certain widespread problems.

You opt to establish a startup but are not interested in making a profit. 
Scalable startups
Scalable startups are built with the hopes of achieving greater heights. Founders of this type of startup commonly hire the most experienced and brightest professionals. 
Scalable startups always aim to dominate their market using a scalable business model. They seek to add more venture capital to improve their company continuously.
Two of the most popular scalable startups today are Google and Facebook.
When to consider a scalable startup
A scalable startup is the right startup option for you if: 
Your goal is to be a leader in your kind of industry. 

Your startup has a wide range of market reach, including a large growth potential. 

You have an idea of creating an innovative startup

always

ready to challenge the status quo.
Large company startups 
Large company startups are supported and backed by successful and well-established companies. These startups are often designed to cater to new target markets and, at the same time, diversify a company's products and services.
A large company startup is usually built as a response to new technologies, changes in customer preferences, legislation issues, or as a competitive edge.
When to consider a large company startup
A large company startup is a viable option for you out of all the startup types if: 
You already own and manage a thriving company.

You want to

keep up with the ever-changing marketing trends.

You are looking to diversify your offerings.

You are aiming to tap into a new market sector.
Other types of startups in the technology sector 
As mentioned, a lot of the big names in the startup industry were born and are based in Silicon Valley, which is a hub heavily focused on technology and innovation.
For those aiming to venture into this sector of the startup world, here are the common types of tech startups.
E-commerce startups
E-commerce or electronic commerce refers to buying and selling different products and services on the internet. It requires an online exchange of funds and information in paying for the products and services acquired.
An e-commerce startup is one of the simplest startup types you can venture into.
Software startups
Just like the other startup types, a software startup produces scalable solutions for specific problems that people want to solve through software development services.
Software startups have become increasingly relevant in the modern world reliant on digital technology. They are usually tapped to create specific systems that businesses and individuals need with their daily operations. 
Cybersecurity startups
A cybersecurity startup is among the top startup types presently becoming more in demand. They create solutions to help their clients secure their networks and servers and avoid security risks.  
Having a robust cybersecurity infrastructure is vital to any organization doing business online. This helps companies avoid hackers, identity theft, and data breaches, which have become rampant recently.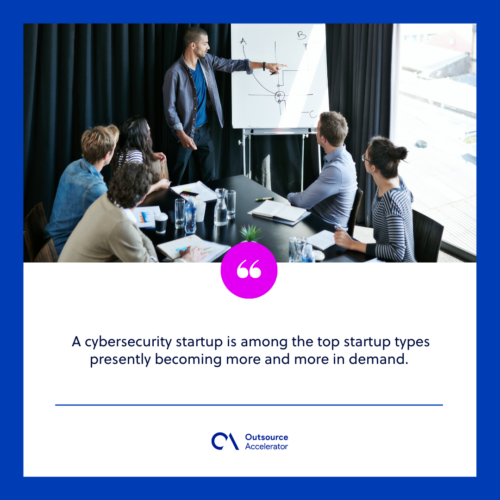 Application startups
Application development startups are also one of the popular startup types in the technology industry. 
Every business nowadays needs to have an app that people can access through their smartphones, iPad, or tablets. Application development is considered the most accessible and less expensive technology business. It is cheaper than software companies. 
The vital ingredient of startup types
Building a startup company is only half the battle. Having a successful startup, meanwhile, takes effort, determination, and smart decisions to come to fruition.
While you have an array of options for startup types, make sure to venture into a startup that fits your business idea. 
Whichever type of startup you pursue, in the modern era, the most vital ingredient to success is innovation. All startups begin with an idea, and how this idea can revolutionize the current market is key to the success of your startup.