Successful companies use these 3 ways for software vendor identification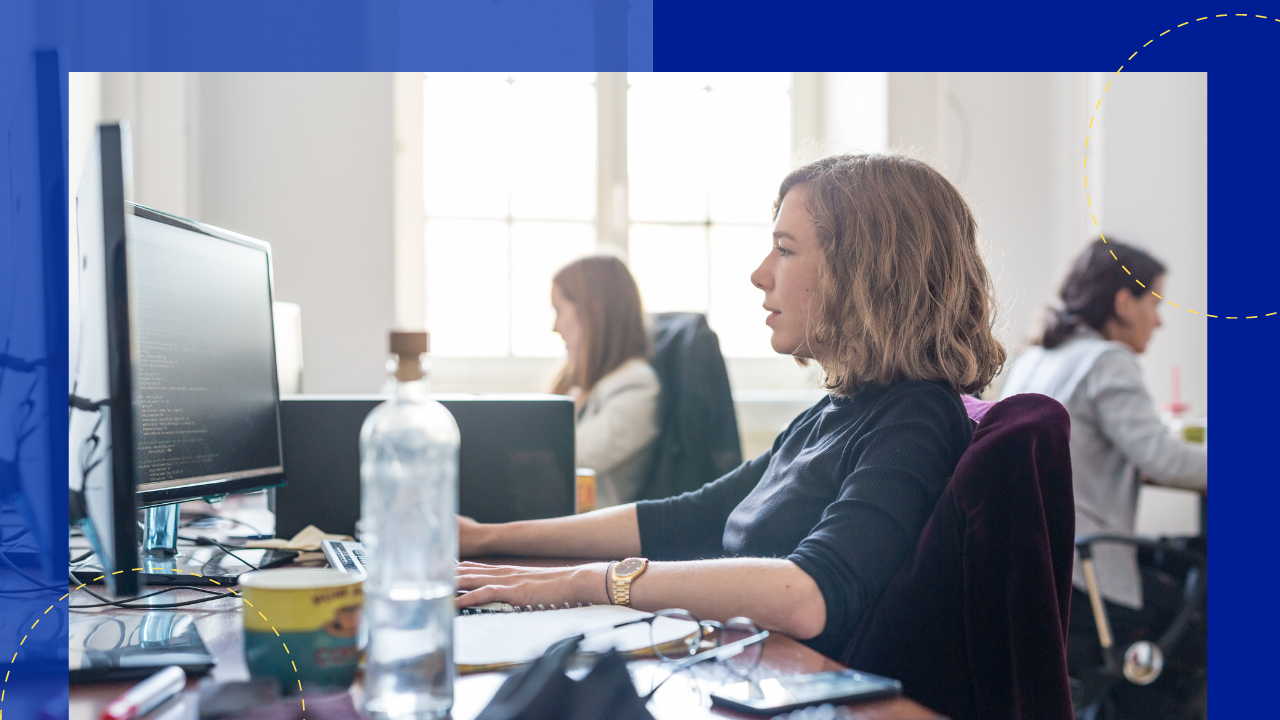 This article is a submission from CodeRiders. CodeRiders provides quality software solutions and services that facilitate everyday work and automate manual business processes.
Businesses' #1 priority during the COVID-19 pandemic is increasing operational efficiency, according to the latest report by Statista. During this time, the term digital transformation (DX) has been used and addressed more than ever.
DX  is the integration of software solutions into a specific business to improve its operations and create new opportunities for doing business. According to the same Statista report, companies' efforts to transform digitally will go broader and deeper by 2023.
Digitally transformed organizations are also forecasted to contribute to more than half of the global GDP.
The same report projects that the global spending on DX will outgrow up to 2.4tn USD by 2024.
Naturally, hiring remote software development companies, dedicated software developers, or concentrating on software outsourcing and offshore software development has become a topic of massive interest.
According to another report by Statista, the following countries projected milder economic outbursts by dint of their preparedness for DX and readiness to implement new software solutions.
As we see, the USA, Hong Kong, Sweden, Denmark take the lead.
As a business development specialist at CodeRiders, we worked with companies from most of these "digitally intellectual" countries.
So, in this article, we want to share what we've experienced in working with our clients from the mentioned countries and their approach to successful digital transformation processes and software vendor evaluation criteria.
Let's touch upon the top three priorities adopted by successful companies to choose a qualified software vendor.
Top 3 priorities successful companies use to find the right software vendor
1. Place of operation
Place of operation is one of the main assets that software outsourcing giants follow when searching for a software vendor or dedicated developers.
Differentiating software vendor candidates based on their countries is a great way to an easy and fast software development company selection process.
The following countries have a high reputation for IT services in the international ICT industry.
Ukraine
Poland
Brazil
Vietnam
The Philippines
These countries have similar advantages that segregate them as favorites among software outsourcing giants.
Let's take the Armenian ICT industry as an example.
Easy communication. There are no certain mentality issues and language barriers that will complicate the cooperation process.
Strong government support. The Republic of Armenia recognizes the ICT industry as one of the priority branches of Armenia's economic development.
State sponsorship. According to Darpass reports, the IT sector is under a special state sponsorship: Tech startups are freed up from income tax and pay only 10% payroll tax. Newly registered IT companies get tax holidays, and dormant companies automatically avoid tax fees. On the other hand, 71.8% of Armenia's population uses the internet; mobile 3G covers about 90% of the country, following 4G and 4G+ services available in cities.
Special attention to high-level tech education. In Armenia, there are free schools that welcome all tech enthusiasts to have access to free tech education starting from elementary school years.
An increasing number of tech professionals and students. According to the same report by Darpass, the Armenian ICT sector employs 28.460 employees, out of which 16.212 are in IT companies. Every year more than 1800 students graduate from IT-related faculties. This is a huge result for a country with less than 3 million population. In 2020, the number of people employed in the IT sector was 14,755, of which only 9500 were employed in the public sector, while 14,680 were employed in the private sector. For comparison, in January-March 2021, the number of IT employees increased by 4,202—more than 28%, according to the EVN report.
High-quality services + affordability. In 2020, the average salary for IT professionals was 411. 927 AMD in the public sector and 637.756 in the private sector.
Rising outsourcing destination. Armenia is a fresh software outsourcing destination, slowly becoming the world's next tech hub. In 2019, Armenia hosted WCIT (World Congress of Information Technology), which is one of the world's most prestigious tech events. New IT hub and tech city projects are under development, pointing to the creation of a new Silicon Valley-like center.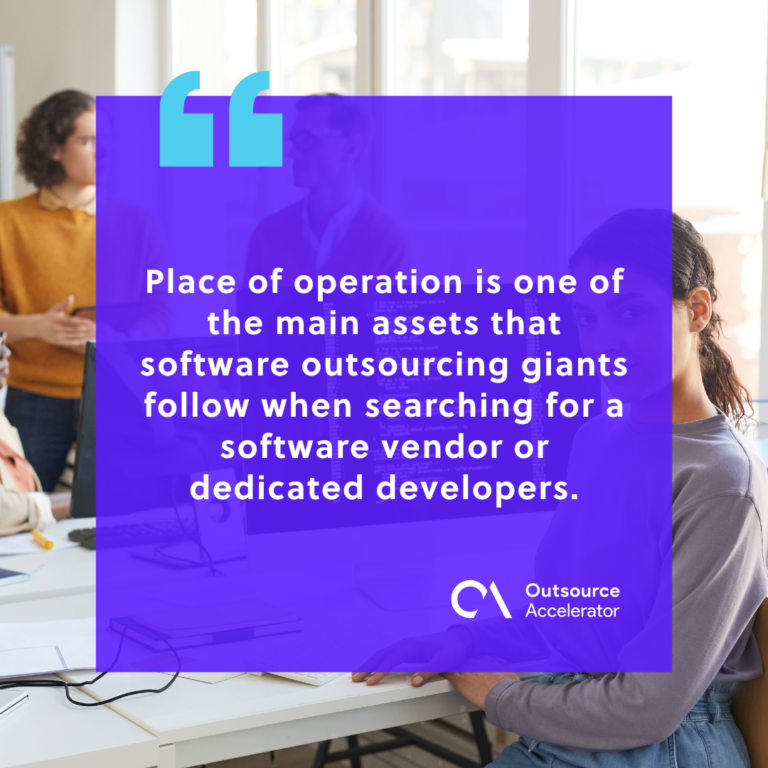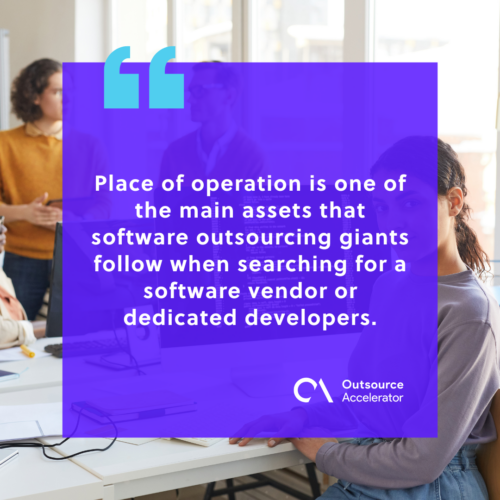 2. Proven characteristic features of professional software vendors
Certain characteristic features are common for every reliable software vendor. The following top 5 features are among the most important ones:
Clear vision
A qualified software vendor should have a solid vision. "We do everything" is a firm red light for recruiters.
A good software outsourcing company should clearly outline its operation fields and be precise in its services.
If you deal with a software vendor who isn't clear on what they offer you may want to reconsider this candidate. A good software vendor honestly mentions what it can and can not do.
Transparency
A qualified software vendor should be easy to communicate with and is honest in its feedbacks, comments.
Bill Gates, the co-founder of the world's largest personal-computer software company Microsoft Corporation, once said, "We all need people who will give us feedback. That's how we improve."
This is a quote to remember when starting a business partnership. Feedback is the key for each partnership indeed. That's how colleagues, partners understand each other and work on further development on their co-operation, product, or service.
Great inside management tactics
Successful partnership starts with well-planed in-house staff. Fifty-nine per cent of the USA labor reportedly said that communication is the toughest hurdle in their career.
These statistics themselves speak about the importance of healthy communication within the team.
A great software development company has a clear-cut work structure. In such companies, every employee knows his/her duty and works within a team.
In the meantime, these companies have a well-developed leadership team that takes care of every department and their working routine.
Flexibility (Avoid the "yes sir")
Everyone has heard at least once this popular quote in the business world: "Customer is God."
This saying today is transferred to the archives of old-school business development tactics. Today, the business world appreciates partners who have respectable expertise to highlight their opinion.
For instance, an e-commerce company that hires a software outsourcing firm to build a CRM system for them will certainly want to learn the opinion and assessment of their project from the professionals.
A software development firm should be able to offer alternatives or explain the importance of a specific function of a project.
Perseverance
According to PMI, vague goals or the absence of a clear-cut purpose of a project is the number one reason for a project failure (37%).
Before investing in a solution and resources, companies should portray their precise aim and work on strategic planning. This feature is critical for both parties (client/service provider).
The client should have solid and clear requirements. On the other hand, the service provider should provide a clear project development roadmap from day one, and be ready for consultations.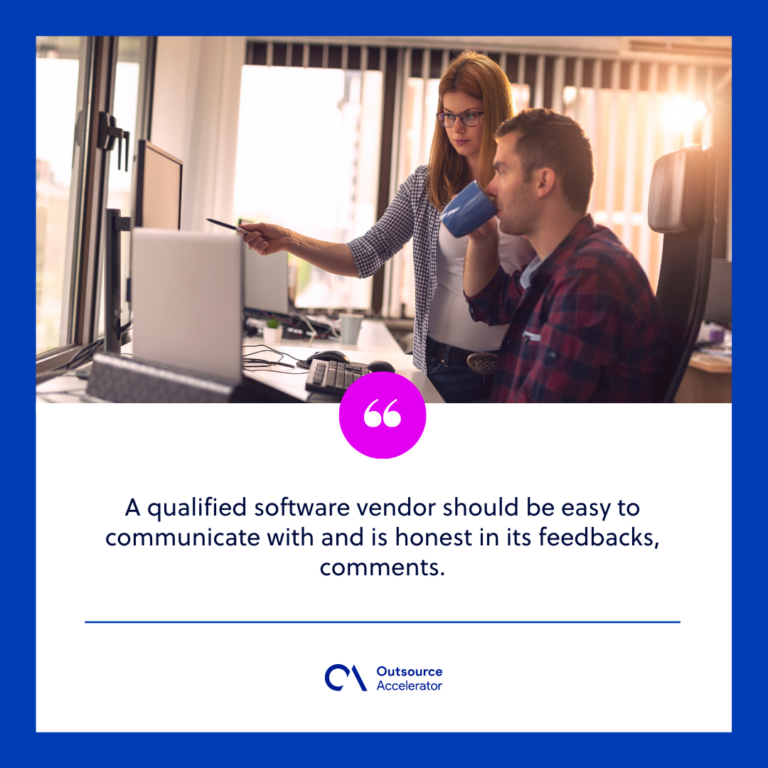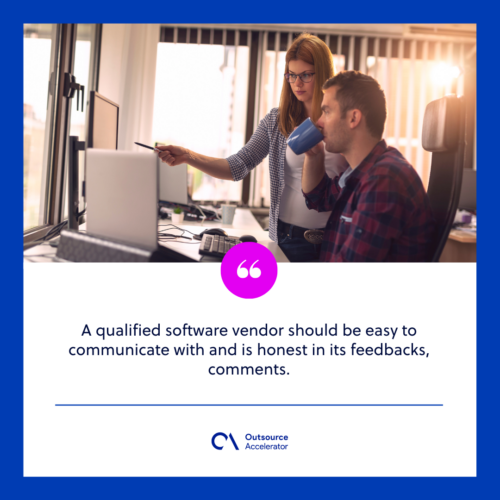 3. Individual queries
We already know the generic picture of where and how to choose the right software vendor. However, besides applying these proven methods to choose the right software vendor, it is also extremely important to consider a specific company's specific queries.
These tips are effectively combined with analysis of previous business partnerships, best and worst practices, specific company's working style.
The following individual components are equally important with software vendor selection general methods.
Rates
Calculate what sum of money your company is capable of paying. Miscalculations and skipping of financial analysis can result crisis.
Test tasks
Some companies feel safer offering test tasks before officially starting the actual software development process.
Clients have the right to test their future software vendor before starting the partnership.
Non-disclosure agreements (NDAs)
If you have had experience recruiting a software outsourcing company, you might certainly heard about NDAs.
If a software outsourcing company signs an NDA, it agrees to keep the project details and their partner company's name in private. This means that the software vendor can not include this project in their case studies and mention the partner company's name. If you need such kind of security make sure to file an NDA and warn your partner.
On the flip side, if your potential software vendor claims about working on a similar project but with NDA, don't dismiss this candidate immediately. Instead, ask some more questions, or/and send test tasks.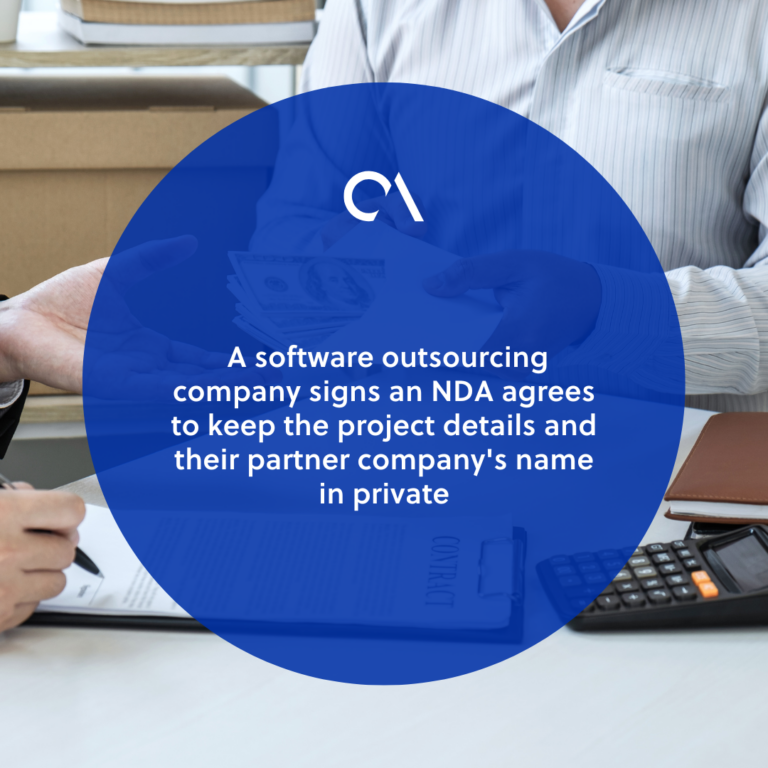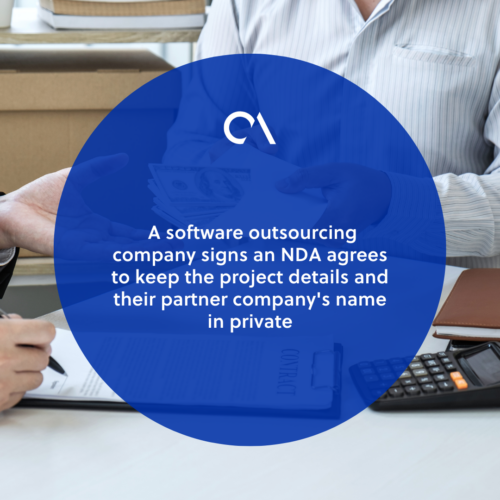 Software development engagement models
Various software development engagement models define a certain method of client-partner cooperation.
If you have a certain fixed working style, assure it right from the beginning. According to a 2021 Statista report, almost 36% of respondents state using a DevOps or DevSecOps method for software development.
DevOps aim is to provide continuous delivery by shortening the systems development cycle while ensuring high software quality. Other popular software development methods include Agile/Scrum (31.8%), Kanban (13%), and Waterfall (10%).
In conclusion, DX, through software outsourcing is a sharp way of investing with maximum ROI. However, before starting a software outsourcing partnership, companies should have a clear picture of the best practices for choosing the right vendor.
They should also think about the main, crucial factors they should consider before recognizing a specific software outsourcing firm as a qualified partner.