Small business essentials that will help your business thrive in 2024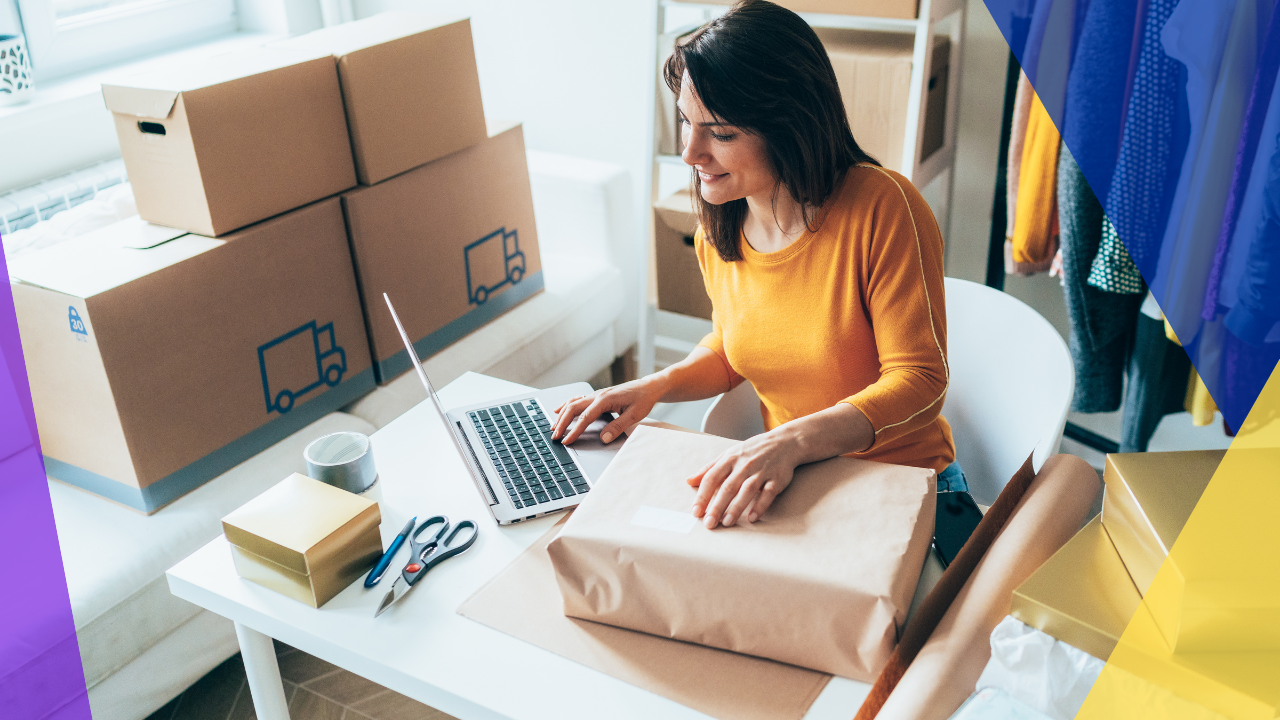 Small business essentials that your business needs in 2024
Running a business – even a small one – can be pretty hectic and demanding.
However, it doesn't necessarily have to be.
There are a ton of small business essentials that can help you get your business up and running.
These must-haves are as varied as the industries you can use them in. Having them will also save you from a lot of unnecessary stress.
To help you get started, we've curated a list for you.
This article covers some of the essentials you'll need if you want to ensure that your small business will prosper.
Small business essentials: What are these?
Simply put, small business essentials are an assortment of things small business owners must have to achieve any degree of success.
These necessities can be business elements, software tools, or anything else that contributes to the overall success of a small business.
While having these essentials will not guarantee 100% business success, it will significantly increase your business's potential to grow and become a thriving enterprise.
Moreover, these business elements will help you run your business more easily and efficiently.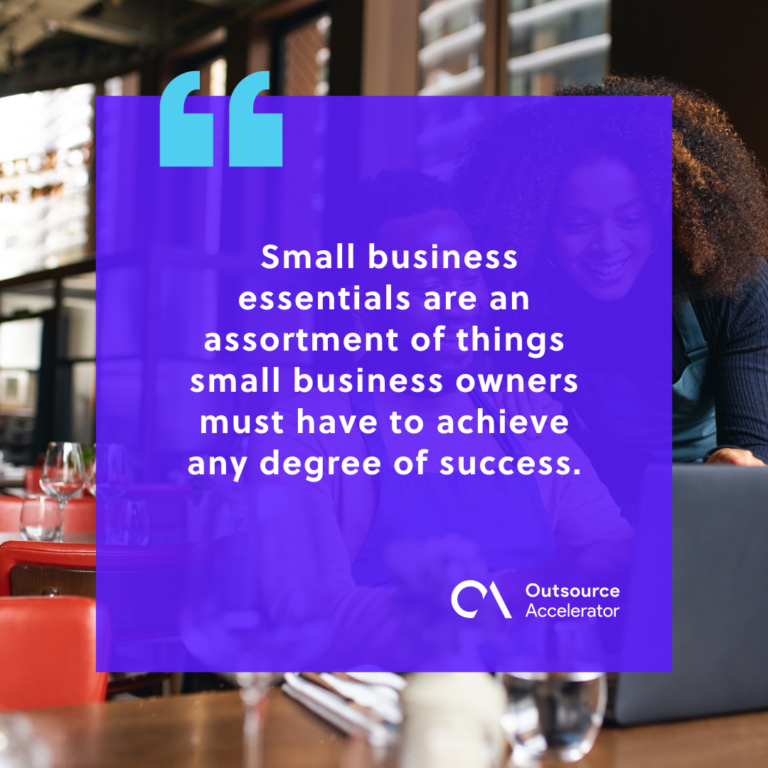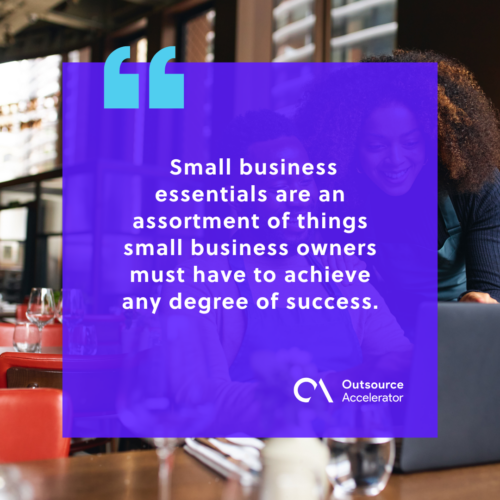 List of small business essentials you'll need in 2024
The business essentials included in this list are by no means the only ones you should have.
However, these are excellent to have for starters and can significantly help your small business stand on its own.
1. Business plan
A business plan is your overall strategy that will guide every move you make for your business.[1]
Having a business plan in place has several benefits:
It will give you a sense of direction

It helps you identify your business goals

It lets you measure how well your business is faring relative to your goals

It allows you to allocate your resources in a more efficient way

It helps you know the ideal time for scaling your business
In essence, a business plan gives you a better understanding of your business. With multiple business plan software available online, you can easily finish your business plan in no time.
2. Team collaboration tools
Efficient communication is as important in small businesses as it is in large enterprises.
Lack of an efficient method of communication between everyone involved in your business can lead to confusion, wasted time, and general inefficiency.
Thus, effective team collaboration tools, such as Slack, Asana, Monday.com, and Trello, are highly recommended even for small and medium-sized businesses.
These collaboration tools make project management a breeze and ensure everyone on your team is up to date with your business's progress and activities.
3. Social media presence
Businesses aren't just limited to the confines of a brick-and-mortar store today.
If you want to make your business stand out and reel in customers, you should take advantage of the various social media platforms out there.
Consumers have become tech-savvy and spend more time on social media than ever before. [2]
Building a social media profile for your business lets more people know about it, which in turn increases your brand awareness and helps reel in potential new leads.
4. Accounting tools
Managing cash flows, remaining on top of expenses, and budgeting future expenditures are all critical aspects of running a business of any size.
However, hiring a dedicated accountant may be a too expensive choice.
In such cases, using accounting software can be a huge help in managing your business's expenses.
These accounting tools often have helpful features, such as expense tracking, invoice automation, and bank statement reconciliation.
You can also choose to outsource your accounting functions to an offshore service provider.
5. Tech protection
You'll most likely invest in the hardware and software you'll frequently use in your business operations.
Thus, your business is indirectly safeguarded when you ensure the safety of these technologies.
These protections can include extended warranties or manufacturer insurance for your computers and subscriptions to virtual private network (VPN) providers, such as NordVPN.
Spending a little extra on these protective measures will pay off should you ever need to have your devices repaired or replaced.
6. HR tools
Having a human resource (HR) department is rarely financially possible for small businesses.
As the business owner, the HR responsibilities will most likely fall on you.
Fortunately, you can use HR software solutions or turn to an outsourcing firm to relieve you of HR duties.
Depending on the software or your HR services provider, you'll have access to various benefits, such as:
Employee engagement

Payroll processing

Applicant management

Centralized employee database

Attendance tracking and leave management
There are many HR software available in the market, such as BambooHR, Zenefits, Workable, and Rippling HR.
7. Website
A social media profile isn't the end-all and be-all of your business's digital presence.
Instead, it's just a tool you use to drive online traffic to your business's website, where the real conversion happens.
Having a website with organic content helps your business rank in Google searches related to your industry.
These contents, often in the form of blog posts, articles, and guides, also help build up your business's reputation as an authority in the industry.
It's also important to keep your business's website interface sleek, professional, and easy to navigate.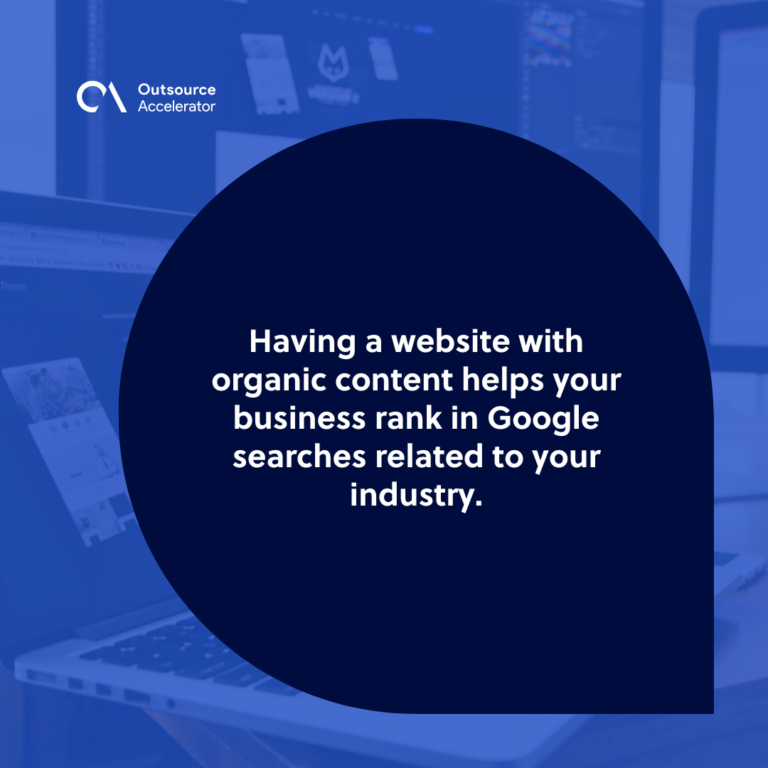 8. DIY legal tools
Hiring the services of a legal professional is often too costly for small businesses.
However, you will still need many of these professionals' services, such as – drafting employee contracts and client agreements,  ensuring compliance with regulations, and other processes that entail legal purview.
Fortunately, you can use do-it-yourself tools to help you with many of your legal needs. These tools include templates for legal documents you can customize to suit your needs.
Most of these templates, such as those for tax forms, client and employee contracts, and rental or lease agreements, can be found online.
9. Business insurance
An insurance policy is another essential that startup owners must have, regardless of their business size.
Needless to say, you wouldn't want to have to use your business's insurance, but it's a great reassurance knowing you have it to fall back on should unforeseen circumstances arise.
There are several types of insurance policies you can choose for your business, such as general liability insurance and professional liability insurance.
Different types of insurance cover a wide range of circumstances. However, their policies vary depending on the coverage terms and prices.
Generally, you'll want policies that have bodily injury and property damage coverage and provide legal expenses allowance.
10. Marketing strategy
While it may seem pretty broad, marketing strategies refer to your overall efforts to make your business more visible to your target audience.
By delivering your marketing message at the right time and on the right channel, you'll not only generate new leads but also create better relationships with your prospects.
For a small business, you can use several strategies to increase your business's visibility and brand awareness.
These strategies include search engine optimization (SEO) and social media and email marketing.
You can easily execute these strategies on your own or outsource them to offshore firms if you lack the time.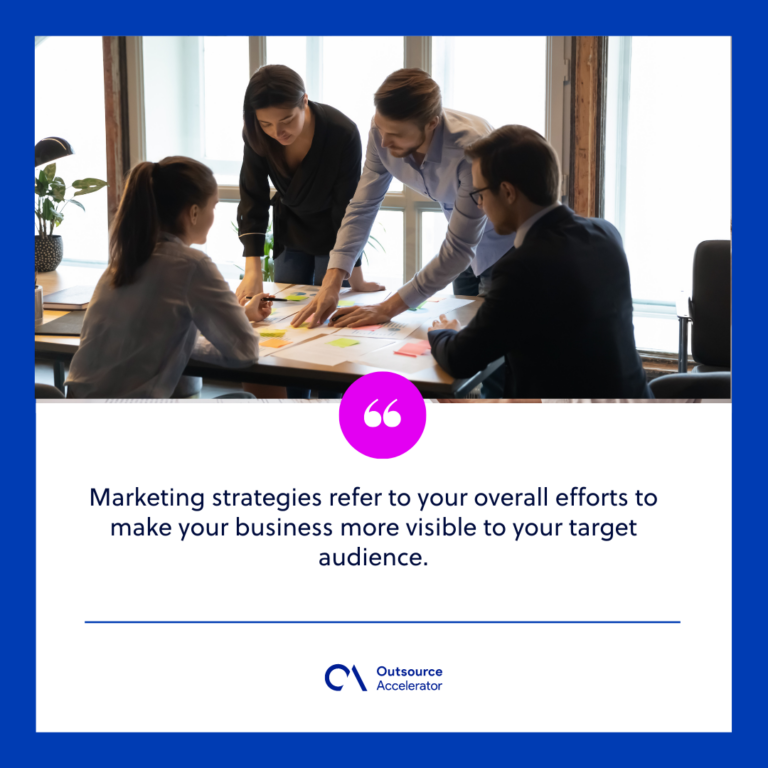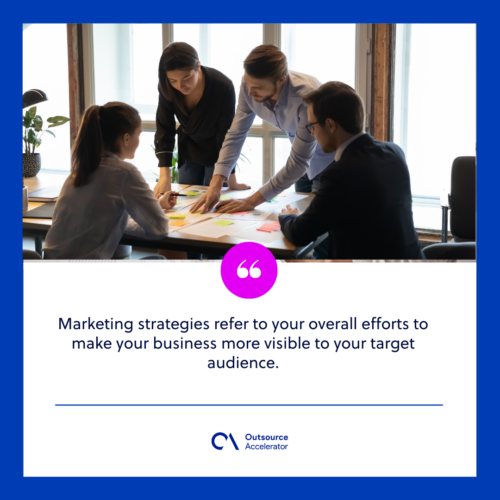 11. Data management
Data management doesn't necessarily apply to large enterprises only.
Even your small business needs an efficient data management system to organize contact lists, employee information, sales numbers, and other business data.
While your data management needs may not be as much as those of large companies, you will still need efficient management in the following areas:
Logistics information

Finances and sales/transactions

Market analysis and other business statistics

Competitor analysis
Like the other small business essentials in this list, you can use software solutions for your data management needs.
Some of the highly recommendable data management software include Quickbooks, Segment, Salesforce, and Domo.
Small business essentials: Why they matter
No business starts off big.
Even unicorns, or businesses worth billions of dollars, begin as small startups.
That's why investing in small business essentials is a vital part of ensuring your business's growth right from the start.
With these business basics, you can easily maneuver your startup into an ideal market position for growing and scaling.
References:
[1] … a business plan is your overall strategy… Jasra, J. et al. 2010. "Determinants of business success of small and medium enterprises", International Journal of Business and Social Science, 17th August, 2(20), pp. 274-280. 
[2] … spend more time on social media than ever before. Arli, D. 2017. "Does social media matter? Investigating the effect of social media features on consumer attitudes", Journal of Promotion Management, 6th September, pp. 521-39. https://doi.org/10.1080/10496491.2017.1297974