Key steps in setting boundaries at work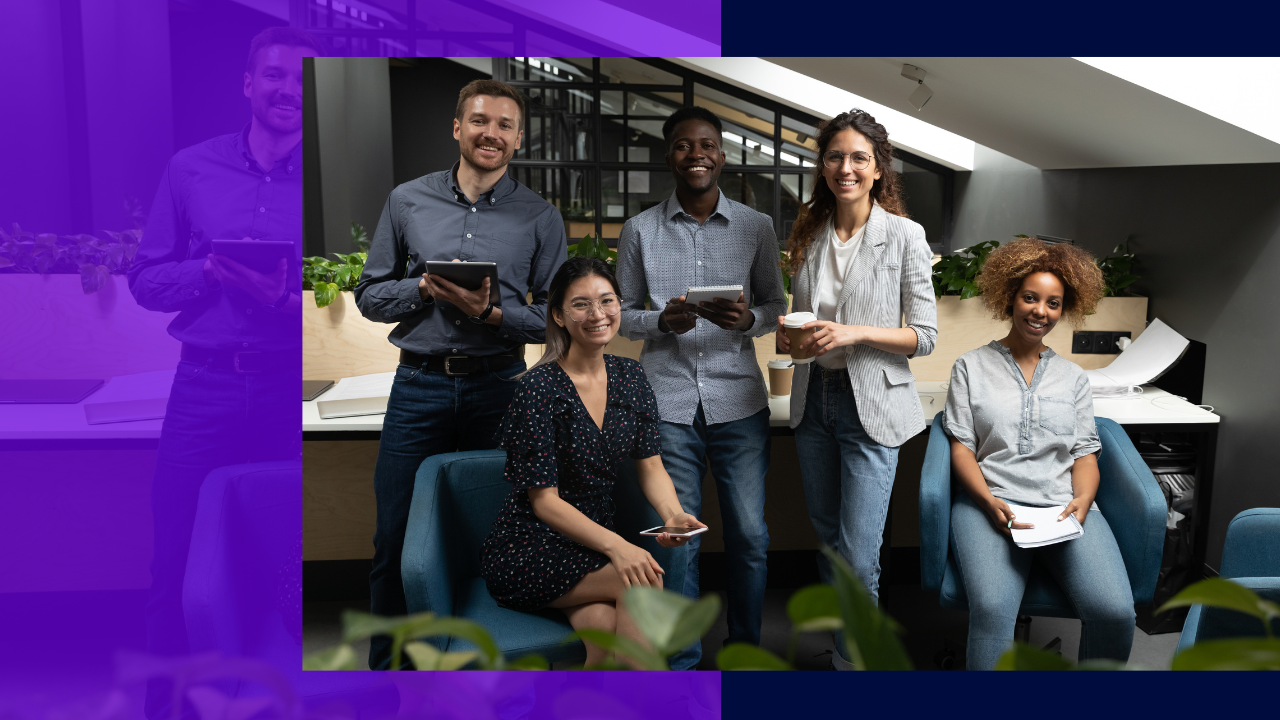 Setting boundaries [1] in the workplace can be an elusive concept to some organizations. 
Being accommodating in the workplace can be too tempting. Some are afraid to say no to their bosses or colleagues since they will appear to be the "office snob." 
Most often, these are the kind of people who makes themselves available, take on extra responsibilities, and possibly work overtime. 
Thus, their boundaries at work start to deteriorate, and they often end up feeling stressed and burnout. 
Boundaries in the workplace are essential for people. Whether it is an office, hybrid, or remote work [2], setting boundaries ensures that peoples' work won't negatively impact their personal life. 
Here's what you need to know about workplace boundaries, their importance, and the key steps in setting boundaries at work.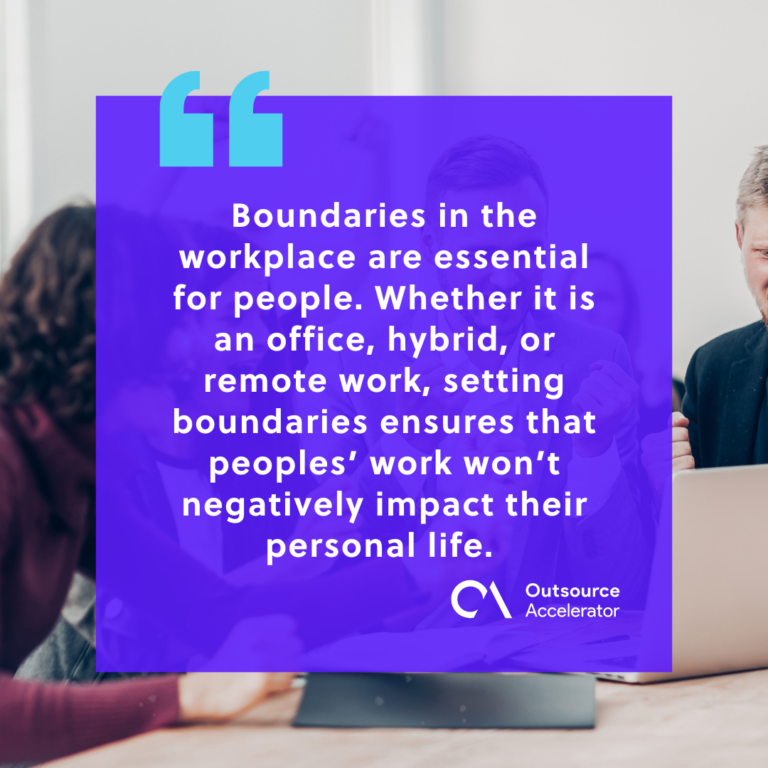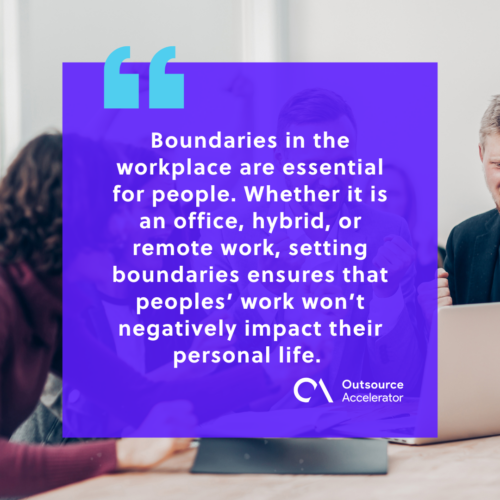 Defining boundaries 
Boundaries are imaginary lines, rules, or guidelines that employees implement to separate themselves from their work life. It separates one's physical space, needs, and responsibilities from others. 
These boundaries tell people what is acceptable for someone and what isn't. Some boundaries are clear and functional, and some are flexible and tangible. 
If one is not careful with their boundaries, others may take advantage of someone who hasn't set limits about how they expect to be treated. 
What are workplace boundaries?
Clearly defined boundaries allow employees to do their best work. Take a look at the several work boundaries that employees can set in the workplace: 
Physical boundaries
Physical boundaries are the most basic and important to establish in one's workstation. 
These boundaries define one's physical limits, personal space, and touch. Physical boundaries dictate how workers engage with each other without a degree of harassment. 
Respecting co-workers' physical space is essential. It is a way not to invade someone's personal space and avoid harm to others.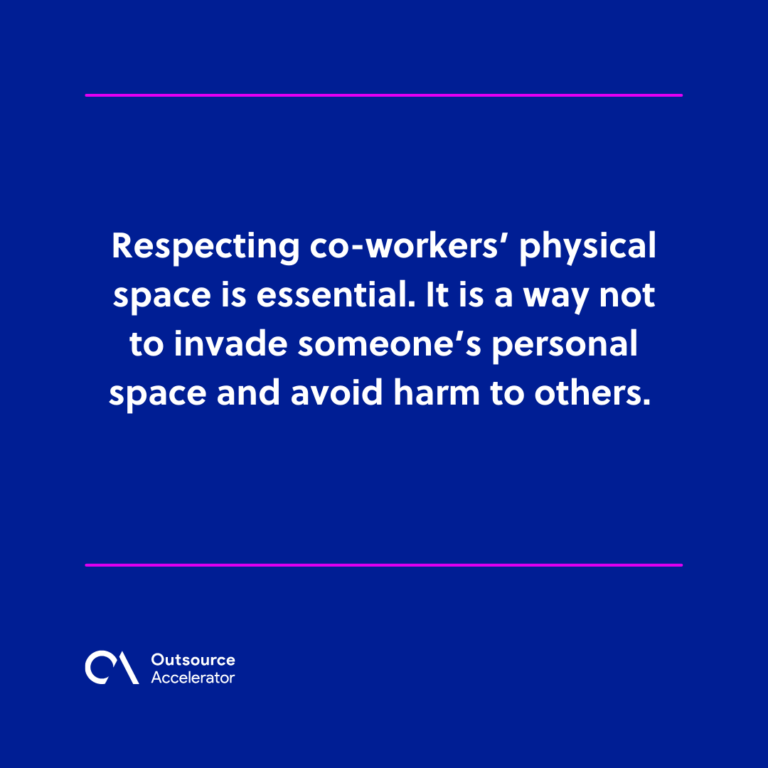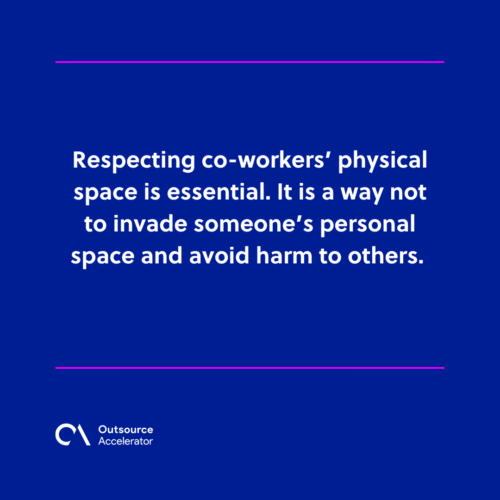 Emotional boundaries 
Far too often, work can be stressful for many employees. Thus, there is a need to set emotional boundaries. These are boundaries that include one's sensitive feelings toward another. 
To set emotional boundaries, start by not letting someone else's attitude to affect you. Your emotions are valid too, and these emotions might help you build a strong sense of identity in the workplace. 
Mental boundaries 
When employees have mental boundaries, it translates that these people prioritize their thoughts, ideas, opinions, and values on matters in the workplace. 
In most cases, dealing with colleagues' different ways of doing things may be difficult, especially when solving a certain problem. 
Thus, it is important to set mental limitations. Not allowing someone else opinions to influence your own badly. Respectful discussion with colleagues is absolutely necessary to address this. 
Time boundaries 
Some co-workers might push you up against your time boundaries which can often cause you to overcommit your time. It is critical to prioritize your working hours and always stick to them. 
Each employee needs to understand that everyone has commitments outside of work and that respecting someone's time is the least they can do. 
How to set boundaries at work 
As an employee in this fast-paced, high-demand economy, you have more power than you think. 
To prioritize your boundaries, practice the following steps by infusing them into your everyday routine:
Assess your personal boundaries first 
You have to know the things that are important to you. It should include your professional and personal priorities at work. This might help you know how and where to set workplace boundaries. 
These priorities also allow you to see how you can allocate your time and energy and understand which aspects you are willing to compromise on. 
Understand your workload 
Before setting boundaries at work, it is also important that you have a clear grasp the role that you may compromise daily.
Understanding your workload ensures that your responsibilities are not more than your job description. 
This will allow you to set better boundaries, establish a working pace, and meet expectations for your role. 
Communicate clearly
In order to express your thoughts and lay your priorities in place, you'll need to learn how to communicate with your boss or colleagues. 
Communicating clearly can avoid assumptions and misunderstandings, and most of the time, it can resolve issues regarding your boundaries. 
Establish ground rules 
Once you have communicated your boundaries with your supervisor and co-workers, set up your ground rules to reinforce them.  
For instance, let your colleagues know that you will be able to reply to an email or text message if it is an urgent matter — otherwise, it will wait until your next working hours. 
Maintain healthy work relationships 
Having a personal relationship with co-workers can be tricky. It is still important to separate 
professional relationships with your colleagues from your personal life. 
For instance, a handshake is more appropriate than a hug, and speaking kindly with colleagues also helps to build a professional relationship. 
Another key to maintaining a professional relationship is to respect others' boundaries. This practice creates a healthy work environment.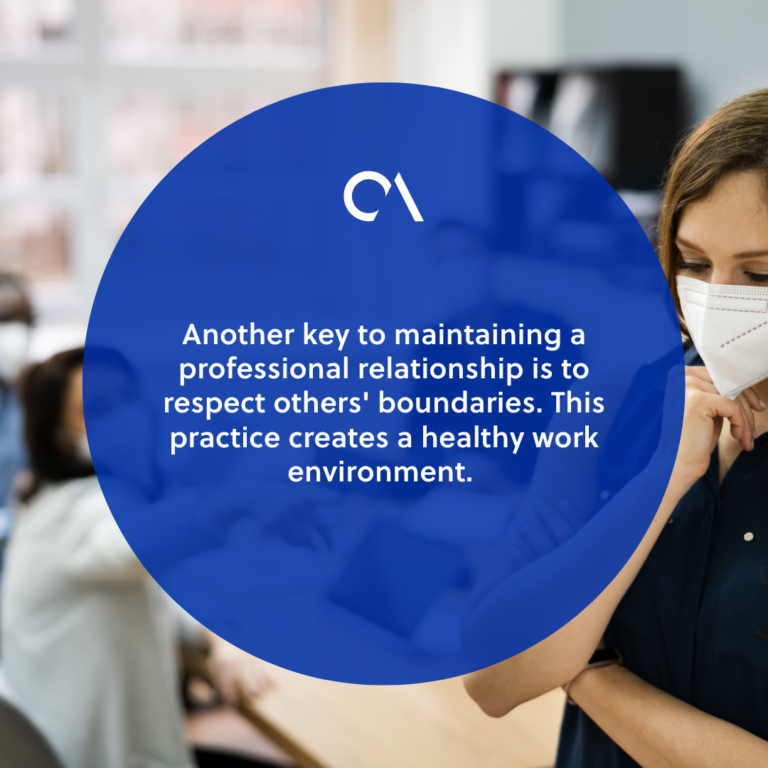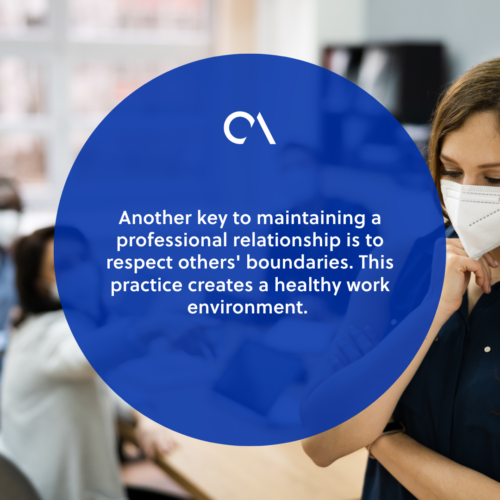 Take time off
Setting boundaries at work includes taking time off. Seize the chance to take the valuable time off given to you. This paid time off allows you to relax, develop your personal life, and an opportunity to prioritize mental health.
Learn to say no 
Setting boundaries at work is also associated with practicing how to say "no." 
Some employees feel pressured to take on any responsibilities assigned by their superiors. However, saying "no" politely is vital as it allows you to maintain your set boundaries. 
One thing to remember is that declining some requests is still healthy and acceptable. It is understandable not to handle extra work and focus more on prioritizing self-care. 
Be ready for boundary breaches 
Regardless of your set boundaries, some may always react negatively and intentionally violate your boundaries. 
Be ready about how you will handle it once your boundaries are crossed. These violations allow you to gain more insights and might help you to improve your boundaries. 
The importance of setting boundaries at work 
It is not always realistic to please everyone in the workplace. Without setting boundaries, you may find yourself in a miserable situation. You may end up feeling burnout and unsatisfied with your job. 
Setting healthy boundaries is a form of self-care. More specifically, it can help you to: 
Practice putting yourself first 

Establish a strong identity because you value your preferences

Develop better professional relationships

Communicate openly and honestly
Blurred lines between communication and management expectations can be frustrating. Thus, setting boundaries at work is important.  Ultimately, these boundaries will significantly help you to avoid over-committing at work. 
Having boundaries in the workplace makes work more efficient and ultimately creates a more healthy work environment. 
Article Refences:
[1] Setting boundaries. Gardner, D.M., Lauricella, T., Ryan, A.M., Wadlington, P. and Elizondo, F. (2021). Managing boundaries between work and non‐work domains: Personality and job characteristics and adopted style. Journal of Occupational and Organizational Psychology, 94(1), pp.132–159. 
[2] Remote work. Olson, M.H. (1983). Remote office work: changing work patterns in space and time. Communications of the ACM, [online] 26(3), pp.182–187.