15 rules of business etiquette to improve your reputation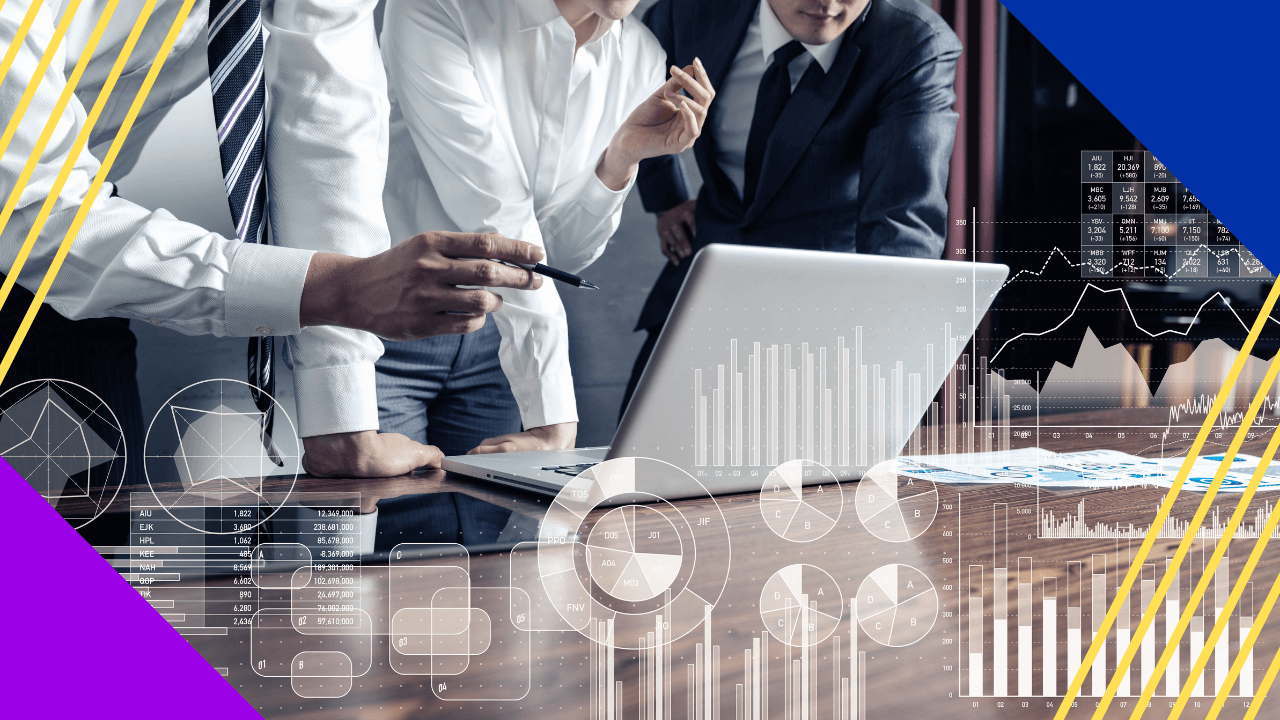 In the new-normal work environment, it seems that the etiquette most companies practice has been thrown out the window. Nowadays, employees have learned they can still work while on the bed, wearing pajamas and a plain shirt.
However, the time has come where companies are moving back to the office. Especially for new hires entering the workforce during the pandemic, they have to know business etiquette when interacting with their clients and colleagues.
Learning business etiquette doesn't have to be too complicated for everyone. Learn about some of the rules you can apply to your work habits to increase your reputation below.
What is business etiquette?
Business etiquette refers to a set of manners and behaviors considered acceptable in a workplace or business setting. It helps establish a good environment for professionals, making them feel safe and comfortable at work.
Business etiquette, much like personal manners, changes according to the times, technology, and people's lifestyle. It is divided into subsets covering different situations:
Workplace
Communication
Dining
Meeting
Professionalism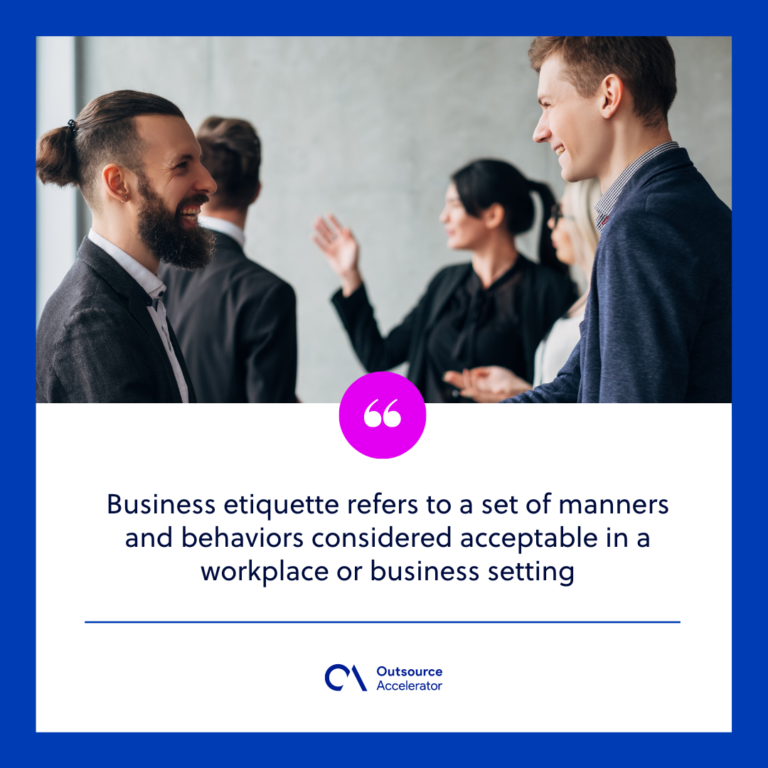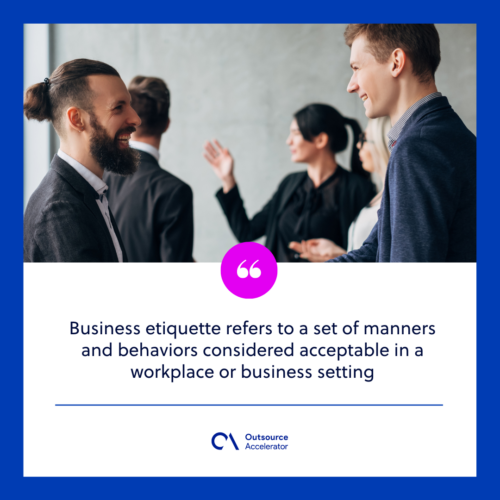 Why is it important?
American author and etiquette expert Emily Post defines the purpose of business etiquette as providing "a framework for building successful professional relationships and showcasing [your] business presence."
Business etiquette is built on two principles: honesty and respect. By following this set of behaviors, professionals can show their customers, employers, and third-party clients that they respect them and treat them well.
Further, establishing business etiquette in a "business world" is essential for the following.
Boosting professional confidence. By establishing business etiquette, you get to boost your and your client's confidence in your interactions. This confidence even establishes trust between each other, making every transaction smooth.
Avoiding misunderstandings. Your team can even eliminate misunderstandings when following business etiquette. This helps you establish effective workplace communication and teamwork built on honesty.
Maintaining a good work environment. As a result, you get to maintain a good work setting for your company since your employees don't hesitate to give ideas and feedback on how to improve your workplace.
What is considered unprofessional behavior?
You could risk losing clients and work credibility when you don't follow business etiquette. Worse, you would end up getting a bad reputation when you're deemed "unprofessional" in professional settings.
Some behaviors are not passable – or even legal – inside the workplace. Watch out and avoid doing the following unprofessional behavior.
Going to the office under the influence
Leaving people waiting for long
Badmouthing co-workers, managers, or executives
Attacking someone's race, gender, or religion
Committing assault towards another person
Breaching confidentiality
Participating in illegal practices, whether inside or outside the company
15 rules of business etiquette to live by
First impressions matter in building client relationships. Within the first few seconds of your first meeting, your client or employer already forms their image of you as a professional. This is why you should be prepared to showcase your manners even before you meet up.
Business etiquette around the world may vary depending on the country's culture and traditional practices. However, it's best to establish your proper business etiquette with the following basic rules to live by.
Always arrive on time
Whether through in-person or virtual meetings, it's best to arrive on time and not keep everyone waiting. But it doesn't mean you have to arrive on the dot.
Instead, give yourself time to settle and prepare for your interaction. Arriving on the dot can make you look rushed and unprepared. For some, around 15 minutes before the agreed time is ideal.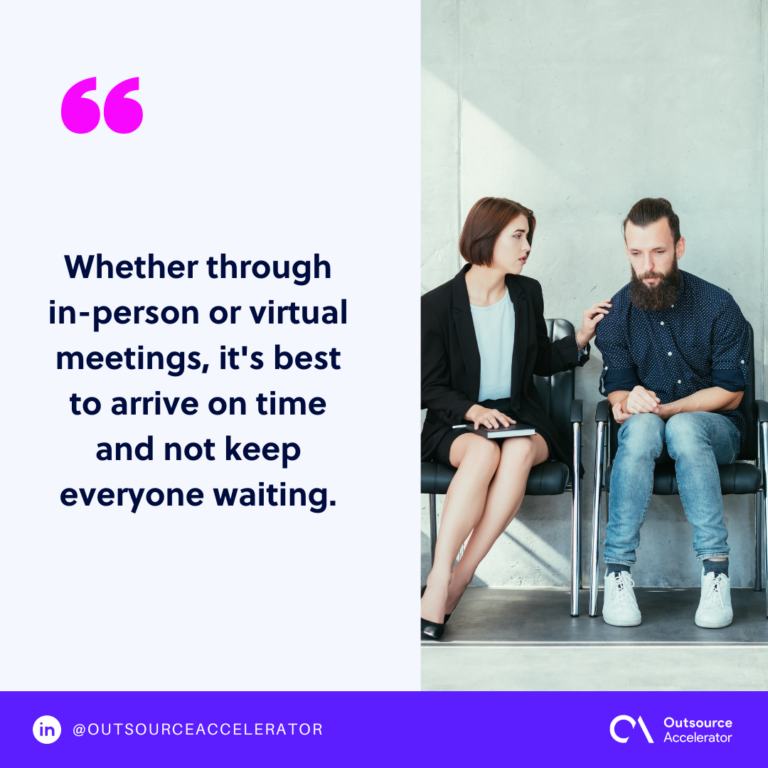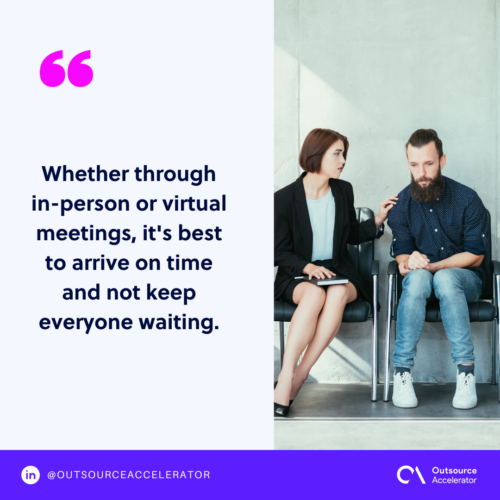 Wear appropriate attire
Dress appropriately, no matter the setting. Attending an online meeting at home does not give you a free pass to face the camera in your sleepwear.
This goes the same with meeting people in person. Professionals groom themselves and dress appropriately when meeting with another professional or executive. Investing in a neat coat, an iron, good pants and shoes, and good hygiene can be a good start.
Don't forget to shake hands
A handshake establishes authority, respect, and interest towards a person. A good handshake is firm, matched with proper body language and eye contact.
While some people still avoid shaking hands during the pandemic, there are still ways to show your interest in meeting a person. This could include a soft bow or a nod and smile.
Pay attention
As much as possible, give your full attention to the person you're talking to. Avoid any distractions, such as playing on your phone or checking emails on your laptop. Turn your phone on silent mode and say "excuse me" when answering an urgent call.
Paying attention to your clients can also reflect in your body language. Make it a point to face the speaker and avoid looking around.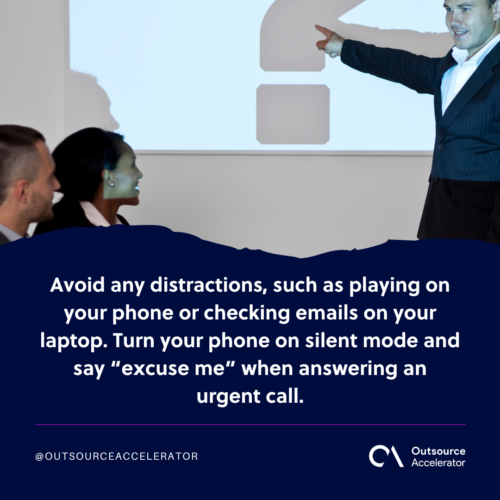 Be mindful of names and salutations
Names and salutations are the first things that establish your introduction to someone. In a professional meeting, it's best to provide your first and last names to the person.
You should also be mindful of the names of your clients, especially when you are meeting more than one person. Don't be afraid to ask them how to pronounce their name. This at least shows that you're interested to know them.
Let another speaker finish what they are saying
It's rude and unprofessional for you to interrupt the speaker, regardless of whether it's a virtual or in-person meeting.
Let them finish what they are saying first. Prepare a pen and paper to note everything you want to ask, add, or suggest and bring them up after. That way, the speaker has time to hear and absorb your insights without being cut off.
Be careful of the language you use
Some forms of language are deemed inappropriate in a professional setting. For instance, unless established by your manager or coworker, you can't always include shortened messages in emails such as "tnx" (thanks).
Language can also be appropriated based on the workplace you are in. It helps to listen to others in speaking formally and try to apply it.
Introduce your companion to others
When you're with a colleague, don't let them feel out of place or unimportant in a meeting. Introduce them to your business partners with at least their names and positions.
Proper introductions will help them avoid feeling uncomfortable in a meeting. This even increases their confidence and establishes rapport with the clients.
Watch your table manners
You might be invited to a lunch or dinner meeting or an after-hours gathering with your coworkers. This requires you to follow table and meal manners while interacting with them.
Avoid drinking alcohol unless everyone in the group has agreed to order drinks. If possible, don't bring smelly food that could throw off your clients easily. Be mindful of your manners at the dining table, which involves more than the proper handling of a fork and knife.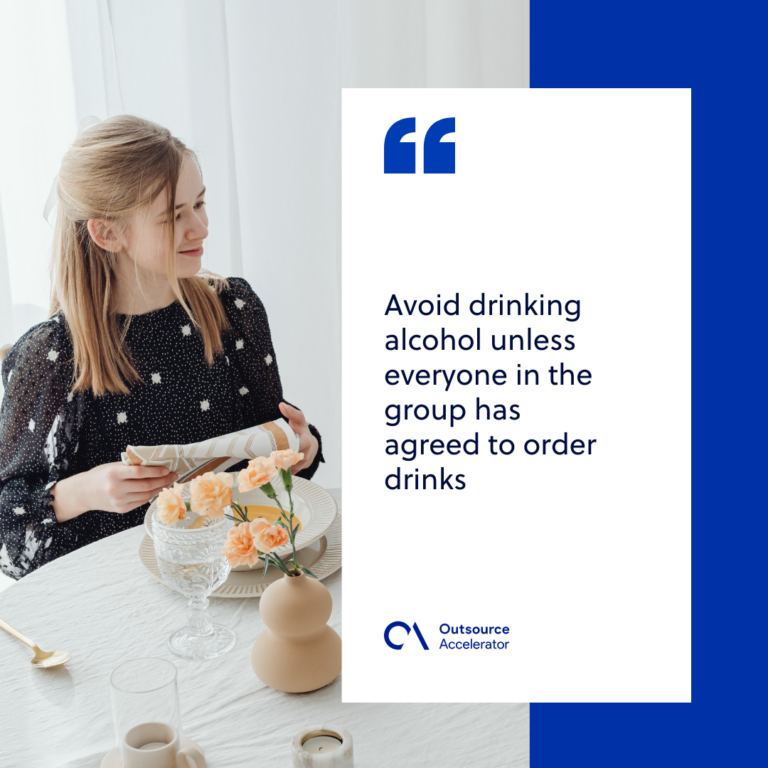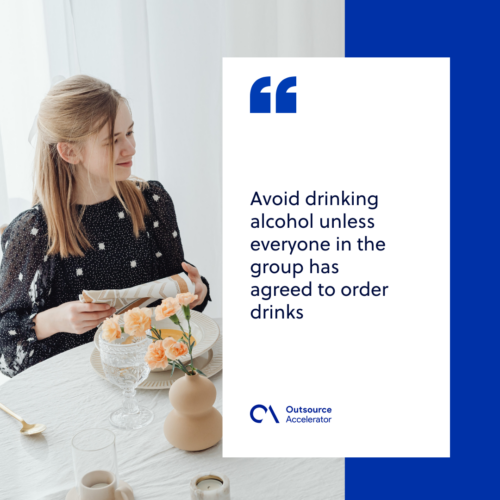 Avoid office gossip and rumor-mongering
Gossips and rumors ruin the reputation of the victim as much as the ones spreading it. Avoid office gossip as much as possible, especially a client or manager.
At the same time, avoid participating in eavesdropping and anything that can take up unproductive time. Doing so helps contribute to eradicating a negative work environment and can enhance business culture at your company.
Watch your tone
The tone of your voice is evident both in oral and written forms of communication. Just like your language, you should watch the tone of your voice or the email you are sending to avoid intimidating anyone.
At the same time, try not to sound "too soft" that people would think you're shy.
Respect shared spaces and items
Everyone hates a thief, whether of lunches or office items. Avoid taking something without people's permission, even small items such as scissors.
At the same time, respect the space you share with your coworkers. Having an open office setting doesn't allow you to invade their personal space and talk to them all the time.
Stick to business-related topics as much as possible
Try to avoid talking about two things with colleagues or clients: religion and politics. They can be too touchy for you or your client, which may cause a rough start on building rapport with each other.
Stick to business- and company-related topics as much as possible to avoid conflicts between both parties.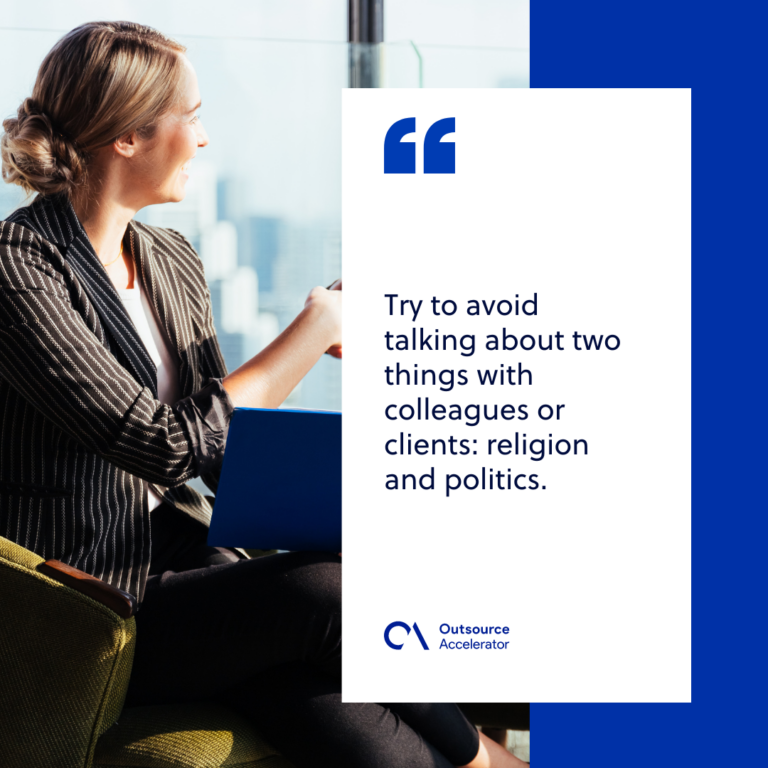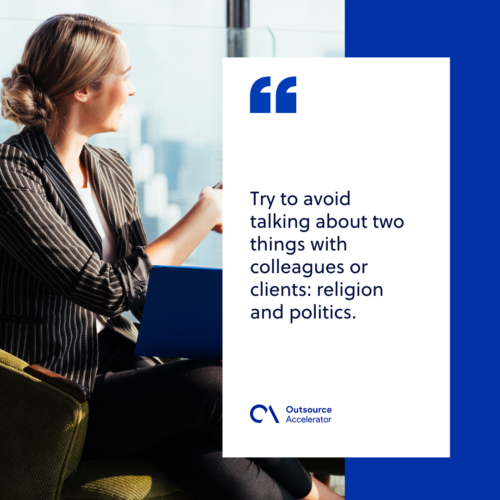 Reread your email before sending
Thers is also an email etiquette in today's business world. Before clicking on send, check your email for grammar and spelling errors and your tone. Even though Gmail gives you time to undo sending your email, double-checking is still the best way to go.
You would not want your recipient to see your email and think you're unprofessional for having errors and an inappropriate tone.
Always acknowledge and say "thank you!"
Lastly, always acknowledge the speaker or the email you received and say "thank you." Some experts even recommend expressing thanks twice, one after the business meeting and another the next day through email or a thank-you note.
Saying "thank you" and acknowledging the participants is the best way to end a meeting. This also makes them look forward to building a business relationship with your company.
How to improve your business etiquette
Business etiquette can be learned over time. All it takes is proper coordination and willingness to learn and incorporate these manners in the workplace.
You can improve your business etiquette with the following steps.
Build emotional intelligence. This is easy if you take the people around you into consideration. Consider their feelings, feedback, and situations and find a way to understand and respect them.
Joining professional networks. Join professional networks or organizations that can help you gain insights into the etiquette they practice at work.
Encouraging others to practice basic business etiquette. There are different ways to instill proper business etiquette in your team. You may call it "customer care" or "client interaction protocols" instead of "business etiquette" to engage your team.