Schedule adherence: Its nature and impact on your customer service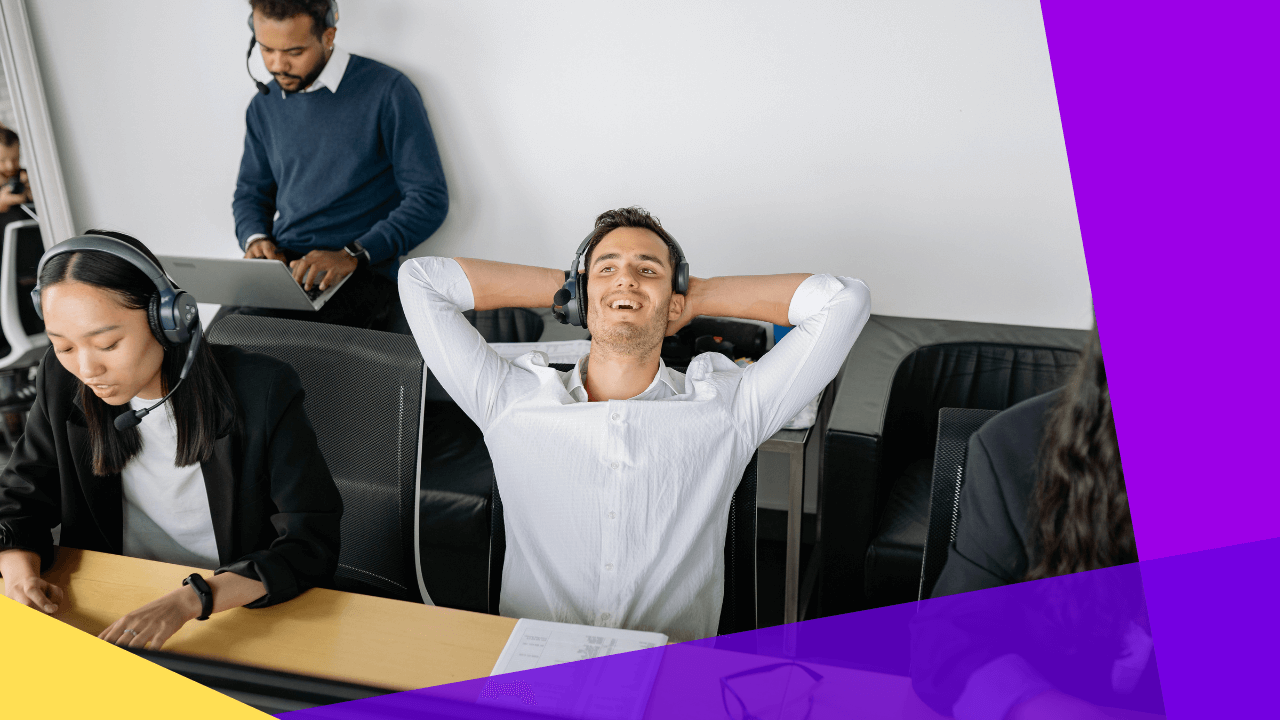 Customers have high expectations when it comes to timely and efficient support.
According to studies, 83% of customers feel more loyal to a brand by simply responding to and resolving their complaints. With this, companies must ensure that they meet these expectations consistently.
Employers usually start with their agents with this effort. To keep them engaged, teams measure every aspect of their work, from workforce management to their efficiency on their shifts.
Schedule adherence is fundamental to effective customer service delivery. When your employees adhere to their assigned schedules and fulfill their work responsibilities within the designated time frames, you can avoid having issues providing support to your clients.
What is schedule adherence?
Schedule adherence is a workforce management metric that measures how employees do their assigned tasks in a certain period. It is usually shown as a percentage of a workday where an agent can take calls and do the necessary after-call tasks.
Schedule adherence accounts for lunchtime, short breaks, tardiness, and other factors that can take an agent's focus from their work.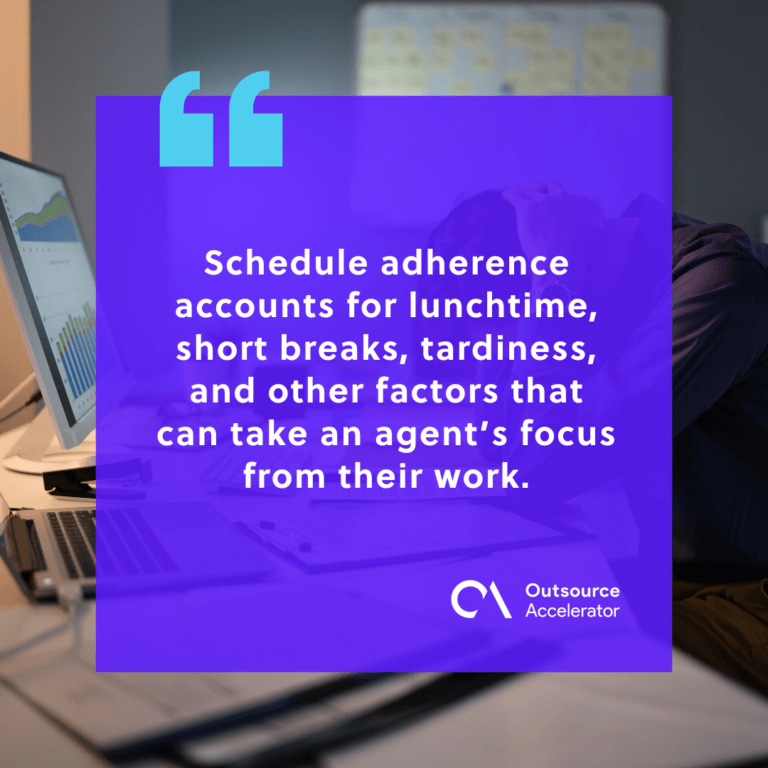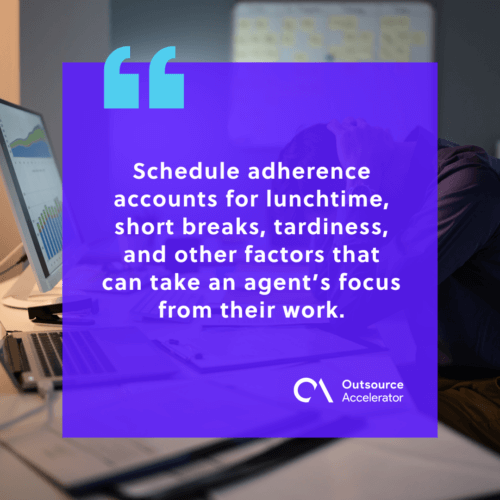 Calculating schedule adherence
To calculate schedule adherence, you must compare the time an employee spends working within their assigned schedule against the scheduled work hours.
The formula for schedule adherence is as follows:
Schedule Adherence = (Actual Work Hours / Scheduled Work Hours) x 100%
For example, if an employee is scheduled to work 8 hours and work for 7.5 hours, the schedule adherence would be:
Schedule Adherence = (7.5 / 8) x 100% = 93.75%
You cannot always expect 100% schedule adherence from your staff. Doing so can be a recipe for burnout, less productivity, and less engagement.
On the other hand, having low schedule adherence can also indicate that your staff might not be engaging enough with their work.
Reasons to measure schedule adherence
It is said that effective time leads to better customers. Measuring schedule adherence can help businesses maintain customer loyalty and operational efficiency through the following measures:
Ensuring service delivery
Even with a small team of 20, you might notice the time your staff "lost" may lead to a serious loss of revenue on your part.
Measuring schedule adherence allows you to monitor the efficiency of your service delivery. It can be seen basically through the number of calls, tasks, and other work activities your agents take in a day.
Optimizing workforce utilization
Businesses gain insights into how effectively their workforce is utilized by measuring schedule adherence. It balances your employees' breaks, tasks, and lunch times equally and ensures they take equal time for their work.
They can also use these insights to make informed decisions regarding staffing levels, workload distribution, and resource allocation.
Identifying training and performance gaps
Monitoring schedule adherence provides valuable data for identifying training and performance gaps within the workforce.
If your staff consistently struggles to meet their schedules, it may indicate a need for additional training or support in specific areas. Addressing these gaps can enhance employee productivity and competence.
Enhancing employee accountability
Schedule adherence promotes a sense of accountability among employees. When employees know their workday is monitored, they are more likely to prioritize and fulfill their responsibilities.
Using employee monitoring tools, you can start by tracking their attendance, including tardiness, absences, and breaks. This fosters a culture of accountability and punctuality among your teams, contributing to a more disciplined and productive workforce.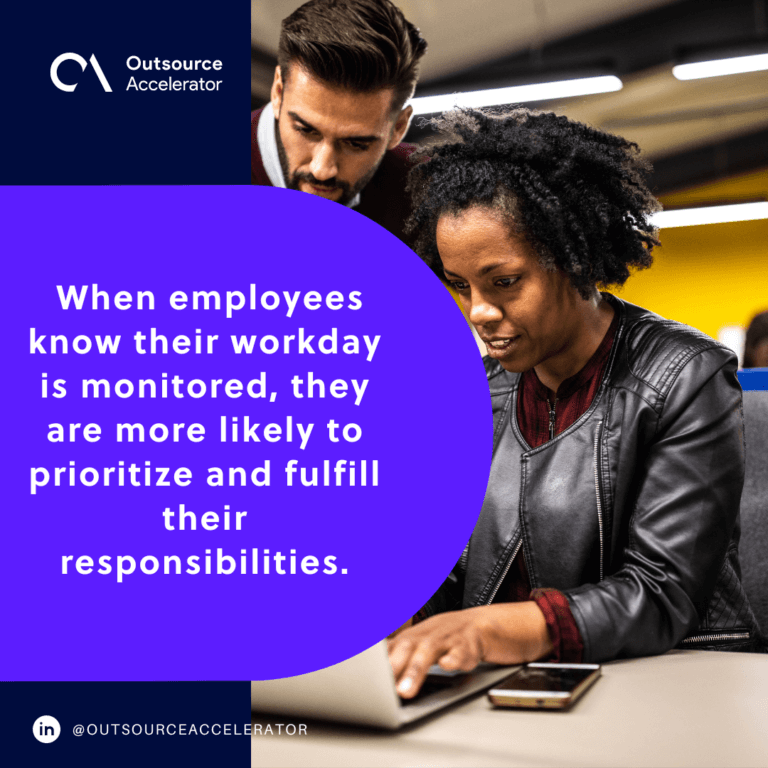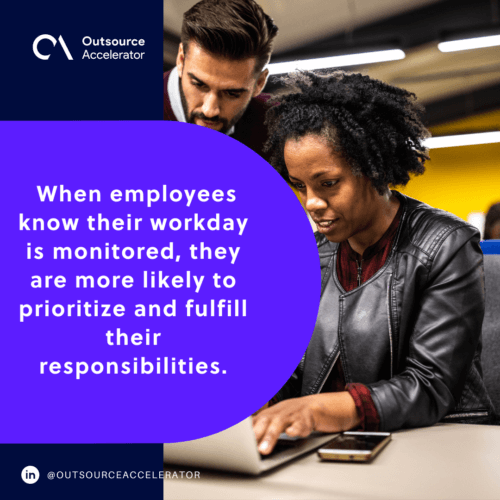 Improving customer satisfaction
Customers expect timely and efficient service. Businesses can ensure that customer demands are met promptly by measuring and improving schedule adherence.
When employees consistently adhere to their schedules, they are more likely to meet customer expectations, increasing customer satisfaction and loyalty.
Best practices in improving schedule adherence
Different factors point to low schedule adherence of your staff, such as the following:
Employees coming in late or leaving early

Excessive time for personal communication

Coworkers excessively chatting

Agents on "busy" status to avoid calls

Constant absences
You can still take several measures to improve your team's schedule adherence. Here are some of them:
Effective workforce planning
Proper workforce planning and people management are essential for achieving high schedule adherence.
As much as possible, use your team's historical data and forecasting demand to align their workload capacity to the tasks you assign. This prevents getting your staff overwhelmed or underutilized at work, enabling them to get their work done on time.
Clear communication and expectations
Your team should comprehensively understand their schedules, job responsibilities, and performance expectations.
Regular communication and feedback sessions help address any doubts or challenges, ensuring everyone on your team is on the same page.
Employee empowerment
Give your employees a bit of control over their schedules. Offering flexible work arrangements, such as remote work options or shift swapping, allows employees to manage their work-life balance better.
Engaged employees with a say in their schedules are more likely to show commitment and adherence.
Efficient task management
Effective task management strategies ensure employees can prioritize and complete their assigned tasks within the allocated time frames.
This includes setting realistic deadlines, providing necessary resources, and removing unnecessary obstacles that may hinder productivity. Efficient task management reduces the likelihood of schedule disruptions and improves adherence.
Continuous monitoring and practice
Regularly monitoring schedule adherence and providing constructive feedback is vital for improvement. Track adherence metrics, identify trends, and address recurring issues that may arise within your team.
For instance, your team can share traffic updates, road closures, connection interruptions, and other situations that may affect their shifts beforehand. You can also give recognition to employees that constantly adhere to their shifts.
Why schedule adherence matters
The benefits above show how schedule adherence is crucial to efficient customer service. Apart from improving your operations, it also makes your service delivery quicker and more effective, given the expected amount of time in a certain task.
To achieve optimal schedule adherence, you should implement best practices and cultivate a culture of accountability within the organization.
This involves setting clear employee expectations, providing the necessary resources, and fostering a sense of ownership and responsibility among team members.
Remember, schedule adherence is not just about meeting deadlines. It is about demonstrating reliability and a dedication to delivering exceptional customer service while considering employees' welfare.