SaaS CRM: Features and benefits for modern business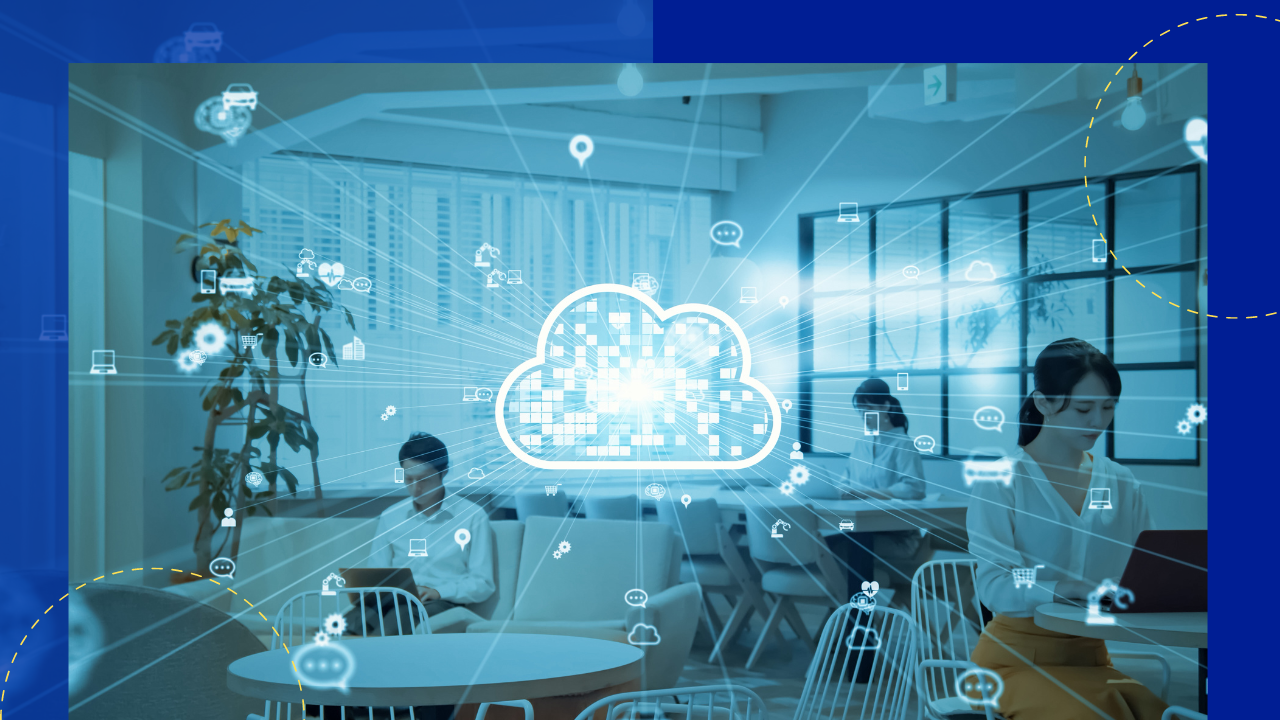 Effective customer relationship management (CRM) is essential for sustainable growth and success in today's fast-paced business landscape. 
Businesses always strive to nurture valuable customer connections and streamline their operations. The emergence of Software-as-a-Service (SaaS) CRM solutions has revolutionized how organizations manage their customer interactions. 
SaaS CRM offers a versatile and user-friendly platform that empowers businesses to optimize their sales, marketing, and customer service efforts. 
In this article, we look into the world of SaaS CRM, exploring its features and benefits. Discover why it has become a game-changer for modern businesses seeking to enhance their customer-centric strategies. 
What is a SaaS CRM? 
Software-as-a-Service (SaaS) is an online service that allows users to access the software via the Internet and use it on any device they choose. SaaS has become increasingly popular in recent years due to its ease of use and cost-effectiveness compared to other options.
Customer relationship management (CRM) refers to all the processes in managing customer relationships. 
A CRM system helps companies manage their records efficiently so they can focus on providing value-added services to their clients.
It helps them improve customer retention rates by helping them determine which effective marketing strategies to utilize.
SaaS CRM (or cloud CRM) is a cloud-hosted CRM software solution that provides an online platform for managing marketing and sales campaigns. 
In contrast to traditional, on-premises, client-server-based CRM solutions, SaaS applications are hosted by third-party providers in the cloud and accessed through a web browser.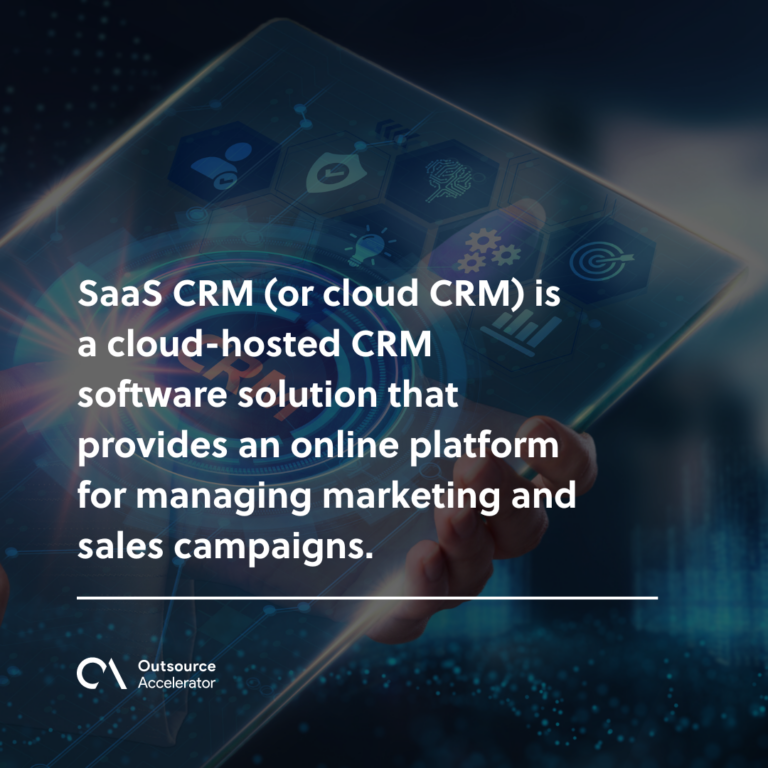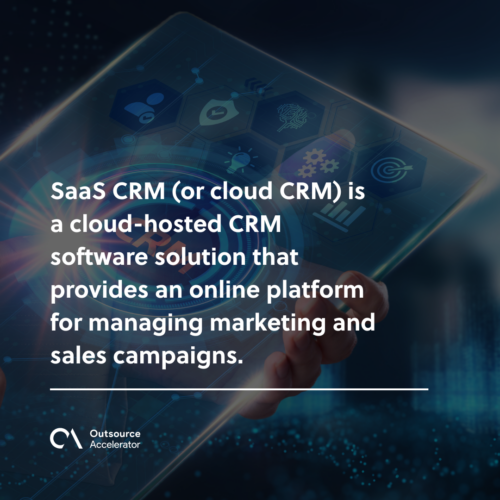 Essential features of a SaaS CRM
A comprehensive SaaS CRM usually contain all or more of the following features: 
Contact and lead management 
The most basic feature of a SaaS CRM is contact management. This feature lets you store information about your contacts, including their names, addresses, and phone numbers. 
It also allows you to create multiple contact records for each individual or company that you do business with. Contact management is essential to any CRM because it helps you keep track of all your customer interactions and relationships.
A SaaS CRM also allows you to manage leads and potential customers who have expressed interest in your services. Lead management tracks these leads over time so they can be followed up easily when they become customers.
Sales pipeline and opportunity management 
The most important feature of a SaaS CRM is its ability to keep track of your sales pipeline and opportunities.
This means being able to track all the leads you receive through various channels and assign them to your sales team members.
The sales pipeline visually depicts your sales process. It shows the current status of each potential customer, from first contact to closed deal.
The opportunity stage shows the next step that needs to be taken with each customer.
The opportunity management feature provides a clear insight into all your existing deals, identifying and tracking new opportunities throughout their lifecycle.
Customer service and support 
Customer service and support are the backbone of any SaaS CRM. Your customers will always seek help, so you must always provide fast and effective customer service. 
Customer service automation allows you to manage all customer contacts from one interface. You can schedule emails or messages to be sent at an optimal time for your customers (like when they're likely to open an email). 
This SaaS CRM feature also lets you track the status of your requests so you know if they've been received or answered by a customer.
Email integration and communication tracking 
Emailing your customers and prospects is a great way to boost engagement and conversions. But email is also a powerful tool for tracking communication with your customers.
This SaaS CRM feature allows you to track email details sent from inside your system. This allows you to easily see:
Which contacts have been reached

Which messages have been read

What actions were taken after receiving your email
Your customer will often start interacting with you by sending an email, so your CRM must provide the ability to track these emails and provide you with key data about them. 
Once this data is collected in one central location, you can see exactly how many emails come in each day and how many are turned into opportunities.
Reporting and analytics 
Another key feature of a SaaS CRM is its reporting and analytics capabilities. They allow you to analyze data to understand how your sales team performs, where they are struggling, and what activities work well. 
This can help you optimize your team's performance and increase revenue.
Analytics give you valuable information about customer behavior that can help you better understand their needs. It can help you improve engagement and increase conversions over time.
Automation and workflow management
Automation can help you save time and money. A SaaS CRM allows you to send out automated messages to your customers.
This way, you don't necessarily need to hire additional staff to keep in touch. 
Workflow management can also be automated. This technology helps you organize your sales team's workflow by assigning tasks to each team member and allowing them to work more efficiently. 
Mobile access
Of course, today's salespeople are highly mobile. They're working on the road, in the field, and at home. If your SaaS CRM doesn't have a mobile interface, you might as well not have one at all.
A mobile-friendly interface allows users to access their data on the go. Your customers are already on their phones, so you need to be there too.
This feature is especially useful for salespeople who need to analyze data while on the road meeting clients.
Integration abilities 
A good SaaS CRM should be able to integrate with other applications like ERP systems or accounting software.
It can help automate your sales pipeline, so you don't have to spend time manually entering data into different applications.
This helps streamline your workflow by pulling information from multiple sources into one place. You won't have to jump between different programs to discover your contacts or opportunities.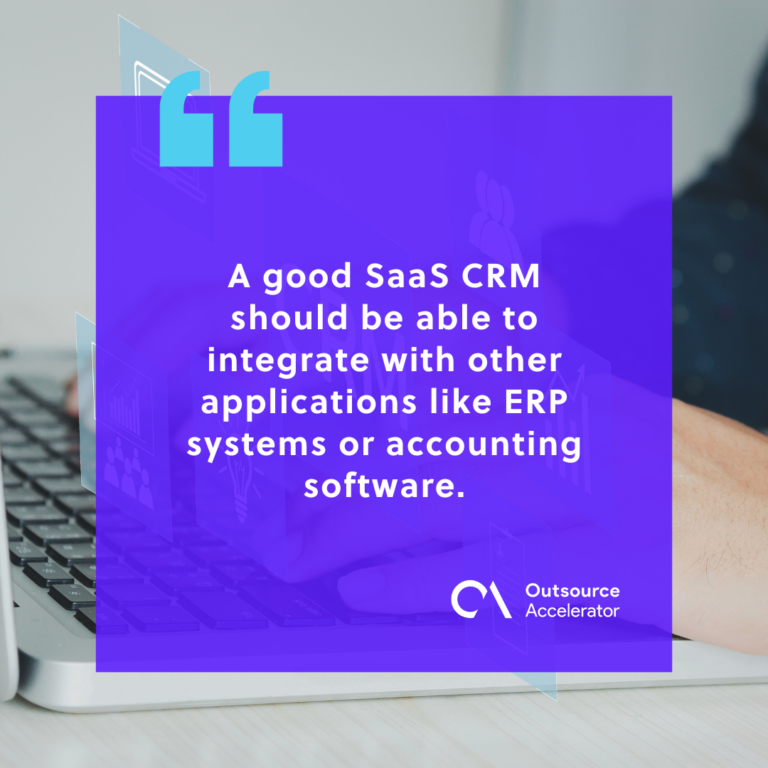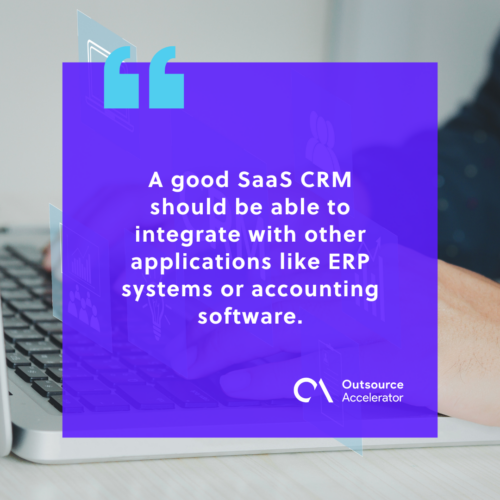 Customization and scalability 
One of the most important features of a SaaS CRM is customization. Your company is different from any other, meaning it will need to use your SaaS CRM differently.
It won't be effective if you can't customize your SaaS CRM to fit your needs.
The software should be able to cater to your business needs and requirements. You should be able to create custom fields, add new tabs, and modify existing ones to fit your business's needs. The SaaS CRM grows as you do.
Your SaaS CRM should also be scalable regarding user count and usage. If you have a small team or want to use it for yourself, there should be no restrictions on how many users can access the software at any time. 
However, if your company has a huge user base, there should be no problems running this software at full capacity either.
Data security and privacy
Data security is an essential feature of a SaaS CRM because it protects your business from internal and external threats. 
Your customers' data privacy should never be compromised, and your CRM should comply with industry standards for data protection.
This feature allows you to protect your customer data by encrypting it on both ends. Even if someone were to break into your server, they wouldn't be able to read any stored information.
Benefits of a SaaS CRM for your business
Take a look at the many benefits of using a SaaS CRM over an in-house CRM:
Boosts customer relationship management 
A CRM system helps you identify your most valuable customers, manage all interactions with them, and find out what they want from your company so you can provide it. 
This makes it easier for you to stay in touch with your customers so that they know who you are and what you do at all times.  
Increases customer retention
A SaaS CRM helps businesses better understand their customers' needs and preferences, allowing them to keep customers returning for more. It also provides insights into improving your product or service offering to meet those needs better.
Low initial investment 
A SaaS CRM can help you save on upfront costs because you only pay for it as you use it. Instead of buying expensive software and hardware, you only pay for the number of users using it. 
The software is also hosted on the cloud, so you don't have to worry about maintaining your servers or upgrading your hardware.
Remote and easy access
A SaaS CRM is available anywhere, anytime, on any device. You can use it to track your sales team's activities while they are on the road or review customer data from your home office. 
It is also easy to install and set up, making it an ideal solution for companies with limited IT resources.
Identifies and fixes gaps in your sales process
A SaaS CRM lets you visualize your sales pipeline to identify gaps in your sales process. You can address these to improve your customer experience. 
These platforms can help you identify and fix gaps in your sales process. They provide insights into how well your organization performs against its goals and objectives for each stage of the buying process. 
Sales centralization
A good SaaS CRM allows you to consolidate customer data from multiple sources into one place for easy management. This can help your business streamline its marketing efforts by having all the necessary information at your fingertips. 
It also makes sharing information easier for your team members since they don't have to search multiple systems for the same data.
Daily task automation and workflow improvement 
A SaaS CRM automates your daily tasks so you can focus on more important ones and outsource some routines to the software. This also extends to your business's workflow processes, automating based on customer actions or events. 
Improves data sharing and collaboration 
One of the biggest benefits of a SaaS CRM is that it makes it easier for everyone in your organization to stay up-to-date on customer information. 
Traditional on-premise solutions require manual information entry into the system, which can lead to errors and delays in getting important data.
With a cloud-based solution, the system automatically pulls in all relevant information with only minimal effort on your part.
You can share customer data across departments and teams in real-time. Your sales team can view leads and contacts created by marketing while interacting with prospects, so they always have current information at their fingertips.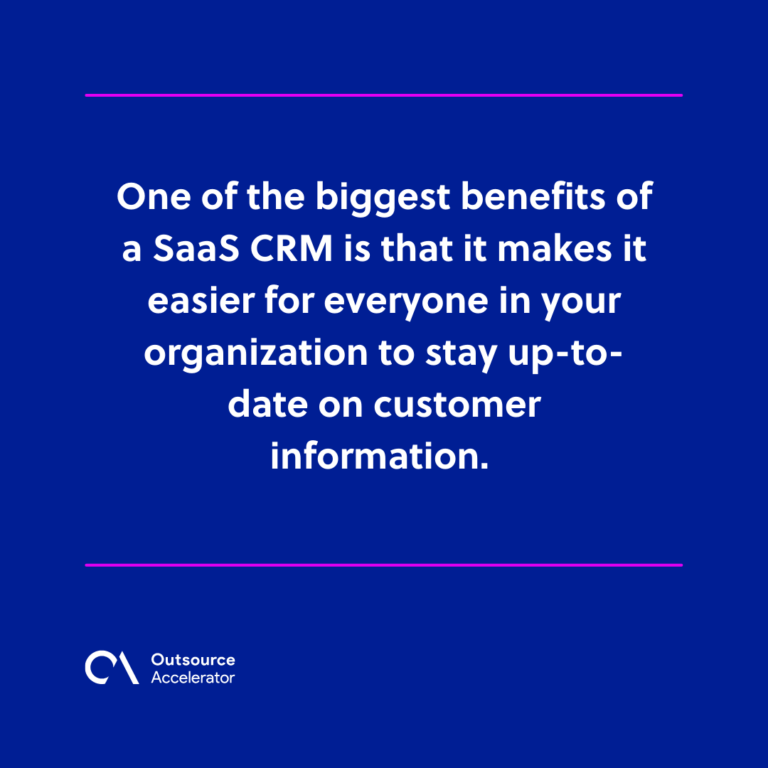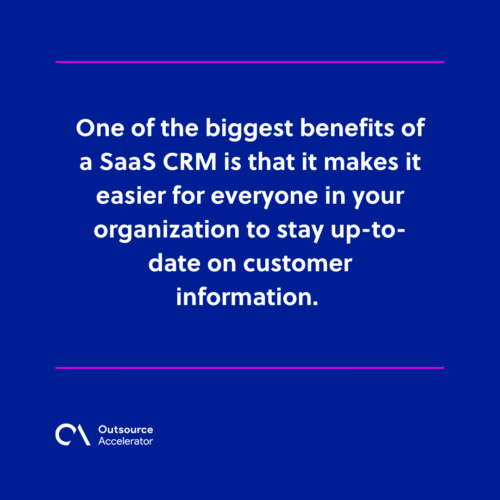 Align your sales and marketing teams 
Sales and marketing teams have traditionally been siloed, with sales focused on closing deals and marketing focused on driving leads. As a result, there is often little collaboration between the two groups. 
CMO Council reports that redefining this relationship is key to enabling new customer-centric purchasing methods.
Sales tend to focus on closing deals, while marketing focuses on nurturing leads and moving them through the sales conversion. A SaaS CRM solution can help bridge this divide by allowing sales and marketing teams to work together more effectively.
Better maintenance, backup, and security
A SaaS CRM is hosted in the cloud, meaning you don't need to worry about maintaining it. The vendor does all the maintenance, software updates, and security measures for you. 
The software is also regularly updated with new features that keep your business up-to-date with the latest trends.
Ultimately, SaaS CRM offers a cost-effective, user-friendly, and efficient solution that empowers businesses of all sizes to unlock the full potential of their customer relationships.