Sales pipeline management: A compact guide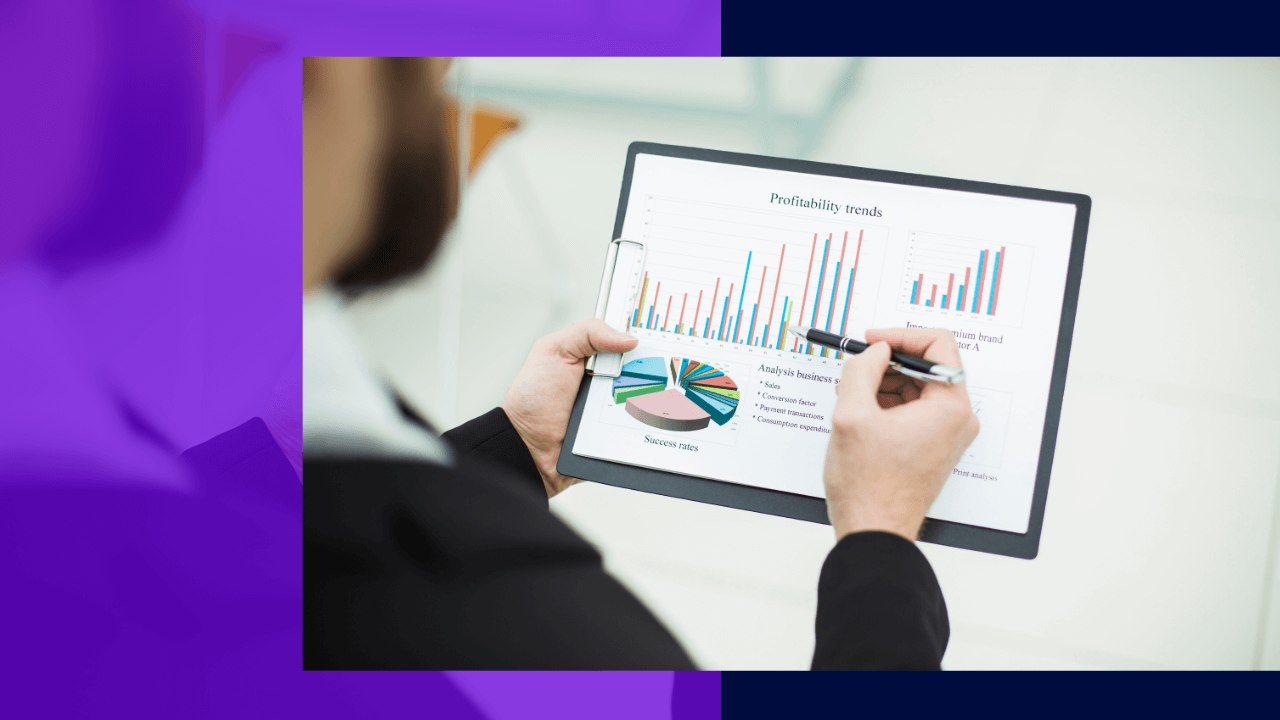 Sales pipelines have long been used to keep track of how far along sales deals are. Managing them takes skill, and businesses must keep in mind that doing so needs data and intuition. 
Good sales pipeline management goes a long way.  
What is a sales pipeline? 
A sales pipeline is a visual depiction of the entire sales process. The pipeline is divided into stages and shows where prospects are in their journey. 
Similar to the sales funnel[1], the unique point of a sales pipeline is that it depicts a customer's journey from the seller's point of view. 
Sales reps can use the pipeline to see how many deals they can expect to close in a given time period and how close they are to reaching their quota.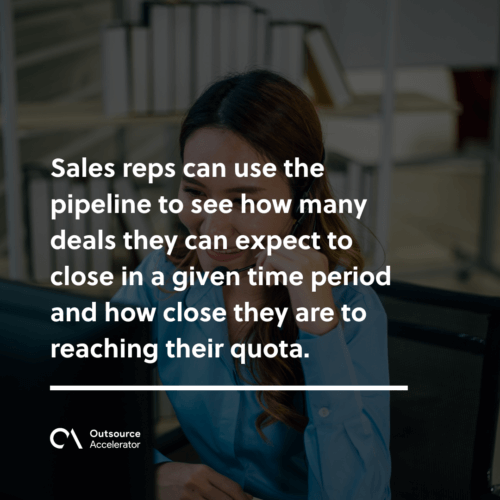 What is sales pipeline management? 
Sales pipeline management is the tracking and handling of every sales opportunity as they go through the sales pipeline stages, ending in a closed deal. 
Organizations use this method to analyze and improve their sales process. 
Sales pipeline management is the job of leaders and managers. They keep it updated, clean of irrelevant information, and focused on the right deals to hit goals and quotas. 
There is a constantly changing market[2], and your sales pipeline must adapt alongside it. 
A well-managed sales pipeline provides a clear insight into how well the sales process is working and where changes can be made.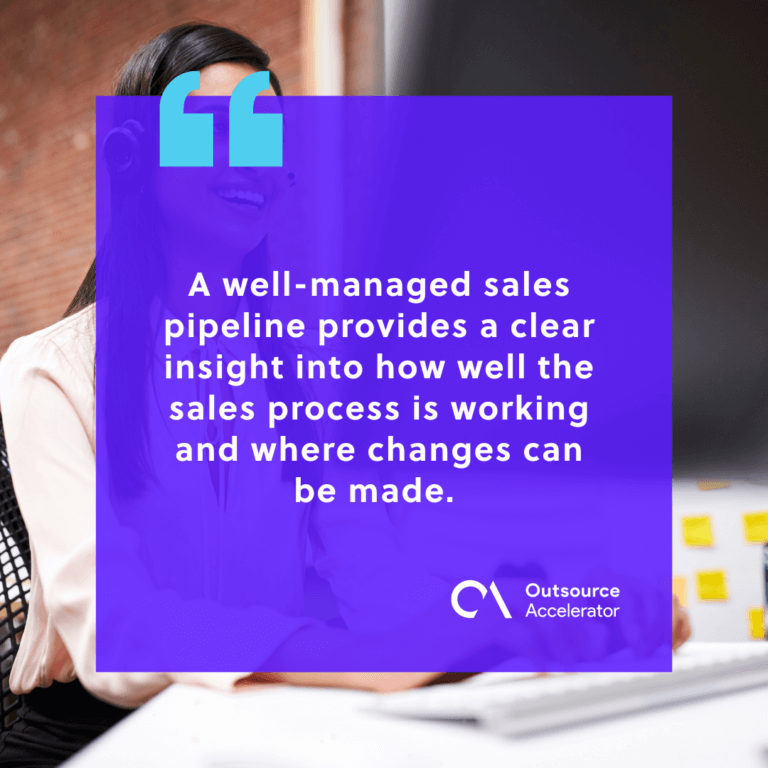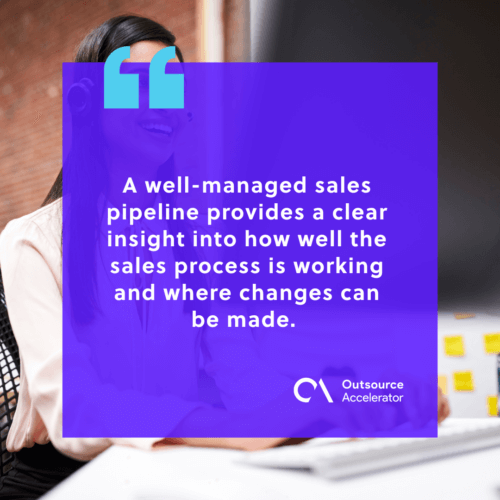 Stages of a sales pipeline
A sales pipeline consists of stages that outline the journey a prospective customer takes from the sales team's perspective. 
Each stage is signified by the action the sales team needs to take at that junction.  
Prospecting and lead generation  
The main objective of this stage is to locate potential buyers who need what you're selling. The marketing and sales teams work together to discover new leads to add to the sales pipeline. 
Marketing campaigns and targeted ads come in handy in this stage as you cast a wide net to let people know what your brand is. 
Qualification
Among the prospects you've generated, qualifying those who are the right fit for buying is the next stage of the sales pipeline. 
This stage is also called the discovery stage or the lead-to-opportunity generation. 
Lead scoring is used to assess and separate prospects. The cold leads are noted for the time being, while the hot leads will be the ones invested in first. 
Contact and proposal
The salespeople make contact with prospects. This can be done over the phone, via email, social media, or through in-person conversations. 
During contact, salespeople present a client services proposal. This specifically focuses on what their business offers, the pricing, and competitive advantages. 
Much of the "sales" aspect of the sales pipeline is visible during this stage. 
Nurturing leads and relationships
The lead is rarely prepared to buy immediately, so lead nurturing is done to build trust. 
Salespeople build comfortable relationships by monitoring communication channels between the lead and themselves. 
Negotiation and close
This stage of the sales pipeline is the most triumphant one for the sales team, as the lead is finally prepared to buy. 
Negotiating a contract can take a long time as both parties work out common ground. 
A deal closes when a contract is signed. The involvement of the sales team formally ends, and the customer is passed on to the onboarding team.
Retention and follow-up
The sales team may occasionally be responsible for customer follow-ups to make sure they're content. Focus is now also given to contacting cold leads.  
Essentials of sales pipeline management 
Sales pipeline management is all about maintaining and monitoring the health of your pipeline. 
Now that you've understood the stages, below are several essentials to remember to manage it effectively:
Key metrics
A variety of sales pipeline metrics can be used to analyze the sales process. For efficient sales pipeline management, it's best to select the most important key metrics to focus on. 
Some of the more common metrics to consider are: 
Deal size

– With the data from previous deals, an average size can be calculated. Compare this with the current number of deals in the pipeline, and you get a measure of the potential for closing deals of different sizes. 
Number of closed deals vs number of leads

– Knowing the ratio of qualified deals to the number of closed deals informs you which stages to pay attention to currently.
Deal velocity

– This describes how fast a deal goes through the sales pipeline. Deals that stay longer have a less likely chance of conversion. Increasing deal velocity also increases productivity.
Forecasting
Sales pipeline management gives you data that makes it possible to forecast and predict deals. With your metrics, you can see how close you are to a sale and its potential revenue. 
Salespeople start by tracking their sales process and goals, then take into account certain information. These include product costs, lead costs, potential market, price fluctuations, and finally, pipeline and conversion rates. 
Sales team management
Your business isn't going anywhere if there aren't people moving it. Sales pipeline management also involves overseeing the sales reps' actions so that they make the most of the sales process.  
Optimization
Well-managed sales pipelines allow you to evaluate and optimize your sales process at every stage. This information leads to improved productivity and increased revenue at the end of the cycle. 
Tool integration
Today, many types of sales pipeline management software and integrations are designed to induce the best performance from your pipeline. 
Some of the most highly rated include Zoho CRM, Pipedrive, and Salesforce Essentials. 
Reports and reviews
The sales pipeline should be occasionally reviewed so that you only get reliable and updated data when you need it. 
References
1. Sales funnel. Patterson, L., 2007. Marketing and sales alignment for improved effectiveness. Journal of digital asset management, 3(4), pp.185-189.
2. Changing market. Barile, S., Saviano, M. and Caputo, F., 2014. How are markets changing? The emergence of consumers market systems. ADVANCES IN BUSINESS MANAGEMENT. Towards Systemic Approach, p.203.