A quick guide to remote employee termination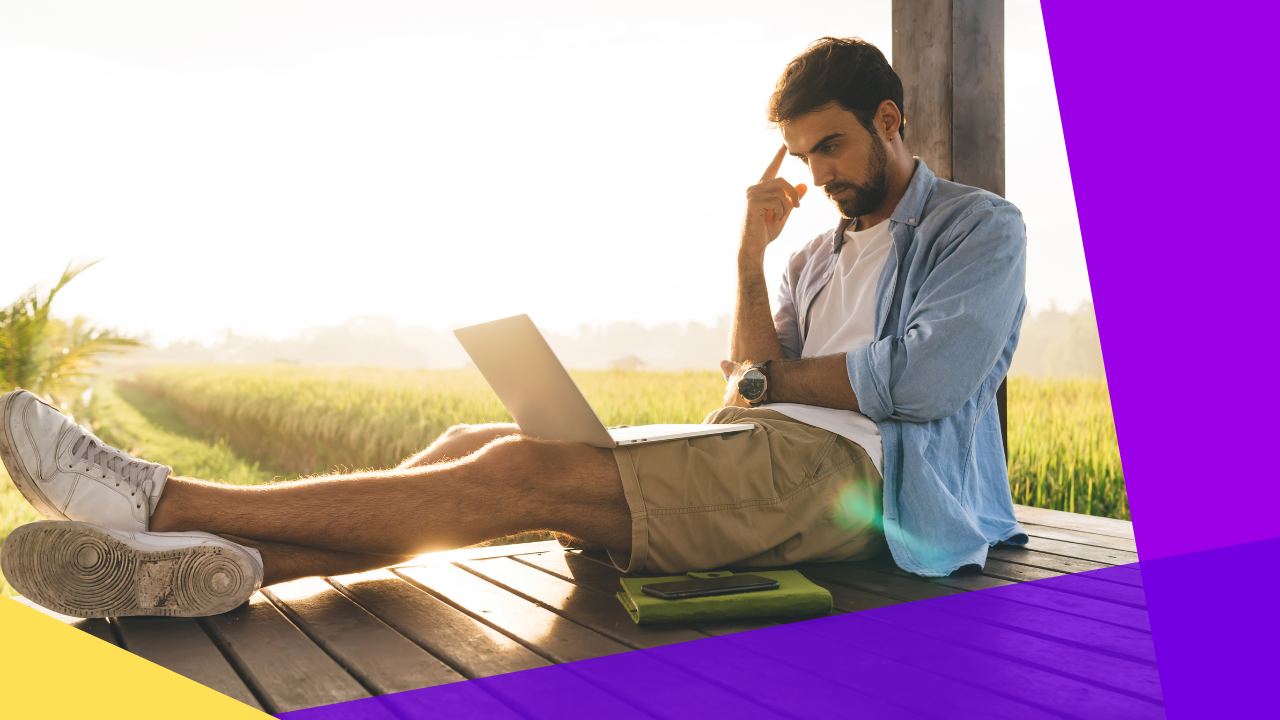 The last few years have accelerated the rise of the digital workplace. Employees can be hired from anywhere in the world, opening up a new pool of talent for companies to access. 
However, part of this process includes remote employee termination. You may realize a remote employee is no longer a good fit for your company or they violated company policy. You'll need to know the proper steps to take when terminating.  
Reasons for remote employee termination 
Here are a few of the most common reasons for terminating a remote employee. 
Poor performance 
The most common reason for terminating a remote employee is poor performance. This can be due to a variety of factors, including lack of work ethic or ambition.
Most companies have clear expectations for their employees, including what is expected in terms of work hours and productivity. If remote employees consistently fail to meet these expectations, they will likely be terminated.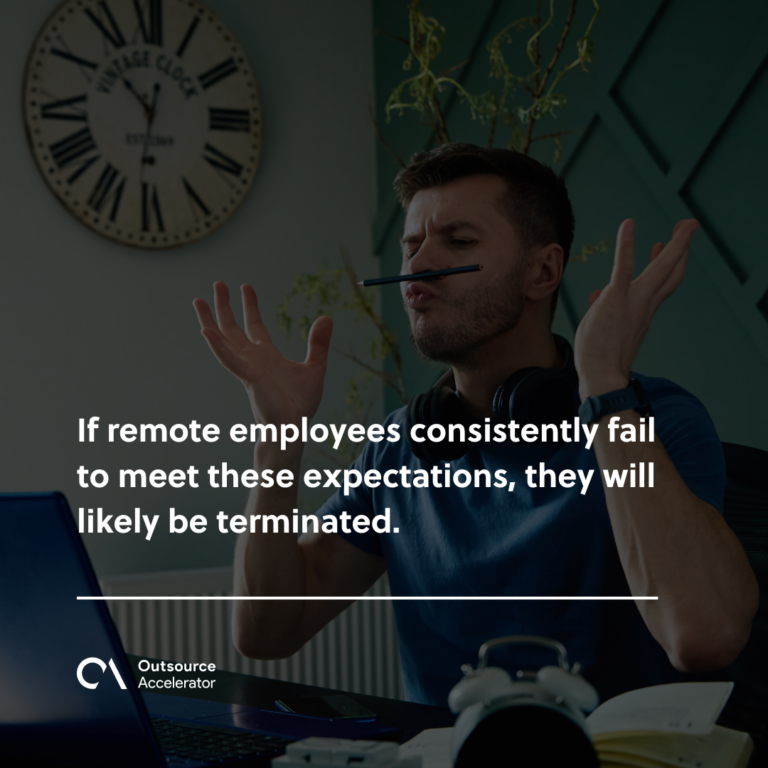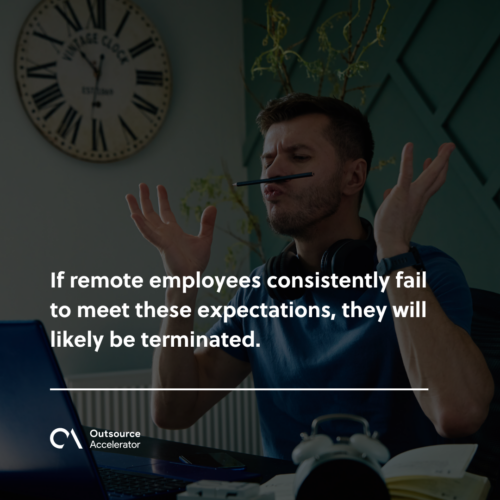 Misconduct 
The employer may have good reason to terminate a remote employee for misconduct. If you terminate the employee, ensure that you can document their actions and that there is no other way to deal with the situation.
Misconduct includes theft, fraud, dishonesty, and criminal convictions and violations of company policies. If the misconduct occurred during business hours, termination is considered fair game. 
Insubordination
Remote workers who don't follow instructions can be problematic. Insubordination can lead to errors, lost time and money, and frustration on the part of your company and other employees.
Insubordination is not tolerated in any workplace. If a remote employee refuses to follow orders or professionally speak with management, that employee can be terminated.
Steps of a remote employee termination
Consider these steps should there be a need for you to terminate a remote employee. 
Gather all relevant documentation 
Make sure that you have all documentation needed to support your decision before terminating a remote employee.
You want to be able to provide evidence if necessary that supports your decision as well as show that all possible legal actions were taken. 
Gather any documents that relate to the remote employee's contract. This includes:
Employment contracts

Wage slips

Performance reviews

Any other documentation that proves they were hired or promoted within the company
You will need to send out a termination letter, which should be written as professionally as possible and include the reason for termination.
If the remote employee is being terminated for cause, you should also have copies of any evidence that supports your claim.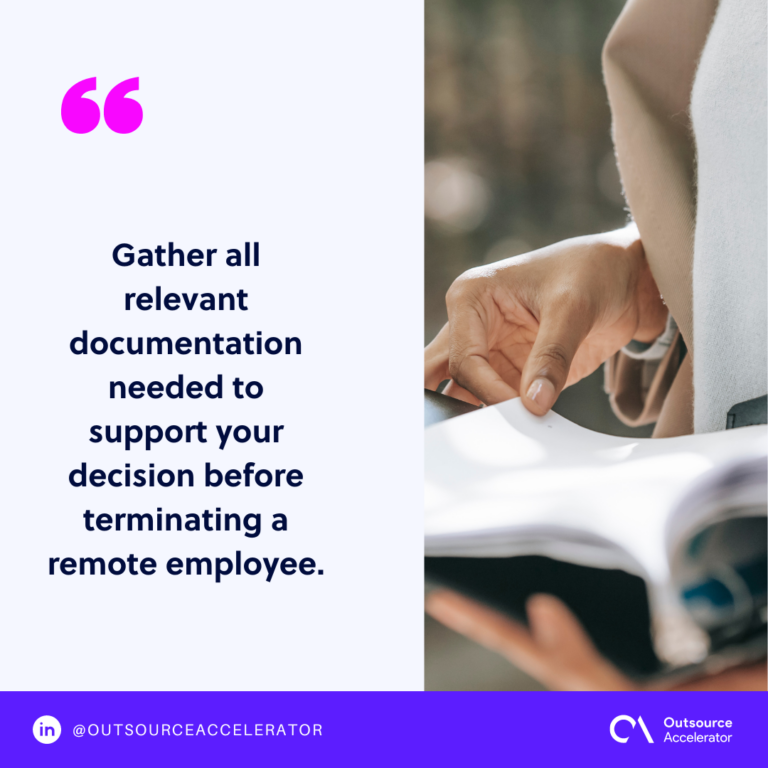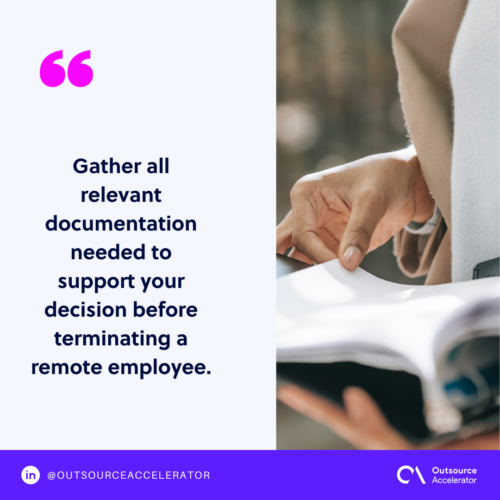 Ensure compliance with local laws
When terminating a remote employee, you should be aware of the laws that apply to the situation. Depending on where the employee is located, different laws may govern how much notice must be given before termination. 
In some cases, these laws are more strict than many American companies follow. Longer periods of notice and severance pay may be required, for example. 
Contact your HR department or legal counsel before issuing a termination letter to your remote employee. If necessary, update your employment agreement and handbooks to include specific language about how you will handle terminations in the future.
Determine who will be present for the meeting 
If multiple are people involved in the decision-making process, it's a good idea to include them all. You should also include any HR staff or managers who may need to assist with any paperwork or documentation.
Who is present can vary depending on your company's policies and procedures. If you're terminating multiple employees, you may want a single representative from HR or legal to follow up with each individual separately afterward.
In some extreme cases, it may be appropriate for a third party like an attorney or union representative to join the meeting.
Choose a reliable video conferencing platform 
The most important aspect of terminating a remote employee is making sure that they understand what's going on. Therefore, it's best to stick with a platform that allows for clear communication. 
The video conferencing platform you choose should have the following features:
HD video quality

A reliable connection

An intuitive interface

The ability to record the call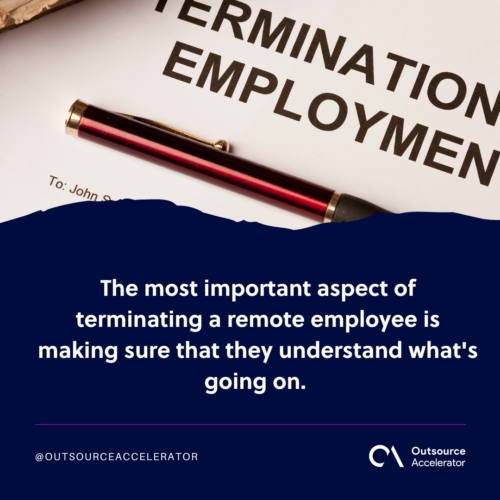 Explain clearly the reasons for termination   
Explain how the remote employee's performance has affected your business. If other factors contributed to their poor performance, address those as well. Be direct and honest. 
Include specific examples of their performance – not just general statements like "you weren't meeting our expectations." If there are legal ramifications, include those details in your explanation.  
What to do after a remote employee termination
Just like when terminating a regular employee, proper offboarding should be observed. This checklist may be helpful to go through. 
Have the IT department disconnect all the remote employee's company access

Coordinate with the remote employee for the return of any company equipment

Notify administrators for any benefits plan

Give the remote employee their final paycheck

Instruct your HR team to answer any questions or concerns
Build a solid offshore team with Remote Employee 
It can be intimidating to outsource remote employees. But if you're looking to build a capable offshore team, look no further than Remote Employee. 
You can find workers fast and affordably with Remote Employee's outsourcing solutions. Their hires are selected from the skilled talent pool offered by the Philippines, which has an educated workforce with an aptitude for English.
And if you do need termination services, their HR assistance can handle it as well. Contact Remote Employee today.