Performance review questions employees should know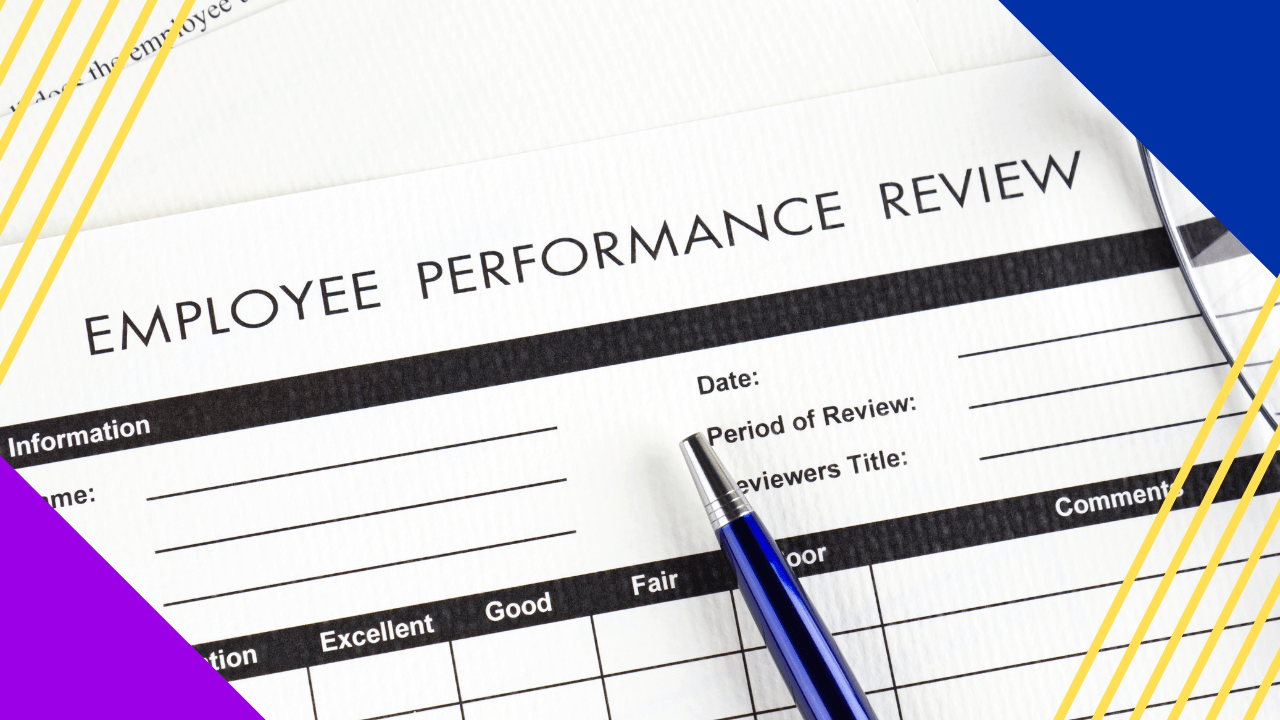 Performance reviews are a daunting yet fulfilling aspect of a professional's career. Key achievements and progress are celebrated while lapses are fleshed out for a concrete plan to be laid out. 
Regardless of how one views performance review, it is a vital process that ensures the company is satisfied with the performance of its employees. 
At the same time, it is a perfect opportunity for employers to express their gratitude to exemplary employees by giving them bonuses and incentives. 
Meanwhile, business units determined to be underperforming will be given constructive insights and best practices to optimize their performance. 
Many perceive performance reviews as a periodic affair. Only a few understand the other aspect of it – which is to gain an opportunity to be more and get recognized by their leads. 
In this article, opportunities to explore during the performance review cycle will be discussed. Through the most common questions to know what to do after a review process, employees can get a better handle on how to seize this opportunity. 
What is a performance review?
A performance review is a formal process where managers evaluate their subordinates through a set of performance metrics. These metrics are defined based on the nature of their responsibilities as well as the values and goals of the organization.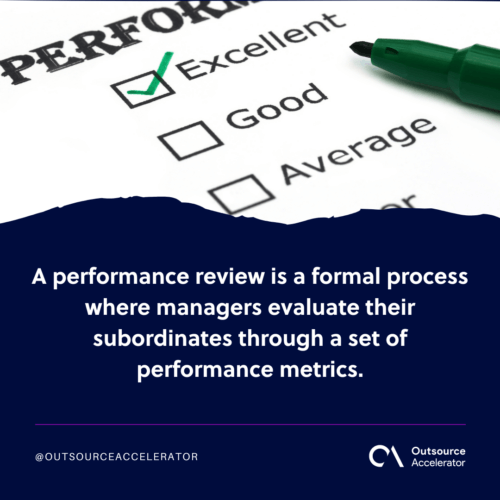 Normally, performance reviews are conducted through a questionnaire prepared by the HR Department along with department leads. These questionnaires relate to the performance of their job and how the values of the company are reflected in their work. 
Employees rate themselves from 1 to 5, the latter being the highest. Using a determined formula, the performance rating is deduced, which then signifies the numerical value of the employee's contribution to the company. 
How often is a performance review conducted?
The frequency of performance reviews is hugely dependent on the industry and type of  business. Some enterprises observe annual performance reviews, while multinational corporations conduct quarterly reviews to ensure that employees are well-aligned with their goals. 
Meanwhile, the management can quickly assess the overall performance of the organization. It can implement mechanisms and strategies to improve the situation, or it can realign its goals by seeing potential opportunities mid-way through the business year. 
Who is involved in the performance review process? 
The HR department is the main actor in the entire process of performance management. It initiates the commencement of the process and creates the analysis in the final steps.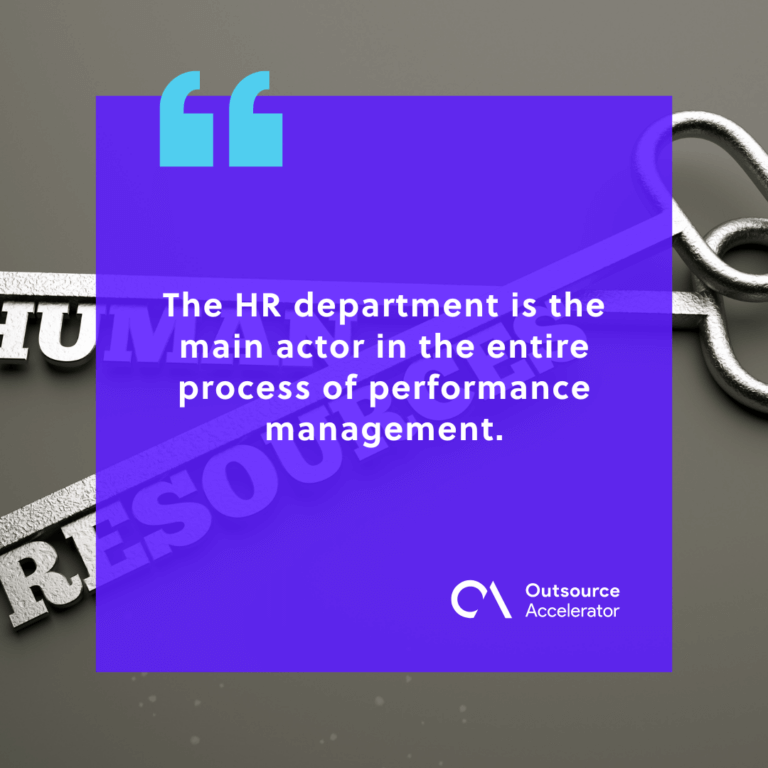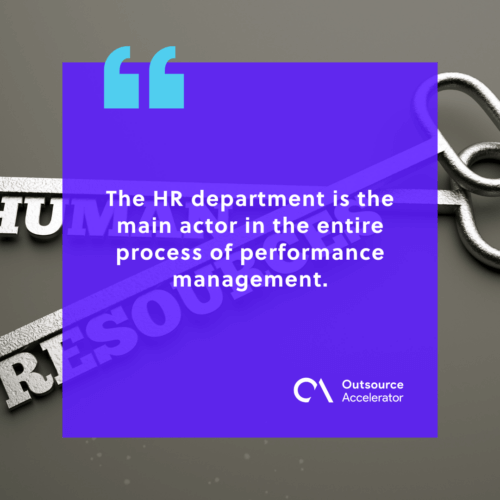 Alongside the HR department are the different departmental heads, managers, team leaders, and supervisors who assume leadership positions in the organization. They evaluate their juniors, peers, the company, and themselves. 
The performance review process is not a one-sided affair. Employees are given the opportunity to voice out their opinions, highlight their achievements, and bring to light any suggestions they have for their heads and the organization. 
In this way, the entire performance review process is a dynamic, collaborative organizational affair that seeks to bring out the best practices of different teams and addresses matters that fall behind the threshold of excellence. 
Performance review questions to know
There are a lot of excellent questions that can be asked during the performance review process. From strengths and weaknesses to areas for improvement, down to expectations setting. However, all of these are common and repetitive. 
It is a given that employees will grow in their careers. Employers prefer this characteristic, but loyalty makes an employee more desirable and most likely to be promoted or get additional benefits.
Hence, during the performance review process, questions about their contribution to the company's future are more strategically preferred. 
Below are some of the questions that relate to a sense of loyalty:
Is there anything I can do to support my teammates more effectively?

Does the company offer career advancement opportunities?

Are there any additional projects or tasks I can work on?

Which business goals are currently being pursued?

In what ways do we plan to overcome the biggest challenge facing the company?

How does the business expect to fare in the next year?
What to do after a performance review?
Constructive criticisms can be harsh at times. Employees tend to lack the introspective ability to evaluate and assess their performance and professional development. These suggestions will all boil down to how receptive, and open employees are. 
The important thing is that one has a good understanding of its strengths and weaknesses as well as competencies. Possessing this awareness will help in successfully absorbing these criticisms and turning them into desirable behaviors employers will look into. 
On the other hand, employees can also choose to celebrate. More often than not, performance reviews are catalysts for promotion and additional benefits. Be it across the board or employee-specific alone, it is a good opportunity to increase the loyalty and satisfaction of employees. 
Meanwhile, for the management and leadership, these reviews allow them to review their leadership branding. Lapses identified can be further improved and borne out from the suggestions of employees.
It is an ideal time as well to reassess the goals and direction of the organization. From it, tweaks can be made for the consistent growth of the enterprise.