Relationship manager: Fostering strong client relationships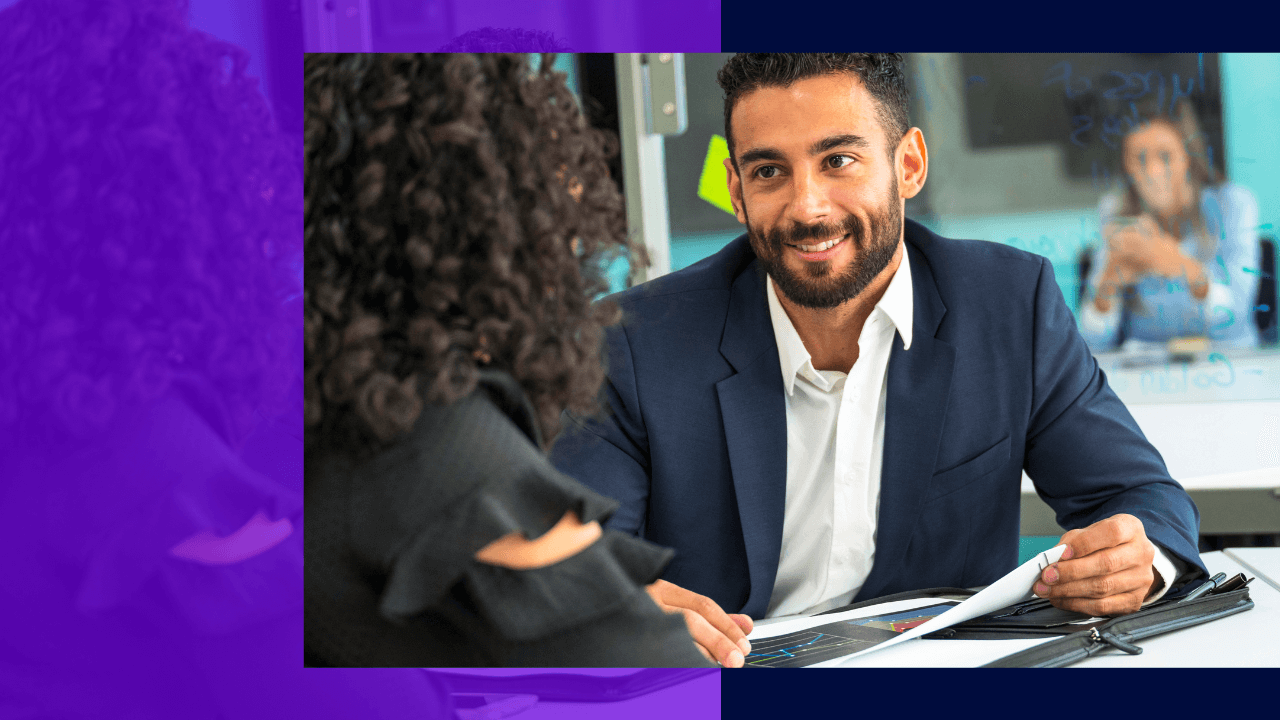 As human beings, relationships are an inherent part of our lives. The same applies to businesses, as relationships are essential to their growth and success.
Building and managing relationships is vital in today's competitive market. Findings from McKinsey show that relationships (especially involving management) are a huge factor in business growth and success.
This is why a relationship manager exists.
This article will explore a relationship manager's significance, role, and required skills. We'll also learn why hiring one can benefit your business.
What is a relationship manager?
A relationship manager handles long-term bonds with clients, partners, suppliers, investors, and other stakeholders.
Relationship managers focus on building strong and mutually beneficial alliances with stakeholders. They do this by understanding their needs and providing tailored solutions.
Types of relationship managers
Different types of relationship managers specialize in managing associations in various areas. Below are some of the most common classifications:
Client relationship manager
A client relationship manager focuses on building and maintaining connections with individual clients. They are responsible for:
Understanding the customer's goals

Addressing client concerns

Ensuring overall

customer satisfaction

with the company's products or services
Business relationship manager
Business relationship managers specialize in taking care of relations with other businesses. They work to:
Establish mutually beneficial partnerships

Negotiate contracts

Identify new opportunities for collaboration
A business relationship manager is critical in expanding the company's network and enhancing its reputation within the industry.
Sales relationship manager
A sales relationship manager is responsible for linking with key accounts and driving sales growth.
They work closely with the sales team to:
Identify potential clients

Develop strategies to win new business 

Maintain ongoing relationships with existing clients
Sales relationship managers possess strong negotiation and communication skills to address customers' needs and close deals.
Supplier relationship manager
Supplier relationship managers focus on correspondence with the company's suppliers. Their duties include:
Ensure the timely delivery of goods and services

Negotiate favorable contracts

Address any related issues or concerns that may arise
A supplier relationship manager optimizes the supply chain and eases a steady flow of resources for the organization.
Partner relationship manager
Partner relationship managers nurture and expand the firm's relationships with strategic partners. They work closely with collaborators to:
Identify joint business opportunities

Develop co-marketing initiatives

Enhance teamwork and partnerships
Investment relationship manager
Investment relationship managers cater to the needs of high-net-worth individuals or institutional clients. Their functions include:
Providing personalized investment advice

Developing customized

wealth management

strategies

Making sure customers' financial objectives are met
An investment relationship manager has deep knowledge of financial markets and investment products to offer comprehensive guidance to their clients.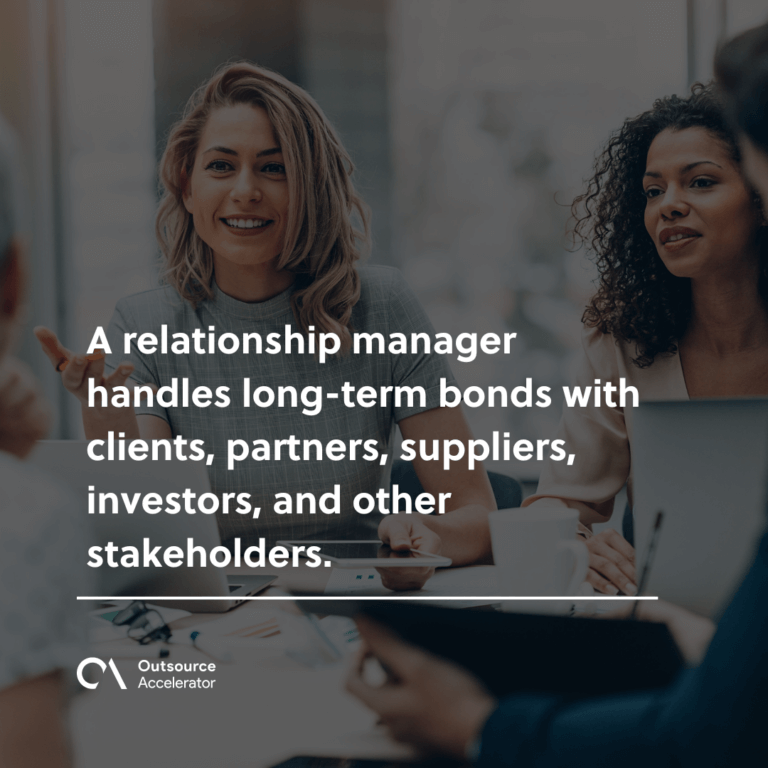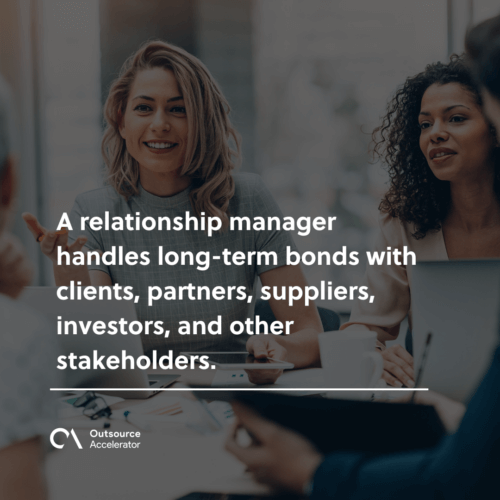 Responsibilities of a relationship manager
A relationship manager is in charge of many things that foster and maintain strong bonds. Some of their key responsibilities include:
Building rapport and trust

with clients and collaborators through effective communication

Understanding the needs of everyone involved in the enterprise

Proactively identifying opportunities to add value and exceed expectations

Developing relationship management strategies for customers and stakeholders

Providing personalized assistance and support to address concerns and inquiries

Collaborating with internal teams to ensure timely and accurate delivery of products or services

Monitoring and tracking client satisfaction levels and taking corrective actions when necessary

Conducting regular business reviews to assess performance and identify areas for improvement

Keeping abreast of industry trends, market conditions, and competitors to provide relevant insights and recommendations

Continuously developing and enhancing relationships through networking and relationship-building activities
Relationship manager requirements and skills
To find an excellent relationship manager, certain requirements and skills are preferred:
A bachelor's degree in Business Administration, Marketing, or Communications is usually a minimum requirement

Strong interpersonal and communication skills to effectively engage with customers and internal stakeholders

Exceptional problem-solving and decision-making abilities to address concerns and find suitable solutions

Proactive and self-motivated approach to identifying opportunities and taking initiative

Excellent organizational and time management skills to handle multiple relationships simultaneously

In-depth knowledge of the company's products, services, industry trends, and best practices

Proficiency in using

CRM

systems to track client interactions and manage relationships

Ability to work collaboratively with cross-functional teams and build internal networks

Resilience and adaptability to navigate challenges and maintain composure in demanding situations

Having strong business acumen and a strategic mindset. This lets a relationship manager identify growth opportunities and drive business results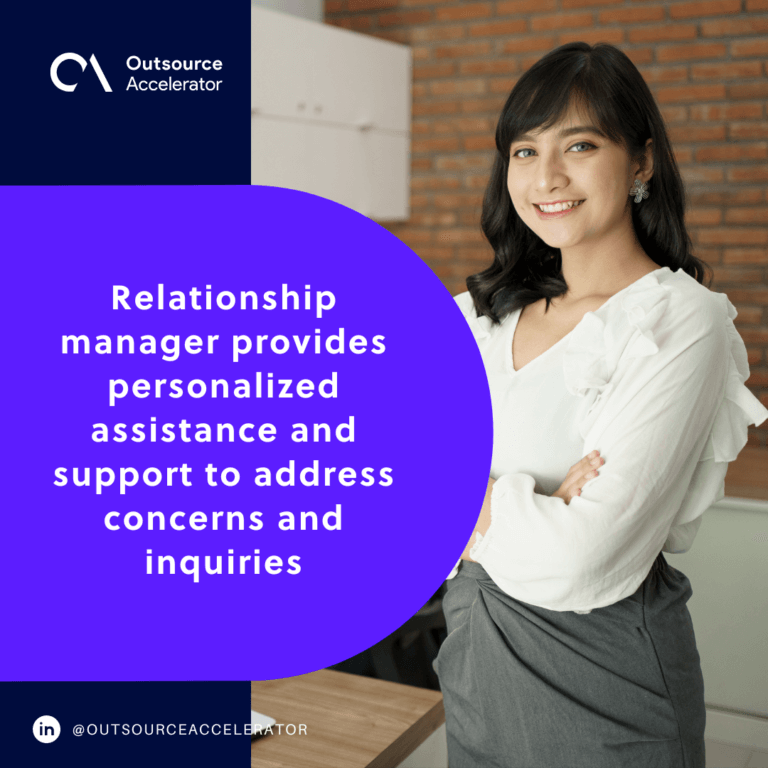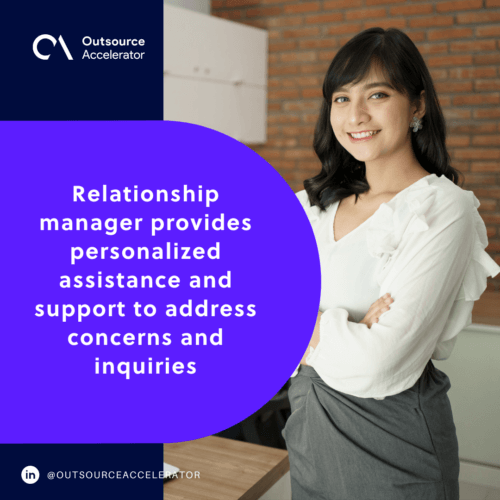 Why your business needs a relationship manager
A relationship manager allows businesses to maintain strong relationships with their stakeholders. They are essential in ensuring repeat business, customer retention, and loyalty. That's because they're tasked with managing everyone's needs and expectations.
Relationship managers also provide that human connection we expect. They provide a means to create memorable experiences for anyone interacting with the company.
Further, these professionals help expand customer bases, increase customer satisfaction, and create better brand value.
By nurturing strong relationships, enterprises can access new markets, improve their products and services, and increase their revenue streams.