Your guide to real estate outsourcing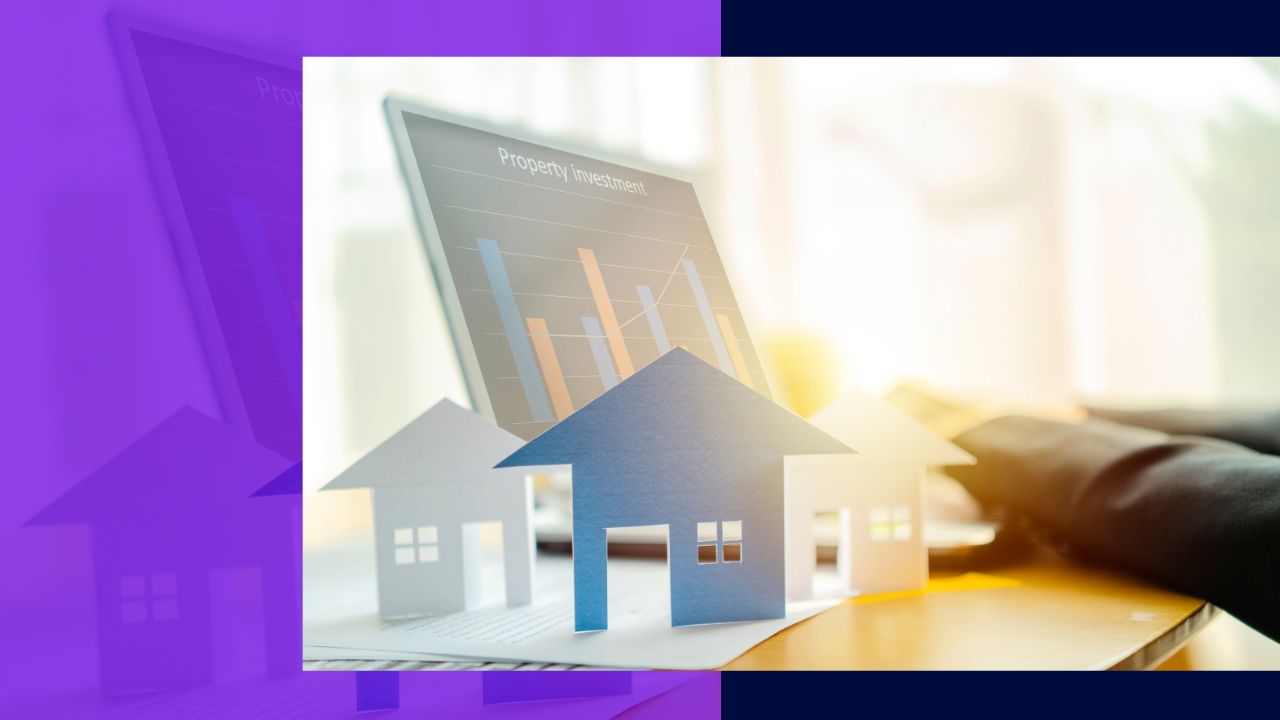 Your guide to real estate outsourcing
Buying, selling, or even running real estate can be expensive if you do it all yourself. Many people think that realtors make all the money in real estate.
This is not always true. In fact, large firms struggle with long holding periods, which add to the cost. However, most real estate investors don't realize that there are companies out there that will handle these duties at a low cost.
With real estate outsourcing, companies no longer need to worry about paperwork, so they can free up more of their precious time to focus on business growth and expansion. 
Premier outsourcing firms like The Remote Group offer world-class real estate expertise for businesses, allowing them to focus solely on increasing revenue. 
How real estate outsourcing works
Real estate outsourcing is a process of leveraging technology, human capital, and expertise to manage real estate roles. This can be done by engaging a third-party service provider specializing in property management or real estate. 
The real estate outsourcing industry is growing at an accelerated pace. More and more people are looking to outsource the management of their real estate portfolios. 
According to Deloitte's outsourcing report, 12% of businesses outsource real estate and facilities management. 
Here are some of the real estate activities that can be outsourced:
Property management

Leasing services 

Rehabilitation services 

Mortgage broking and loans

Marketing 

Admin support 

Accounting 

Legal services 

Resale value analysis 

Investment advisory services

Real estate VA
There are many excellent reasons to farm out real estate services, but they all boil down to lower costs, reduced liability, and better results.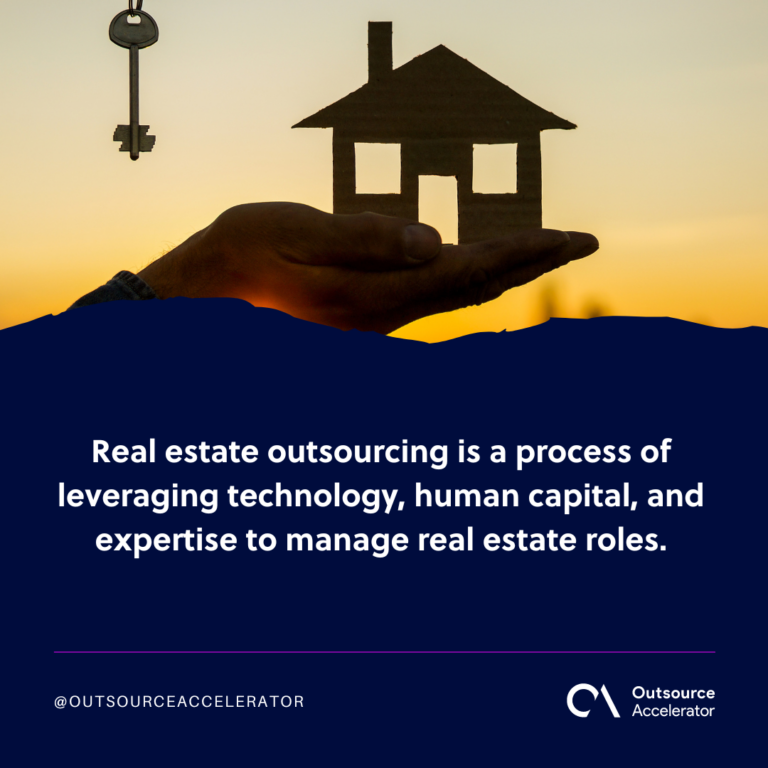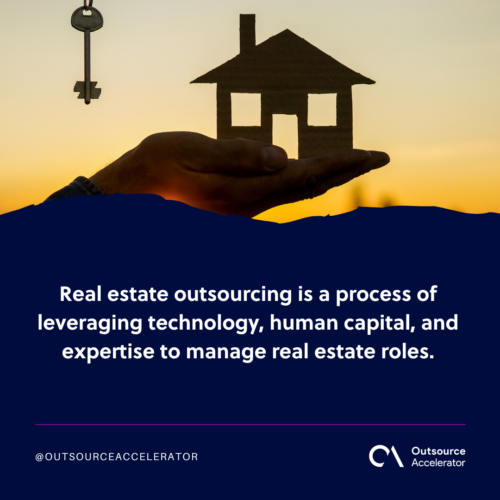 When is the right time to acquire real estate outsourcing?
Whether you're a real estate professional or a real estate investor, outsourcing real estate tasks can be a viable option to meet your business needs.  
Here are four signs that might tell you it's time to consider outsourcing:
Your employees are performing multiple roles
Real estate professionals often perform more than one task. This is true because they have such diverse skills. 
However, if agents act as brokers and associates, they likely don't have enough time to do their best work. If these employees spend more than half their time on tasks that aren't related to the job, this can lead to stress and burnout.  
If it describes your business, it may be time to consider outsourcing your real estate processes. This will help you focus on one property's operations while offloading other tasks to a third party.
You lack time for proper strategizing and assessment
If you find yourself spending most of your time on daily tasks, then you may want to consider real estate outsourcing. 
While these tasks can be very rewarding, they can also be incredibly time-consuming, requiring a great deal of effort and dedication to be done right. 
Real estate outsourcing will free up your time to focus on the bigger picture, like marketing campaigns and long-term strategies for growth.
Customer satisfaction is slipping
Customers are always looking for better service from their vendors. When customers start complaining about poor service, it's time for action. 
Lack of communication can lead to lost clients and revenue, so keeping an eye on customer satisfaction metrics is important. If your customers are starting to complain and aren't happy with how things are going, it may be time to acquire help from third-party experts. 
You do not see results
If you do not get results with the strategies and tactics you are using right now, then it might be time to look for new ways of doing things.
Usually, not making money or not seeing enough leads coming in means there might be something wrong with the marketing strategy or approach. 
With real estate outsourcing, you can ensure that whatever service or product you sell is profitable enough to cover any associated costs.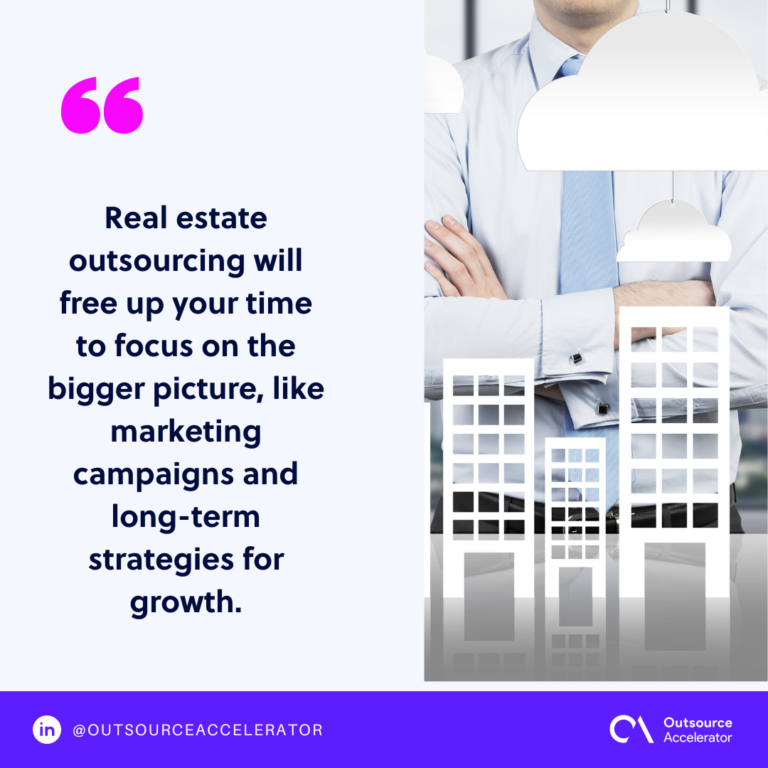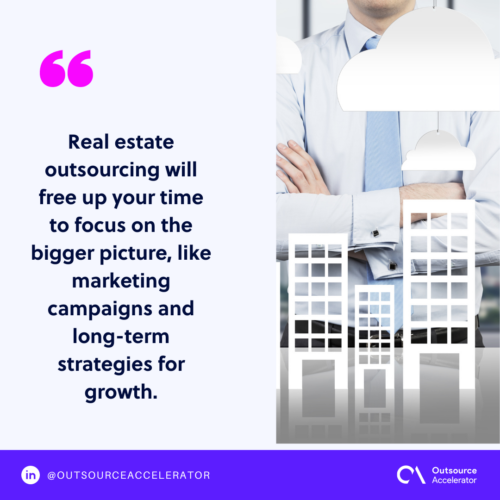 Why should you consider real estate outsourcing? 
Outsourcing real estate services can help you focus on your core business while freeing up valuable resources for other projects. 
Here are the primary benefits of real estate outsourcing:
Cost optimization 
If you want to grow your business but lack enough budget, outsourcing is an effective option. 
According to the Global Strategic report, 86% of corporate real estate firms already outsource their business processes to save costs.
By outsourcing some of your tasks, you can optimize costs while maintaining high-quality standards in other areas, such as customer service, maintenance, and management.
Access to industry experts 
Outsourcing lets you tap into global experts with years of experience. Such professionals will have all the knowledge about how this business works. These professionals are also always up-to-date with the latest laws, regulations, and trends in the real estate sector. 
Increased quality and efficiency
Real estate outsourcing offers superior quality of service to clients through increased efficiency and consistency. 
Businesses that outsource their real estate can spend more time on their core business activities. This means higher quality marketing materials and better results for their clients.
Outsource real estate roles through The Remote Group
Real estate outsourcing can help make your business more resilient against market changes and other risks that could threaten your success. If your knowledge of real estate is limited, it could be difficult to adapt when things change in this industry. 
The Remote Group understands the challenges you face daily. Partnering with The Remote Group allows you to work with seasoned real estate professionals at a fraction of the cost of hiring in-house staff.
Get in touch with The Remote Group today for first-rate real estate services!