Top 6 quick hire remote jobs in 2024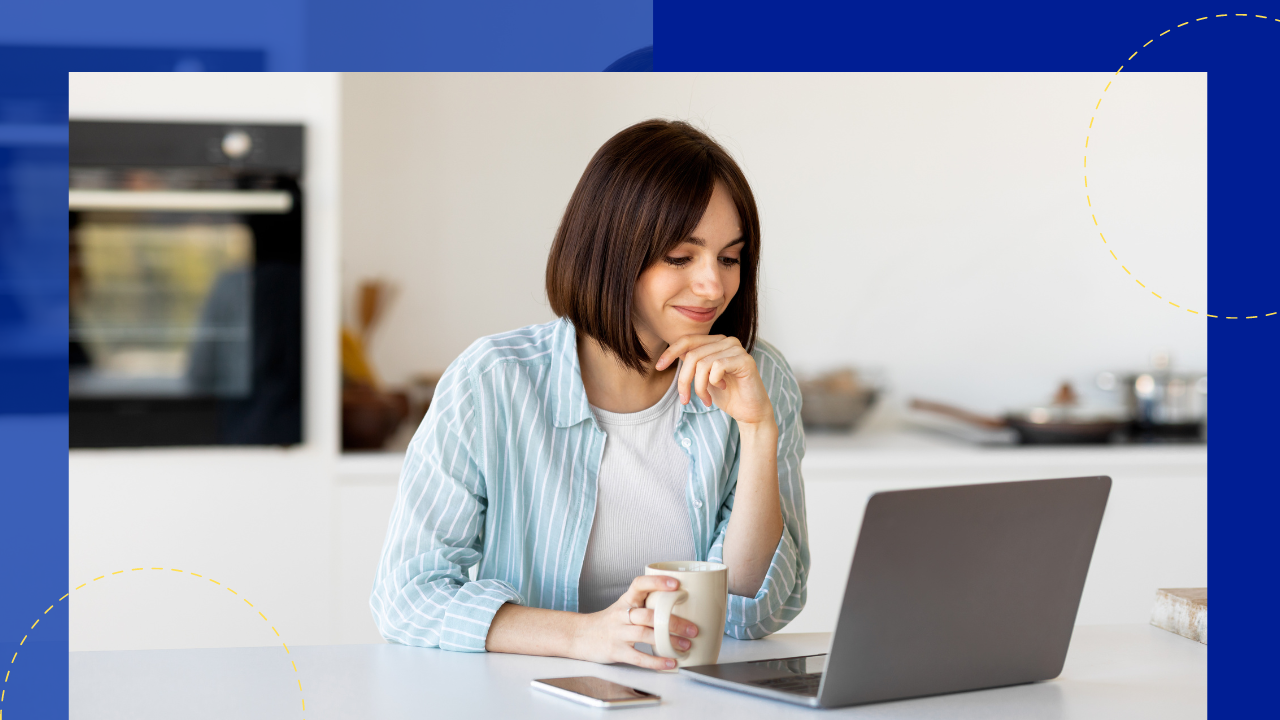 The best quick-hire remote jobs in 2024
Quick-hire remote jobs, more commonly known as work-from-home (WFH) jobs, have increasingly become commonplace among industries. For the past years, more and more companies have transformed or adopted remotized jobs into their work infrastructure. Naturally, the IT sector is among the first to embrace remote work. However, other industries, such as marketing, accounting, and finance, soon followed.
What started as a precautionary measure against the pandemic quickly became a work trend widely supported by organizations worldwide. In fact, a Growmotely study showed 74% of professionals are expecting remote work to become the norm. 
The same study supports the notion that most employees (97%) are more interested in quick hire remote jobs or at least ones that offer a degree of flexibility. Knowing these employee sentiments can help employers attract and retain the top talents in their fields.
Read on below to learn more about the quick hire remote jobs currently trending in the market and what employers are looking for when hiring remote workers.

What are remote jobs?
As stated earlier, remote jobs are any jobs done remotely, as opposed to being executed in an office setting. However, the most common location for employees to do remote jobs is in the comfort of their homes. Thus, remote jobs have become synonymous with work-from-home, virtual, and home-based jobs.
Due to the benefits associated with working remotely (e.g., reduced operational costs and improved output quality), many job seekers prefer searching for quick hire remote jobs over entirely on-site work. The advantages of remote work aren't for employers only – remote workers gain many benefits too!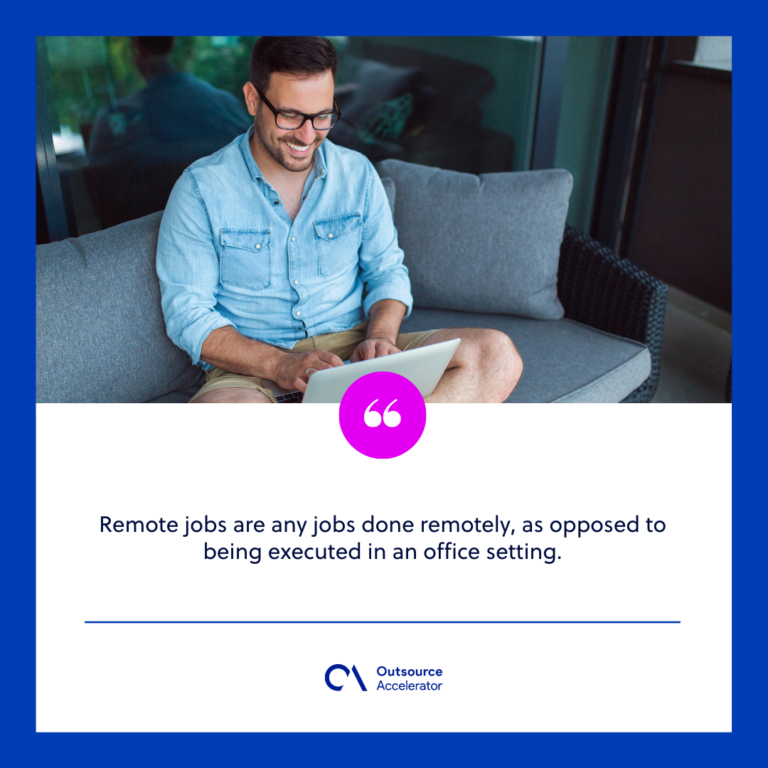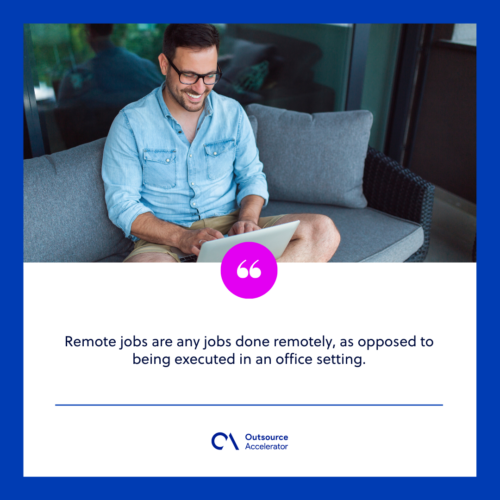 Some of the benefits afforded to remote workers include:
Better work-life balance

More flexibility

Save time and money (from commutes or renting to live near their work)

Comfortable environment

Less office politics
There are different classifications of remote jobs. These are:
Freelance work
Freelancing is a type of remote work where the worker isn't contractually bound to their present employer. Typically, freelancers peddle the skills where they excel (e.g., content writing, graphic design, or software development) for one-and-done projects.
Similar to contractual employees, employers may re-hire a freelancer's services. The difference between the two is that employers can terminate freelancers during a project's course, while contractual employees are guaranteed employment until the end of their contract.
Work-from-home
Work-from-home (WFH), as the name implies, means employees do their work in their homes (or wherever they're most comfortable).
While freelancing can technically be considered working from home, WFH is usually used for contractual or permanent job positions.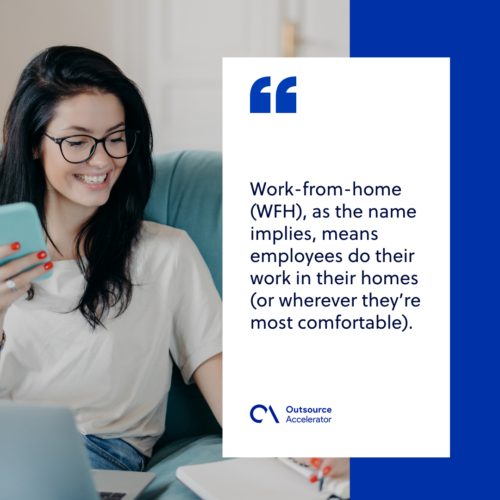 Hybrid setup
A hybrid setup pertains to an arrangement between employees and employers. The parties will set agreed-upon "office days" and "WFH days" (i.e., the employee can work from home on Mondays, Tuesdays, and Wednesdays and be in the office for the rest of the week).
Remote-friendly setup
A remote-friendly setup is similar to a hybrid one. The difference is that the work-from-home days of an employee in a remote-friendly arrangement are not "official."

For instance, employees can work remotely when they need to be at home but still want to report to work (e.g., they have a sick partner or pet). While their employers permit them to work from home when necessary, excessive use of this perk is discouraged.
What employers look for in quick hire remote workers
Filling vacancies for quick-hire remote jobs can be tricky for employers. Determining whether new hires will perform as well as they did in interviews can be even harder when they work remotely. While remote jobs have primarily been only suited for white-collar jobs, technological developments have made remote blue-collar jobs possible.
However, not everyone is cut out for remote work. Some workers possess intrinsic characteristics that employers value, and some, unfortunately, don't. In a Forbes interview, members of the Young Entrepreneurs Council enumerated the characteristics they look for when hiring remote employees.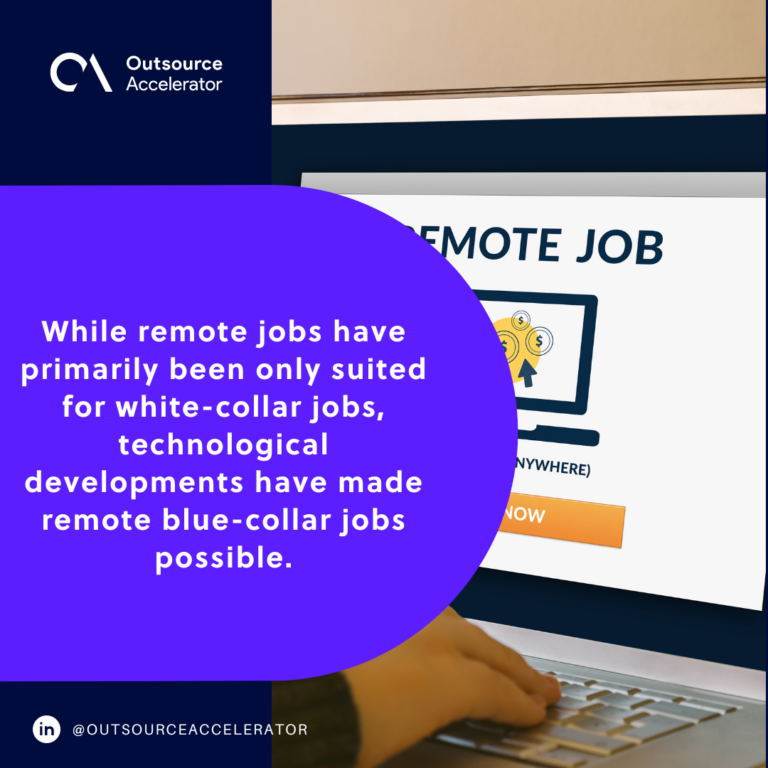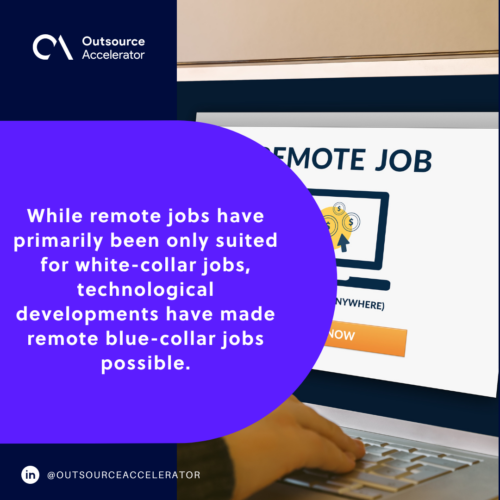 Below are some of these traits:
Values result over processes
Micromanagement isn't an option when it comes to remote work. That's why it's important to have people who can develop detailed action plans for their current projects and be held accountable for these.
Additionally, a result-over-process mindset is essential when working with a remote employee. Employees can be working throughout the day or doing their laundry – but with people who understand that results matter, employers will always get quality work done.
Self-starters
Having initiative is another important characteristic that remote employees must possess. Because they're working outside the office, remote workers won't have a superior nearby to ensure they stay on top of their tasks.
That's why it's essential to find remote employees who can consistently get up in the morning, be productive, and complete their tasks without constant supervision.
Punctual and responsive
Clear communication is a vital part of remote work. Thus, it is imperative for employees applying for quick hire remote jobs to display a strong sense of punctuality and be able to communicate effectively.
Has strong technical aptitude
Workers without an aptitude for technical knowledge and skills can hinder the productivity and success of a remote team.
In contrast, people with good technical aptitude will do well in remote setups for several reasons.
For instance, they won't need constant mentoring and can be trusted to handle tasks independently. They have self-motivation to learn and can be counted on to overcome obstacles by relying on their innate capabilities.

6 quick hire remote jobs in 2024
Today, working remotely is no longer a job perk employers use to make job postings more attractive. Instead, the numerous quick hire remote jobs offered on various job posting sites are considered the default.
With employers competing for top talents, offering the most sought-after remote positions can give them an advantage over their competitors.
Below are some of the top trending quick hire remote jobs from various industries:
1. Customer service representative
Customer service is an in-demand role across different sectors. Cloud technology and other technological advancements have enabled employees to work remotely as customer service representatives (CSRs).
Working at home as a CSR can be more comfortable for employees and less distracting as they are away from the hundreds of other agents handling calls simultaneously.
2. Software developer
Software developers are well-suited for remote work, provided they have a strong internet connection.
Remote working can be helpful for developers as they can focus better on their tasks without office distractions (e.g., coworkers talking and other background noise). Being remote doesn't hinder their effectiveness, as almost all software developer tools are virtual.
3. Accountant/Bookkeeper
Accounting and bookkeeping services are no longer bound to offices by massive paperwork. As many accounting tasks are now done using computers and cloud-based solutions, accountants and bookkeepers can operate remotely.
However, some accounting positions (e.g., financial auditors) are more suited for a hybrid setup rather than a completely remote one.
Bookkeepers, on the other hand, have more flexibility as bookkeeping can be done entirely online.
4. Digital marketer
By its nature, digital marketing is an online job and is perfectly suited for remote employees.
Remote digital marketers use cloud-based collaboration tools and other online software solutions to work remotely.
The massive shift of brands to online marketing campaigns has made digital marketing a top role for job seekers looking for quick hire remote jobs.
5. Administrative assistant
The influx of online team collaborations and digital work can be too much for a single person. For this reason, virtual administrative assistants have become a prevalent position for many remote employees.
Remote administrative assistants can support teams and business owners in managing communication, presentations, scheduling, and other administrative work.
6. Project manager
The shift to completely remote work or at least hybrid setups highlighted the importance of good project managers. These specialists are responsible for bringing the best people for a task and ensuring they work together for its successful completion.
Project managers can leverage remote collaboration tools, such as Asana, Slack, and Trello, to make managing projects more efficient.
Find quick hire remote jobs through Remote Employee
Remote Employee offers businesses a robust platform where they can hire remote staff or build a remote team.
The company has over 600 remote jobs available and utilizes leading industry technologies to deliver quality and client-focused services.