How quality parameters enhance production processes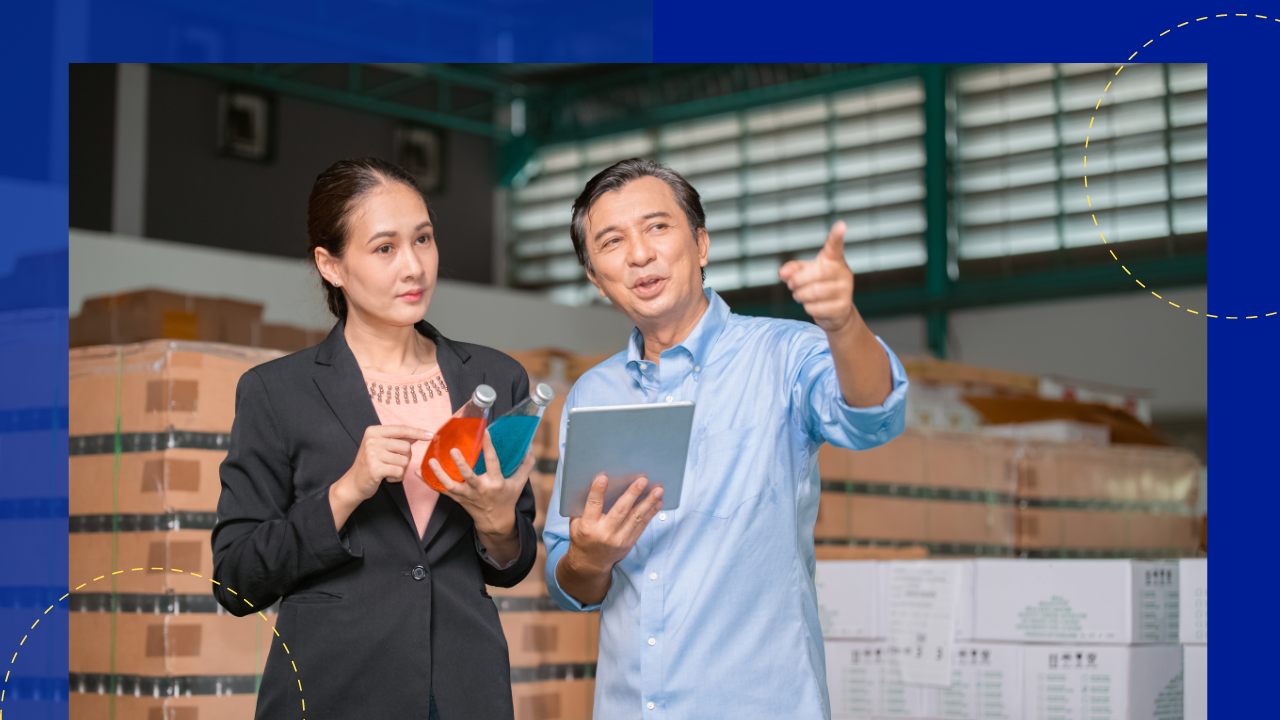 Pursuing excellence is an ever-present challenge for the manufacturing and production industries. To navigate this terrain, businesses rely on the invaluable compass of quality parameters. 
Having an established set of criteria to follow contributes to the necessary process of quality control. This pushes companies to keep quality processes high to produce good products and services steadily.
Let's take a deep dive into the idea of quality parameters. We'll explore its types, applications, advantages, and potential limitations.
What are quality parameters?
Quality parameters are quantifiable properties, attributes, or characteristics of a product or process that determine or describe its quality level.
Simply put, quality parameters define the measurable aspects of product or process quality. 
They provide a framework for identifying, controlling, and monitoring criteria necessary for creating consistent, high-quality products.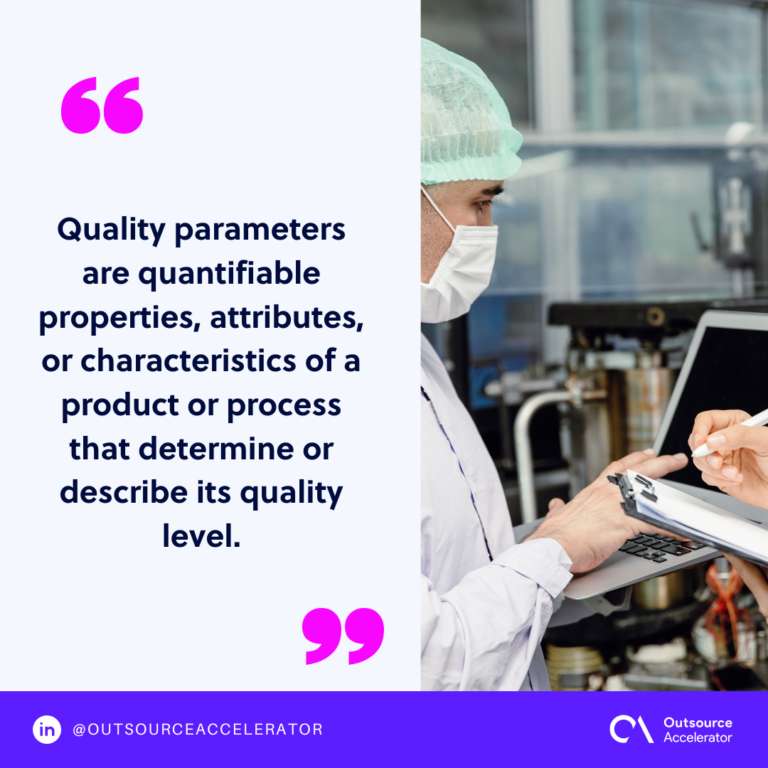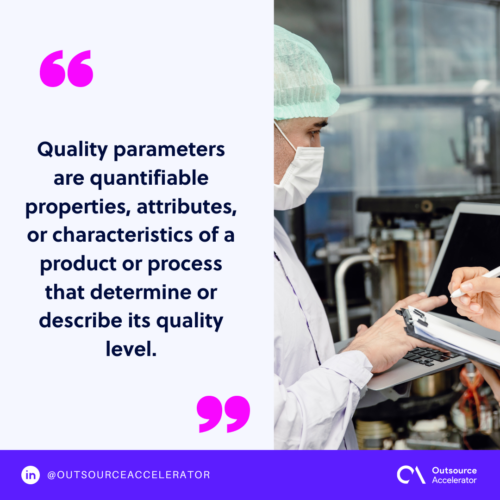 Types of quality indicators
As mentioned, quality parameters come into play at different stages of production. Here are some perspectives to consider as quality indicators:
Product-focused
Product-focused quality indicators emphasize the features and characteristics of the product that are critical to customer satisfaction. Therefore, manufacturers evaluate the product quality parameters.
Manufacturing-focused
Manufacturing-focused quality indicators focus on the process rather than the product. They are aimed at identifying process deficiencies that could impact product quality.
User-oriented
User-oriented quality indicators highlight customer satisfaction. The user-oriented quality parameters help manufacturers develop products that provide an exceptional customer experience.
Dimensions of quality parameters
Manufacturers must consider the dimensions of quality parameters to create high-value products or services. 
Some of the most common types of these criteria are:
Functional features

. These are the core purpose and performance of a product or process. They ensure a product or process fulfills its intended function effectively.

Complementary features

. These additional attributes enhance the product or service's value.

Compliance with standards

. This refers to the degree to which a product or process meets regulatory requirements or

industry standards

. 

Durability

. This is the lifespan or the length of time a product or service is expected to perform without needing repair or replacement.

Reliability

. This quality parameter pertains to the consistency of the performance of a product or process over time. 

Practicality and adaptability

. These characteristics cover a product or service's simplicity and ease of use.

Aesthetics

. It relates to a process or product's overall visual appeal, design, and styling.

Perceived quality

. Perceived quality refers to the quality level customers expect when purchasing a product or using a service.
When to use quality parameters
Quality parameters are necessary when manufacturers need to ensure consistent and predictable product or service performance. 
These parameters are primarily used in industries where precise measurement is critical to an offering's functionality.
They can be used during the product or service's design phase, the production and assembly process, and even in the customer service experience.
Businesses can also use quality parameters to test the performance of their offerings over time. Moreover, they can utilize these criteria to assess the effectiveness of any changes made.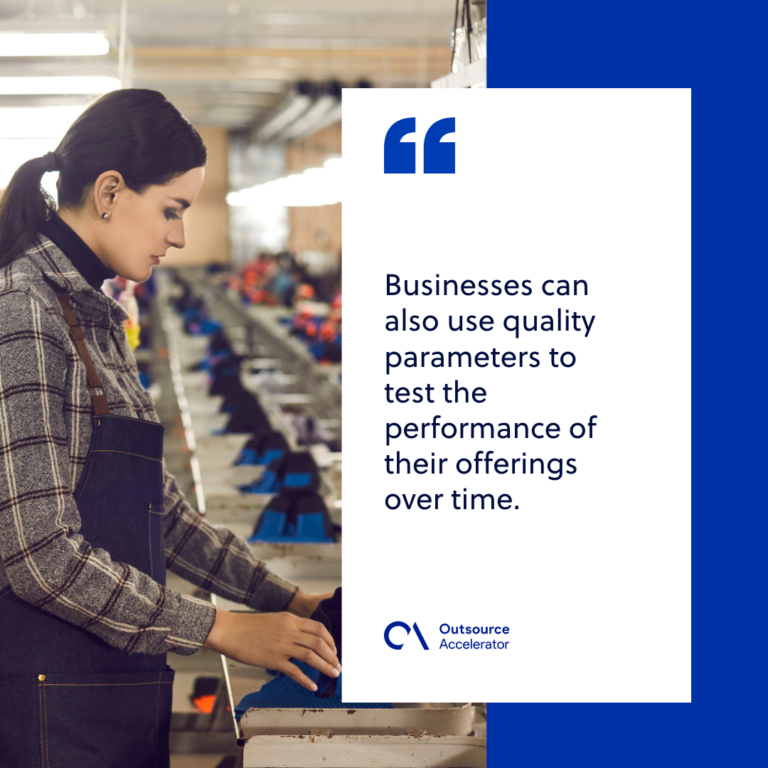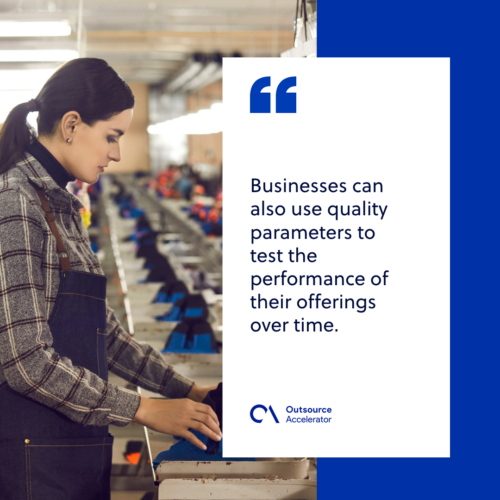 Advantages of quality parameters
Implementing quality parameters offers many benefits that ripple through the production process:
Consistency

. Adherence to quality parameters ensures uniform product quality, enhancing brand reputation.

Cost efficiency

. Minimizing defects and rework reduces waste, optimizing resource utilization and costs.

Competitive edge

. High-quality products attract more customers and differentiate businesses in the market.

Regulatory compliance

. Meeting quality standards ensure products align with industry regulations and guidelines.

Innovation facilitation

. The pursuit of quality parameters drives

innovation

to exceed existing standards.
Disadvantages of quality parameters
Despite the advantages, there are potential challenges associated with quality parameters:
Initial investment

. Establishing quality parameters may require investments in training, equipment, and processes.

Rigidity

. Overemphasis on rigid criteria can hinder the flexibility needed for process improvements.

Complexity

. Managing multiple parameters can complicate production processes and decision-making.

Over-reliance

. Over-relying on quality indicators can lead to a lack of

human judgment

and intuition.
Applications of quality parameters
Quality parameters are often applied in diverse industries, ensuring products meet desired standards. 
To give a clearer idea, here are a few examples of where these criteria can be used:
Automotive

. The automotive sector depends on quality parameters to test a vehicle's performance, reliability, and safety.

Pharmaceuticals

. The pharmaceutical industry relies on quality guidelines to ensure products like medicine are safe.

Electronics

. Quality standards verify the functionality, durability, and safety of electronic devices like phones.

Textiles

. The textile industry uses these parameters to ensure colorfastness, durability, and consistency.

Food and beverage

.

The F&B sector uses parameters to ensure that products are safe and follow health guidelines.
ISO standard: Quality parameters for industrial products
The International Organization for Standardization (ISO) provides a range of quality management standards used worldwide.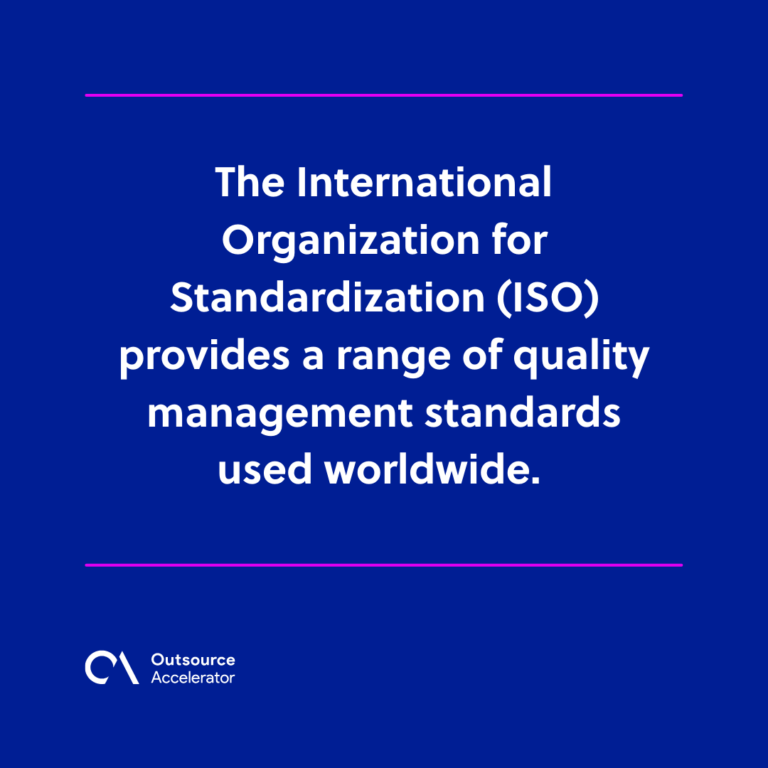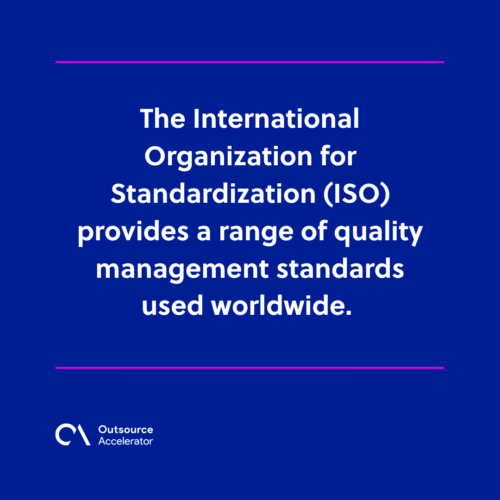 ISO 9001 is the most widely recognized and focuses on quality management for industrial product design, manufacture, and service provision. 
Implementing ISO standards provides the tools to manage quality effectively.