How process innovation can revolutionize your business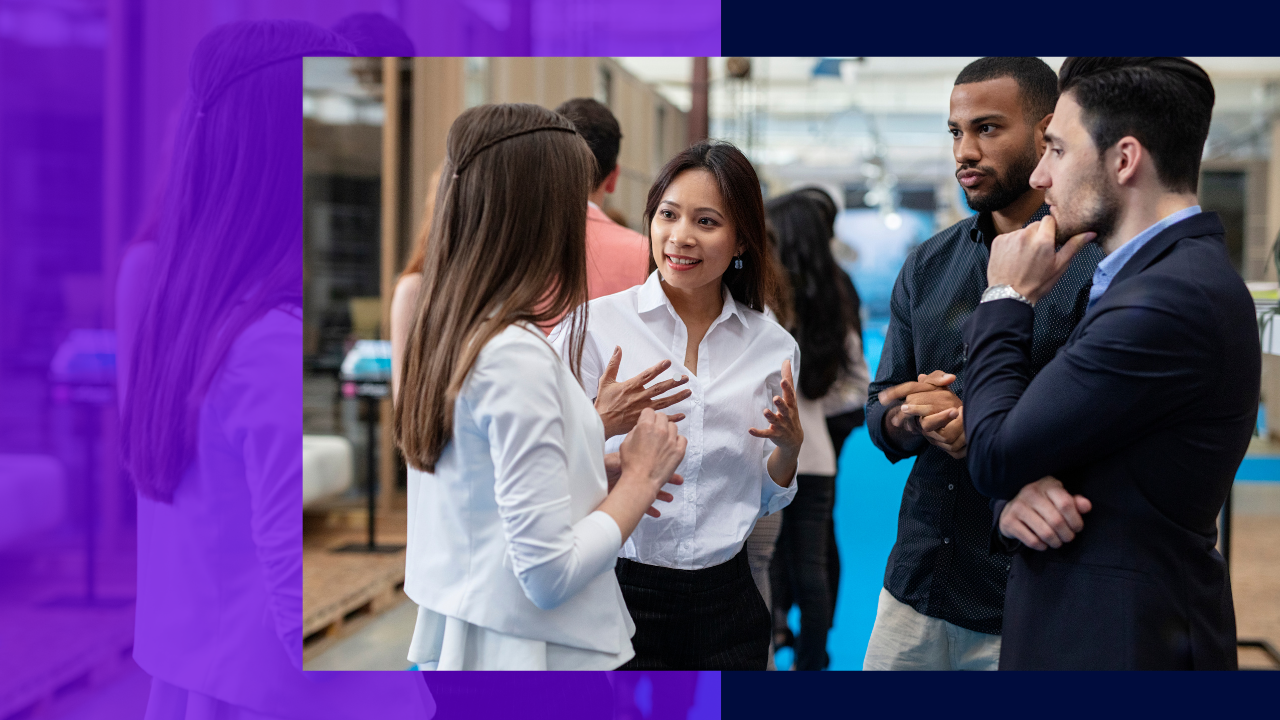 Companies have to reinvent themselves constantly because of the ever-changing business environment. One way firms can stand out in a competitive industry is through innovation — which comes in different forms.
Process innovation is one of those innovative forms that businesses can utilize to achieve genuine and beneficial changes in how they operate and see results.
Read on to explore the concept of process innovation and why it's advantageous for companies to integrate it into their business.
Defining process innovation
In simple terms, process innovation is adopting new technology or ways of doing something that helps an organization stay competitive and meet customer needs.
Process innovation aims to improve how a business runs things, ultimately resulting in operational efficiency, enhanced customer experience, and business growth.
Innovating businesses' processes requires examining current workflows, identifying inefficiencies, and applying strategic changes to optimize the entire operational chain.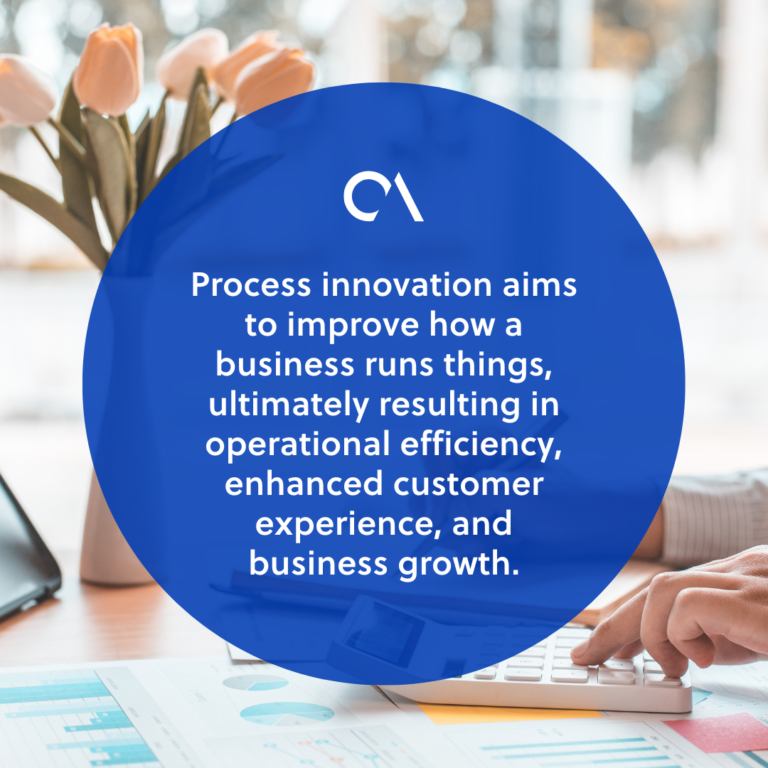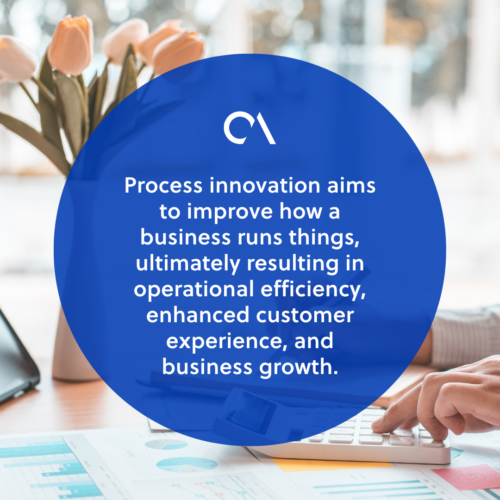 Examples of successful implementation of process innovation
Process innovation is not a brand-new concept. Ever since the existence of businesses, changing up the way an organization runs things to become a better enterprise has always been a familiar concept.
Here are some notable examples of successful implementation of process innovation:
Netflix
Netflix started out as a DVD rental service. But the company transitioned to providing streaming service when that business model became outmoded. 
By using process innovation, Netflix became a pioneer in how people consume entertainment. Netflix even utilizes algorithms to personalize content recommendations and streamline its delivery.
Amazon
Amazon uses a highly efficient and automated order fulfillment system to provide rapid and reliable delivery services, making it a top player in the e-commerce industry.
The company's openness to using new technologies like drones can be considered an example of process innovation.
Ford
Henry Ford is often considered the 'father of process innovation' because he implemented gradual changes that culminated in creating the assembly line.
When Henry Ford developed the assembly line for vehicle manufacturing, the production time was minimized from 12 hours to 1 ½  hours. As a result, Ford employees worked shorter hours for more pay, improving both productivity and the work environment.
How process innovation can be implemented in businesses
Depending on the nature of a particular business, there are different ways to take advantage of process innovation. 
Here are the basic steps companies can follow:
1. Assess current processes
Before making any changes to how a business runs, it is important to take stock of what currently exists in terms of:
Workflows

Activities

Information

Resources
2. Identify areas for improvement
After assessing the current business situation, a company should then identify areas that could benefit from process innovation. These areas include bottlenecks, redundancies, and parts that are prone to errors and delays. 
3. Set clear objectives
When a business has spotted areas of improvement, the next step is to establish distinct goals. It gives a clear idea of how organizations can come up with efficient and effective ways to remedy those areas.
Common examples of goals are cost reduction, time savings, quality improvement, and boosting customer satisfaction.
4. Brainstorm new ideas
In brainstorming new ideas is organizations can consider adopting innovative technologies linke automation tools. They can also outsource, or use reimagined workflows and other strategies to achieve their goals.
5. Test and evaluate
Once a company decides on a course of action to redesign or renew their process, it's a good idea to test and evaluate how it performs first before implementing ideas in a larger scale.
Data and metrics are necessary to accurately measure the success of a redesigned business process. Companies can then refine as necessary based on the process test run's results.
6. Implement and monitor changes
When a renewed process has been finalized, it's time to roll it out and provide training and support to those involved in running that process. 
It's important to constantly monitor and measure the impact of the new operation and make adjustments if necessary.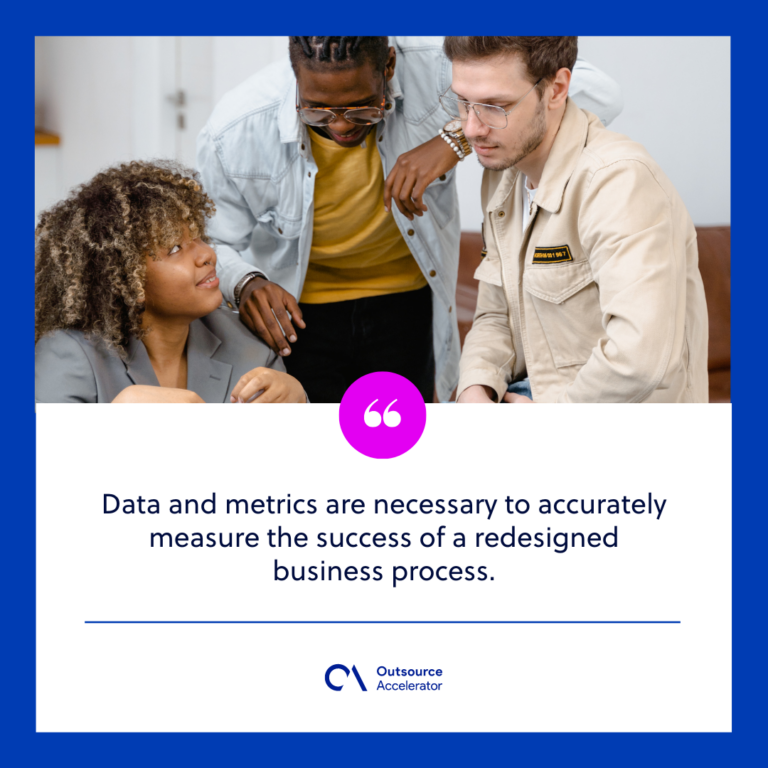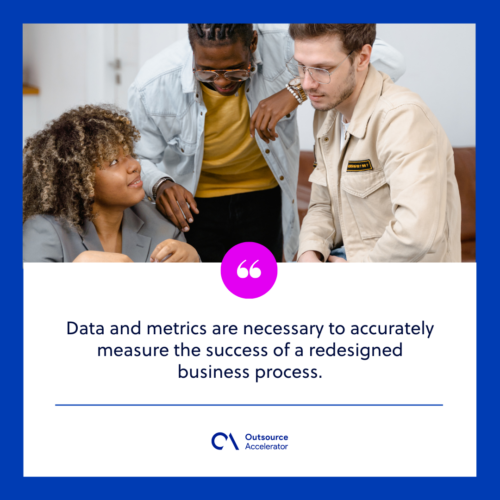 Advantages of process innovation
Process innovation significantly impacts how a business is operated and it comes with the following benefits:
Boosts efficiency and productivity 
Using process innovation helps businesses identify inefficiencies. More so, with process innovation, they can streamline processes to increase efficiency and productivity.
Cut costs 
Process innovation pinpoints unnecessary steps in a business's operations, which can reduce costs. It also determines areas that can be automated or outsourced, lessening operational expenses.
Quality improvement 
When the overall operation is running smoothly, it can have a desirable effect on the quality of products and services generated. 
Process innovation can cause improvements in customer satisfaction and loyalty and drive revenue growth.
Disadvantages of process innovation
There are also some challenges in implementing process innovation. Here are a few that businesses may face:
Resistance to changes from employees 
Employees may show resistance to innovation impacting their workflow because it's difficult to suddenly start doing things in a new way. 
Communication is important to implement changes to a business process effectively. Training, seminars, and workshops can help employees understand why renewing operations is beneficial overall.
Lack of budget and resources 
Redesigning and changing the way a business runs may require significant investment. A well-planned budget ensures that operations can improve within a company's means.
Troubles in measuring success 
Measuring process innovation's success can be difficult, especially when there is no data and metrics to base on. Establishing clear objectives is important so businesses can easily track progress over time.
Why businesses should implement process innovation
Process innovation can be a powerful tool that can revolutionize how a business runs. It's necessary for businesses to constantly come up with new ways and ideas to innovate because the industry is more competitive and fast-paced than ever.
Process innovation also lets companies adapt to constantly shifting and evolving markets. Being innovative enables companies to be resilient and strategic so that they can thrive in today's business landscape.