Growth vs scale: Tips to expand your business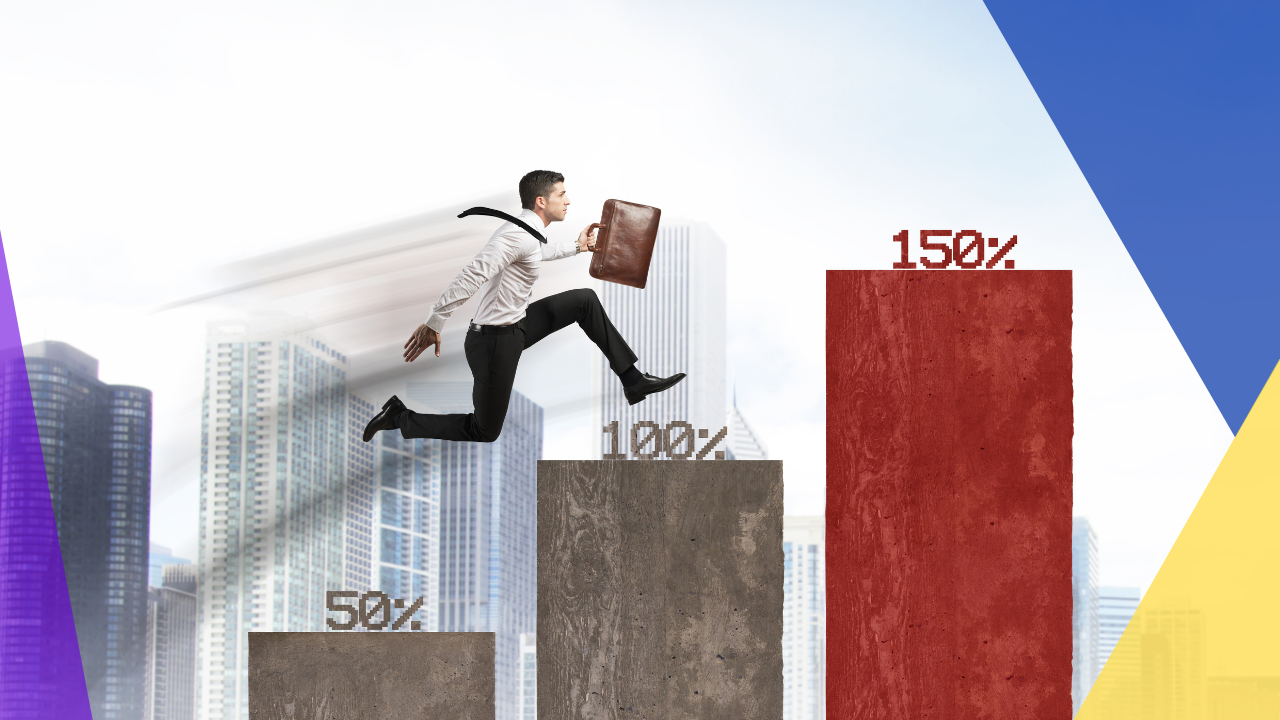 For years now, companies have been emphasizing the importance of growth in a business. Large enterprises such as Mcdonald's managed to grow their companies across the globe by having franchise stores.
However, startups and small businesses nowadays are more fixated on scaling. While most of them use the terms growth vs scale exponentially, growing and scaling a business work differently.
When talking about growth vs scale, more companies now see more value in scaling. Even venture firms in the US observe that two-thirds of a business's value is achieved when they scale and reach a specific amount of target market.
Is your business growing or scaling? Find out the difference between growth vs scale and how you can effectively expand your company here.
Important differences of growth vs scale
An important part of knowing if a business is growing or scaling is by distinguishing them from each other.
Growth is usually seen in linear terms. Here, you invest in more equipment, people, and capital at the same rate as you grow your income. For instance, the more you grow your customer base and the more you add people to serve them, your fees even increase as your profit grows.
Scale, on the other hand, is about increasing revenue even without a gradual increase in resources. Tech companies like Google are most known for scaling successfully, with their customer base reaching billions. Currently, they have more than 100,000 employees globally.
Companies can distinguish growth vs scale through the following characteristics.
Nature of business

. Large companies are judged by their growth quality each year. Startups, meanwhile, fixate on scaling using their available resources as much as possible.

Primary focus

. Growth companies are more focused on getting through the year, while scale companies tend to maintain their leverage and consistency in their strengths.

Customer growth

. Unless it has enough resources, an organization aiming for growth tends to stick to limited channels to connect with customers. Scaling startups won't have a problem with the flexibility to

explore other communication channels

.

Responsibilities

. Lastly, the founder and their teams usually hold multiple responsibilities in a company aiming for growth. Scaling startups, on the other hand, have more time for creating strategies and developing their strengths.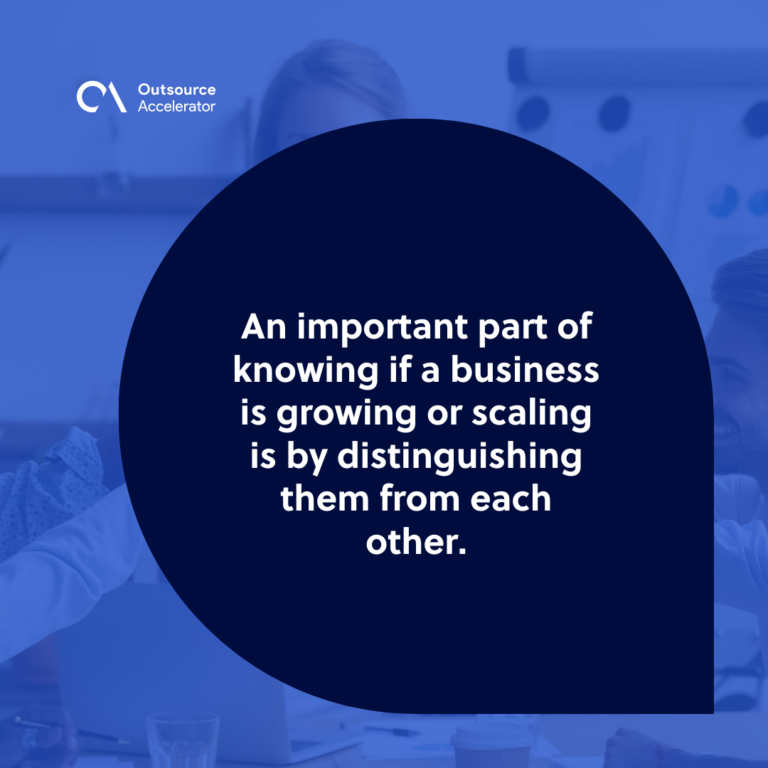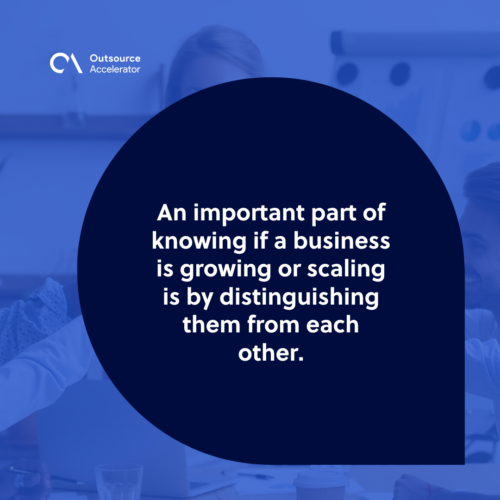 Growing a business vs scaling a business
Even today, there are global businesses that still aim for growth. As mentioned, growing a business means you have to increase your investments to increase your revenue.
You can achieve this through the following:
Product development

Acquisitions

Business partnerships

Integrating new channels

Introducing new business models, and 

Market expansions
Growing a business is expensive. This is since it demands your time, effort, and resources to maintain its trajectory. 
With the costs needed in growing, startups now have their focus on scaling their business. In SAAS companies, for instance, a single upfront investment takes them to a wide range of customers. That is as long as their product provides ample solutions to their client's problems.
The difference in growth vs scale is most evident in midsized companies. However, companies of all sizes should learn about them beforehand in case they aim to create a lasting impact on their industries in the future.
Growing does not mean scaling – best practices to scale effectively
An article by Harvard Business Review stated that midsized companies usually confuse growth vs scale. This brings them more difficulties in reaching their target revenue and size, making them stuck with their current value.
A growing organization does not always equate to a scaling one. However, you can manage your company's growth without sacrificing your resources with effective scaling.
There's no clear path in scaling successfully. Yet, you can still use some best practices in scaling your company effectively.
Know your core competence
Your core competence will help you plan and strategize your measures on scaling. Identify your core competencies to help you determine which aspect or function you should invest in the most without shelling out too many resources.
Plot your goals, plan, and act accordingly
Plot your goals based on what you want to achieve over your current value. Think big so you can set your momentum in your goals. Then, be constantly mindful of it. 
Scaling also requires elaborate planning on how you can achieve your set goals. Carefully plan and strategize on scaling and act on it accordingly.
Build lasting connections
Your customer and partnership base might be growing, which is great. However, to scale effectively, you need to build lasting connections between your audience, suppliers, and partners. 
Whether new or existing customers, their CLV contributes to your company's value. Increase your CLV by creating an excellent customer experience based on their feedback and preferences.
Outsource some of your functions
Outsourcing is a cost-effective way to keep your functions running. By hiring customer service teams in top destinations such as the Philippines, you get to save as much as 70% on costs long-term.
As the outsourcing capital of the world, the Philippines is home to many trusted BPO firms, such as Doxa7.
Build your company culture
Successful startups take years to build a company culture that caters to the needs of both their customers and employees. This, in return, helped them scale better since they get to have the loyalty of their base.
Develop teams with a broad management skill set
It takes more than a founder's effort in building a successful organization. You need the strength of every team or department your company has to make scaling easier.
With this, businesses are advised to develop broad, diverse, and complementary management skill sets. 
Make sure quality won't be sacrificed
Lastly, always make sure your efforts won't sacrifice the quality of your products and services. Continuously monitor and check whether the proper processes, culture, and strategies are in place to maintain your quality.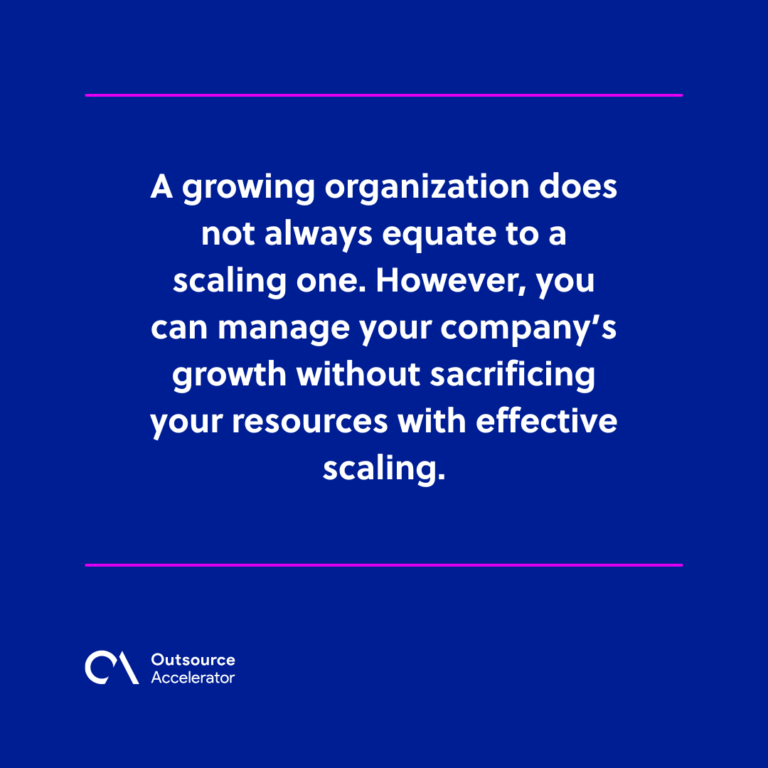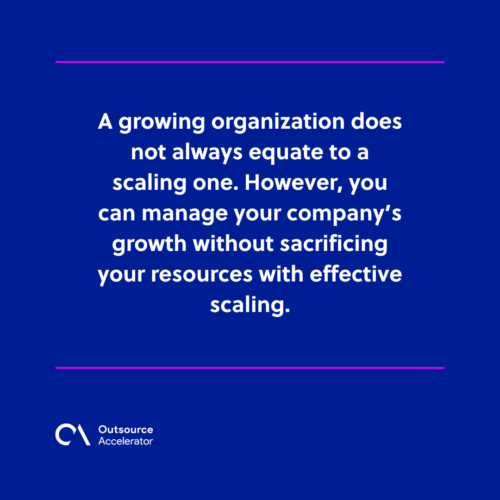 Is your business growing or scaling?
In the end, there's no "better" way between growing and scaling your company. There are instances where businesses aim to grow first before scaling when they reach their target. Some of them, meanwhile, get directly involved with either scaling or growing.
Growing and scaling also work differently in several industries, with their dynamics and different demands. However, companies are highly recommended to scale so they can grow their businesses quickly. 
Whether they choose to grow or scale, organizations have to understand how their chosen approach works and the measures they should do to make it happen.