8 must-have qualities of skilled software developers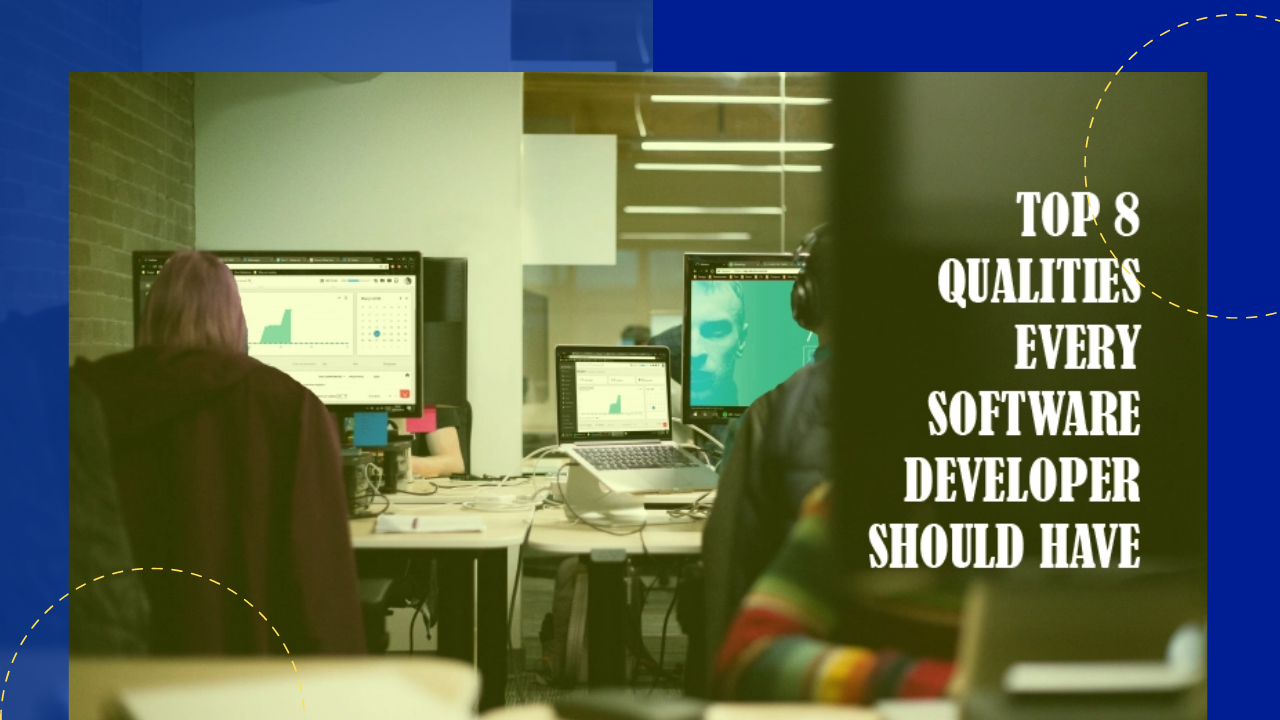 8 must-have qualities of skilled software developers
There stands a powerful group of software developers and IT professionals behind each successful and reputable software outsourcing company.
When planning a new IT project, companies pay close attention to the technical team they are going to hire.
However, for a non-technical person choosing the technical team for their project may be challenging.
The technical skill set is not enough to deliver a high-quality software outsourcing service. Developers should also have soft skills that will help them in smooth communication and quick orientation when deciding on the SDLC.
Therefore, we want to represent the eight main qualities we consider when hiring software developers for CodeRiders.
8 main qualities of a skilled software developer
Considering these qualities helps us create a team where the members understand each other.
They can work closely and productively together to deliver the best software development and implementation services.
1. Data-driven
A qualified software developer makes decisions and solves issues only based on actual and solid facts. This quality makes software developers data-driven professionals.
During the software development lifecycle (SDLC), we meet a lot of data, analysis, and calculations.
To facilitate and accelerate the software development process, skilled software developers choose project management tools based on a specific project's characteristic features and data.
Nowadays, the majority of software applications use consumer data from various sources to provide a personalized experience. Therefore, it is crucial for software developers to have a data-driven approach.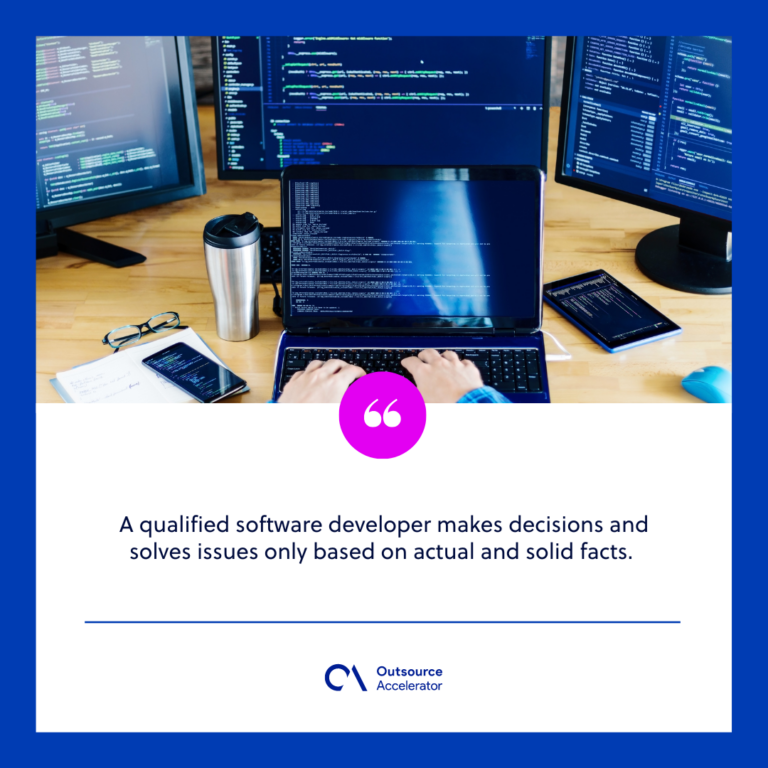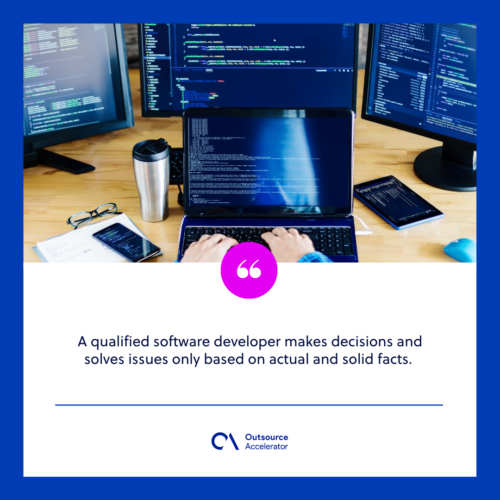 2. Team player
A software development process can not be successful without good teamwork. No matter how professional the employees are, if they can not cooperate with a team, the project will fail.
That is why at CodeRiders, we highlight team player abilities. A good software developer or a team member is open to accepting assistance from others and is also willing to guide their team members.
SDLC is a collective work and knowing how to operate within various types of teams reduces stress and increases work productivity.
Successful end-product delivery means effectively communicating with all of the team members starting from QAs, PMs, and BAs to the customers.
A good team player should be ok with constructive criticism. For example, in software development, a developer may not notice several bugs in their code and as a result, find out about them only after shipping the product.
On the other hand, another team player may notice the bugs earlier and point them out.
3. Easy-going personality with effective communication skills
All qualified software developers know specific tech languages and frameworks. That is a must-have skill to be called a software developer in general.
However, a great software developer clearly understands the problems, breaks them down into hypotheses, and offers a solution coherently. They are quick to clarify, do quick check-ups, and understand the concept quickly.
Software outsourcing is an "international type of business", so cross-cultural communication skills and English knowledge is a must for every employee involved.
It does not matter which software development engagement model you choose. Good English knowledge and the ability to work with people coming from different cultural and national backgrounds are crucial for a medium and senior-level professional.
4. Flexible
The information technology industry is growing daily. Yesterday's news can become today's old.
Popular software development languages and frameworks are being updated and upgraded regularly. New tech stacks and methods are created.
For a competitive software developer, it is critical to keep up with the new trends and adapt to "new rules" rapidly and easily.
5. Creative
Software development and creativity: at first sight, these two words seem to have nothing in common. However, that is not accurate.
Software development is all about new ideas and innovation. Some people even argue that software development is an art and can not be successfully worked out without a creative mind.
Creativity is one of the features we consider at Coderiders when hiring software developers.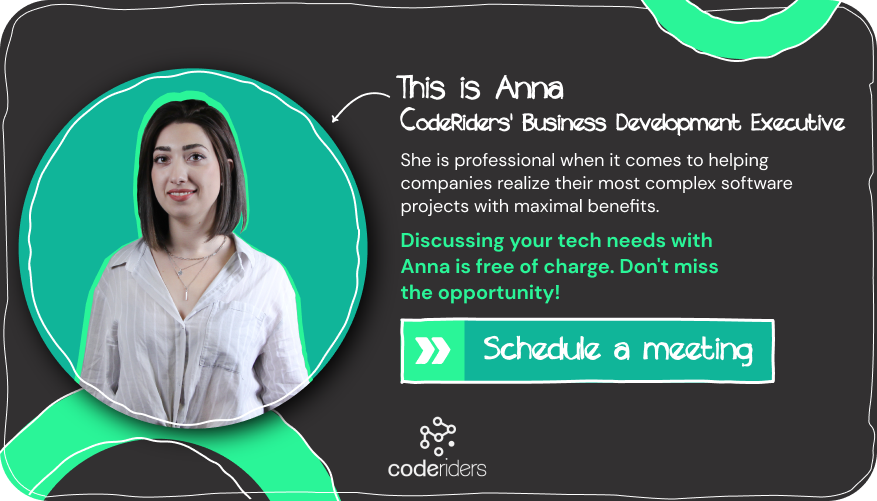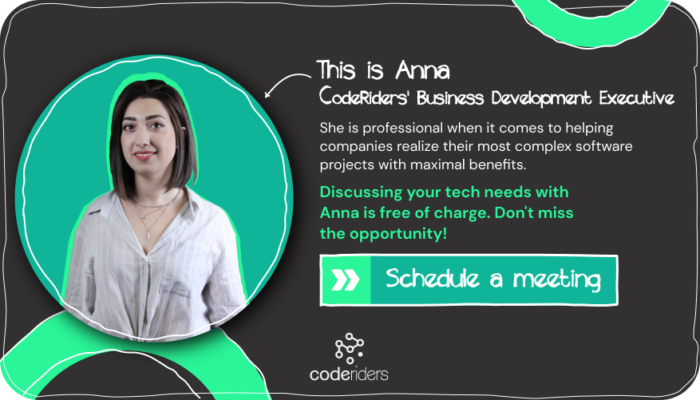 6. Detail-oriented
Developers who pay attention to details are more likely to produce high-quality code. When delivering a solution, software developers do not only write lines of code.
They also exercise the ability to think through edge cases. A professional software developer writes code that handles various user cases and makes the development process much easier.
On the other hand, detail-oriented programmers deliver code with fewer bugs, as they pay attention to even little details.
7. Can work independently
Anyone can be late at times, we get it.
However, having your tasks under control and being confident in your work is called professionalism. A superb software developer can differentiate and understand primary and secondary tasks.
They understand how to deal with their tasks independently and work in a way that is beneficial for their colleagues as well.
8. Motivated and passionate
Successful professionals are always excited about their work. How can we operate efficiently and improve our work if we are not interested in it?
Motivation attracts success. Being genially interested in your work brings motivation, passion, and a desire to do better.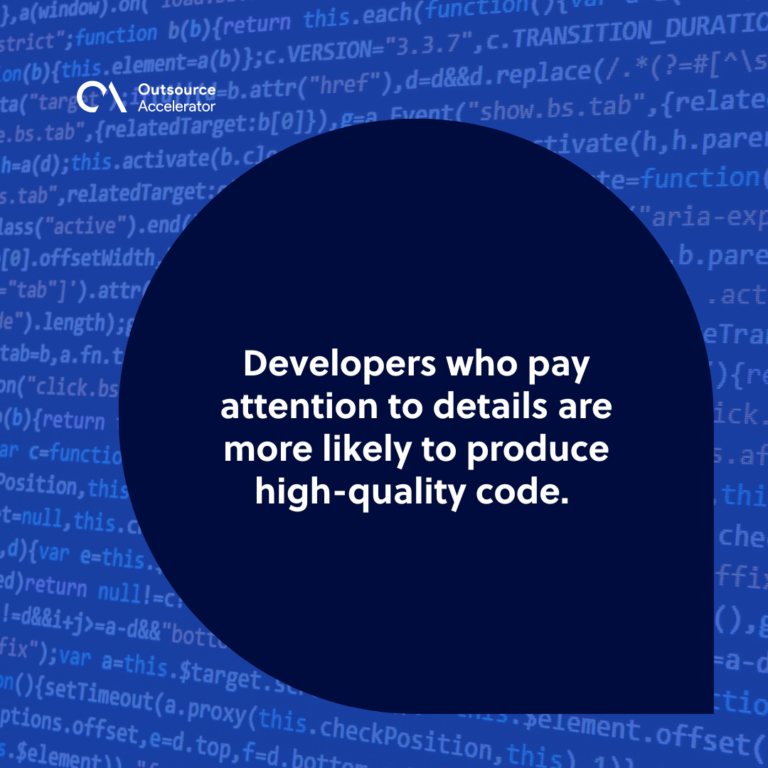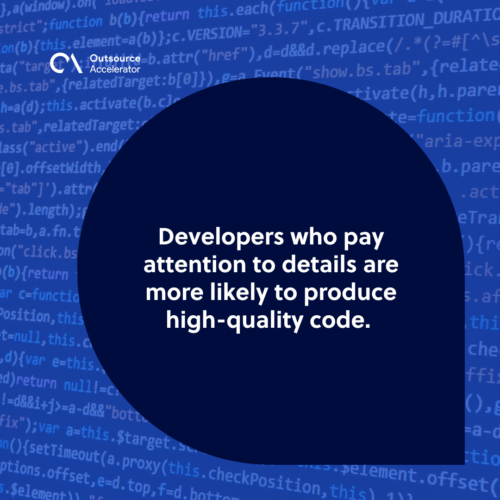 In the end!
To be a guru in software development, just knowing good coding is not enough.
As in any other profession, soft skills are also critical, especially if we are dealing with a senior software developer and a tech team lead. The abovementioned eight soft skills are a necessity.
Therefore, skilled senior-level software developers have the ability to concentrate on facts, are team players, and are easy-going professionals with good cross-cultural communication skills. They are flexible, creative, and have strong stress resistance.