The best tricks to pass QA in call centers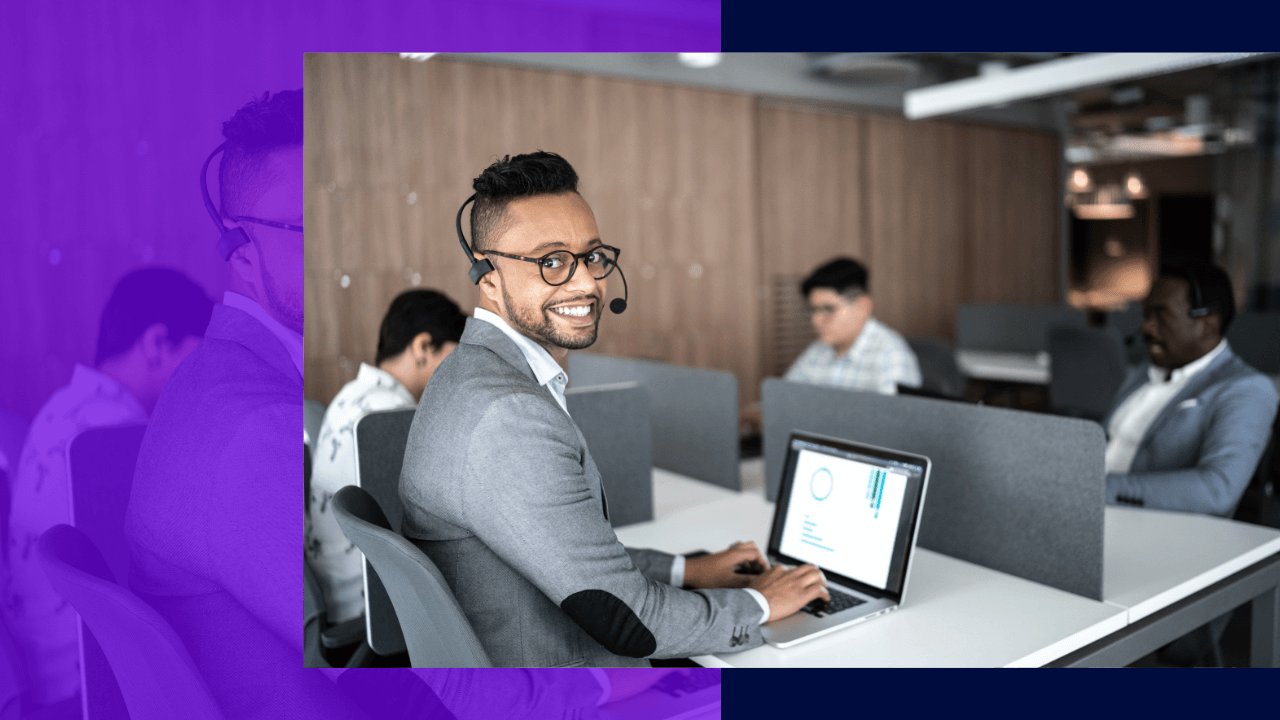 The best tricks to pass QA in call centers
Call center operations are less about hitting monthly quotas and more about resolving customer concerns accurately and amicably. 
Making sure that the processes are responsive to the customers' needs is at the heart of call center operations. In the interest of keeping it, quality assurance (QA) in call centers was established. 
As QAs are customer-centric, it ensures that transactions and interactions performed by agents align with the corporation's business goals. 
With growth and expansion in mind, QAs ensure that the perception and loyalty of end-users remain with the company. 
QA in call centers is typically performing thorough customer service agent behavior, good schedule, and some interaction etiquette that need to be observed to maintain a positive perception from the clients.  
But there is more to QA in call centers than the ones identified above. This article will elaborate on all of these.   
What is quality assurance in a call center?
QA in call centers is the systematic approach to assessing the quality of interaction between agents and callers. 
Following a stringent set of standards, calls are recorded, annotated, and evaluated based on key performance indicators aligned with the corporation's goals. 
QA in call centers is best described as an ongoing process of improving the level of service excellence agents provide. The passing rate in QAs becomes higher and more demanding as it progresses.
QA inspectors and line managers regularly perform QA in call centers to ensure metrics are met. Quarterly and biannual appraisals are directed at aligning the operations to business directives.   
At the same time, QAs become a crash refresher course for agents on their decorum and deportment in dealing with different clients. Hence, it is an essential juncture in call center operations.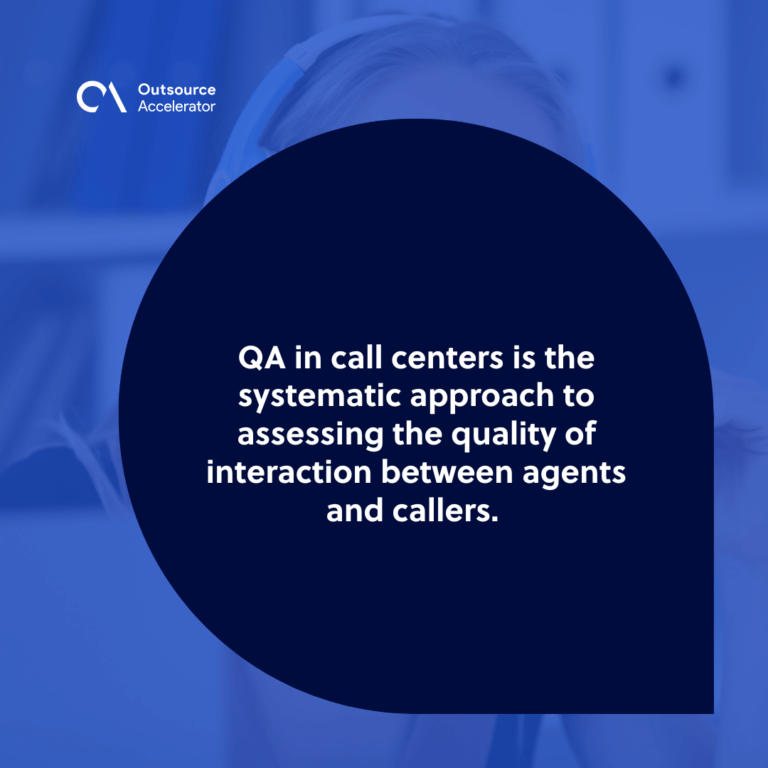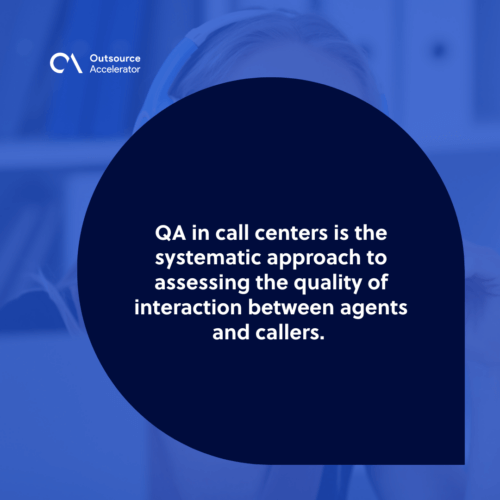 The role of a QA team in a call center
QA inspectors have the most painstaking jobs during the QA. They sift through calls, emails, chats, and all agents' correspondence. 
These correspondences were recorded and continue to be monitored in real-time. QA inspectors thoroughly review it since these are the most crucial areas of customer communication. 
Guided by score sheets and other metrics, they evaluate and score the agents' performance. Nothing gets past them as they meticulously listen and read through the correspondence. 
QA inspectors check all aspects, from the tone of voice, manner of speaking, and conformance to the standard spiels, and score them based on the standards the agents have been trained for.  
Tips for passing QA checks
QA checks can be pretty daunting, especially when agents accommodate hundreds to thousands of calls weekly. The volume of calls is overwhelming, and being conscious of one's deportment is challenging. 
Nonetheless, agents should pass QA checks to continue working in call centers. Similarly, it is the best way for call centers to maintain their client pool. 
Unlike tests or exams, QAs do not happen all in one day. It is based on the history of an agent's past performances. Hence, preparing it in just one day is practically impossible. A conscious effort to improve performance is necessary. 
Some valuable hacks that have worked for other agents are below:
Always be mindful of your tone
Tone is an important aspect of communication. A slight increase in tone will denote rudeness, while its opposite means being timid or lazy. 
It's important to have a moderate yet lively tone during calls. It creates a pleasant environment for the caller where the agent is serious with the call and polite regardless of the demeanor and attitude of the caller. 
It must be stressed that under any circumstance and situation, the agent must remain calm and maintain a polite tone to the caller, even if they are irate and shouting. 
QA inspectors will pay attention to how the call was handled. Managing to get through an irate call will surely increase the agent's score.   
Empathize with the clients
Clients call because they have concerns they cannot deal with independently. They have suffered too much inconvenience and stress. 
Politely address them using ma'am or sir and courteously assist them with their concern. Manage their expectations as well. Do not make any promises that might be difficult to fulfill. 
During calls, always seek their permission and notify them if you will put them on hold for several minutes.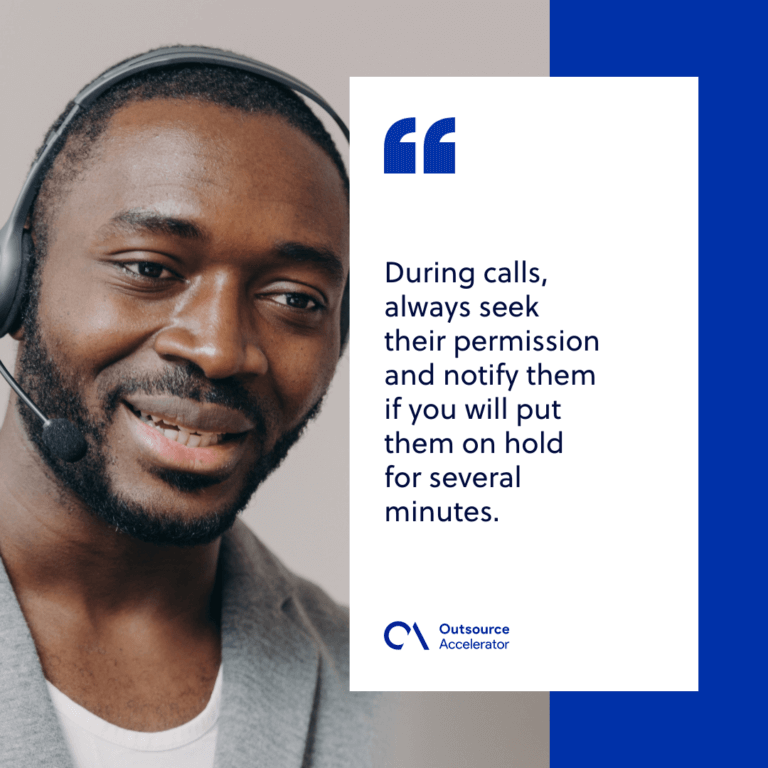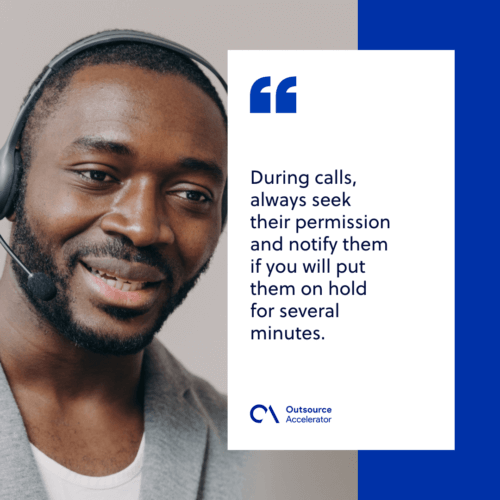 Practice, practice, practice!
Unlike examinations in schools, QAs checks cannot be aced by cramming everything in one night. What is being measured is the behavior displayed when interacting with clients. 
Hence, it is the nuances that agents do during their daily interactions with clients that matter. The surefire way to pass QA checks is to imbibe the accepted traits and desirable behaviors determined by the management. 
Since there is no known shortcut to it, the only way to do it is to reread, restudy, and refresh oneself with all the standards of excellence the company has. 
Request feedback from superiors
The best way to monitor one's progress is to seek the affirmation of the direct line managers. They have been through it and should know what to do. 
Getting helpful insights from superiors is a good stepping stone to recalibrating the mindset and performance of agents. At the same time, it sends a good message of proactiveness that the employee is willing to learn and be trained.  
While QAs are about increasing one's score, they are also a great avenue for employees to learn and improve. QAs should not be treated as a death sentence rather than a constructive curve that will hone an agent's skills. 
Peer collaboration helps
Though QA in call centers is about passing scores and getting high CSAT grades, it should not become a competition amongst peers. Contrarily, it is an avenue to create a community by helping each other.  
Sharing insights and best practices improve agent performance and elevate the quality of services provided to the clients. 
Peer meetings can be set by the HR department or the direct line managers of employees. This fosters camaraderie and commitment helping everyone to grow. 
This peer sharing will serve as a steady moral support system for everyone, especially if they fall below the standards of excellence. It will boost their morale and drive them to perform better for the sake of their supporters.  
QA in call center best practices
Achieving the best scores is important during QA checks. However, at the same time, QA teams and management should ensure that the process is not stressful for the employees. 
Putting much pressure on the employees might negatively hamper their growth. Mistakes are bound to happen one way or another, but they can be adequately managed. Below are some of the best practices companies can adopt during QA processes:
Encourage continuous training
Just as employees do not have a shortcut in passing QA checks, the company also does not have a silver bullet in attaining quality performance from its employees. 
It is important to refresh agents on what is expected from them. This way, they will be able to imbibe and perform it unconsciously. 
Supplementary training programs are also good for employees to continue growing. This will better the odds of the enterprise securing more clients in the future.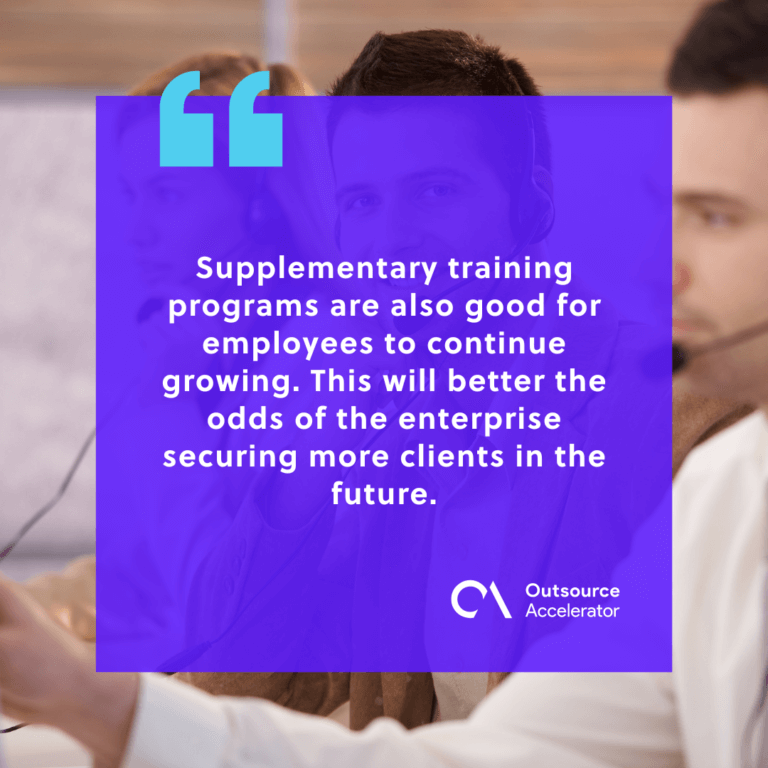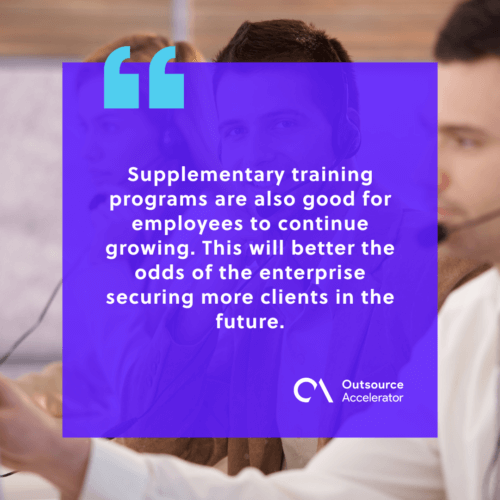 Do not lose sight of the customer 
QAs can be fixated on scores and meeting the standards. Imprinting this into the minds of the agents can be counterproductive. They will focus more on completing the scores, and actual fruitful interaction with the clients will be secondary.
The entire goal of QAs is to improve customer satisfaction, and the management should balance this so agents will not lose sight of it. 
Make the whole process enjoyable
Learning should be fun. Stressed learners do not grow in the long run. They might imbibe some of the attitudes and knowledge, but it can be short-lived. 
At the same time, a fun and conducive learning environment will stimulate creativity in the agents and make them more receptive to new concepts and ideas. 
Handling criticisms will also be natural to them, making them more responsive to it than repulsed. 
Why is conducting QA in call centers a must? 
The call center industry has witnessed dramatic growth throughout the years. This is especially true at the height of COVID-19; business transactions have become online and managed through calls. 
Meanwhile, a huge bulk of operations have all been outsourced through business processing outsourcing companies and call centers.
With this boom comes competition for customers. The organization with the best customer satisfaction program will definitely win the competition. This makes QAs in call centers necessary and a big deal. 
Staying abreast with the new trends in the market while satiating the ever-volatile voracious appetite of consumers can be quite tricky for call centers. It is only through progressive QA checks that this can be achieved. 
QA in call centers can be quite challenging, but it can be made enjoyable by ensuring everyone is engaged and possesses the proper mindset during work.