Latest outsourced call center pricing and quotation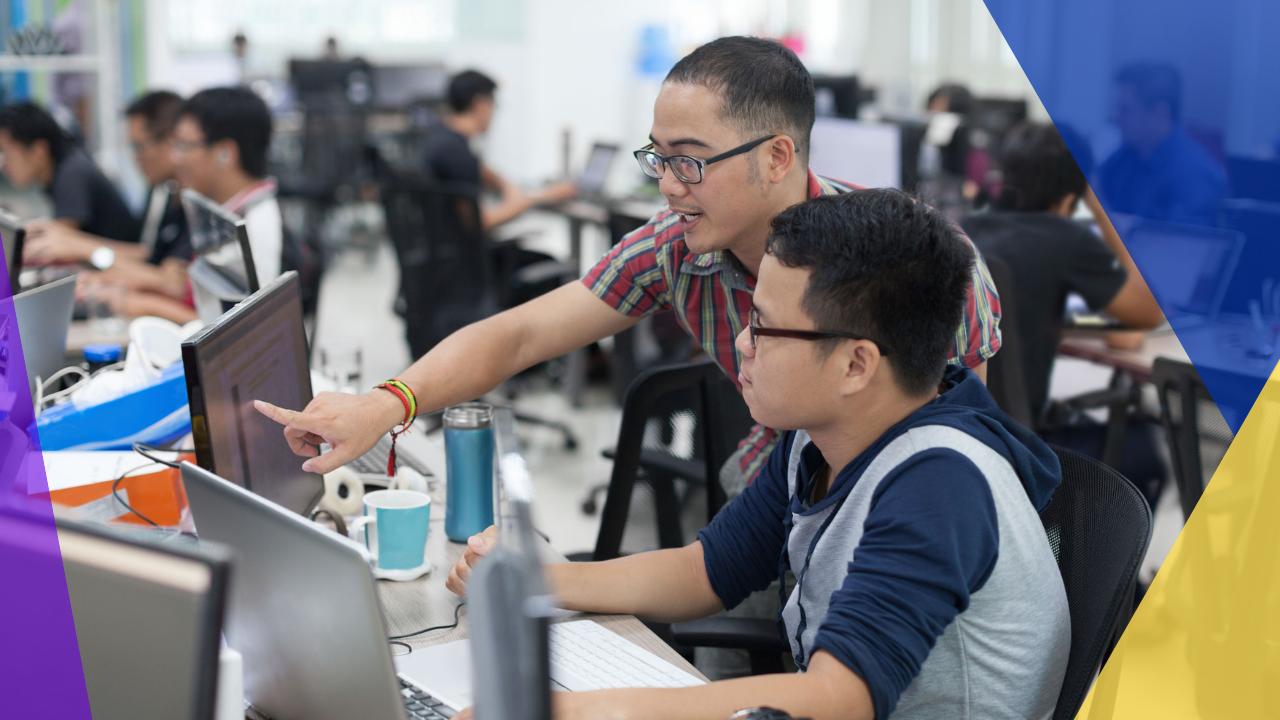 A call center is a part of a business that aims to provide the best kind of customer service and experience to the company's new or existing customers. It can be in-house or outsourced, and it is mainly filled with call center agents, whose main responsibility is to handle incoming and outgoing calls from customers. Call center agents answer queries, manage complaints, redirect callers to the right department, and conduct market research.
A call center provides so many benefits and advantages to businesses of various sectors. This is why most companies set a chunk of their budget to hire call centers.
These days, hiring and training call center agents in-house doesn't make the cut. If your company truly wants to provide high-quality customer service, you need to seek the services of experts in outsourced call centers.
Hiring a call center
Once your company has made a decision to hire a call center, it's time to think of the factors that go with it. Ask yourself the following questions:
Why are you hiring a call center?

What are your expectations? 

What are your goals?

And most importantly, what's your budget?
You can also start considering the responsibilities that you're willing to delegate to a third party provider. Generally call centers can be classified into two types: inbound call center and outbound call center.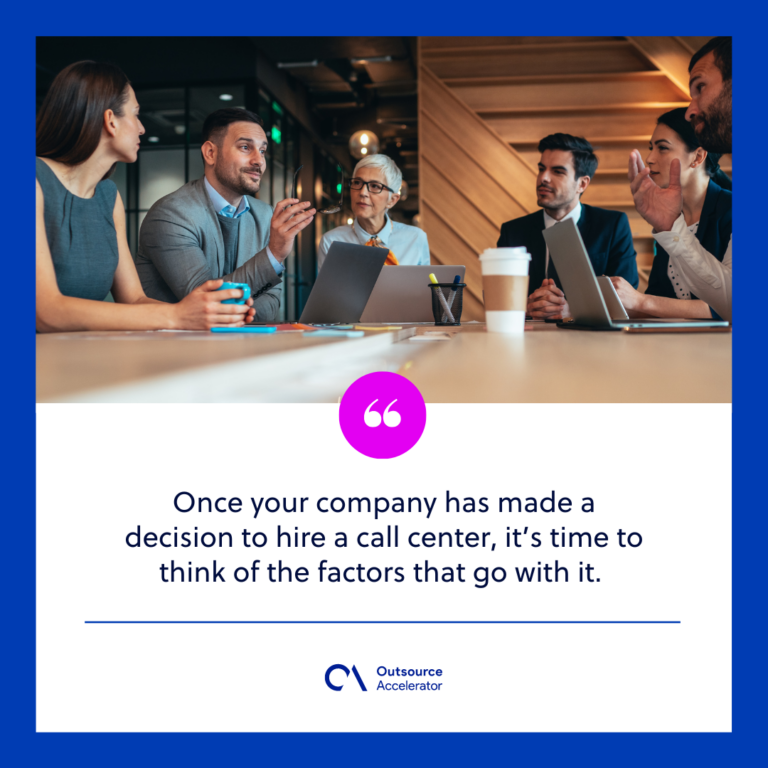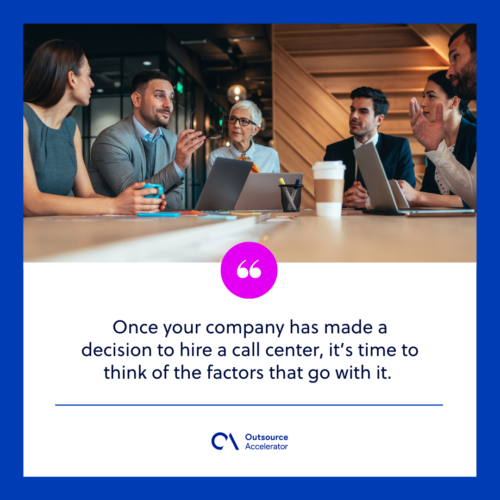 Inbound and outbound call center: What's the difference?
An inbound call center is primarily responsible for receiving incoming calls from existing customers or interested prospects. Inbound call center agents answer queries, and help existing customers fix issues. They also process claims, handle complaints, man the help desks, and manage reservations and bookings.
Basically, an inbound call center deals with existing customers or prospects reaching out to them. They train their representatives to provide quality customer service and experience to anyone on the other end of the line.
On the other hand, an outbound call center makes outgoing calls. Unlike inbound call center agents whose duty is to answer the phone, outbound call centers do the calling. They train their representatives to raise brand awareness through the phone, and to sell the company's products and services to prospective customers. In addition, they also perform lead generation, telesales, and market research.
Outsourced call center pricing: How much does it cost?
Western companies outsourcing their call center operations has been an ongoing practice over the years. It's certainly not a trend. 
Outsourced call centers provide many advantages to any company. They keep core operations focused on their main responsibilities, they take away the tedious tasks from in-house staff, and they help companies save on employment costs.
Further, another thing to consider when hiring a call center is choosing between onshore or offshore external service providers.
Onshore call centers are those outsourcing providers located in the same geographical location as the company's headquarters. If your company is based in New York, United States, onshoring means hiring a call center located in the same country, like in Chicago or California.
An offshore call center is its complete opposite. It is the process of hiring a business process outsourcing (BPO) company located on the other side of the world, or "offshore." Since mostly western companies outsource, this means hiring talents from the east. The Philippines, India, and China are perfectly good examples. 
Onshore outsourced call center pricing
Onshore outsourced call center pricing is somewhat in the middle. It's cheaper than hiring in-house, but much more expensive than offshore outsourcing. However, some companies prefer onshore outsourcing because of its geographical proximity. They can also enjoy the same time zone, same culture and native language.
For this article, we will consider countries that outsource the most as the "onshore destinations." The United States, Canada, Australia, and UK are onshore call center locations. The salary table below will help give an idea on the annual salary cost of hiring a call center in these onshore destinations. Note that these figures are in US Dollars.
| | | | |
| --- | --- | --- | --- |
| Call center role | US/Canada | Australia | UK |
| Agent (1-3 years exp.) | $29,717 | $35,275 | $22,137 |
| Agent (3-5 years exp.) | $33,004 | $39,860 | $25,014 |
| Team leader | $50,794 | $46,690 | $33,047 |
| Operations manager | $61,393 | $67,173 | $71,950 |
Compared to hiring in-house, outsourcing onshore is relatively cheaper. Plus, you wouldn't have to spend time and effort on recruiting, hiring, training, and day-to-day supervision.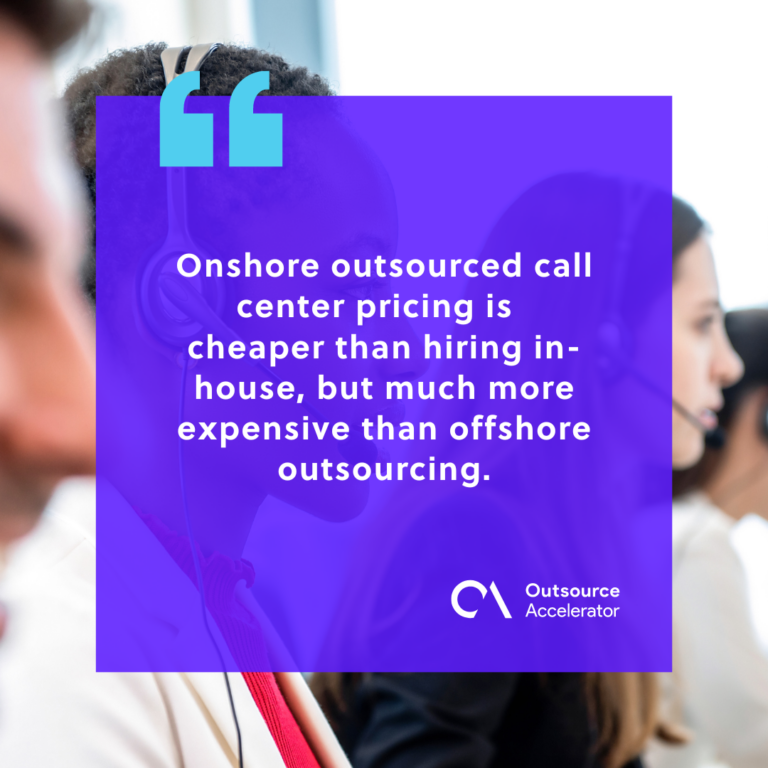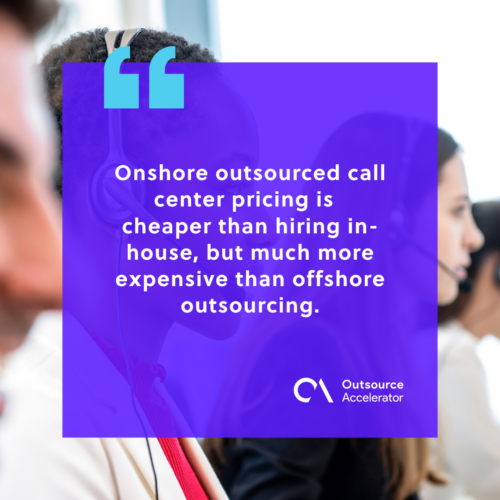 Offshore outsourced call center pricing
Before, offshore external services providers' main vantage point is their very affordable and flexible pricing. While it is still the case now, offshore outsourcing companies are now more confident in the quality and efficiency of talent that they provide.
The Philippines, for example, has a very high literacy rate of 96 per cent. In addition to its cultural affinity to the west, Filipinos are also English proficient. In fact, the Philippines ranked 27th on international company Education First's global English proficiency index. The country also ranked second in Asia, next to Singapore.
Despite the upskilled talent and better infrastructure, offshore outsourcing remains cost-effective. The table below shows the call center pricing in top offshore outsourcing destinations.
| | | | |
| --- | --- | --- | --- |
| Call center role | Philippines | India | Singapore |
| Agent (1-3 years exp.) | $3,337 | $3,389 | $7,458 |
| Agent (3-5 years exp.) | $5,175 | $5,490 | $22,374 |
| Team leader | $7,152 | $4,879 | $32,194 |
| Operations manager | $14,665 | $10,474 | $37,290 |
Just because you're paying less doesn't mean that you're scrimping on the quality of your remote staff. For years, the offshore outsourcing industry is able to provide an efficient and world class pool of talent. In the Philippines alone, the country's BPO industry currently employs 1.3 million people (and continuously growing).
But why is offshore outsourcing cheaper? Here's a variety of factors to consider:
'Eastern' companies have a much lower cost of living. Employees can live comfortably on a US$650 monthly salary.

Investors and BPO companies in these locations have strong government support. This means they can enjoy a variety of discounts and tax deductions.

Because BPO companies hire and train in groups, employment and training costs are much cheaper.
If you want to learn more about call center pricing, take a look at our complete guide for salaries here.
Ready to hire a call center?
Are you ready to hire a call center? Take the time to do your research. Different providers offer different packages and solutions, so it is advisable to talk to a number of outsourcing suppliers first to learn more. We recommend that you get quotes from different BPO companies before committing to anything. Arm yourself with knowledge.
Outsource Accelerator lists over 700 outsourcing suppliers that can give you the best terms at the best prices. You can also talk to an outsourcing expert and ask for three free quotes to help you get started.