Picking the right Philippine call center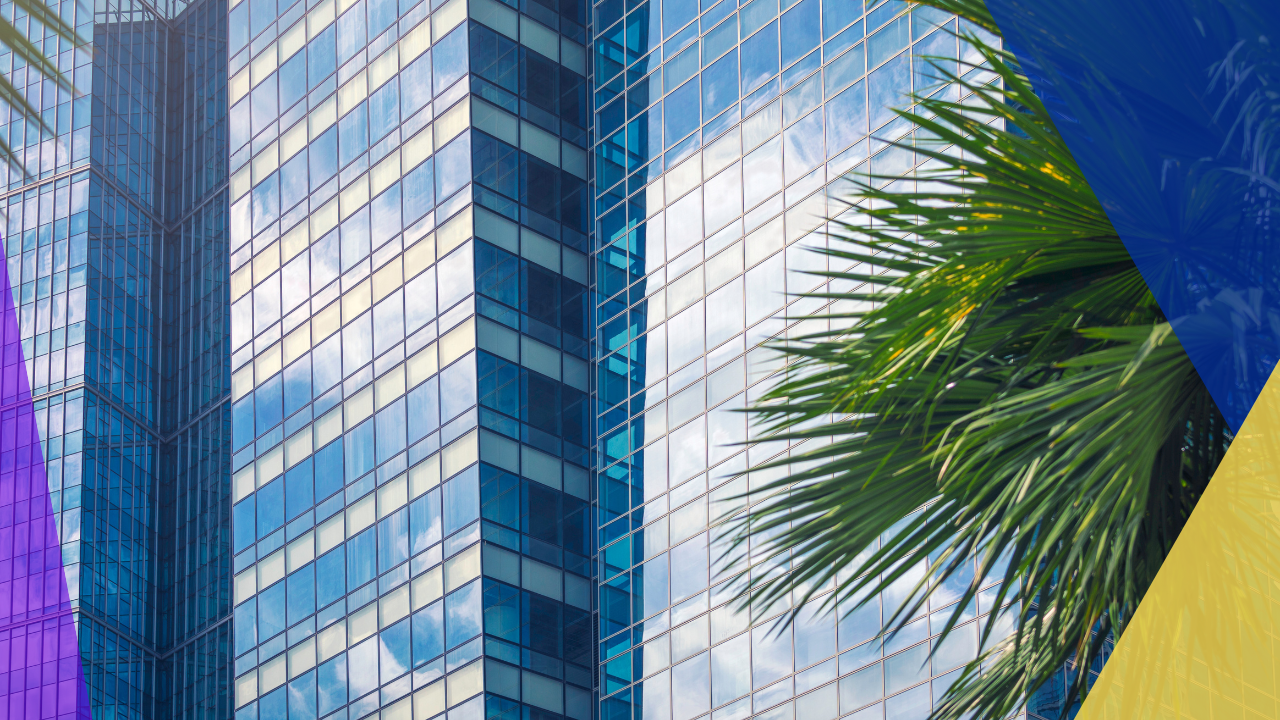 Picking the right Philippine call center
Hiring an outsourced service, especially call center, has increased demands now more than ever since the pandemic began. As businesses have to stay afloat and get back on their feet, they look to cut their costs and save resources to do this.
Your business might be in this situation right now. Or, you might just be looking for ways to expand and improve your services. Either way, outsourcing your call center to top countries such as the Philippines can be a great start. 
Call center outsourcing in the Philippines
Starting from delegating email support services, call center companies in the Philippines have gone a long way and have expanded their fields ever since. It remains to be one of the fastest-growing industries in the country, generating not just business solutions but also millions of jobs for Filipinos.
There are several reasons why Western businesses choose to outsource their call center services in the Philippines. For one, they can save a lot on operational costs compared to hiring in-house. Just pay a minimal fee and their team will be set up for them quickly. 
When they hire an outsourced team in the Philippines, they also gain access to the country's highly-skilled and experienced professionals who will handle their customers for them. 
You can also enjoy these advantages when you outsource with the right company. Prepare your checklists and take note of the things you should consider in hiring a Philippine call center.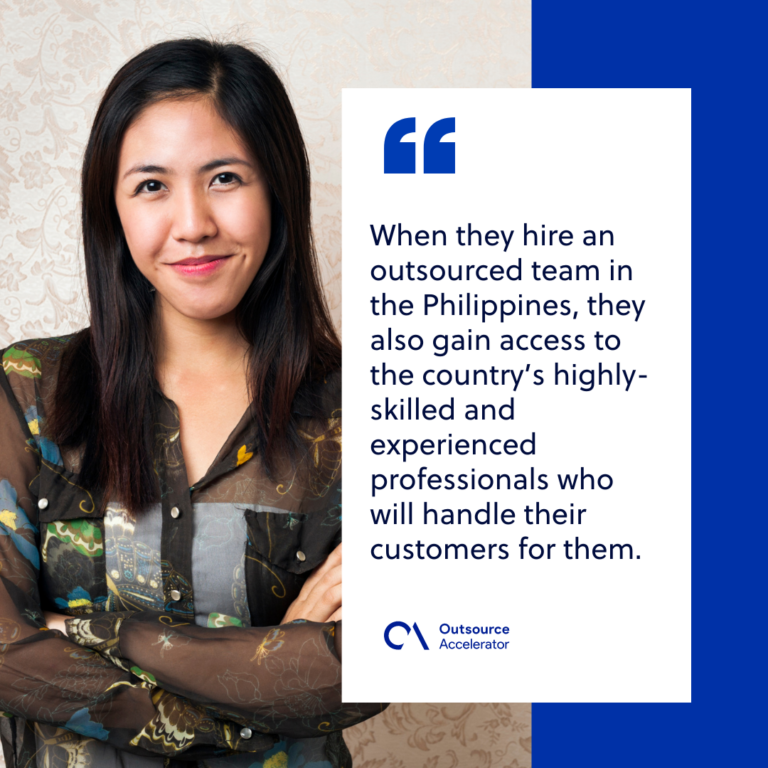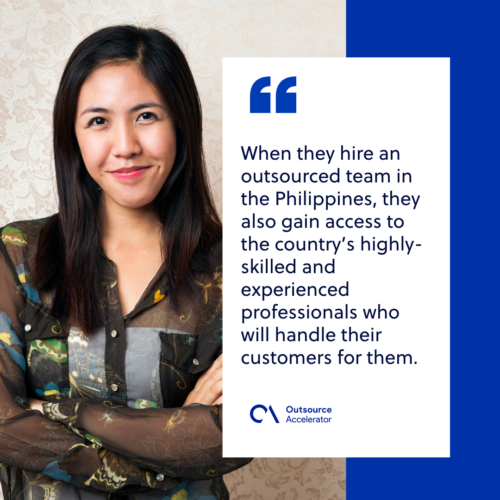 Things to consider in
choosing
a Philippine call center
Upon choosing what Philippine call center company should handle your roles and other functions, you might want to take a look at these factors:
Documentary requirements
First thing to do when hiring a call center is to prepare these necessary requirements for your team.
Goals and objectives
First, you need to define clear goals and objectives upon outsourcing your call center services. Whether you want to improve your customer service or establish one, you have to make sure that this aligns with the purpose of your business.
Processes 
Next, your customer service processes and SOPs are important in training your team. You need to prepare at least the basic workflows, scripts, and projected outputs that are aligned to your objectives.
KPIs and metrics 
Lastly, customer service KPIs or Key Performance Indicators will serve as standards of your team's performance and progress. This helps you determine whether you have to improve handling calls through their transfers, drops, and handling times.
BPO companies in the Philippines
If you want to outsource your call center to the Philippines but don't know the place to start, try checking out the country's top locations in outsourcing. 
Metro Manila
Primarily, a large part of BPO companies is found in the cities of Metro Manila. 
Business centers such as Ortigas, Makati, and Bonifacio Global City (BGC) are usually the melting points of the BPO industry in the area. 
However, some companies also establish their operations in other cities such as Quezon City and Las Piñas, closer to employees' residences.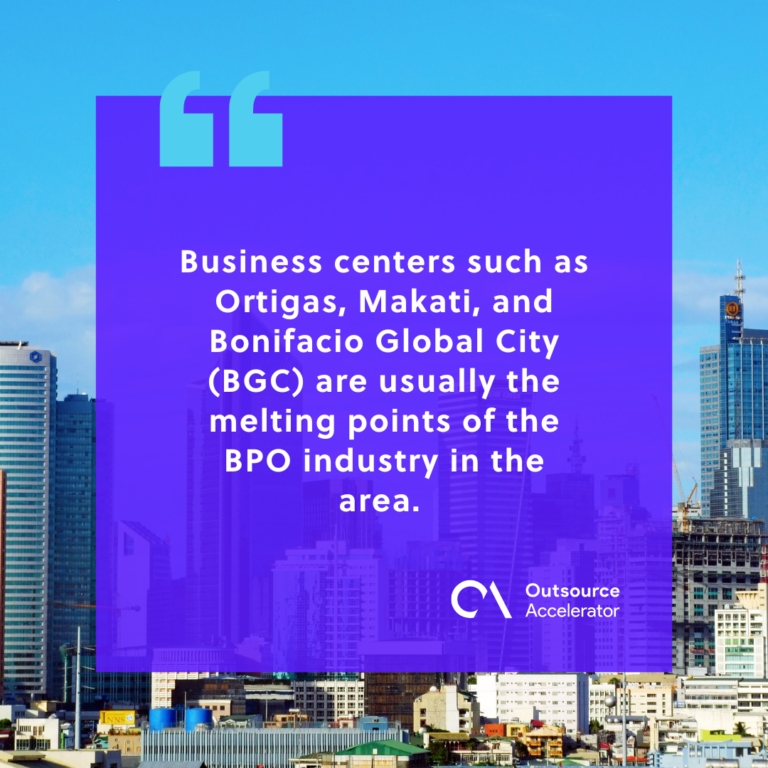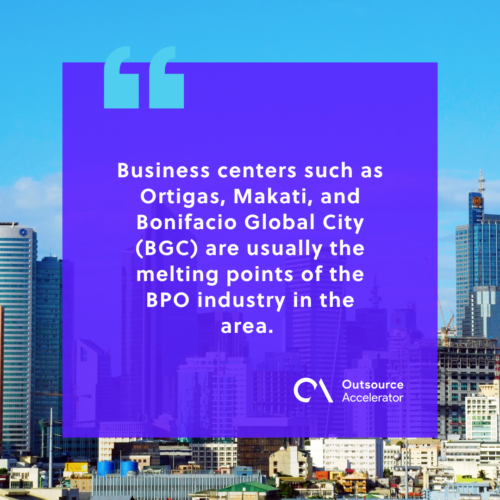 Cebu City in Cebu
The Queen City of the South might have gone down three ranks in the Tholons Super Cities this year. However, many businesses still prefer Cebu as one of the outsourcing cities outside Manila for a quality workforce at a lower operational cost.
Davao City
Davao City, the main trade and commerce hub of Mindanao, has shown the potential of being the next outsourcing destination years back. The city houses both small and large BPO companies including Six Eleven BPO, one of the most established call centers in the country.
Bacolod City in Negros Occidental
Bacolod City continues to establish its popularity as a preferred outsourcing destination for KPO and game development. Though, call centers and BPOs in the area continue to increase to keep up with the demand.
Clark Freeport Zone in Pampanga
Clark is one of the best choices for call center outsourcing outside Manila and within Luzon island. The attention it gets from the government made it possible to create an efficient and conducive virtual work environment for clients of BPOs in the city. Leading outsourcing companies like Cloudstaff are thriving in Clark, Pampanga.
Dumaguete City in Negros Oriental
Lastly, Dumaguete City is considered one of the best choices when it comes to outsourcing contact center services. Being a "University town" in the Visayas islands, the city is competent when it comes to English proficiency and quality workforce in the country.
Call center services to delegate
In picking the right Philippine call center for your business, you should also consider what services you need. A lot of boutique and established centers offer general services in building a customer service team. 
Voice or non-voice
Voice refers to customer engagement through verbal communication, whether inbound or outbound. Here, customers reach out to the business through calling and vice versa. 
Non-voice, meanwhile, deals with handling concerns through channels other than the phone. This involves using written communication through email, live chat, or SMS. Call centers can perform some of these services, though not all.
Using performance metrics as your determiner
In considering which services fit for you, check the strengths and weaknesses of your current customer service. You can do this by checking up on your metrics if you already have one set. Check which aspect you want to explore or improve and which you want to maintain.
Don't worry if you don't have one in place or if this is your first call center team. Your outsourcing partner can help you with that. 
Budget for hiring a call center
Call centers in the Philippines charge their services depending on the volume and nature of calls they receive. You will be billed either monthly or weekly depending on your agreement with the company. 
However, how much you should pay to a call center company depends on many factors. This includes the quality of their service, location, equipment and utilities, and most importantly, the average salary in the Philippines.
Usual salary of a call center agent
One of the reasons call centers can give an optimal performance at a portion of a cost is because of the low cost of living in the country. 
For instance, a $500 monthly salary of a call center agent can already help them keep up with their household expenses. This is compared to an average worker in the West who has to keep up with the towering expenses in their country.
The average salary in the Philippines is lower when you go to other regions in the Philippines. Salaries in different provinces in the country may vary depending on the cost of living and expenses in their areas.
Pricing structures
As mentioned, pricing and mode of payment may also vary depending on the company's charges. You can either get a shared or dedicated team for your services.
Suitable for small businesses, shared teams cater to multiple clients at once. Agents may take up to a dozen clients in a day and mostly take inbound calls. Dedicated teams, meanwhile, cater to a specific client and may take either inbound or outbound calls, voice and non-voice.
You can get a dedicated team at a fixed price per month if you're expecting a steady to a high volume of calls. For a lower volume and more affordable option, you can have a shared team.
Hidden charges
However, watch out for any hidden fees they may charge. Additional may be given for every transfer, after-office features, and extra call minutes per month. 
For this, you should be aware of all the fees charged by a call center in certain situations for transparency and to avoid confusion when your bill arrives.
Picking the suitable Philippine call center services provider
As you pick the right call center company for your business, make sure to check on this list of best practices. 
Here are some of the best practices in looking for a suitable Philippine call center for your business:
Have a list of your preferred companies. Make a list of your preferred companies and compare them according to your preferences. Check their reviews. Check the reviews of each company through review sites such as Glassdoor and Clutch. 
Also, watch out if you find some positive reviews that are suspicious in nature. Ask for hidden charges. Ask if there are any additional charges they might include in your future billing. This includes transfers, after-hour calls, and virtual reception services.
Lastly, visit their site. Ask if you can visit a site location to check their services. Though physical visits are not possible during the pandemic, you can still ask for virtual tours through Zoom or any other communication service for this.
There are a lot of high-quality call centers in the Philippines that offer a wide range of services. But, the perfect company for you can lead you to success.