Outsourcing to Spain: Here's what you should know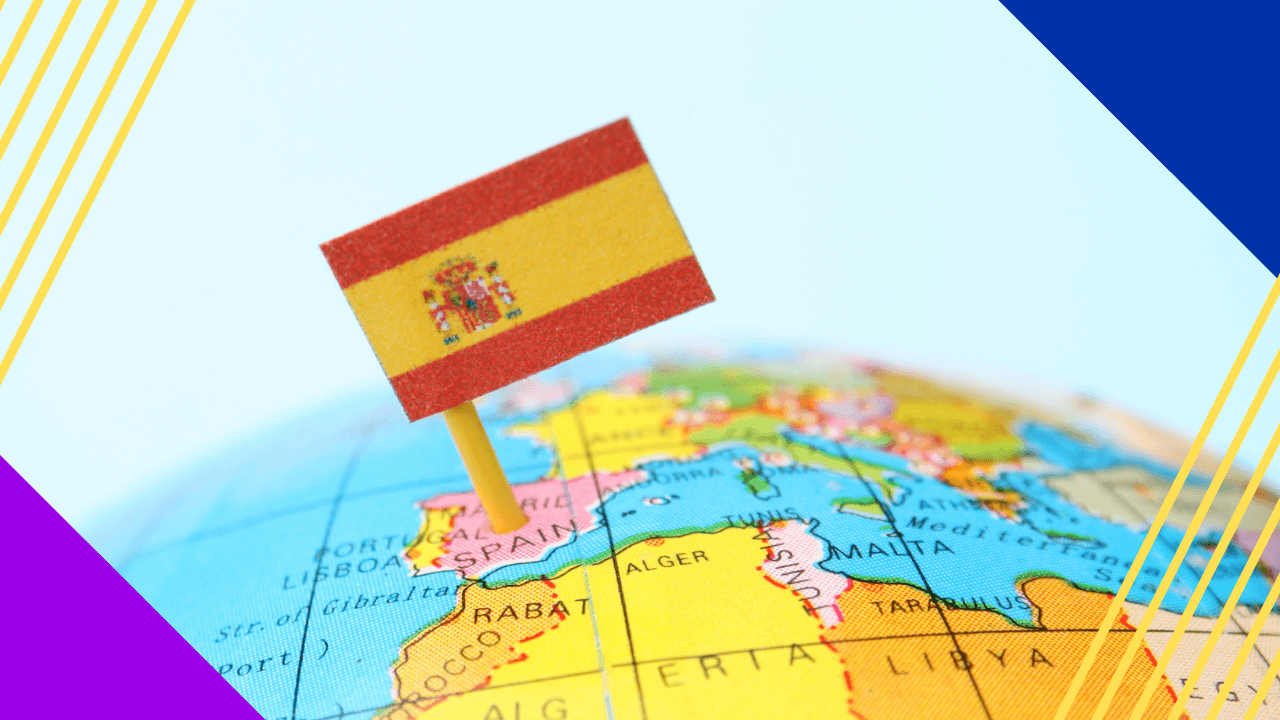 Spain offers more than its warm weather, museums, and tourist spots. It boasts its notoriety as a rising outsourcing destination for companies in Europe and the United States.
The country has admittedly been hit by recessions, making its economy unstable for quite some time. Luckily, the outsourcing industry continues to contribute and help rebuild the country by employing its citizens and quality talent to their clients.
As Spain's BPO industry grows, we can rapidly see the further development and advantage it brings to their clients. Read this comprehensive guide in outsourcing to Spain to learn more.
Spain as an outsourcing destination
Spain is now one of the most in-demand outsourcing destinations for the US and Europe. Now ranking 11th in the latest Tholons Digital Nations index, outsourcing to Spain has contributed both to companies delegating their services and to the Spanish economy.
Like in some Latin American countries such as Mexico, Spain started to outsource manufacturing in the 1990s. The manufacturing industry in the country has been one of the most important contributors to the Spanish economy.
The demand declined from the 2000s and got worse during the economic recession until 2013. Luckily, this decline gave way to a brighter future in another player: IT outsourcing.
By the end of 2009, it was reported that around 113,000 employees were working in the Spanish IT consultancy industry. By 2010, IT consultancy was expected to grow by around 1.6% and reach approximately €9.7 billion.
The country has then marked its slow but steady growth in outsourcing. In 2016, Spain ranked 46th in Kearney Global Services Location Index. It may have ups and downs in demand and rankings, but the country kept up its pace to establish its increasing popularity.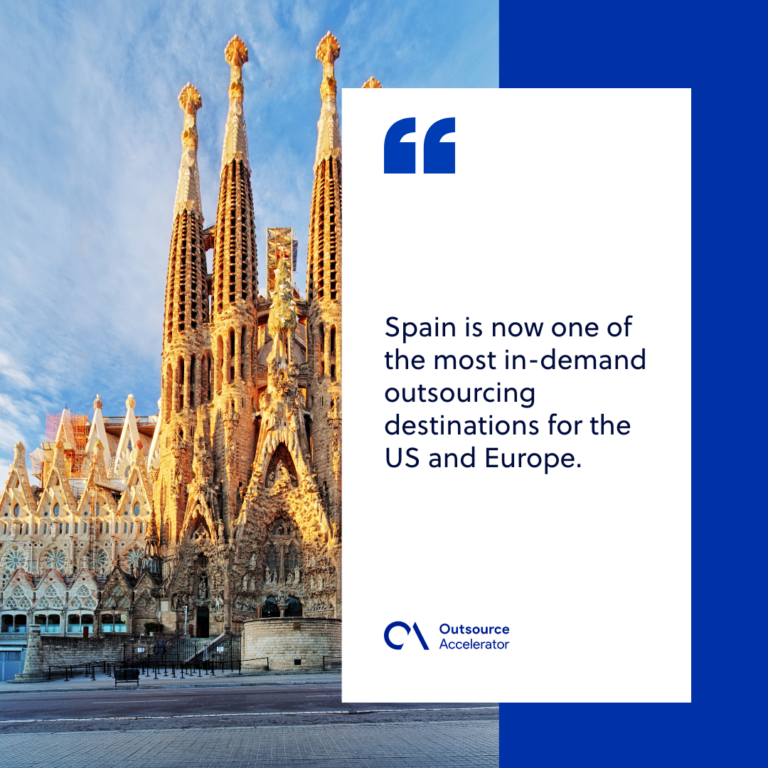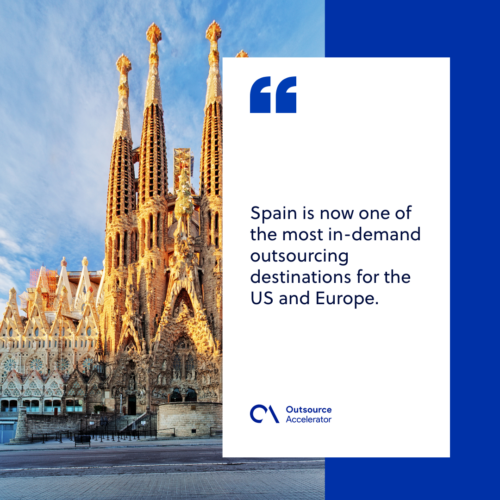 Spain fast facts
Why you should outsource to Spain
The country has become one of the most viable options for outsourcing functions due to the following reasons.
Accessible destination
Located in Southern Europe, Spain welcomes millions of tourists each year pre-pandemic. Tourism accounts for at least 12% of the country's GDP and 12.7% of its total employment. But, the country is not just an ideal destination for tourism and leisure. 
The country is a perfect fit for nearshoring throughout Europe. Its numerous international airports make it easier for its neighboring countries to access the destination when needed. 
Advanced telecommunications network
Spain is said to be one of the centers of innovation in Europe. The country has more than 180 startup accelerators spread across its regions, with Madrid having the highest number of these accelerators.
Connectivity and infrastructure are less of a problem when outsourcing to Spain. The country ranked 40th in the world in terms of mobile network speed and 12th for fixed broadband speeds in Speedtest's October 2021 report.
In the latest statistics, the majority of internet users in the country belong to ages 25 to 34 years old. This is the usual demographic of workers entering the outsourcing industry.
Access to a vast labor pool
With an unemployment rate of 15.6% in 2020, Spain has the second-highest unemployment rate in Europe. Global companies, however, see this as an opportunity to tap the country's talent pool for outsourced functions.
Its citizens indeed show a competitive edge when it comes to technology and the sciences. For one, some of its biggest universities are included in the latest QS University World Rankings. 
These schools produce the most competent professionals in IT, human resources, accounting, and other fields that enter the workforce every year.
Timezone compatibility
Despite being in the South, Spain follows the Central European Time (CET). This makes the country in sync with the rest of Europe, meaning they can work with their outsourced teams within their workday.
At the same time, despite the six- to eight-hour travel, Spain is only around six hours ahead of the United States. 
Outsourcing to Spain is somehow more beneficial for US companies who are hesitant to work with offshore destinations such as India and the Philippines.
Disadvantages of outsourcing to Spain
However, despite the advantages it provides, outsourcing to Spain still has disadvantages that need to be worked on by companies and service providers. Some of them include:
Language barriers

. As mentioned, Spain still has a lot to work on when it comes to English proficiency. This is why companies should maintain

ways of communication

with their outsourced teams.

Lack of control over operations

. For some companies, control could still be an issue since Spain is still miles apart from them. This could draw concern for them when it comes to maintaining their brand identity and reputation.

Decrease in expected quality

. Cheap pricing does not always mean quality services when outsourcing. The quality of their functions and products might suffer by having the wrong service provider for the job.
Services you can outsource to Spain
Organizations can outsource almost every aspect of their business. However, you can get the best out of your delegated services by outsourcing the following functions to the country.
Information technology
There's a high demand for IT outsourcing services in Spain due to its potential as an innovation hub in the future. It is one of the most sought out destinations aside from Belgium and Poland, especially in software development.
Indeed, the country relies on IT solutions in every aspect of its economy and way of life, such as data protection and traffic control.
By outsourcing software development and other IT-related services, the outsourced team gets to share their expertise in creating systems and networks that would be useful for their clients.
Human resources
The latest Coursera Global Skills Report places Spain in a "cutting edge" promise in specialties such as information technology (IT) and human resources (HR). 
The country sure delivers in terms of HR outsourcing services. When companies outsource human resources functions to Spain, they have a one-stop shop for their needs. 
Their team handles everything from recruitment, training, payroll, to employee management better. 
Accounting
Outsourced accounting services are as well abundant in Spanish outsourcing providers. Usually, companies that outsource accounting to the country get to tap their expertise when handling offshore accounts and markets.
Delegating accounting to Spain does not just benefit those with Spanish accounts. It even helps them manage their local books and compliances better since licensed accountants will be handling them.
Customer service
Spain is one of the hot seats of call center outsourcing in Europe. The largest call centers such as Telus and Accenture have established their Spain headquarters to provide outsourced functions to European businesses.
Labor and resource costs continue to fall in Spain, making it viable for call center outsourcing. What's more, this allows organizations to provide high-quality multilingual services capable of handling inbound and outbound calling, telemarketing, and support services.
Content moderation
Despite the language differences, Spanish BPOs are also reliable for outsourcing content moderation services. 
Outsourced writers and content creators can help businesses build their websites with the help of optimized content in different languages. Aside from this, they can moderate existing content by repurposing and optimizing them according to search engine standards.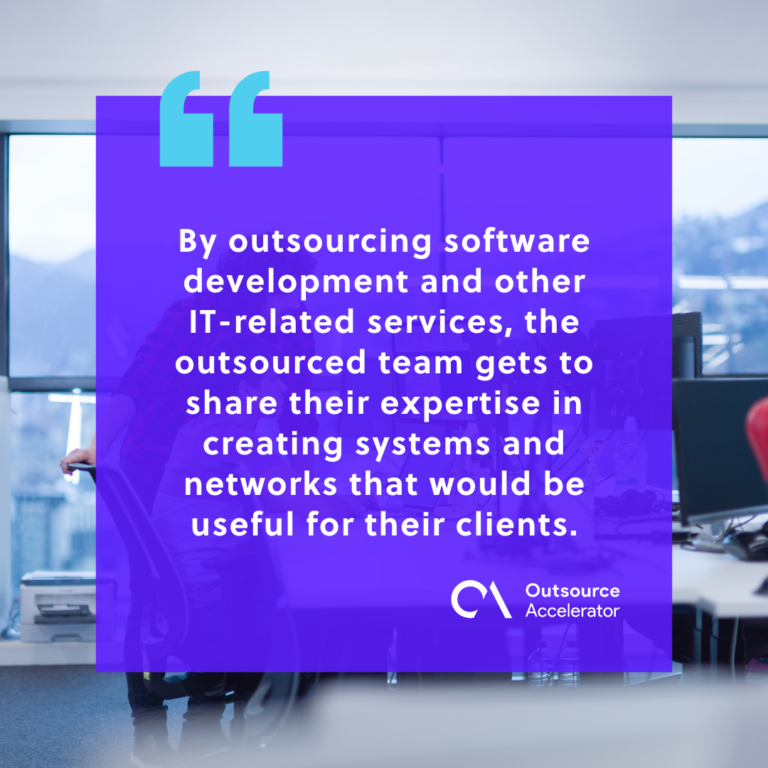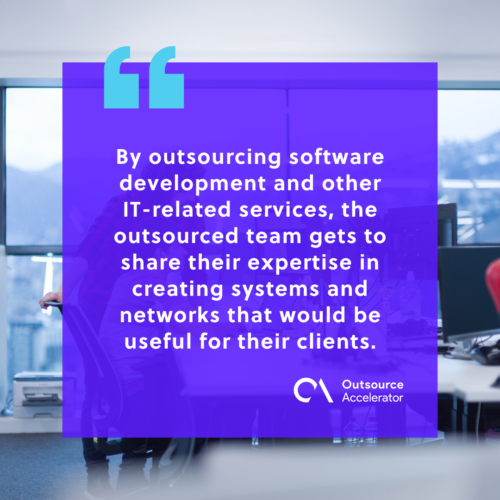 Top BPO companies in Spain
Like most outsourcing destinations, Spain has a wide range of BPOs catering to businesses of all sizes. Potential clients can choose between large- and small-scale BPOs according to their functions, preferred team size, and flexibility.
The top BPO companies in Spain are comprised of firms and established brands handling different fields such as accounting and human resource services. 
They are considered the leading reliable companies due to their costing, team performance, and quality services. Some of them even cater to the largest brands in the world, such as Google and Cisco. See Outsource Accelerator's comprehensive list of top BPO companies in Spain.
Ready to outsource to Spain? Here are a few more things to consider
Outsourcing to Spain and other countries will always pose risks to your organization. Successful organizations that outsource invest their time and effort in strategizing what they can delegate better.
Before getting started in outsourcing, you might want to consider doing the following:
Get to know outsourcing and the industry itself

.  Tons of resources such as articles, videos, and podcasts that tackle outsourcing are available online. BPO companies even publish related content to help you get started.
Talk to experts in the industry

. It helps to talk to industry experts about outsourcing. They can help you decide better and guide you more in planning your next steps.

Look for the right service provider

. Companies that outsource successfully don't just settle on the first provider that offers their services. Rather, they look for the

most suitable provider

that will best fulfill their outsourcing needs the most.
If you're looking for third-party advisory and consultancy, Outsource Accelerator is here for you. The world's leading marketplace and advisory, Outsource Accelerator has over 5,000 articles, 350+ podcast episodes, and video content that can help you learn more about outsourcing.
We also list over 2,500 BPOs around the world, including Spanish BPOs, on our comprehensive directory to help you contact them right away.
While outsourcing in Spain still requires strict consideration, don't let this hinder you from delegating your services to the country for your advantage.